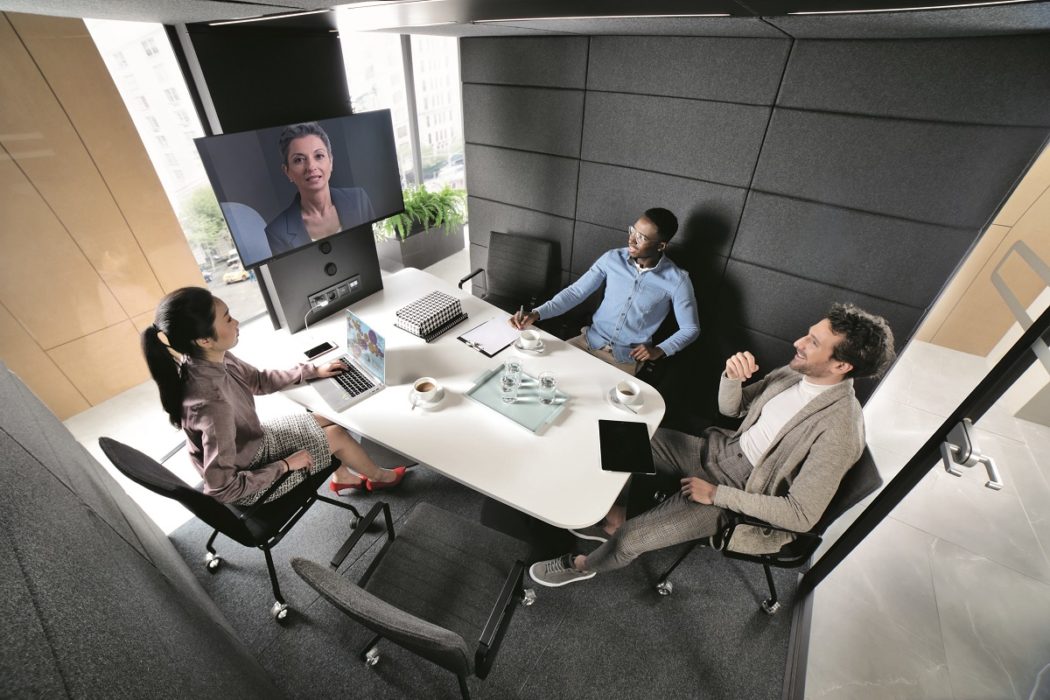 What does the agile office look like? How does it behave? What are its building blocks in terms of interior solutions? How do we arrange desks, dividers, pods, and other mobile furnishings for sheer functionality? How do we design a workplace agile in the truest sense, "able to move quickly and easily" in response to change?
It all hinges on mobile office furniture and thoughtful design, working in tandem.
Agile office – key takeaways:
The office must be mobile — flexibly designed to "flex," supporting the ever-emerging needs of an agile world.

Flexible solutions include portable soundproof walls, mobile office pods, modular conference call booths, and rolling collaboration boards.

Pods are a super-compact, mobile, modular fix well worth considering. Maximum function, minimal square footage. They balance compactness and comfort brilliantly while dividing space.

5 fundamentals of an agile office layout: balance open areas against closed ones; prioritize video call spaces; position work/meeting spaces for easy access; design for socialization; space-plan with neurodiversity in mind.
Remember "visual" privacy as you're making retrofits. With visual privacy, employees are neither distracted by activity around them nor feel like they're in a fishbowl. Solutions here include device filters, freestanding desktop screens, portable room dividers, mobile walls, modular cubicles, and glass films.
Change is the only known. The office must be mobile — flexibly designed so it can "flex" in step.
Employee behaviors evolve. Team dynamics shift. Work patterns have a life of their own per priority projects. Collaboration takes infinite forms. Hybrid working is a new domain. All this change needs to be accommodated cleverly, swiftly, by the workplace

– says Mateusz Barczyk, Senior Brand Manager, Hushoffice.
55% of employees want to work in offices that can innovate and adapt to future crises.
It makes sense. Modern work is quick, complex, and mutable. Its dynamism only flourishes in an agile workplace built to keep up — an office that's fully mobile and can transform, in a wink, supporting new needs as they emerge. Say, a need for more private workspaces or privacy in general. A need for 1-2 more active collaboration zones. Multiple one-on-one meeting spaces. A need for more quiet. Less shared area. More visual privacy. 3-4 soundproofed spaces to video conference. Quiet places to take quick calls. So on and so forth. Today's model office is like a living being — it's characterized by mobility.
What is agile office design?
Agile office design gives employees a range of effective, engaging work and meeting spaces to pick from. It aims to create an office landscape marked by variety, offering choice. The goal of agile office design is employee autonomy — to empower each employee to work where they work best and, ultimately, thrive.
The keywords of agile office design are autonomy, variety, choice, and options. The key function is mobility.
Portable. Reconfigurable. Modular. Wheels, casters, cranks, lifts, and mounts for the win. Flexible furnishings, the building blocks of agile office design.
Flexible furnishings are the best foundation for agility because they allow teams to tweak their spaces quickly and easily. The laundry list of solutions for it includes portable soundproof walls, mobile office pods, modular conference call booths, portable video call cabins, rolling collaboration boards, configurable office benching systems, and other similarly adaptive fixes. Shared workspaces should be adjustable to seat more or fewer employees as occupancies fluctuate. Conference rooms should be modular to accommodate larger team meetings comfortably within a tight amount of space. Work, team, lounge, and break zones should all be relatively easy to redesign, always catering to the latest preferences. In short, mobility is critical.
5 fundamentals: an agile office layout
Balance open, active, shared spaces against closed, quiet, private spaces according to current team preferences

Prioritize excellent video conferencing spaces for employees to attend on-site without distracting others

Position private work and meeting spaces nearby open areas for easy access

Design for socialization — retrofit cafes, lounges, patios, and huddle spaces for connection

Space-plan with neurodiversity top of mind, creating a dynamic office landscape where a workforce of varying preferences can thrive
Read more about the hybrid workplace: 5 essential hybrid office investments.