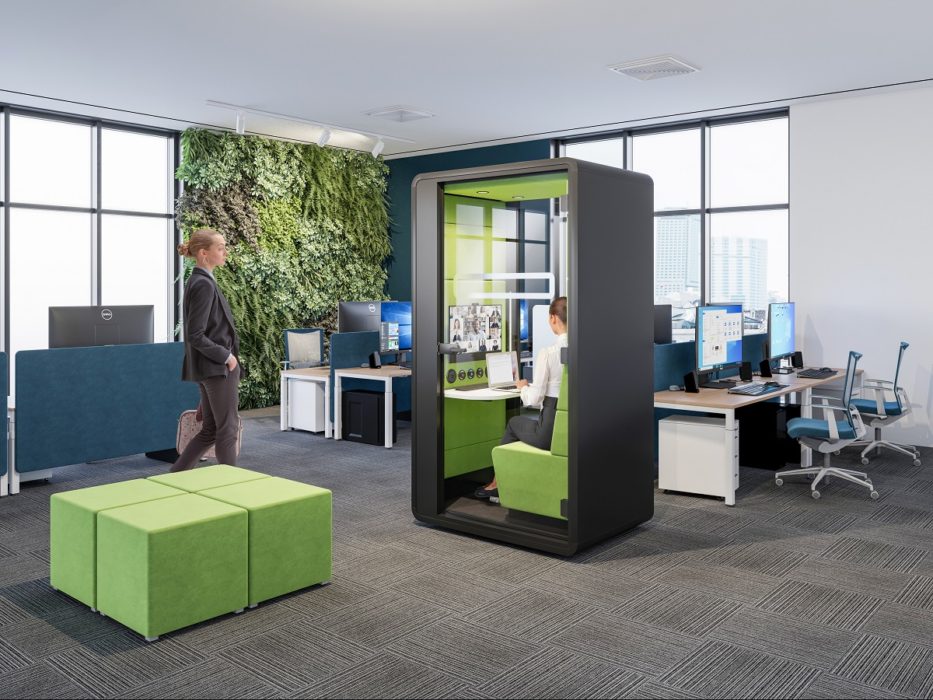 79% of the workforce want to be in the office at least once a week. Hybrid office is the way forward. Because the right workspaces and meeting areas can help draw employees back, we deem the following investments and retrofits essential in the new world of work.
Quick look: 5 essential hybrid office investments
Excellent one-person video conferencing spaces
Safe spaces to meet and collaborate
Private, soundproofed environments for phone calls and concentrative work
Health & well-being kits
Ergonomic workstations
Excellent one-person video conferencing spaces
Employees expect to return to a better office. More physical space, higher quality acoustics, and stellar video conferencing pods or booths

– says Mateusz Barczyk, Senior Brand Manager, Hushoffice.
As video calling is a glue of hybrid work, the office must adequately support it, making each call easy and successful. One-person spaces are critical. Without them, employees are forced to take up an entire team meeting room for one call. Or, worse yet, take their call on the open floor, subjecting others to their noise all the while suffering office distractions.
Acoustic. Private. Comfortable. Built with every feature needed for successful video conferencing. The hybrid workplace's video call spaces should hit these marks. A video conferencing pod is a fantastic solution because it's uniquely flexible while giving unparalleled acoustics. Consider the hushHybrid video conference booth as a model — built on wheels, with an optional monitor mount and optional video call light strips for superb calls. It's the "Hush" needed in a hybrid world; an agile prefab pod, ready-made, responding to change. Like a portal connecting on-site employees to at-home employees. Ultimate video conferencing ease.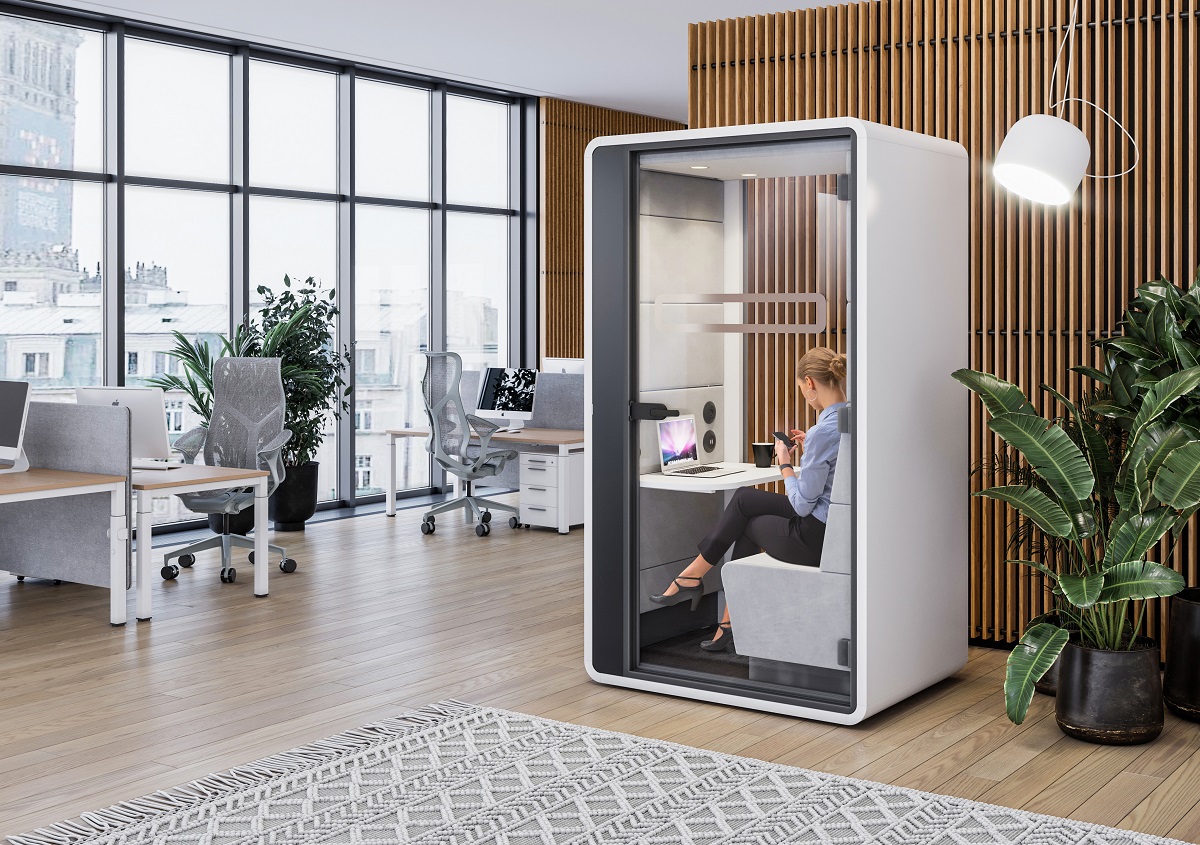 HushHybrid office call booth. Fully furnished. Fully equipped. An all-in-one video call pod.
Safe HushHybrid is enclosed and protected against microbes proliferation. All frequently touched surfaces in the pod are coated in Anti Virus solution.
Flexible Lightweight; built-in casters; leveling feet. HushHybrid is a portable pod relocatable by push.
Acoustic Brilliant two-way soundproofing: hushHybrid contains the call itself while giving users a quiet environment. Its glass panels also help dampen broad office noise.
Ergonomic Structured sofa, a touch "plush," supports a healthy, natural posture; 1.6″ depth-adjustable desk included for convenient laptop work; adjustable, energy-efficient lighting & ventilation enable optimal comfort.
Functional Power outlet and USB ports; optional VESA mount for AIO computer or monitor; optional, adjustable LED video light strips to illuminate the face.
Read more about hushHybrid: Videoconferencing just got better with hushHybrid acoustic office pod for hybrid work!
Safe spaces to meet and collaborate
Gensler's 2020 US Workplace Survey confirmed what we're all recognizing on our own teams. Employees see the workplace's in-person collaboration as essential, a reason to return to the office. Because human-to-human interac