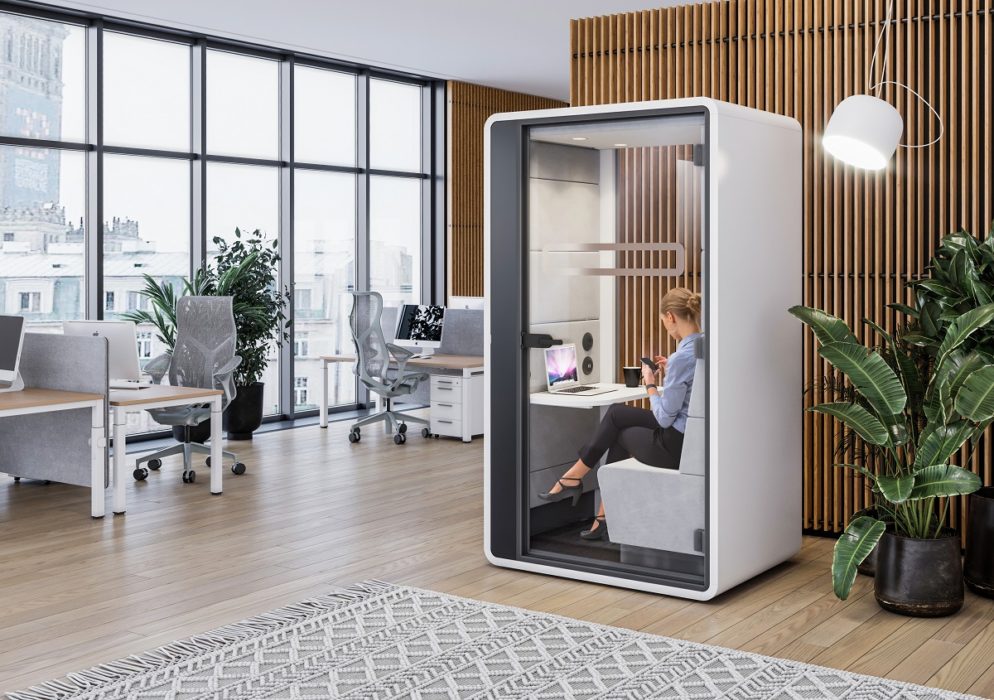 Did you hear? HushHybrid office pod has arrived. Our all-in-one videoconferencing pod. Fully furnished. Fully equipped. With an optional VESA mount and LED video light strips for ultimate video call ease. We laid out the focus pod's technical features in our last article. Check it out if you missed it: Videoconferencing just got better with hushHybrid!
The specs beg an obvious question… What does it feel like inside hushHybrid?
In a word, it feels good.
Step in. A motion-sensor activates the lighting and ventilation. Right away you notice the pod is spacious. Sit down. The sofa supports you in a natural posture with just the right amount of plushness. Already, you'll be getting into the right headspace for your call.
>>> Check out hushHybrid's product page
Au revoir, technical difficulty! Connection is strong in hushHybrid office pod.
The next thing you'll notice is the pod's control panel before you. Knobs to adjust the fan speed, ceiling light, and LED video call light strips glide smoothly. Create the most comfortable environment. You're in control of your space. The office pod's built-in work surface can be pushed in or pulled out by a few inches for the most comfortable depth, notching securely for laptop work. Its seating is a happy medium of structured and plush, supportive and ergonomic, comfortable for long calls.
Plug in your device to the power module or connect it to your team's hung monitor or AIO computer and you're off to the races. The pod's pleasant lighting and solid-colored backdrop illuminate and frame your face, giving it a professional look.
Strong connection. Successful call. An experience of ease.
A perfect focus pod. Private but not isolating. Beautifully upholstered for comfort.
But wait, there's more. The pod's hard panels in front, behind, and above you can be fully upholstered in Italian wool, the finest kind, a premium fiber with a soft feel. This optimizes acoustics and imbues hushHybrid with a definite warmth. Available colors are a feast for the eyes.
When you enter the pod, you close out all activity from the floor, acoustic and visual. But hushHybrid doesn't feel at all sterile or isolating. It feels pleasant. The perfect size. Comfortable lighting and seating make you want to stay awhile.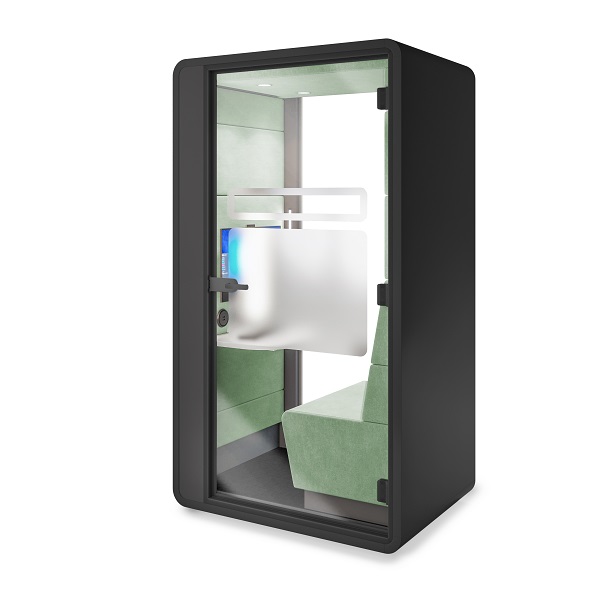 Need more privacy? The pod's glass panels can be customized for the desired privacy level. The panel on the user's left can be ordered clear or with an opaque "privacy sticker" covering the panel's middle section (laptop level). Same for the panel on the user's right — or it can be ordered completely frosted. Opt for clear panels if you want to add your own stickers or film.
Interested? Leave us a message!
Quiet but not too quiet. Conducive to focus.
Think soft hum or light, soothing muffle. HushHybrid dampens and softens all unpleasant, distracting exterior noise. When you're inside, open floor sound is just a faint murmur. Not an accident — the pod is carefully engineered to allow just a faint murmur. Total silence is actually uncomfortable for humans (check out the anechoic chamber for proof).
Expert's opinion

Sound MADE in Hush STAYS in Hush. This means the employee in the pod is comfortable in their space. They aren't worried about being overheard or distracting others. It also means the floor plan is quieter overall.

– explains Mateusz Barczyk, Senior Brand Manager, Hushoffice
Chatter and clatter on the outside floor is heard as soft, calming sound, so you don't feel isolated in hushHybrid. Its acoustic quality is pleasant, a "soundscape" that supports work. Learn more about video call speech intelligibility in hushHybrid: Videoconferencing just got better with hushHybrid!
Oh, and it's beautiful.
To be honest, it's something I would like in my home.

– admits Eliza Donek, Product Manager on the Hushoffice team.