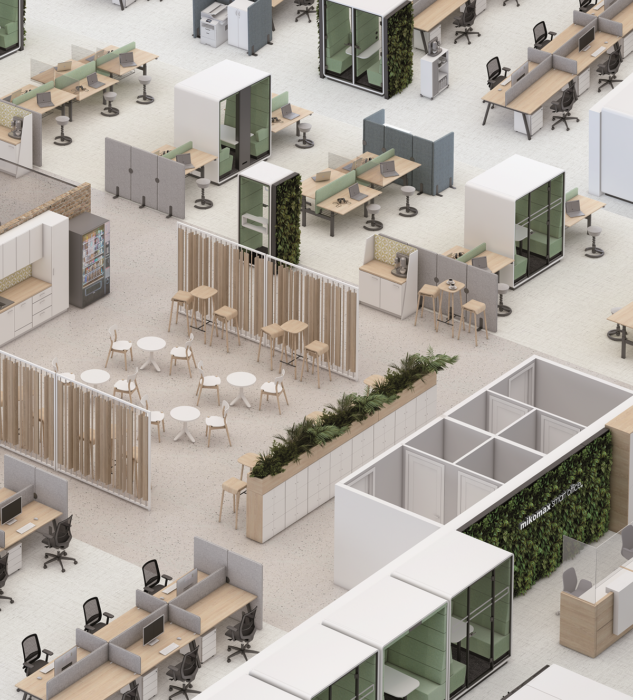 Worker preferences have shifted markedly over the past two years towards hybrid work model. Though employees desired fully remote flexibility mid-2020, only 37% of the workforce now feels more productive at home than in the office (as opposed to 48% last year). And though 88% still want to choose their working hours, a third don't want to work from home at all.
The shift towards hybrid work is in part because employee engagement starts to taper off, and anxiety about the future starts to increase when working from home more than two days a week. The sweet spot? 3 days on-site per week. Employees now demand healthy working patterns. Work-life balance has even overtaken comfortable salary among workers' priorities.
These statistics help answer the million-dollar question: what is the office's role in a hybrid work world?
Key takeaways: the office's role in a hybrid work world
Effective workplace for those who don't work well from home
Safe space — a constant in an uncertain world
Physical divider between "work" and "life"
Perfect soundscape, office zone to office zone
Watering hole for socialization and collaboration
Amenity
Petri dish; where organizational culture "happens"
A flexible asset that adapts, giving a team resilience
An effective workplace. The office is a haven for those who have imperfect home office environments or simply don't work well at home.
For those who struggle to focus at home, the office is an essential sanctuary. The trick is smart design. Open areas should be balanced against safe, enclosed working and meeting spaces like phone pods and video call pods. Autonomy is the idea — giving employees total control over how they work down to the light setting and desk height of their workspace

– offers Mateusz Barczyk, Senior Brand Manager, Hushoffice.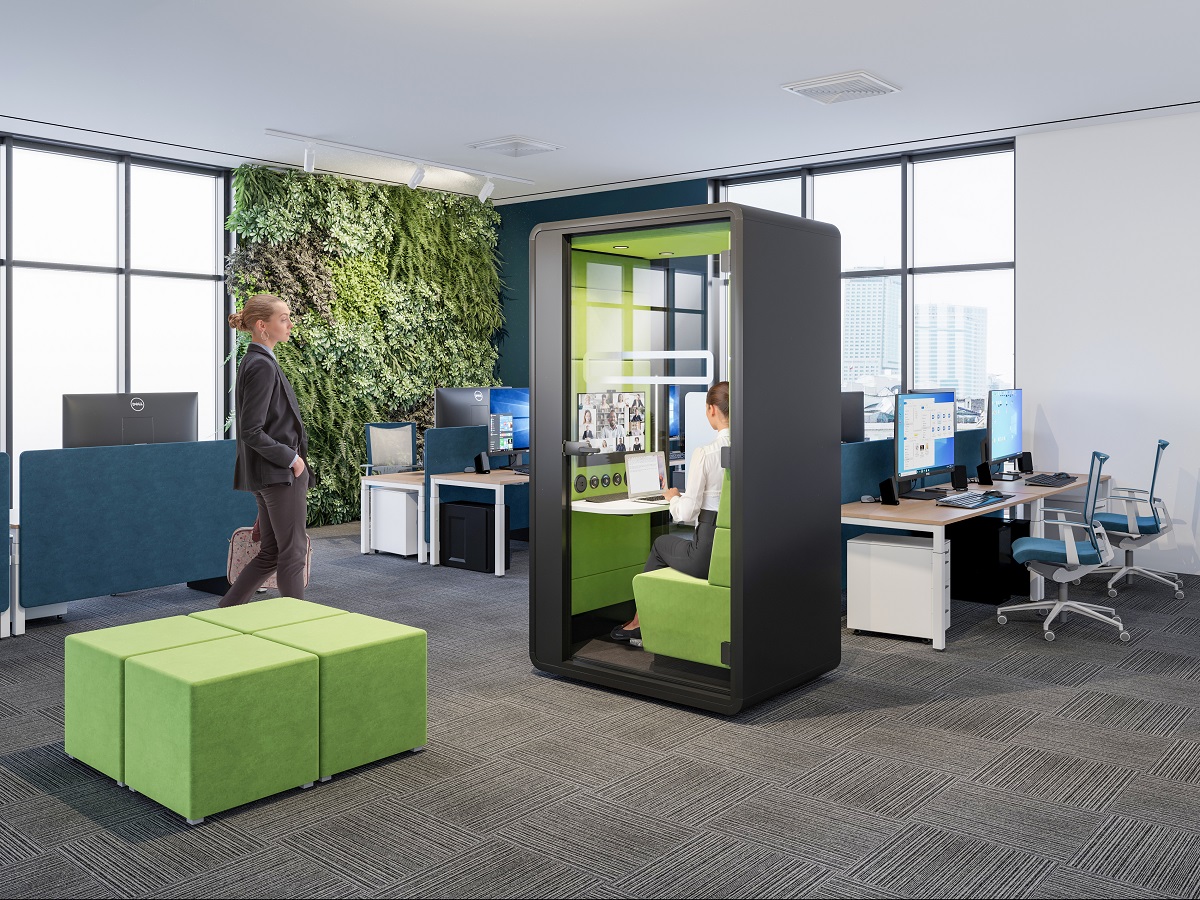 Blurred lines between "work" and "life." Distractions in the house. Lack of in-person collaboration. Unhealthy amounts of solitude. The physical toll of makeshift workstyles (slouched on the couch or hunched over the dining room table). No matter how you spin it, working from home full-time is an imperfect solution, even for those who enjoy it more often than not.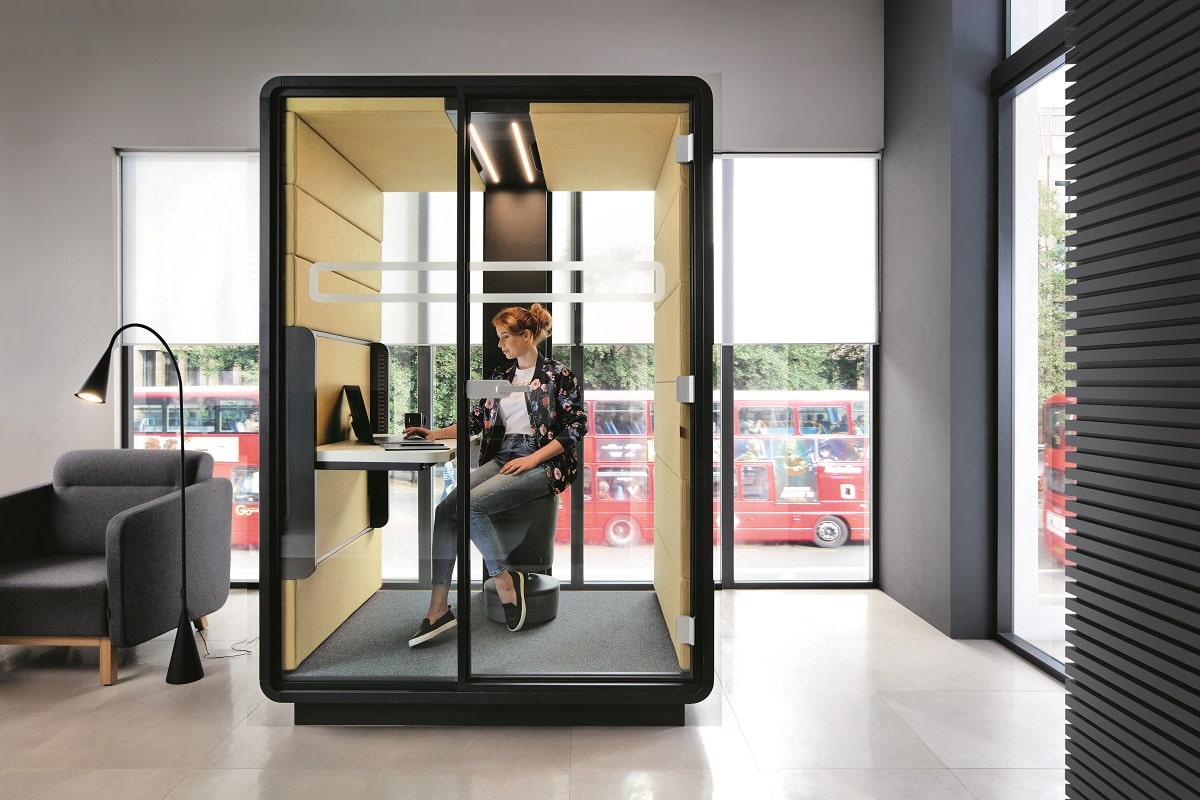 One of the office's primary roles in a hybrid world? It's a fully functional, effective workplace. It supports a team's unique array of tasks by design — from two-person client meetings to confidential video calls to deep work. Because, unlike home, the office is complete with every environment needed for modern, hybrid working, from sound proofed sit-stand workstations to private, quiet independent work booths to mobile 4-person meeting pods.
A safe space. A constant in an uncertain world. The office protects health, safety, and well-being.
Intensive cleaning routines. Sanitization and antimicrobial supplies. Germ-trapping and killing acoustic pods (check out our Anti Virus office pod coating). Health and wellness initiatives. Well-communicated policies that keep the team up to date. Simple products, procedures, and investments make the office the safe space people need — a space relied on for productive work and collaboration. It equals stability through unstable times.
JLL's data shows 58% of employees now consider health and well-being programs to be the key facet making their employer unique. Health is of prime importance for the foreseeable future. Teams are navigating a relatively stressful era, and it's difficult to keep a level head when the world is in a state of such flux. This fact highlights the hybrid office's chief purpose as a safe space. Clean, hygienic, and sanitized, the office is a dependable hub, a peaceful oasis, a calm in the storm, a constant craved, the safe space needed in uncertain times. It gives employees security, which is crucial for mental health and which directly affects productivity.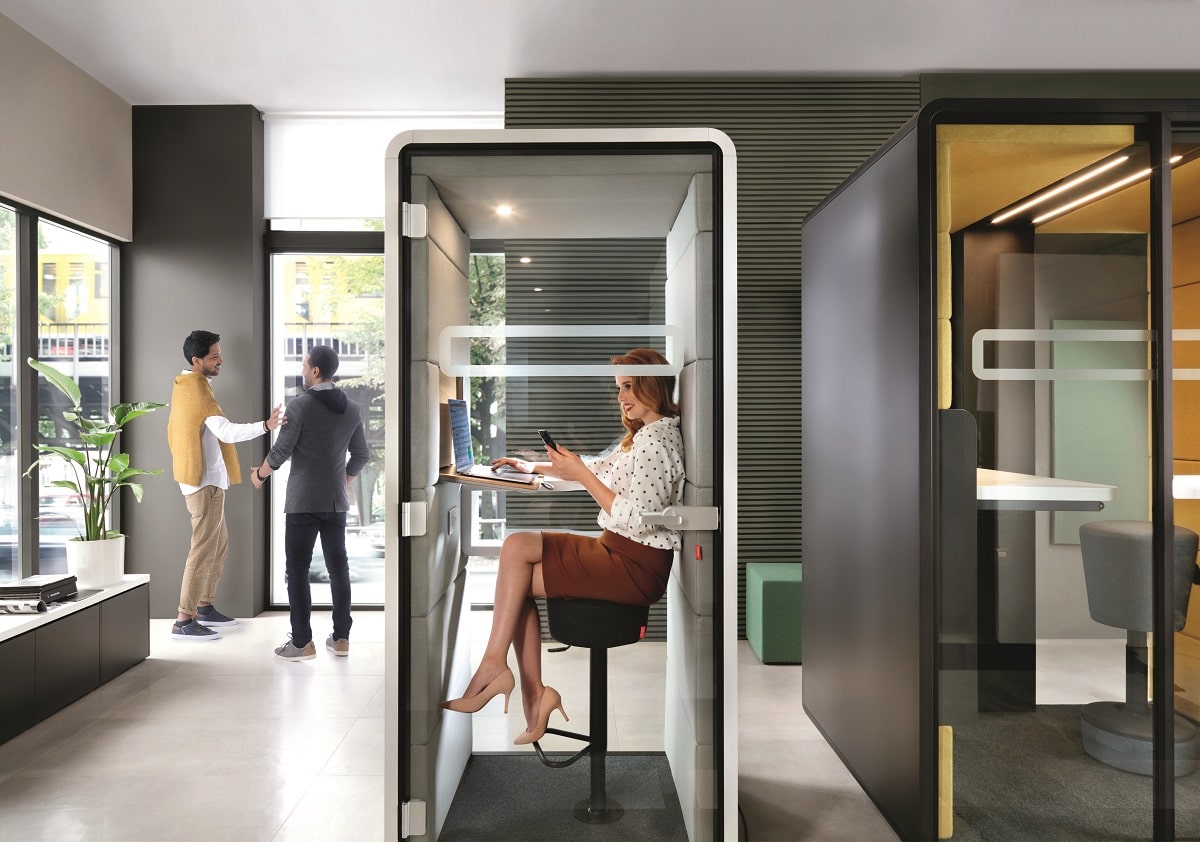 Work pods for a safer workplace; employee peace of mind
Pods give employees control over a personal, manageable space

Unlike the office (open and shared), pods and booths are enclosed and private, making them easier to clean and disinfect — they stop and kill germs in their tracks (see: Anti Virus coating)
Pods like hushPhone room phone booth, hushHybrid video conference booth, and hushWork workspace pod from the Hushoffice acoustic booth line are self-disinfecting — with all frequently-touched surfaces coated in an Anti Virus solution that continuously disinfects, minimizing the risk of pathogenic microorganism infection (viruses, bacteria, fungi)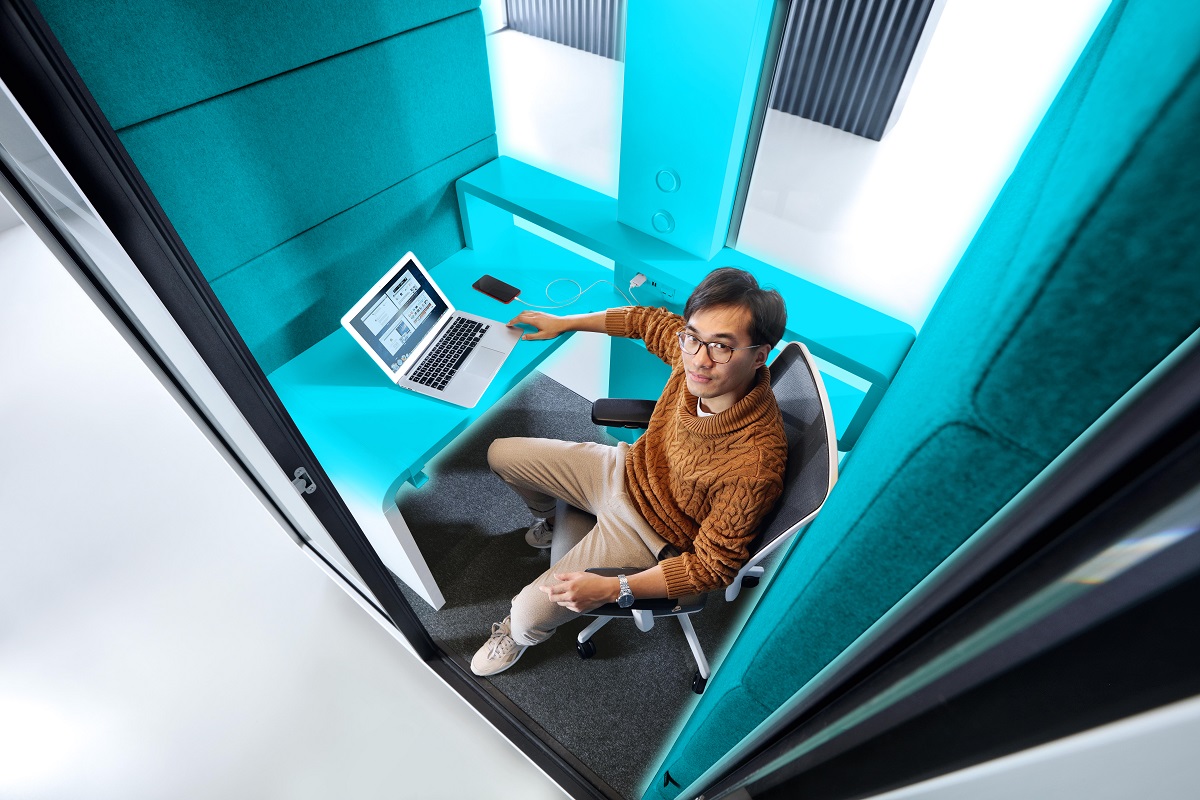 A physical divide between "work" and "life." The office helps maintain healthy working patterns.
Employees are aspiring toward more balanced work patterns. The office provides the structure and feeling of purpose needed to find it

– says Eliza Donek, Product Manager, Hushoffice.
Work-from-home fatigue is real. According to JLL's research, nearly half of employees are feeling overwhelmed and under pressure, with 61% starving for human interaction. Even the remote work veteran can begin to feel stuck in an unending day when the days lack definition. The notion of time and progress gets fuzzy when external feedback and markers are lacking. This leads to anxiety. Psychologists call this broad WFH phenomenon "languishing" or aimlessness. Stuck-ness. When employees languish, they lose joy in their work. The quality of their work, in turn, declines. Languishing is a mental health hazard intrinsic to remote working. Its pervasiveness helps explain why the workforce is 3X more likely to burn out today than they were pre-pandemic.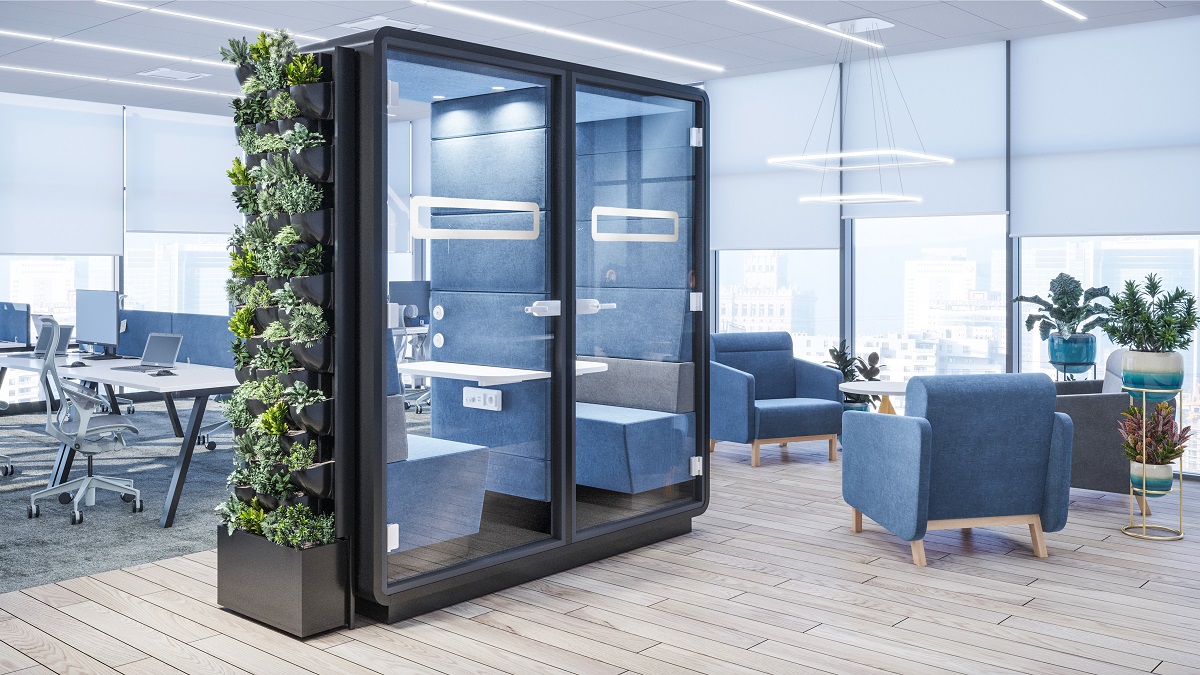 The office helps by maintaining a physical divide between "work" and "life" while giving employees variety in their day-to-day. Work-life boundaries and basic variety help employees maintain perspective — that fresh approach to work. Teammates more easily unplug at the end of each day while physically leaving the office. Here, too, both output and well-being benefit as healthier working patterns take shape.
A perfect soundscape, zone to zone, office pod to soundproof booth.
Distracting household noise. Neighborhood racket. Background sound causing echoes or buffers on video calls. Home is often noisy. The hybrid office is always quiet. Its soundscape is perfected, space to space, meeting pod to video call booth. Employees can depend on its good acoustics at all times. They can also make all the noise they want within on-demand soundproofed spaces like pods and booths (they aren't restricted by a concern of distracting others). Acoustics are important because when noise breaks our concentration, it weakens it. Pleasant, noise-free acoustics set the tone for quality work.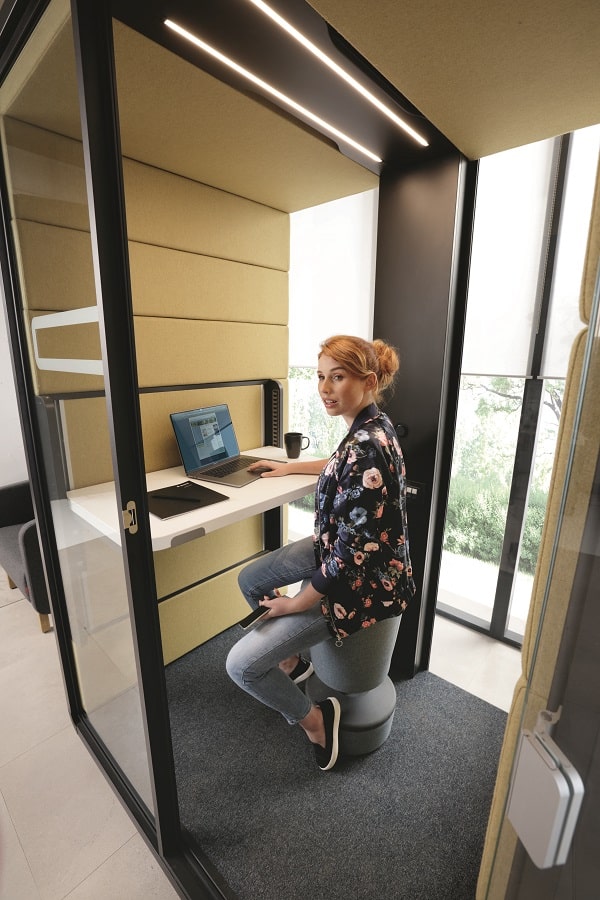 Acoustically perfected, the office is the peaceful, quiet haven sought in a hybrid world. The key is mastering acoustic soundscapes, "scape" by "scape," or space by space, private workstation by meeting area. The rationale here: different acoustic environments support different tasks.
Most people find a soft buzzy "library" type of quiet most conducive to concentrative work. Most people find the ambient sound of a semi-open setting — a partially enclosed acoustic booth or high-backed acoustic bench — to be most conducive to small collaborative meetings. Not to mention we're neurodiverse people and different employees like different sensory environments. Several acoustically unique spaces support several unique tasks.
A more productive office soundscape in 3 steps (with flexibility in mind)
Zone the office space using portable dividers and mobile office pods that block and absorb noise while making the layout easily adaptable. If the office echoes, add fuzz to the space — or sound dampening, sound absorbing materials. Acoustic soft seating, sound dampening lighting, acoustic panels, foams, and sound absorbers all do the trick.

Soundmask the space with a white noise machine or commercial office sound masking system to reduce background speech intelligibility. Less intelligible is less distracting; masking makes the office quieter, more peaceful.

Invest in a mobile private phone booth like hushPhone for private calls or a freestanding soundproofed video booth like hushHybrid for private video calls. Office pods are like compact speech privacy systems — they guarantee the pod user's call privacy while containing the call itself, so coworkers aren't distracted by it. They thereby dampen two of the most common sources of office noise: phone calls and video calls.
PRO TIP
Does your team take frequent phone calls? Video conference calls? Or hold multiple team meetings per week? 1:1 meetings? Invest in the acoustic booth built for the task your team does the most of to eliminate the main culprit of noise in your office space. Check out hushPhone, the soundproof call booth for private calls; hushHybrid, the video conferencing pod; hushWork, the pod workstation for independent work; hushMeet.L, the modular conference pod, a great alternative to structural conference rooms; and hushTwin, the ultra-compact soundproof work booth made by 2 independent workspaces, linked for the most optimal use of space.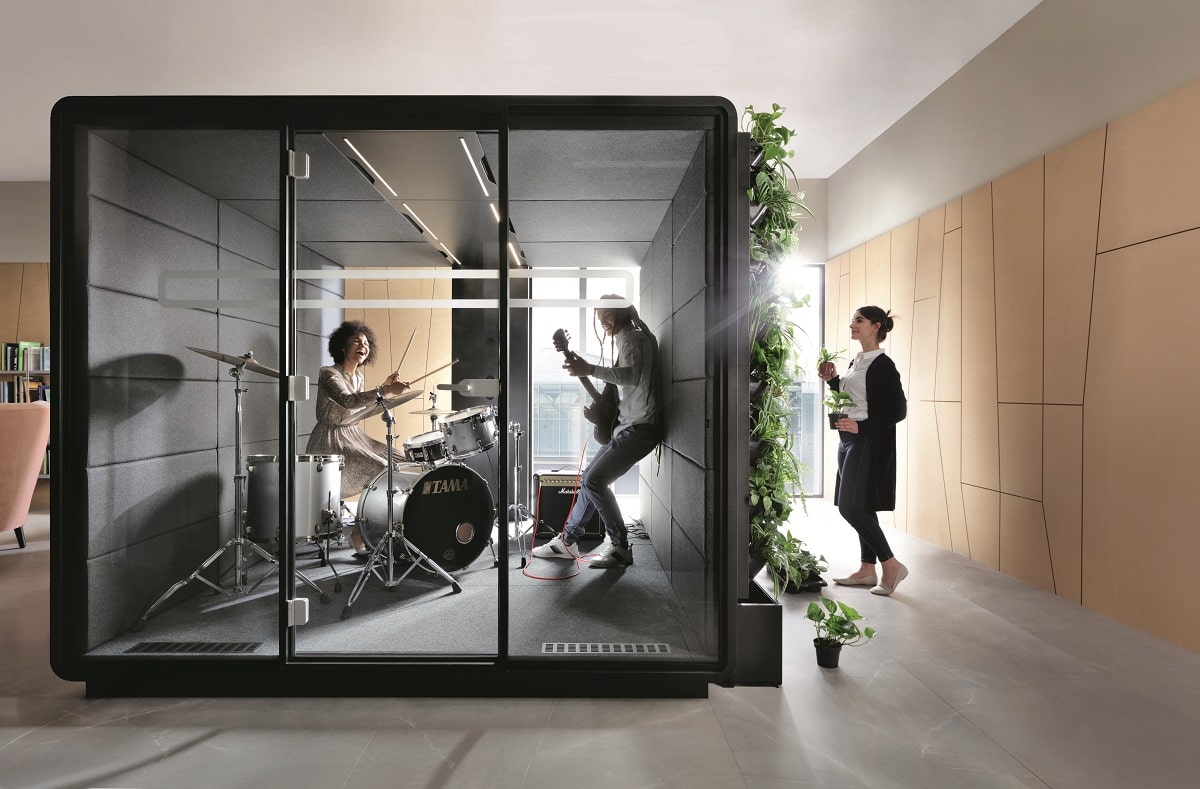 Quick de-briefs, collaboration with colleagues, managers, and clients, chitchats with work friends. Socialization and collaboration are not only good for our mental health — they keep our mind fluid, able to brainstorm and problem-solve at a higher level. They equal productivity, affecting the bottom line

– lends Mateusz Barczyk, Senior Brand Manager, Hushoffice.
Without people to bounce ideas off of in real-time, thinking tends to get stuck and small. Even moving about the meeting room or breaking into small groups and sub-conversations fuel the creative process. The clear caveat: socialization and collaboration in every messy, organic form are difficult to replicate virtually. The office is therefore crucial in a hybrid world. It facilitates these "human" aspects of work that make our jobs productive and worthwhile.Consider work pods for safe, pleasant socialization in the office. Mobile, responding to change. Fully appointed for modern meetings. Self-disinfecting for employee health and safety (see: Anti Virus coating).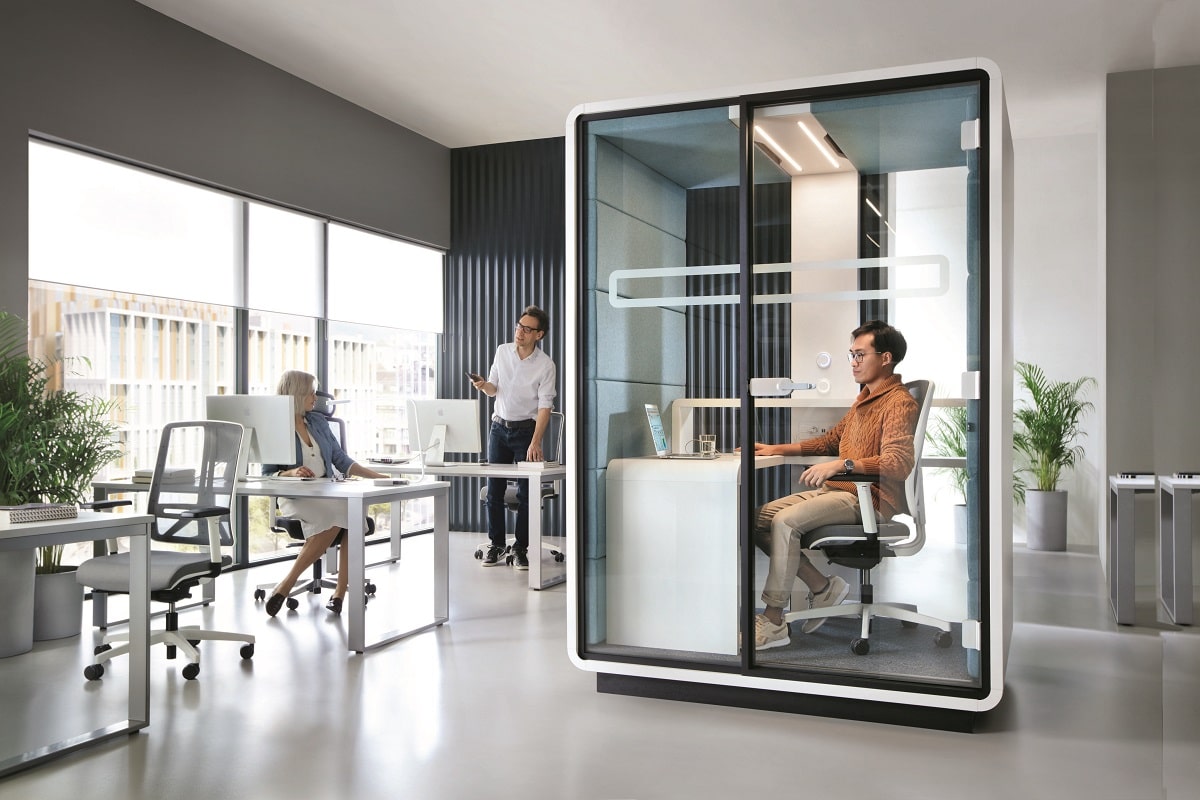 Currently, nearly half of U.S. workers are struggling with pandemic-induced mental health problems likely worsened by virtual burnout and social isolation. This explains why 73% of workers want to work at places that offer human connection.
Work relationships are also an influential element of work and can drive or stall progress.
Like any other kind of relationship, they are built on trust, happening organically, hard to encourage via conference calls or team messenger apps alone. There's even a business case for getting employees to socialize more at the office — Gallup's research shows that people who have a best friend at work are 7X as likely to be engaged, are better at customer service, and turn in higher-quality work. Humans depend on relationships for feedback, especially at work. In fact, Gallup's research shows Americans report the highest happiness levels when they spend 6-7 hours per day socializing. One of the office's roles in a hybrid world is to support socialization. Relationships, collaboration, one-on-one meetings, and all the rest. Human interaction is vital.
The challenges faced during disruptive times are immense and complex. This makes them difficult to solve or even pinpoint over conference calls. People often need to be in a room together, mapping out and tackling the problem, running rough game plans by each other, and fine-tuning solutions. Video-conferencing alone doesn't cut it. "Zoom fatigue" or "virtual" fatigue has proven real and exhausting. The consensus is, remote works for rote, focused tasks or plug-and-chug activities, but we need the office for real collaboration. Businesses are defined in disruptive times, and collaboration is an essential step in the creative process doing the defining.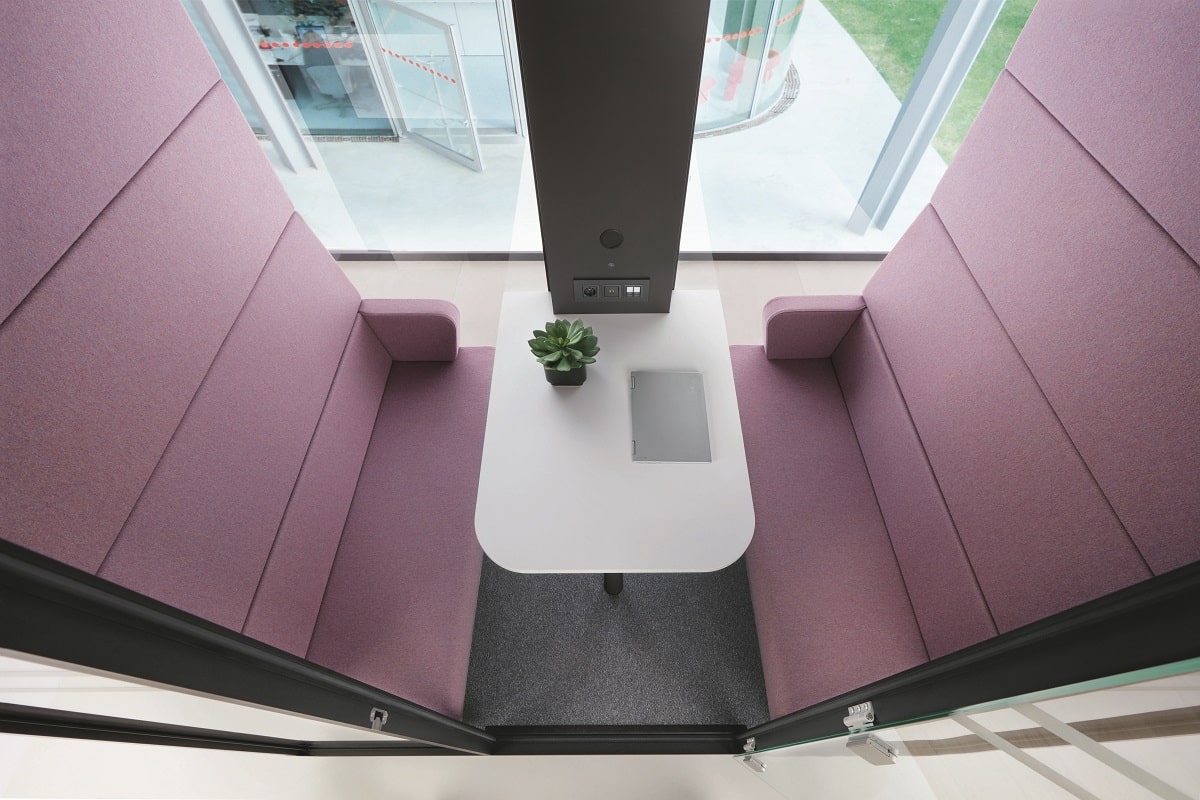 If your layout lacks safe team spaces for organic collaboration, pods and booths are a flexible fix to look into. They're acoustic, containing all meeting noise. They're compact, delivering all the functionality required for comfortable, convenient meetings within one mobile, prefab product. Because pods are adaptable — easy to relocate and retrofit — they are a long-term solution to an immediate need for safe co-working.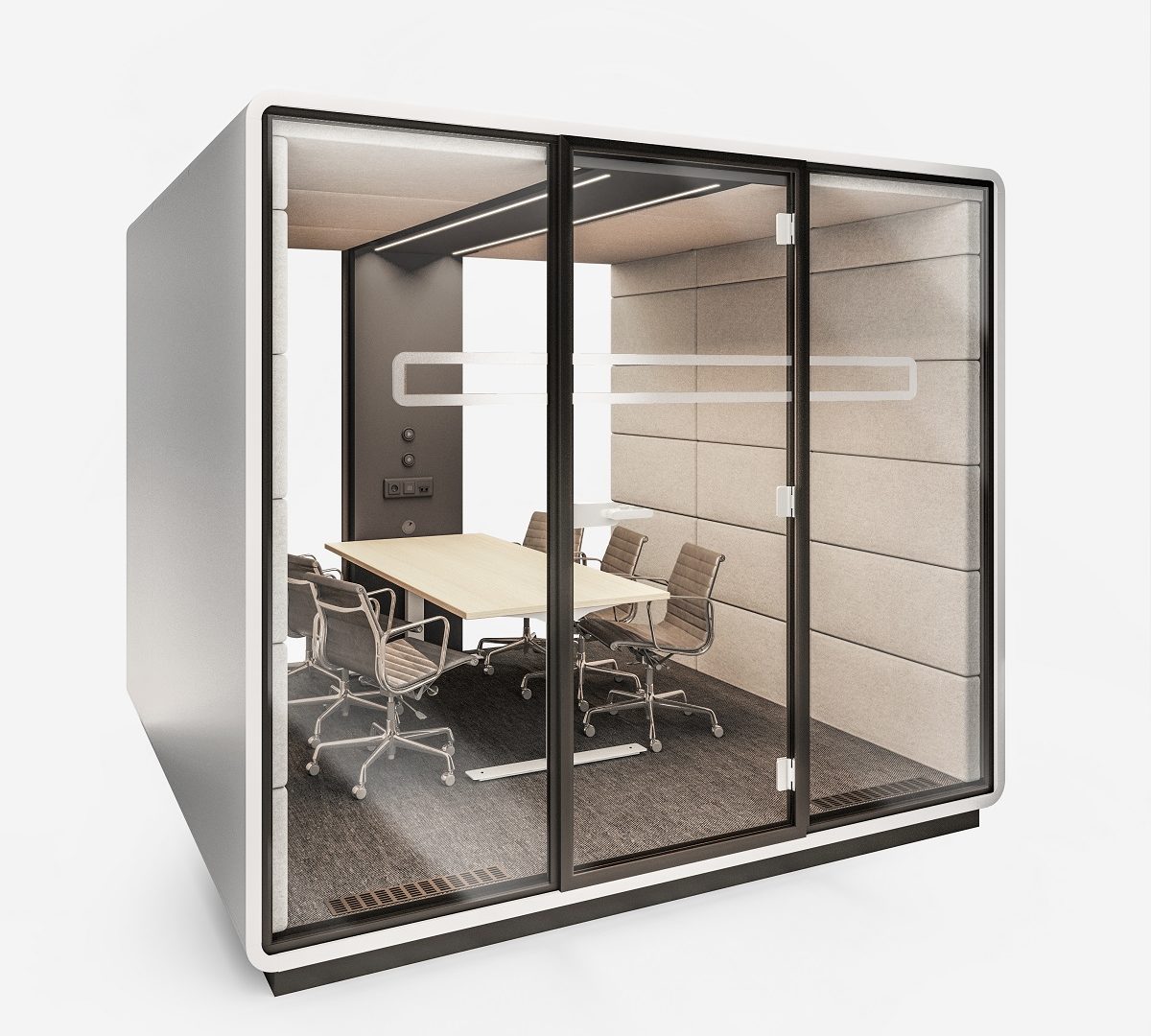 Enclosed and comfortable. Freestanding and fully featured for modern, hybrid needs. Conference booths, soundproof meeting pods, and 2 person meeting pods make collaboration in the office safe and easy.
Amenity. A variety of spaces for a variety of needs.
Variety is the spice of life. An office that provides variety busts up the monotony of working from home full-time. It's an office worth commuting for because it fends off the "languish" of work-from-home fatigue. Such an engaging space boasts more joyful, energized, on-task employees.