Whether it's team training, intimate one-on-ones, or classified phone calls, verbal communication oils the wheels of a hybrid work world. How to support it? Our Hushoffice line of pods, booths, space dividers, and other flexible furniture can help.
Products highlighted in this post…
Hold 1:1 heart-to-hearts in hushMeet, a confidential pod for candid talk.
Sometimes 1:1s are challenging conversations. But they are always beneficial — illuminating, encouraging, or stress-relieving for either party. HushMeet provides the snug, shushed digs where trust flows. It's a private space for sensitive issues to be comfortably discussed.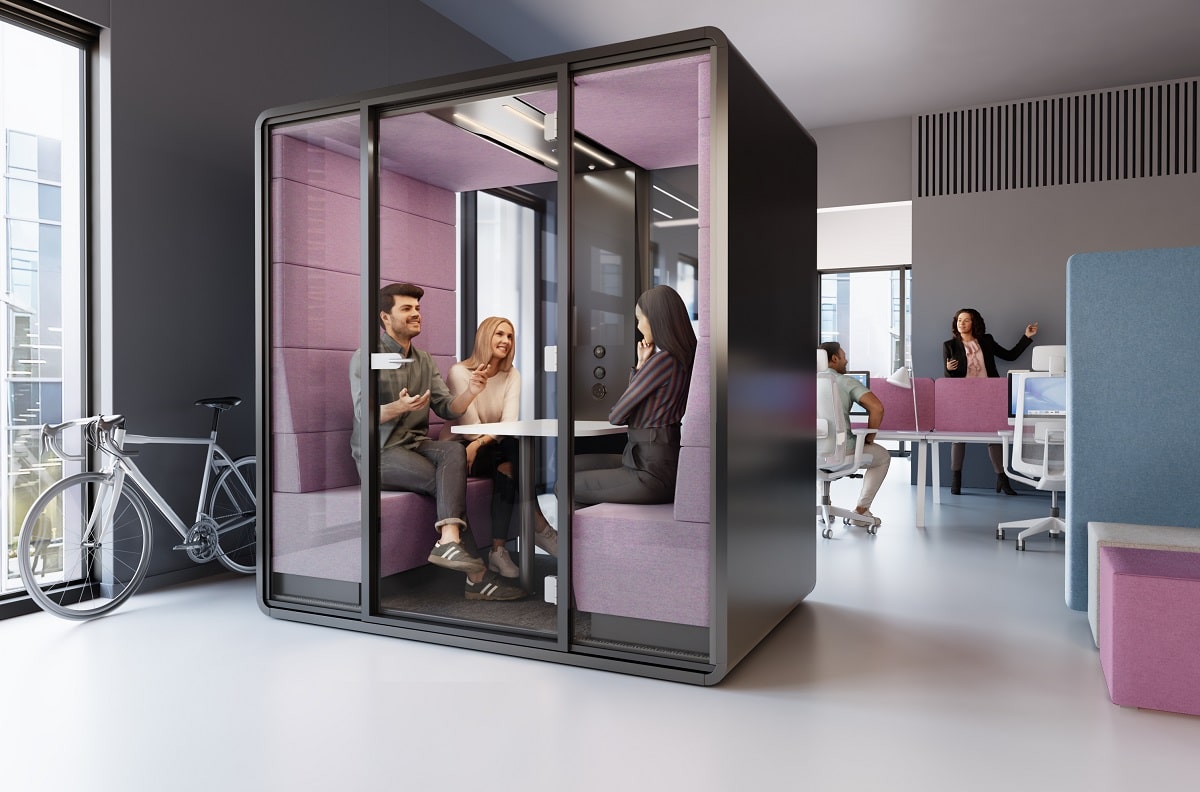 Conquer the fear of public speaking in a cozy conference booth like hushAccess.L.
Those who fear public speaking suffer more on the open floor because they're constantly concerned about judgment. Their potential is capped since they're discouraged from sharing. A booth like hushAccess.L is a solution for this shy kind

– says Mateusz Barczyk, Senior Brand Manager, Hushoffice.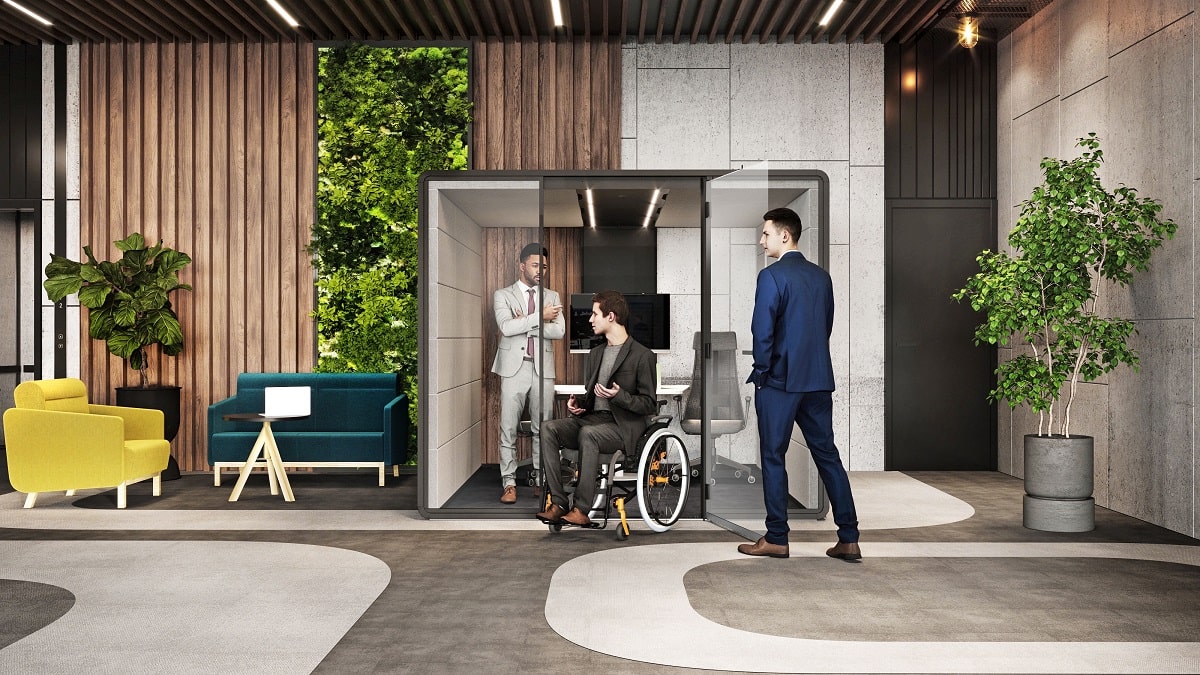 Group settings on open floors can be rough for people who fear public speaking as they feel awkward. They may stumble over their words. They may not articulate clearly. They may also be sidetracked by background noise.
A team meeting cabin like hushAccess.L is the fix.
Inside the cabin, the only people to hear the meeting are its actual attendees. This puts everyone at ease. Even those slow to participate. When you're sheltered from the floor in such a quiet pod, self-consciousness melts away, leaving just the task at hand.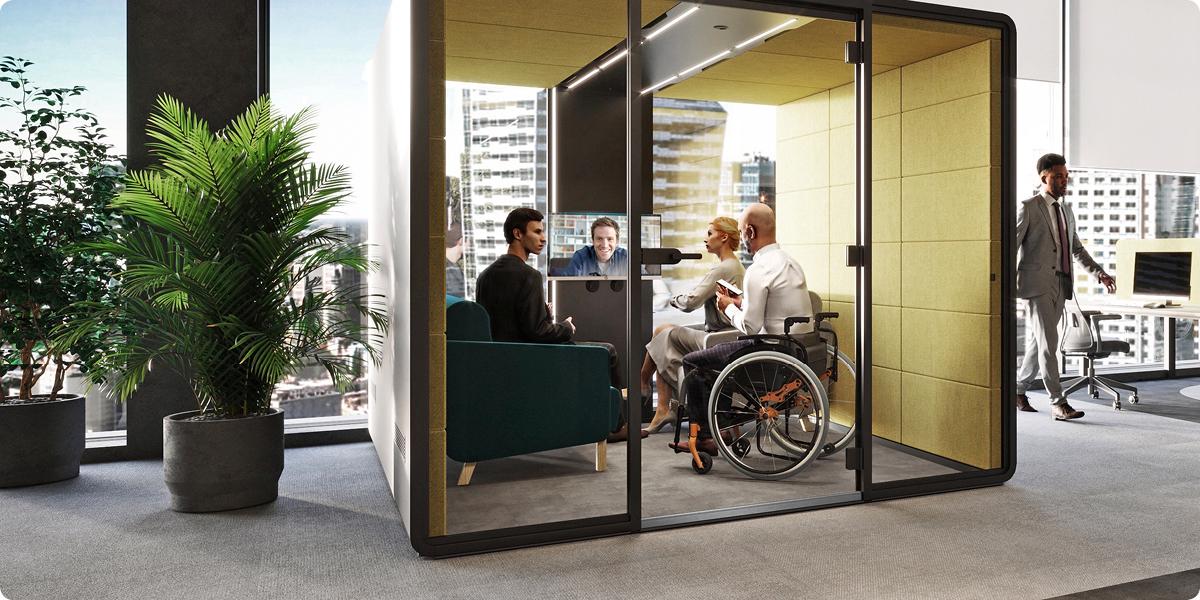 HushAccess.L also eliminates intelligible speech from the floor.
It traps speech of the person using it, assuring no private matters are leaked. And because that speech is trapped, there isn't as much of it interrupting the floor. Knowing that intelligible speech is wickedly distracting, this means the office that's outfitted with pods works better for everyone.
Give your salespeople the phone pod needed for confidence on every call: hushPhone.
Both introverts and extroverts make great salespeople. Both need private call spaces like hushPhone for different reasons.
A phone pod is the calm call space introverted salespeople thrive in.
From introversion comes empathy and listening skills — both top sales assets. Clients quickly trust the more reserved type as this type makes them feel understood and important. But introverts need quietude to get into their groove. A sound-insulated call booth like hushPhone provides it.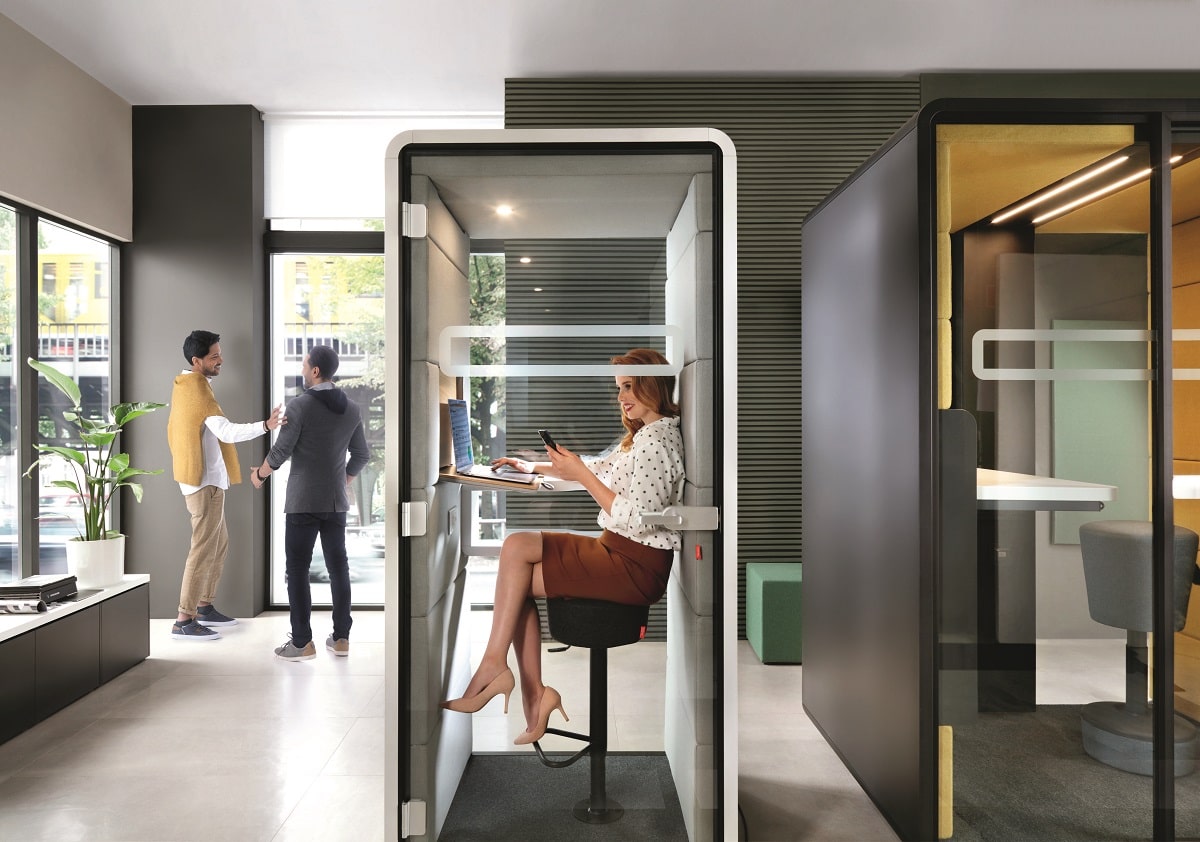 And as for extroverts, hushPhone lets them "let it rip."
Then there's the extrovert. Likely a loud talker by design. HushPhone caters to the extrovert's needs, too, since it's the acoustic call space in which one can talk at full volume, letting their bravado lead, not once disturbing others.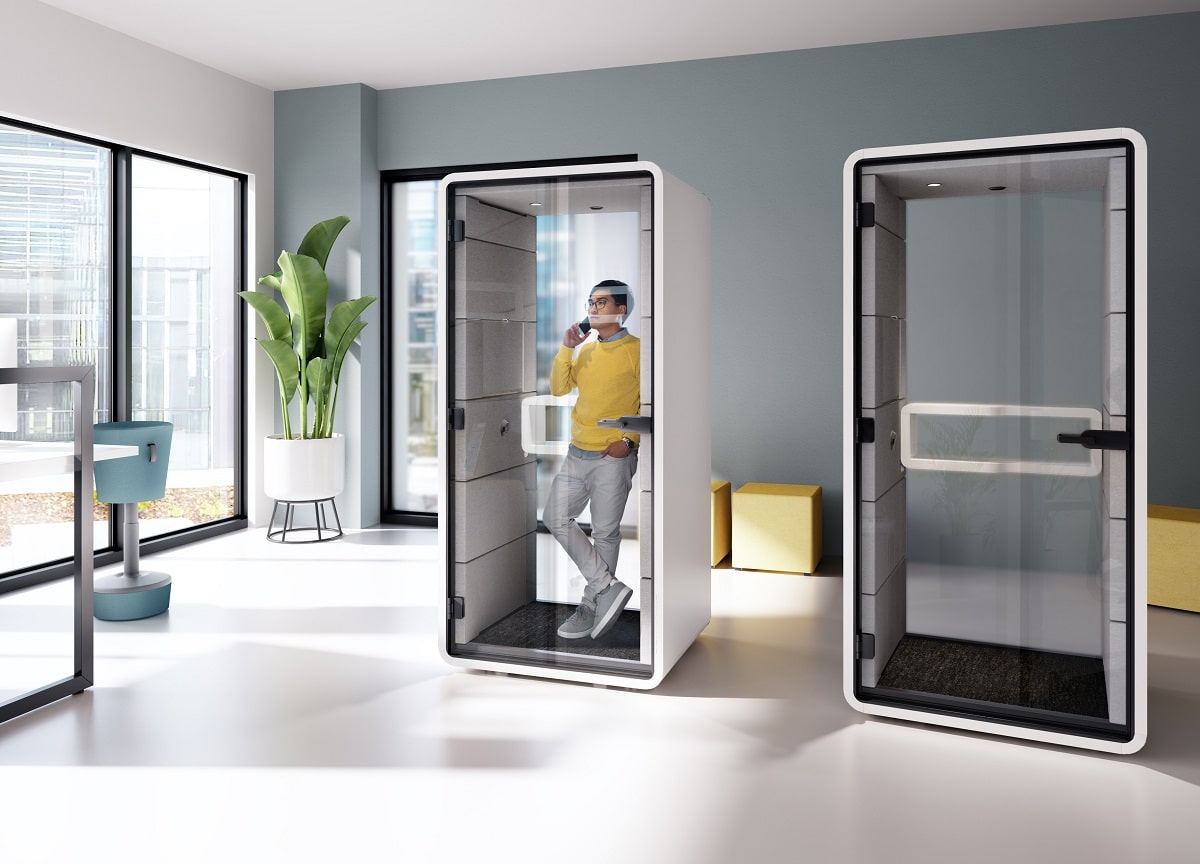 Office call booths keep personal matters personal, too.
Sometimes a doctor's appointment must be scheduled, or a family member must be called at work. No biggie, with hushPhone. Not a word escapes the pod. Employees can hop in, handle it, and get on with their day, relieved of an urgent task.
Of course, there are cases when a lively environment is desired. One that encourages fluid group thought — raw, rough catharsis. Freestanding and reversible, hushWall provides this livelier environment.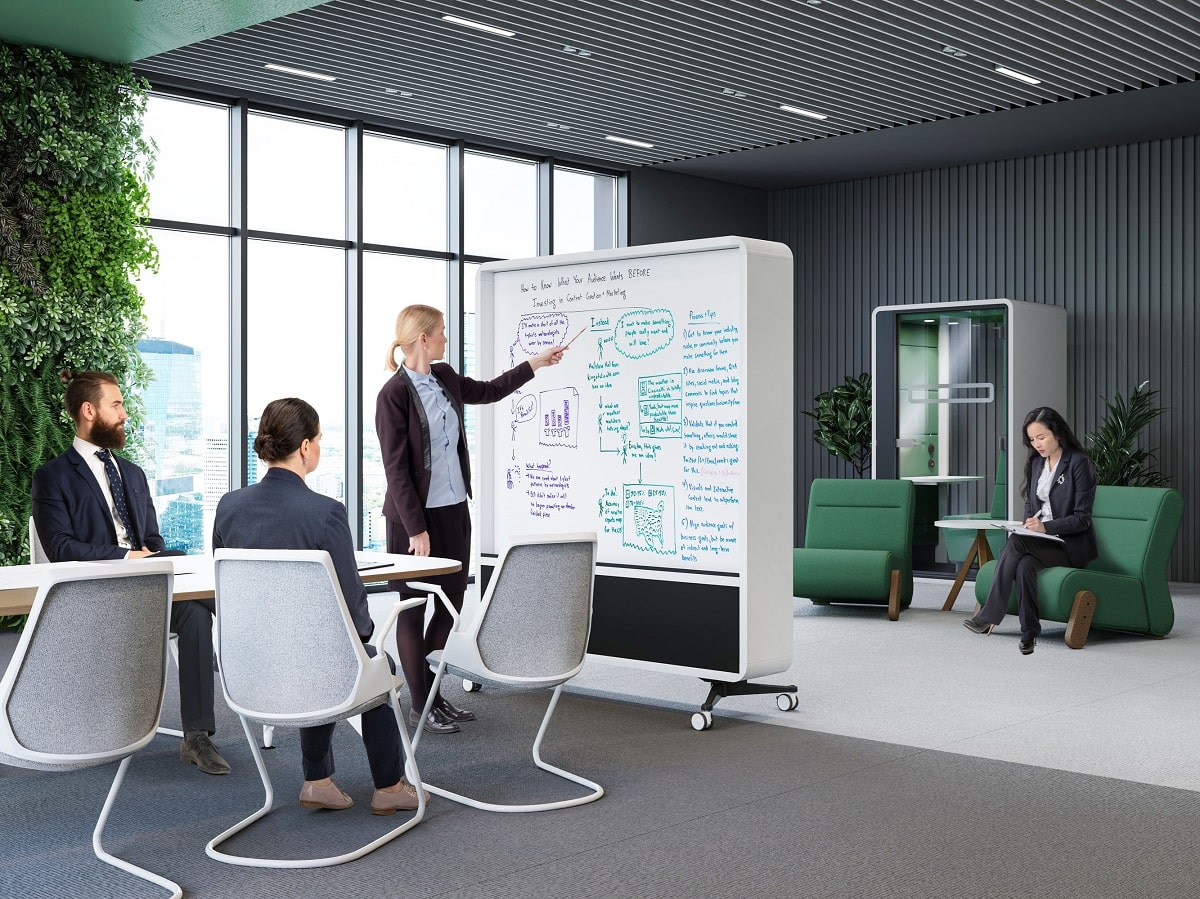 Hushwall is tall and wide and set on wheels, flexibly delineating space.
It's the sole solution needed to fashion ad hoc zones for ideation and dialogue. You can customize either side with a whiteboard or with a panel that has room for a monitor mount (making content-casting a breeze).
Corralled around hushWall, your team will be spitballing ideas much more playfully than they would be sitting at a conference table. The rolling divider imparts a relaxed, anything-goes atmosphere of creativity, and it allows people to move in step with their mind

– offers Mateusz Barczyk, Senior Brand Manager, Hushoffice.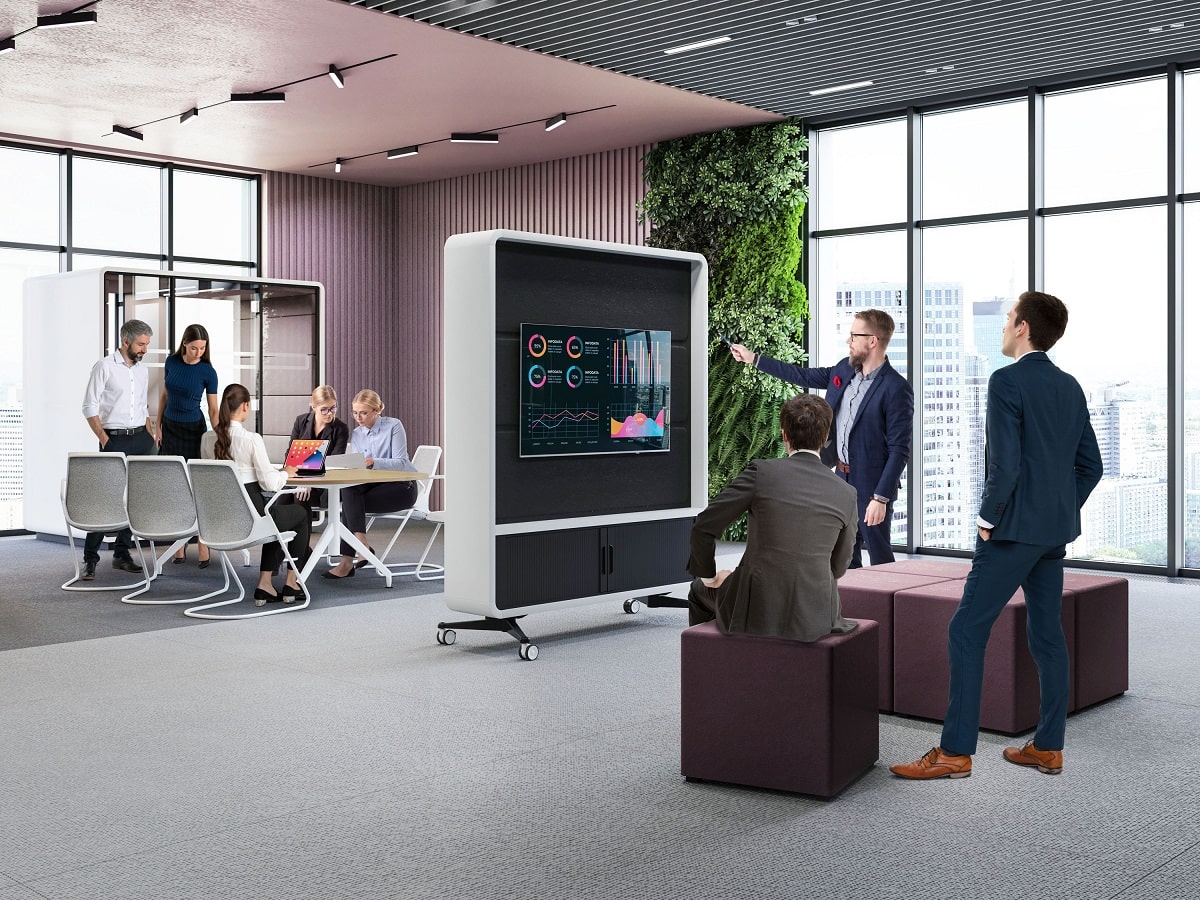 Get excellent communication on every hybrid call in the hushHybrid video pod.
Another matter of verbal communication in a hybrid world — making it so remote meeting attendees can hear every word of speech made by employees on site. And vice versa. This way, everyone feels included and valued regardless of where they're working from.
HushHybrid guarantees speech privacy per ISO 23351.
So words made in the pod stay in the pod. And since the user is cocooned in a noise-free space, focus just happens. Office noise is blocked out; not only can the user hear every word of the call much more clearly, but remote meeting attendees can, too, since speech isn't muddied but clarified.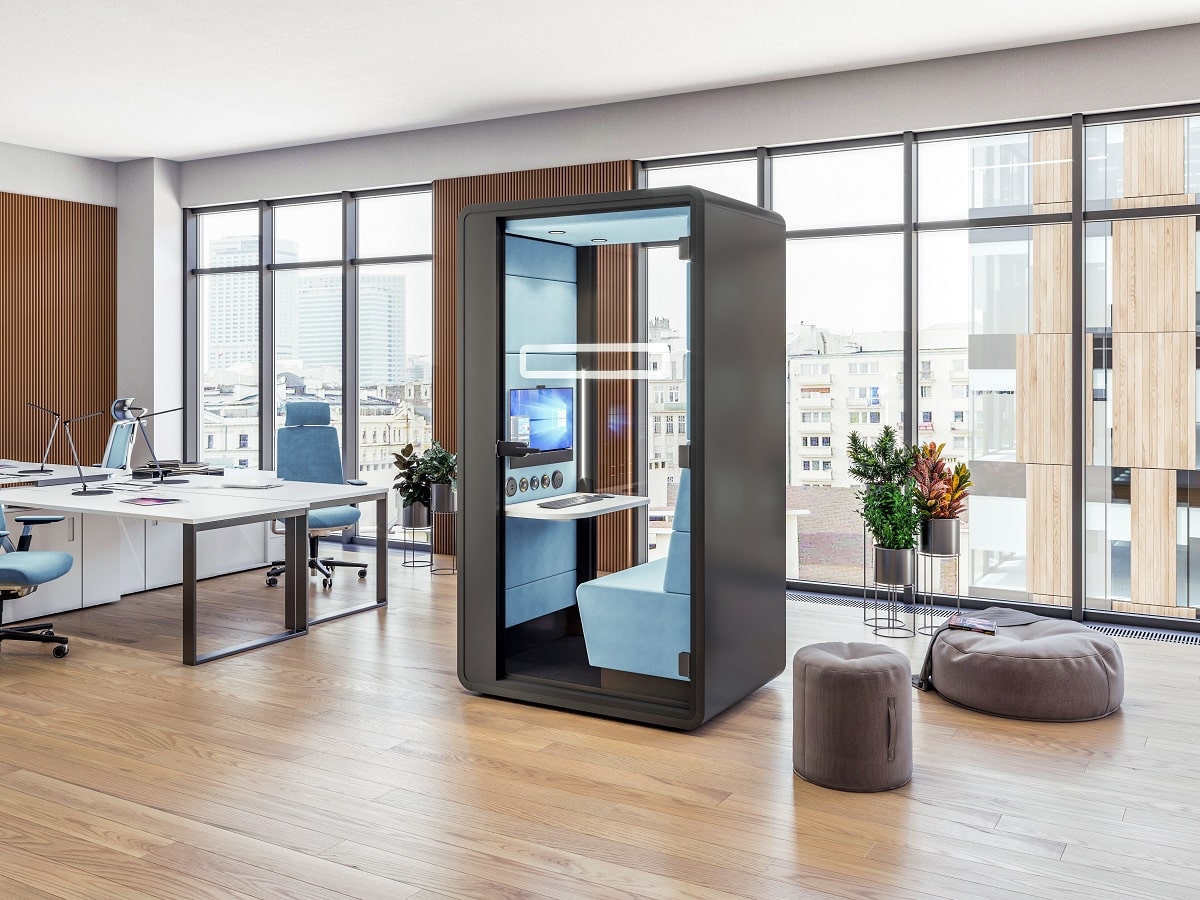 An office video call pod helps keep every employee on equal footing.
How? By making both on-site and at-home employees feel involved during meetings. While a weak link between teammates gives rise to worry of missing out or getting left behind, a strong link makes everyone feel heard and connected, committed to their work.
People tend to focus on private call spaces for private calls. But we can't forget to give employees places to take casual calls, too. There are instances in which an employee won't want to use their phone booth because they won't want to take it away from someone who really needs its privacy. For these instances, a chair like the A11 with its sliding privacy panels is an apt call space

– lends Eliza Donek, Product Manager, Hushoffice.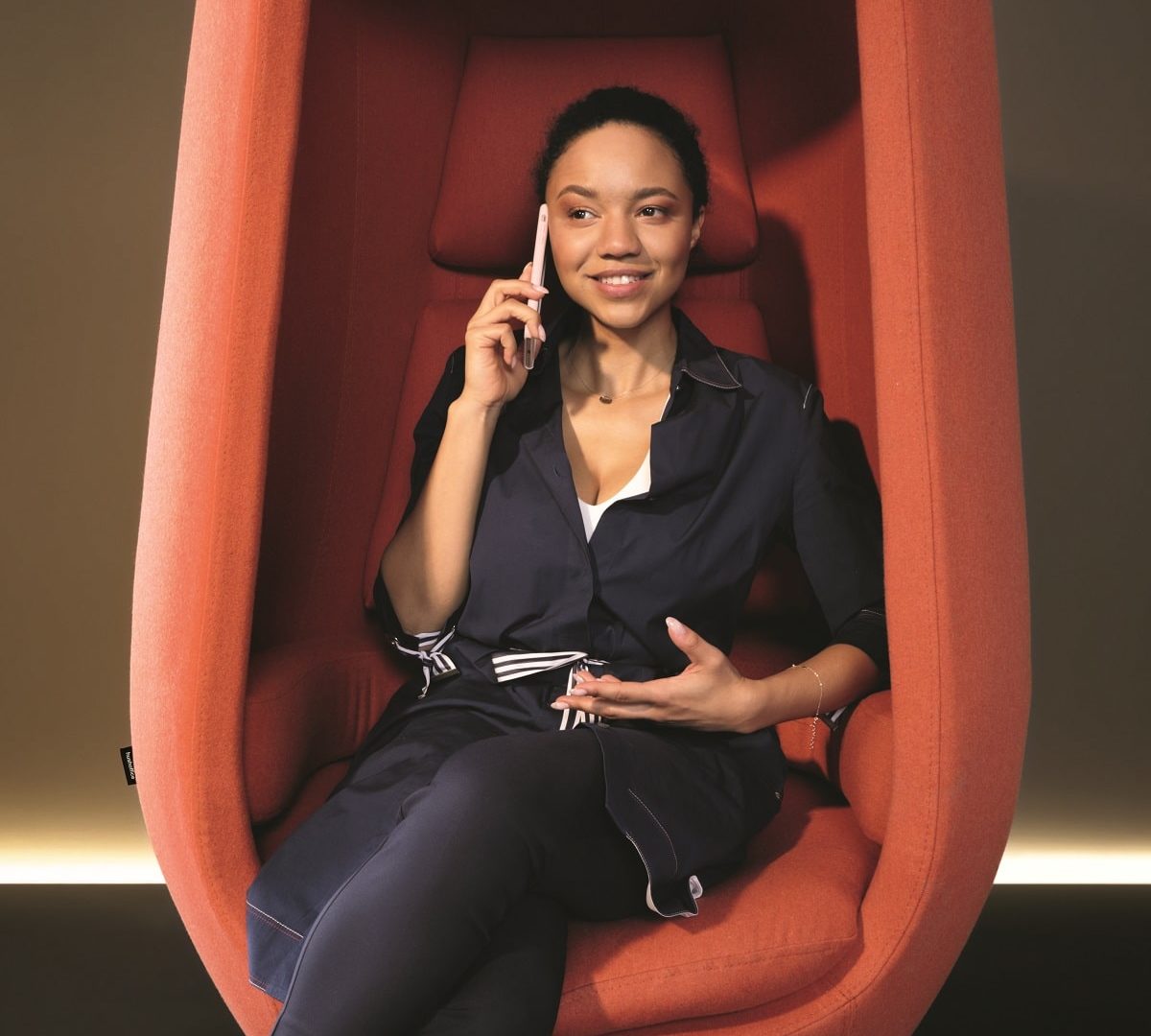 The A11 is an artful way to bring function, freedom, and class to the layout.
The chair's special shape encapsulates you. Its seat is carefully structured — headrest, backrest, armrest, and all. Sit down. Slide the privacy panels closed. Shut yourself in, shutting out the office, signaling "do not disturb" loud and clear. A11 is a welcome rest.
The golden rule: flexible design is the basis of an effective hybrid workplace.
For some, a private meet pod is the only place where words roll off the tongue. You might say inside the "box" is the only place they think outside of it. For others, a buzzy work lounge really gets their gears turning, synthesizing and expressing vividly. So a flexible office space outfitted with a rich variety of furniture solutions is best.
Check out the Hushoffice catalog of flexible office furniture.
Verbal communication in a hybrid world – frequently asked questions
How can you reduce sound travel in an office?
Implement soft, sound-dampening materials like acoustic wall panels, curtains, and upholstery to absorb noise and capture any echo. Plants, flooring, and rugs can help, too. Then zone the office using dividers and pods to prevent background office noise from ricocheting around the entire office space. Check out the Hushoffice collection for ideas.
What is sound masking in offices?
Sound masking is a method of improving acoustics in which a practitioner brings in an ambient sound like music or a noise canceling machine to essentially blanket office noise.
How can I make my office soundproof better?
Solutions to make your office more soundproof include sound-absorbing flooring, soundproof space dividers, and acoustic work booths like hushHybrid (which contain intelligible speech).