By curating an office space that realizes ergonomic principles, you empower employees to work with utmost ease. An Activity-Based Workplace paradigm aids this curation. It is special in how it produces a detailed understanding of a team's daily tasks and specifies discrete zones apt for each task. Let's take a look.
Activity-based workplace design – tl;dr
Office ergonomics is an investment in employee efficiency.
Good ergonomics isn't just about comfortable chairs and desks. It's an investment in your team's vitality. By crafting workspaces that actualize ergonomics, you set your employees up to work smarter, not harder, with more ease and enjoyment. Reduced strain on bodies translates to heightened focus and fewer sick days. So you pave the way for a motivated workforce, thriving in an environment designed specifically for them

– says Mateusz Barczyk, Senior Brand Manager, Hushoffice.
Employees are more likely to stay with a company that prioritizes their well-being. While initial investment may be required for ergonomic improvements, the long-term savings from lessened absenteeism, lower healthcare costs, and increased productivity greatly outweigh upfront costs.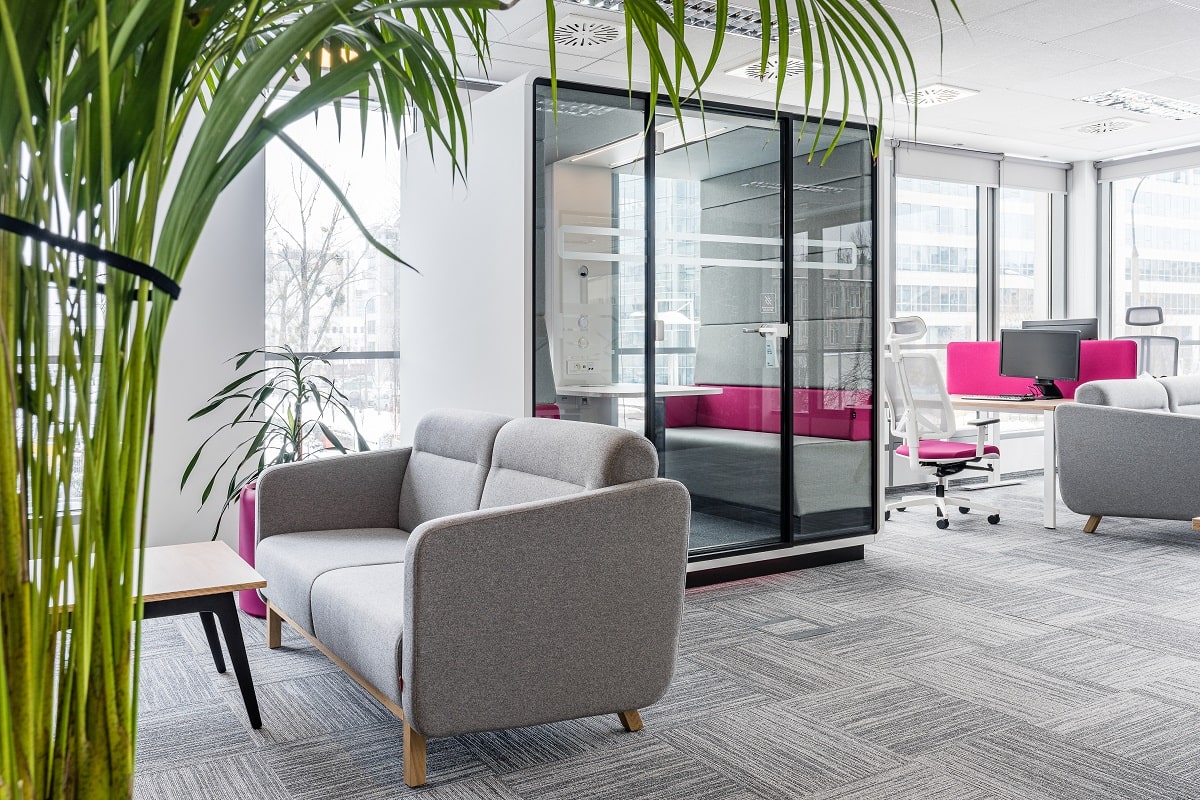 Activity-based workplaces are the way. Design for your team's unique scope of tasks.
This approach to the office's design focuses on creating a variety of workspaces within it tailored to a variety of tasks. It works by giving employees a range of settings, from quiet zones to breakout spaces, each one supporting distinct types of work and interactions.
Activity-Based Working, or ABW design is very good at realizing good ergonomics because it takes a granular look at a team's regular assortment of activities and composes deliberate zones that, down to the greatest degree of detail, like light quality and cross-ventilation, are devoted and well-suited for each activity. For focus-intensive tasks, there is a work zone with perfect quiet. For coordinated teamwork, there is a shared zone teeming with daylight. And the rest of it

– adds Mateusz Barczyk, Senior Brand Manager, Hushoffice.
ABW can boost personal and interdepartmental communication among a team, in turn boosting productivity and creativity. But unless some closed workspaces are provided, distraction results. Thus, spatial solutions like Hushoffice pods are needed to give the office its healthy dose of privacy.
A new vision for the open office: a landscape of zones that caters to varied activities.
For inspiration, let's cover four core zones of an office considered ergonomically sound. For illustrative purposes, we've referenced one Hushoffice pod for each zone to offer tangible examples of an effectively zoned and ergonomic ABW office.
Independent workspaces…
An adequate space for independent work like hushHybrid is defined by a quiet and clutter-free environment. Ergonomic furniture supports healthy posture and enduring comfort. Ample natural light or finely designed LED lights reduce eye strain. Controlled acoustics eliminate interruptions.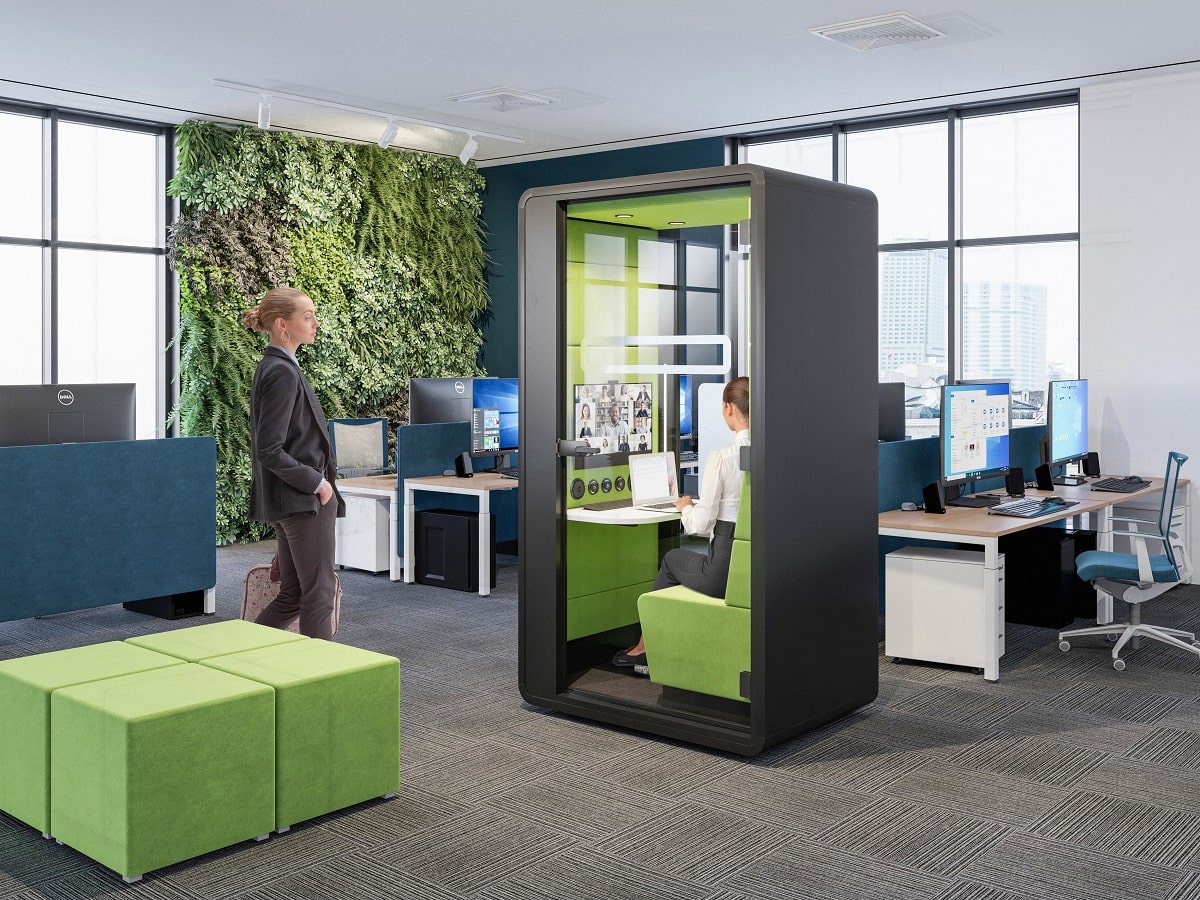 Mini conference rooms and meeting places for the team…
Take the hushMeet 4-person meet booth as a prototype. Ample seating. A well-proportioned table to fit all attendees comfortably and for easy interaction. Audiovisual tech for convenient presentations and hybrid meetings. Tweakable lighting and first-rate acoustic treatments to muffle floor noise.
Zones for video conferencing…
The participant's face is well-lit without harsh shadows. A plain backdrop curbs diversions. Echoes and background noise are absent. A camera at eye level promotes clear communication. Consider the hushHybrid video call pod, a model video conference space.
Chillout rooms for a moment of rest, a break from office chaos…
This is a dedicated area for calm and rejuvenation. Cozy seating makes it welcoming: plush chairs and sofas arranged casually. Soft lighting gives a gentle ambiance. Plants and artwork give tranquility. Here, employees unplug to recharge. Consider the hushAccess.L quiet pod.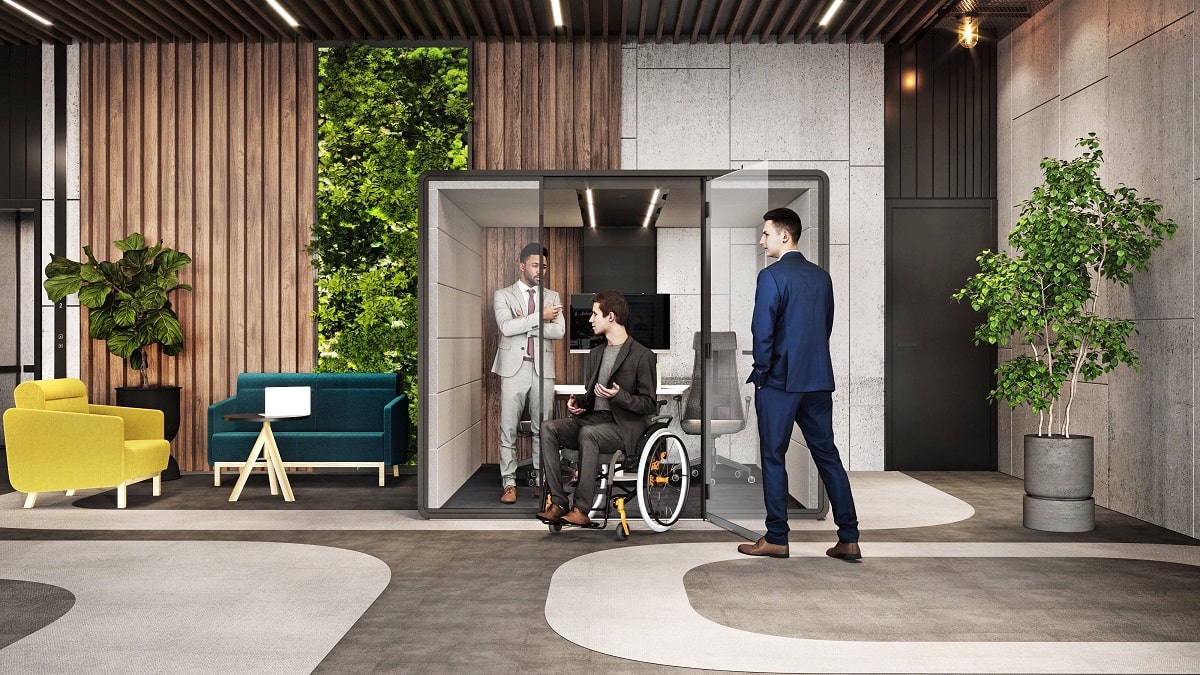 Principles of modern office ergonomics…
It will be helpful to take the ergonomic principles into account as you delineate ABW zones in your open-space office. These principles are the actual setup of the desk as well as each zone's lighting, acoustics, and air quality. Underpinning them all is the principle of autonomy.
Ergonomic Principle #1: Proper desk setup
An ergonomic setup supports good posture throughout the entire body. It has adjustable furniture. Keyboards, monitors, and mice are properly placed. The screen is set at eye height. The keyboard and mouse are at the height that allows a 90-degree angle elbow-bend when typing.
Ergonomic Principle #2: Optimal lighting
Lighting is more than a catalyst for performance. It is a space's mood. Whether employed to ignite teamwork or to cocoon employees in seclusive tasks, it influences how people think and feel. And by mirroring the sun's arc, it can orient one's circadian clock for better health.
Adjustability is what ergonomic lighting is all about.
User-adjustable lighting prioritizes personal preferences. It lets employees set the choice level according to their comfort and task requirements. This individual control can also support circadian rhythms for maximum well-being and alertness.
Tasks shine most brightly when cast in the right light level. While sparks fly under a gentle glow, fine-detail endeavors need the brilliance of stronger light. Yet, the beat gets even more personal — some prefer a general dimness regardless of circumstances, while others always need brightness to think straight. To embrace this kaleidoscope of preferences, user-adjustable lighting is needed. Solutions like Hushoffice pods hit the mark, giving the employee fine-tuned control over their immediate environment's radiance

– says Mateusz Barczyk, Senior Brand Manager, Hushoffice.
Ergonomic Principle #3: Suitable workplace acoustics — quiet, but not too quiet
Sound affects cognition, emotions, and health. It is a pivotal consideration. Hence, ABW design has us draw up the sound quality of each zone as minutely as we draw up furniture settings and the like. This means fitting soundscapes to tasks so each zone's acoustics supports its given activities.
Want to turn your sprawling open office into a garden of acoustic havens?
As a starting point, consider the following five recommended acoustic zones, functional as they are easy to enjoy…
Quiet Zones For concentrated work, reading, writing, or complex problem-solving. Minimal background noise with muffled speech. Distraction-free, for deep focus on tasks that require high cognitive demand or sustained attention.

Collaboration Areas For team meetings, brainstorming, and collaborative projects. Moderate speech levels, a low background hum, and interactive discussions. An area where open communication and free thinking are encouraged, never stifled.

Open workspaces For routine tasks, quick discussions, random interactions. Here, a low to moderate and steady noise level supports organic communication without harming independent focus. The soundscape shapes a sense of accessibility and spontaneity, allowing teammates to work together in the most natural way.

Private meeting spaces For important meetings, sensitive discussions, and concentrative tasks. This zone has little background noise, if any, for maximum focus. Private or classified discussions are protected by the space's professional acoustic design. The space offers confidentiality and a dependably low-stimulus environment for focused tasks. Consider the hushMeet private team meeting pod.

Phone booths For phone calls and video conferences. See the hushPhone office phone booth. These are sound-insulated spaces with speech privacy. Phone call or video meeting attendees can retreat to such booths for the assurance that their discussion will be secure and protected. Phone booths also block out unwanted floor noise, allowing uninterrupted focus.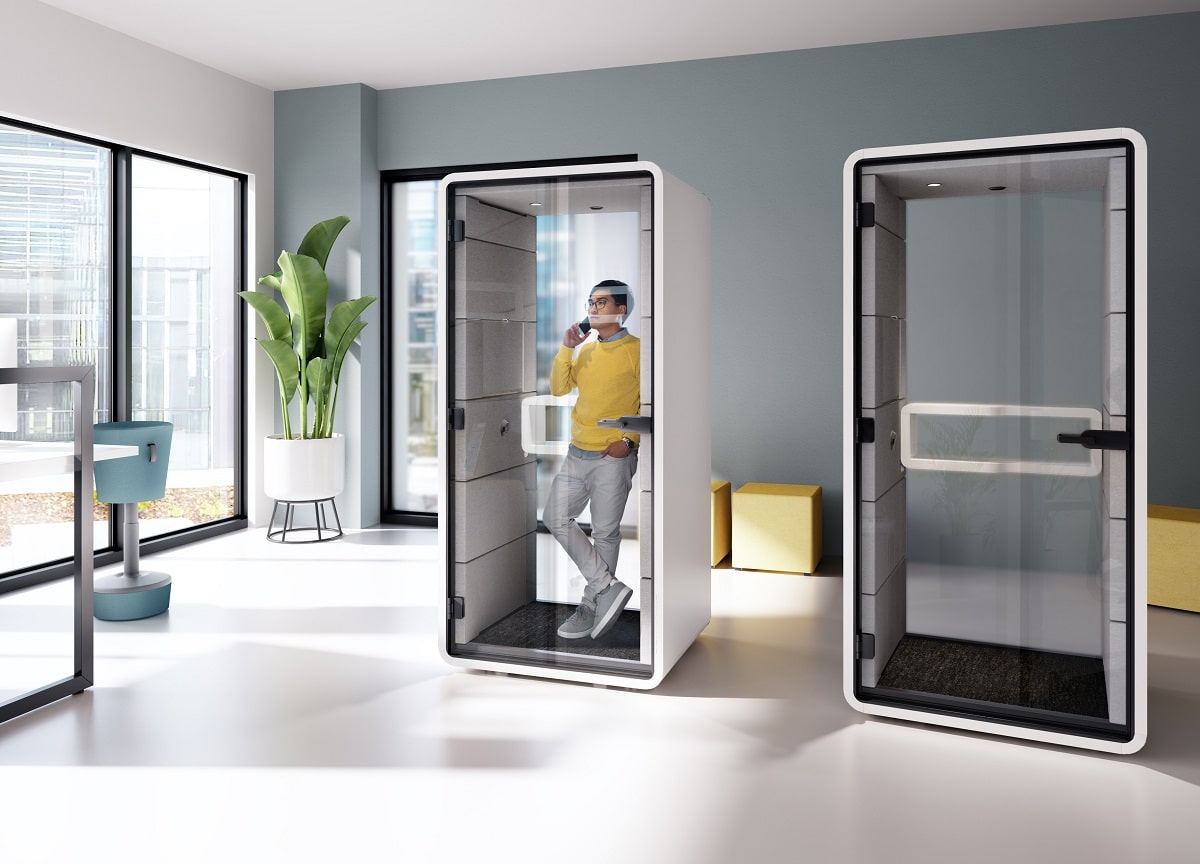 Just how quiet are Hushoffice pods? Check it out: Quiet but not too quiet: the acoustics of the office work pod explained
Ergonomic Principle #4: High indoor air quality
"I am persuaded that no common air from without is so unwholesome as the air within a close room that has been often breathed and not changed," said Ben Franklin.
Indeed, ventilation makes or breaks a workspace's ergonomics. An engine powers a car. A steady supply of fresh air powers hustle-and-bustle. It imparts physical comfort, prevents stuffiness, and sharpens cognition.
Adequate ventilation keeps CO2 at safe levels for wellness and productivity benefits.
People exhale carbon dioxide when they occupy a space. Good airflow, by way of adequate ventilation systems, helps disperse and dilute this CO2. Un-ventilated, this CO2 builds up and can reach unsafe levels that harm an employee in many ways.
When it comes to air, the freshest is the best.
The good news is your office's air quality can be improved through several relatively simple and foolproof focuses.
Clean up.
Implement a consistent cleaning protocol to remove dust, dirt, and pollutants from surfaces and floors. Promptly dispose of trash to prevent odors and pest infestations.
Let air flow.
Open windows to bring in fresh air. Avoid overcrowding and optimize the layout for efficient cross-ventilation. Make sure furniture and equipment are not blocking air vents or windows or hindering airflow.
Purify.
Consider using air purifiers with HEPA filters to remove particles and pollutants from the air. Introduce indoor plants known for their air-purifying qualities, such as snake plants, peace lilies, and spider plants.
Cut down on toxins.
Limit the use of harsh cleaning products and opt for eco-friendly alternatives to get a handle on the emission of volatile organic compounds (VOCs). Encourage employees to avoid using strongly scented personal care products.
Tackle dust and humidity.
Keep HVAC systems well-maintained to prevent the accumulation of dust and mold within the ducts. Clean or replace filters often. Maintain indoor humidity levels between 30% and 50% to prevent mold growth and the proliferation of allergens.
Ergonomic Principle #5: Autonomy
Autonomy is an integral facet of good office ergonomics. Occupants must be able to fluidly interact with and adapt a space according to their needs in order to find harmony within it. They must be able to use the space intuitively, claiming it as their own, enjoying ownership, to thrive there.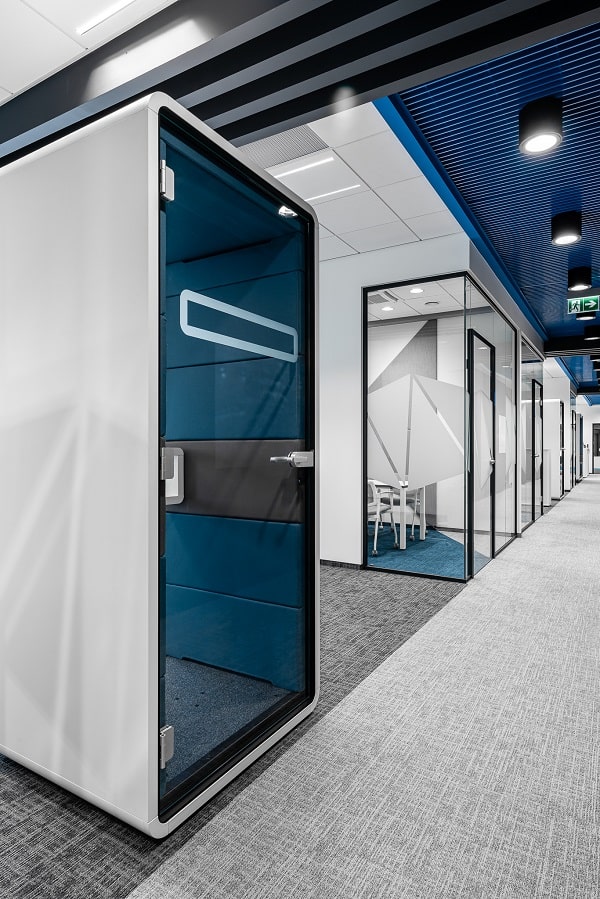 Autonomy has a high ROI.
Studies show autonomy significantly improves productivity. Thus, job autonomy is related to higher satisfaction, and lower work-family conflict, turnover intentions, and stress. Moreover, employees who have autonomy report less frustration, anxiety, and doctor visits.
How to boost autonomy in your office? Give employees choice in where they work within it.
This can be done by zoning the office using the ABW approach we have suggested — by designing in detail for your team's everyday operations. This creates a diversified space with many zones, which, together, let people navigate the office most naturally.
Have questions about Hushoffice pods? Leave us a note.
Activity-Based Workplace – summary
Office ergonomics through activity-based workplace design – frequently asked questions
How can I improve my office's ergonomics?
To make the office more efficient, take the Activity-Based Working framework to design: specify distinct zones within the office space that accommodate specific activities your team regularly performs. For optimal ergonomics, consider the core ergonomic principles as you detail each zone: desk setup, lighting, air quality, acoustics, and autonomy.
What can I do to improve my office's air quality immediately?
Implement a consistent cleaning schedule, disposing of trash frequently to prevent odors and pest infestations. Open windows and optimize the layout for cross-ventilation. Use air filters and indoor plants to purify the air. Replace harsh cleaning products with eco-friendly alternatives and ask employees to avoid strongly scented personal care products. Service HVAC systems routinely and maintain indoor humidity levels between 30% and 50%.
Why does autonomy in the workplace matter?
Studies show autonomy considerably improves productivity. Thus, it is related to higher satisfaction, less work-family conflict, lower turnover intentions, and less stress.