Posted on: 9 October 2023
By: Hushoffice Team
By creating a workspace following ergonomic principles, you bring comfort to your employees' working environment. An Activity-Based Workplace approach supports this idea by providing an in-depth understanding of employees' day-to-day tasks and creating zones that are most optimum for particular tasks.
Let's have a look.
Activity-based workplace – tl;dr
Improved office ergonomics means higher employee efficiency.
Effective ergonomics doesn't only mean providing employees with comfortable chairs and desks, but it's a major investment in your team's energy. By creating ergonomically sound workspaces, you encourage your employees to work smarter, not harder, and enjoy what they do. Minimised body tension contributes to sharper focus and fewer days off. So, you make way for motivated staff, achieving their full potential in a working environment tailored to their needs

– says Eliza Donek, Product Manager, Hushoffice.
In fact, workers are more likely to stay with a company that puts their wellness first. Although initial investment is required to introduce ergonomic enhancements, it will generate long-term savings from decreased absenteeism, reduced healthcare spending, and enhanced employee productivity, significantly outweighing initial expenses.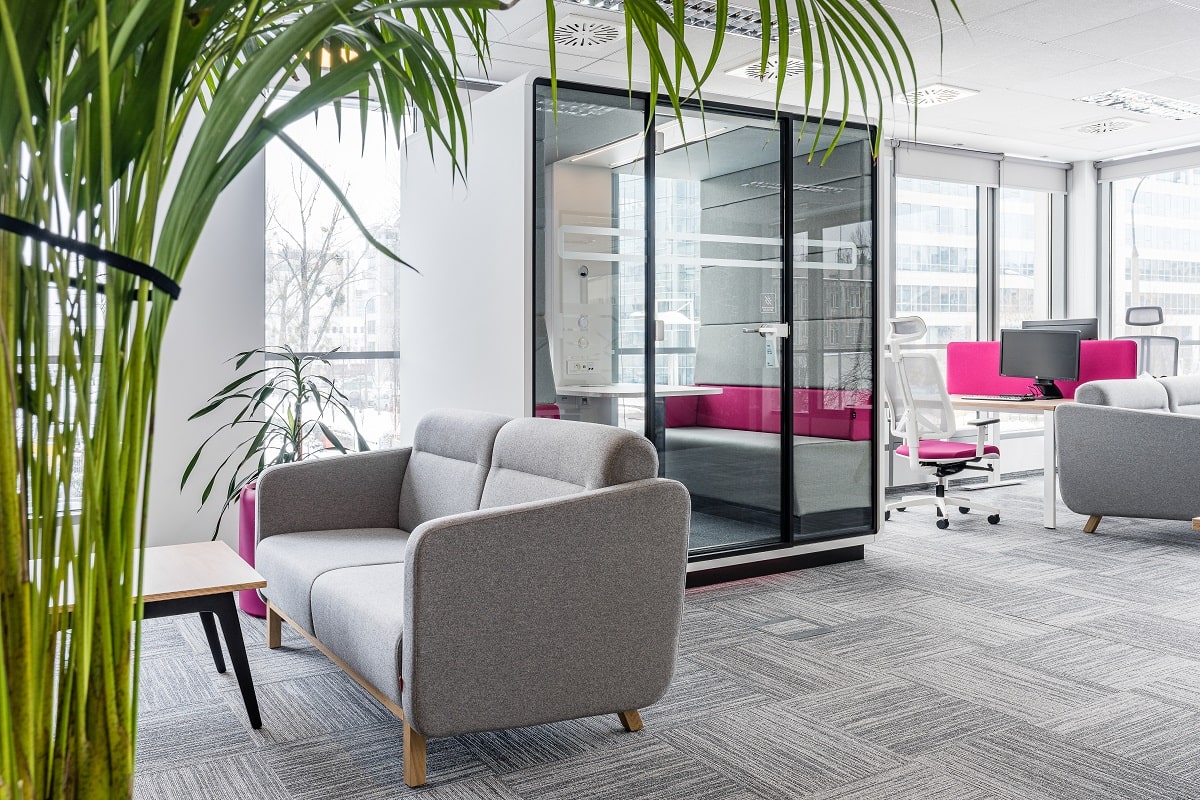 Activity-based workspace is the solution. Design for your team's unique range of activities.
The fundamental concept behind this office design approach is to create a variety of working zones within a workspace, each tailored to specific tasks and activities. It's an effective solution as it provides workers with a range of diverse settings, from private zones to collaboration spaces, all intended for different sets of tasks and interactions.
Activity-Based Working, also called ABW design, proves highly effective in fostering good ergonomics. It provides an in-depth understanding of a team's working patterns and activities, helping design each zone to address particular needs. With this approach no relevant detail, such as light quality or cross-ventilation, goes unnoticed. For tasks requiring complete focus, there is a quiet working zone. For cooperative teamwork, there is a collaboration zone replete with daylight. And the rest of it

– further explains Eliza Donek, Product Manager, Hushoffice.
The ABW approach can enhance interpersonal and interdepartmental communication among employees, contributing to higher productivity and creativity. However, without the introduction of enclosed workspaces, distractions are likely to occur. Therefore, to provide employees with a necessary degree of privacy, consider spatial solutions, such as Hushoffice pods.  
Reinvention of open-plan workspaces: a combination of zones designed for specific activities.
For inspiration, let's have a look at four fundamental zones of an ergonomically sound workspace. To provide more tangible examples of a well-designed, ergonomic ABW office, we've referenced one Hushoffice pod for each specific zone.
Autonomous workspaces are indispensable in an activity-based workplace
A perfect space for autonomous work, such as hushWork, is a calm, uncluttered environment. Ergonomic furniture encourages correct posture and provides comfort. A significant amount of natural light reduces eye fatigue. Controlled acoustics block out interruptions.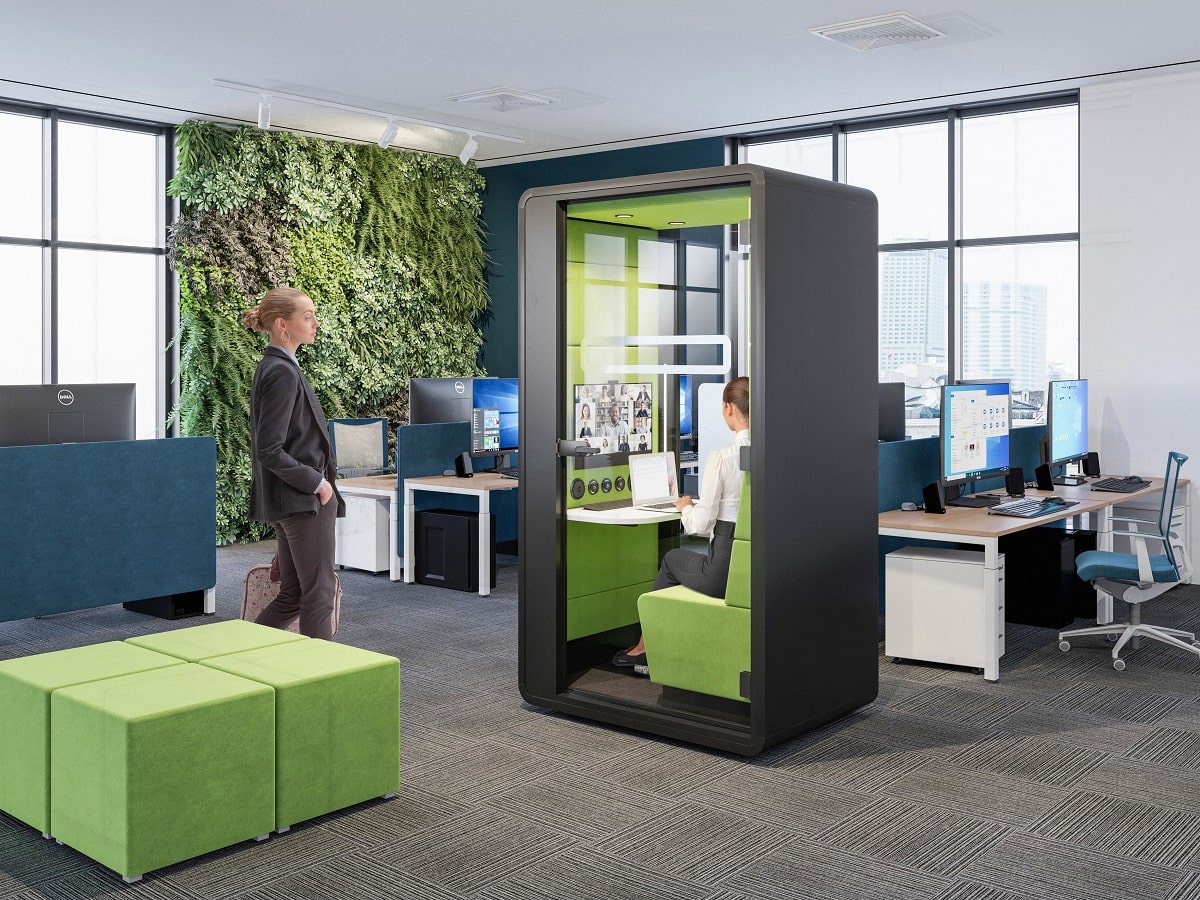 Small conference rooms and meeting spots for teams…
Let's take the hushMeet 4-person meeting booth as an example. Comfortable seating. A table perfectly designed to accommodate all attendees, enabling effortless communication. Audiovisual equipment to facilitate presentations and hybrid meetings. Adjustable lighting and top-notch acoustics to block out background noise.
Zones for video conferences…
The attendee's face is perfectly illuminated without harsh shadows. A plain background minimises distractions. There are no echoes or background noise. A camera installed at eye level facilitates effective communication. Choose the hushHybrid video call pod – a perfect video conference environment.
Relaxation zones to have a break from the office hubbub…
A dedicated space for tranquility and regeneration, offering an inviting atmosphere, equipped with plush chairs and comfortable sofas. Ambient lighting creates a peaceful atmosphere, while plants and artwork complete the homely setting, providing employees with a cosy space to take five and recharge. Go for the hushMeet.L quiet pod.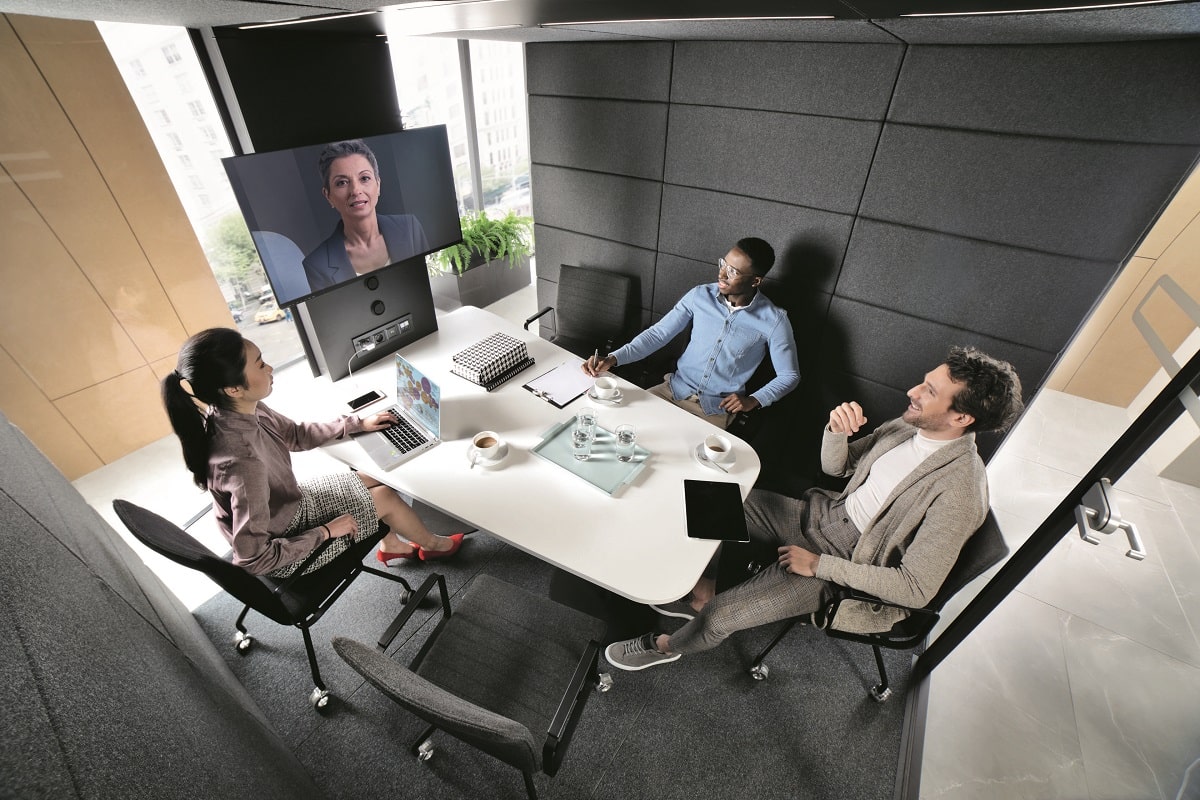 Ideas behind modern office ergonomics…
It is very useful to consider the ergonomic principles while specifying activity-based workplace zones in your open-plan workspace. While these principles pertain to desk arrangement, lighting, acoustics, and air quality, adhering to all of them contributes to enhanced autonomy.
Ergonomic Principle #1: Appropriate desk arrangement
An ergonomic arrangement encourages right body posture. It calls for adjustable furniture and proper placement of keyboards, monitors, and mice. Additionally, the screen needs to be set at eye level, while the position of the keyboard and mouse should allow a 90-degree angle between the arm and the forearm while typing.
As the ergonomics phrase goes, "Your best position is the next position." Check out our hushWork.sit&stand private pod – with its height-adjustable desk, it adds dynamics to a sedentary working style.
Ergonomic Principle #2: Ideal lighting
Lighting has a significant impact on performance as it creates the right atmosphere, and influences the way we think and feel. In the office setting, it can encourage collaboration or provide workers with a cocoon where they can fully focus on their tasks. Additionally, adjusting lighting to mimic changes in natural sunlight throughout the day helps orient our biological clock, contributing to improved health.
Adjustability is the key feature of ergonomic lighting.
User-adjustable lighting supports employee autonomy by enabling workers to customise the settings according to their preferences and task requirements. What's more, this individual control can help synchronise circadian rhythms, ensuring maximum well-being and productivity.
Tasks can shine most brightly when illuminated with the right light. While sparks ignite under soft radiance, precision work requires the brilliance of stronger light. However, it's much more personal: while some employees feel best in a dimmed environment regardless of what they do, others need bright surroundings to think clearly. To cover the whole spectrum of preferences, adjustable lighting is a must. Thus, solutions such as Hushoffice pods are on the mark, providing workers with full autonomy over their working environment lighting

– says Eliza Donek, Product Manager, Hushoffice.
Ergonomic Principle #3: Well-balanced office acoustics – quiet, but not excessively quiet
As sounds influence our cognitive skills, emotional state, and health, acoustics is a  significant issue. That's why, in ABW design, it is crucial to draw up the sound quality of each individual zone in detail, similarly to the way you draw up furniture arrangement and other similar aspects. In practice, this means tailoring soundscapes to particular tasks so that each zone is perfectly adjusted to support particular types of activities.
Would you like to turn your extensive open office into a garden of acoustic sanctuaries?
To start with, have a look at five recommended acoustic zones, both highly functional and enjoyable…
Quiet zones. Perfect for concentration tasks, reading, writing, or complicated problem-solving. Reduced office noise with muffled speech. Free of distractions, enabling complete focus on cognitively demanding tasks that require undivided attention.

Collaboration areas. For team meetings, brainstorming sessions, and collaborative tasks. Medium speech intensity, a quiet background hum, and online discussions. A space that fosters open communication and out-of-the-box thinking.

Open workspaces. Designed for daily tasks, quick discussions, spontaneous interactions. A low to moderate noise level encourages natural communication without impeding individual focus. The soundscape creates an atmosphere of accessibility and spontaneity, supporting the most natural type of interaction among team members.

Private meeting spaces. For significant meetings, confidential discussions, and focused tasks. This zone aims to reduce or eliminate background noise and ensure maximum focus. With its top-notch acoustic design, private and confidential discussions are secured. It guarantees a confidential and low-stimulus working environment perfect for concentrative tasks. Take a look at the hushMeet private team meeting pod. 

Phone booths. For phone calls and video conferencing. Have a look at the hushPhone office phone booth. These are soundproof, self-contained spaces guaranteeing speech privacy. Whether you are making a phone call or taking part in a video meeting, using such booths ensures that your conversations are secure and protected. What's more, phone booths muffle disturbing background noise, promoting complete focus.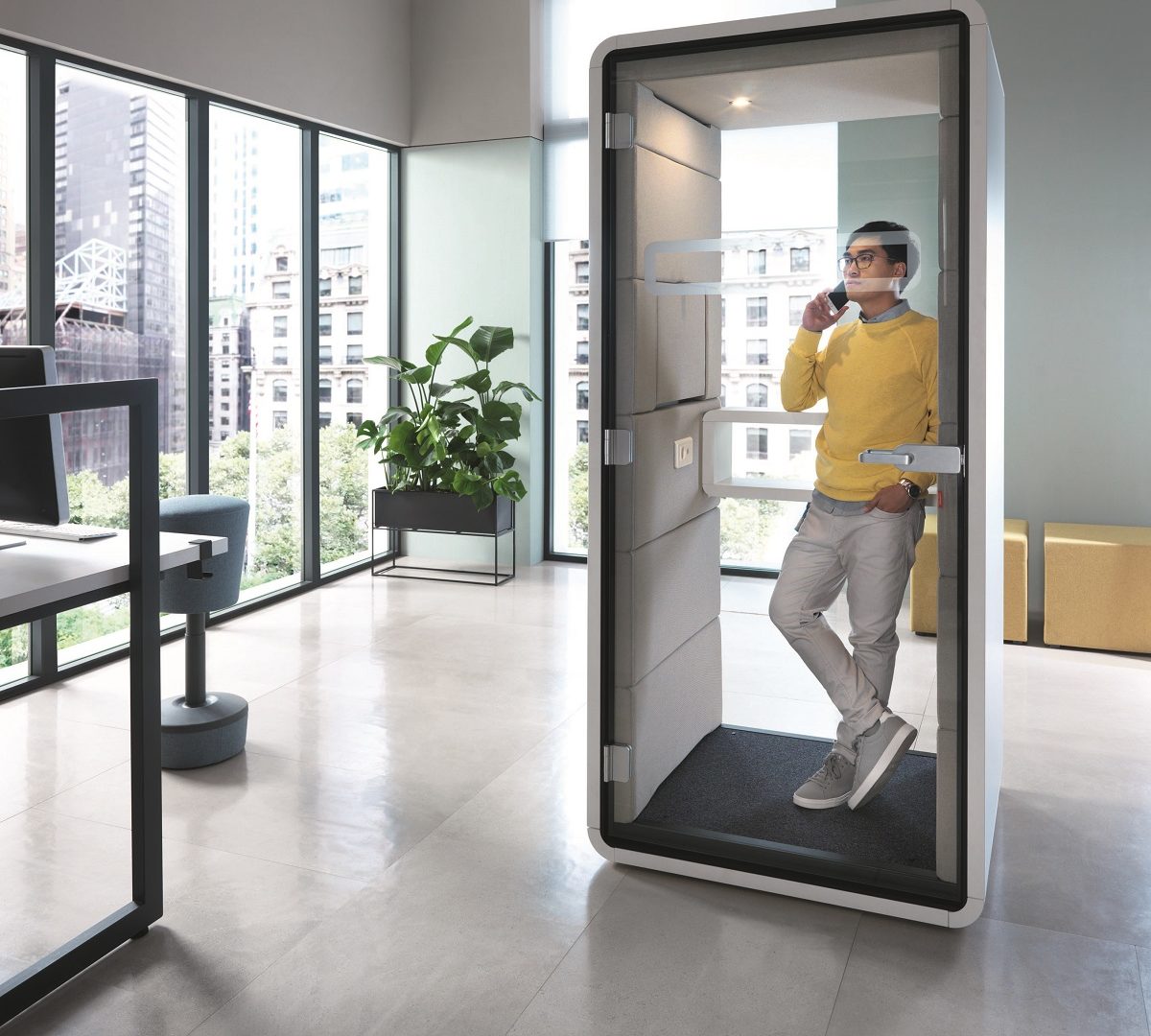 Are Hushoffice pods really quiet? Have a look at: Quiet, but not too quiet: the acoustics of the office work pod explained.
Ergonomic Principle #4: Excellent indoor air quality
"I am persuaded that no common air from without is so unwholesome as the air within a close room that has been often breathed and not changed," said Ben Franklin.
Undoubtedly, ventilation can make or break office ergonomics. Like an engine powering a car, a regular supply of fresh air is crucial to people's well-being and productivity. It not only increases physical comfort by preventing stuffiness, but also sharpens cognitive abilities. 
Efficient ventilation maintains CO2 at safe levels to boost well-being and productivity.
While occupying a space, people exhale carbon dioxide. Efficient ventilation systems ensure continuous airflow that disperses and dilutes it. However, if not ventilated properly, the space can exceed safe levels of CO2, which in turn may be detrimental to employee health and cognition.
As for the air, the fresher, the better.
Fortunately, air quality in the office can be enhanced by following a few simple, reliable steps:
Clean up.
Establish a consistent cleaning routine to get rid of dust, dirt, and pollutants from tops and floors. To prevent unpleasant odours and pests, make sure that you promptly dispose of the rubbish.
Allow free airflow.
Open windows to facilitate free air exchange, avoid overcrowding, and optimise the workspace to ensure efficient cross-ventilation. Also, check that furniture and equipment do not obstruct air vents and windows, preventing free airflow.
Purify.
Try introducing air purifiers with HEPA filters into your office to get rid of particles and pollutants from the air. Consider indoor plants with air-purifying abilities, like Sansevierias, spathe flowers or ribbon plants.
Reduce the amount of toxins.
Minimise the use of aggressive cleaning products, replacing them with more eco-friendly options to cut down on the emission of volatile organic compounds (VOCs). Ask your employees to avoid heavily scented daily care products.
Deal with dust and humidity.
Don't forget to regularly service your HVAC system to stop the buildup of dust and mould in the ducts. Make sure filters are cleaned and replaced as needed. Try to maintain indoor humidity at an optimum level (30%-50%) to prevent mould growth and the spread of allergens.
Ergonomic Principle #5: Autonomy
Autonomy is a fundamental feature of effective office ergonomics. Employees should be able to effortlessly use and adjust a space according to their needs in order to find their own balance. For workers to reach their full potential, it's crucial that they can navigate their workspace intuitively with a sense of ownership and enjoyment.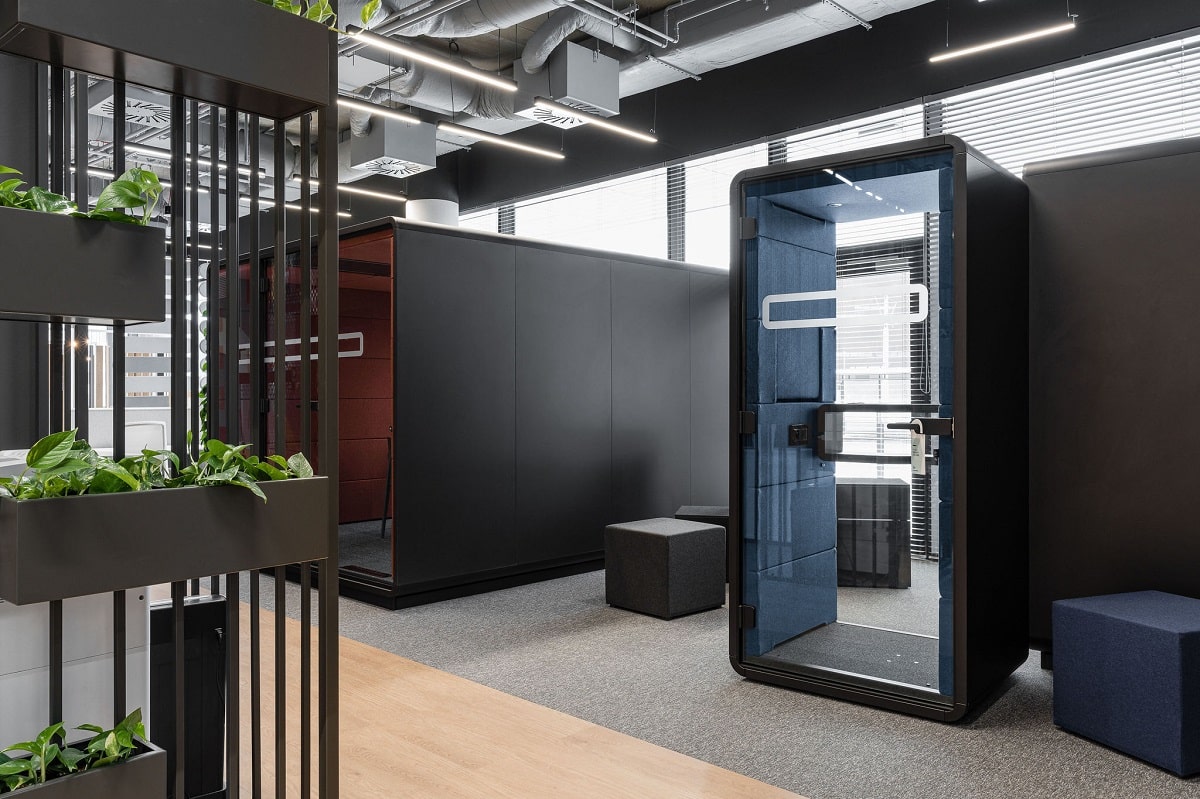 Autonomy in the workspace has a high ROI.
According to studies, autonomy has a considerable impact on productivity. In fact,  there is a link between job autonomy and increased satisfaction, better work-life balance, turnover intentions, and stress levels. What's more, workers who are given more autonomy report less irritation, anxiety, and better health.
What can you do to enhance autonomy in your activity-based workplace? Let employees decide where within the office they prefer to work.
You can achieve it by dividing the workspace into zones using the ABW approach that we have encouraged, and designing each zone in detail to adjust to your employee's day-to-day activities. By doing this, you offer a diverse range of areas allowing workers to navigate the workspace intuitively.
If you have any questions about our Hushoffice pods, contact us here.
Activity-based workplace – summarized
Frequently asked questions about activity-based workplace
What can I do to improve my workspace ergonomics?
If you want a more efficient office, consider the Activity-Based Working design system: within your office space. create zones dedicated to a particular set of activities your team performs on a daily basis. To ensure optimal ergonomics, consider fundamental ergonomic aspects, such as desk arrangement, lighting, acoustics, air quality, and autonomy while dividing your workspace into zones.
How can I immediately improve the air quality in my office?
Set up a reliable cleaning schedule to get rid of rubbish regularly and thus, prevent odours and pest problems. Open windows and optimise the office setup to enable cross-ventilation. Purify the air using air filters and plants. Instead of aggressive cleaning products, go for eco-friendly options, and encourage your employees to avoid heavily scented daily care products. Also, don't forget to service your HVAC system regularly, and maintain optimum indoor humidity level (30%-50%).
Why is workplace autonomy so important?
According to studies, autonomy substantially boosts productivity. So, it is connected with more satisfaction, better work-life balance, decreased employee turnover intentions, and lower stress levels.