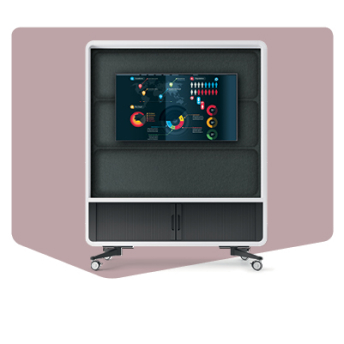 SPACE FOR A TV MOUNT
Do you want to inspire your team even more and use multimedia options? No need to use other tools. Simply rotate the hushWall with a mounted monitor or TV to display your content in an audience-friendly way. Thanks to the clever design, the power cable/extension cable can be plugged directly into the floor box. After the presentation is over, you can just as easily unplug the equipment from the power source and place the hushWall where it is most needed!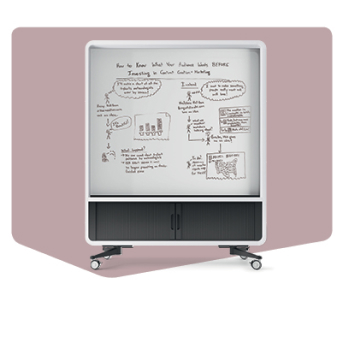 DRY ERASE BOARD
The white board is an opportunity to engage your team. The large workspace is perfect for any situation – from meetings with just a few people to speaking in front of a larger audience. Do you need to explain difficult issues in a clear and illustrative way, brainstorm or outline an action strategy? Other employees will appreciate the transparency and feel even more included in the creation process. The spacious, lockable cabinet holds all the essentials: markers, laser pointers and sponges.
FELT PANEL
We have designed the hushWall with professional acoustic felt panels. This guarantees effective sound absorption, which is important when used to divide space, e.g. to separate desks. Do you want to be more engaged in computer work, talking on the phone or a discussion with your co-worker? You can easily set up the hushWall in your space to do so comfortably and with focus.