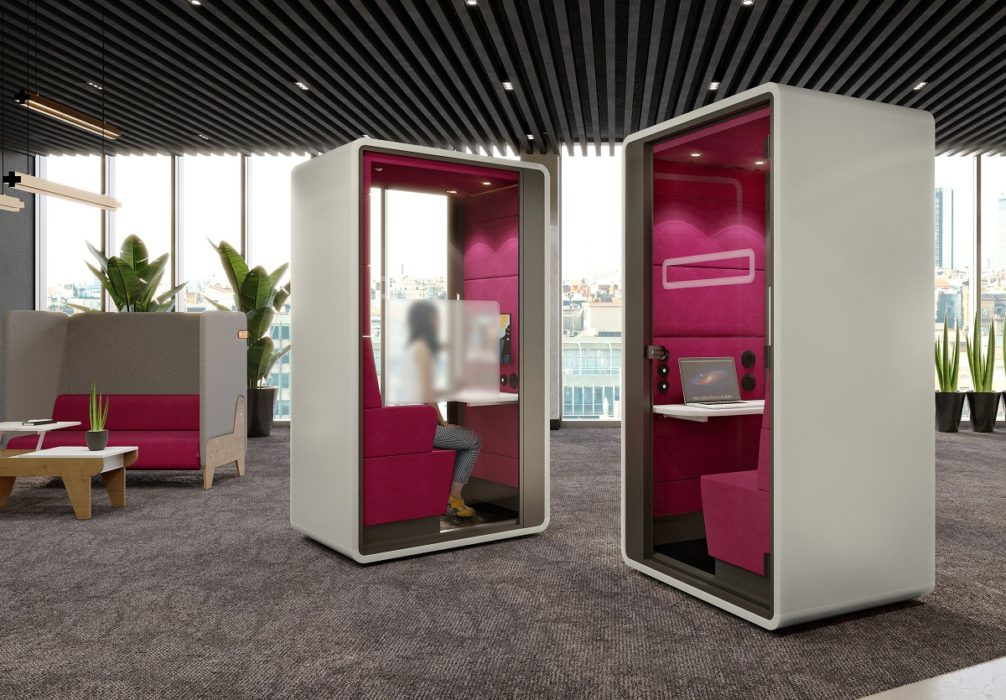 We're thrilled to announce the latest addition to our office booth line – hushHybrid. Fully furnished, fully equipped, and comfortable, hushHybrid is a single-person acoustic office pod for successful video calls. Compact and mobile, slightly larger than hushPhone, slightly smaller than hushWork. Small yet spacious, hushHybrid has the perfect dimensions for tight layouts.
Hybrid team? Fighting a noisy or distracting floor plan? HushHybrid is a flexible fix.
Check out hushHybrid's product page
HushHybrid acoustic office pod for needle-moving, high-value, confidential video calls.
Expert's opinion

Video conferencing is a driver in a hybrid world. It's how we connect from afar, align and progress. Many offices lack spaces for these calls. We designed hushHybrid to answer this need. It's acoustically perfect. It's mobile and compact. HushHybrid gives an organization more flexibility in their floor plan.

– says Mateusz Barczyk, Senior Brand Manager, Hushoffice.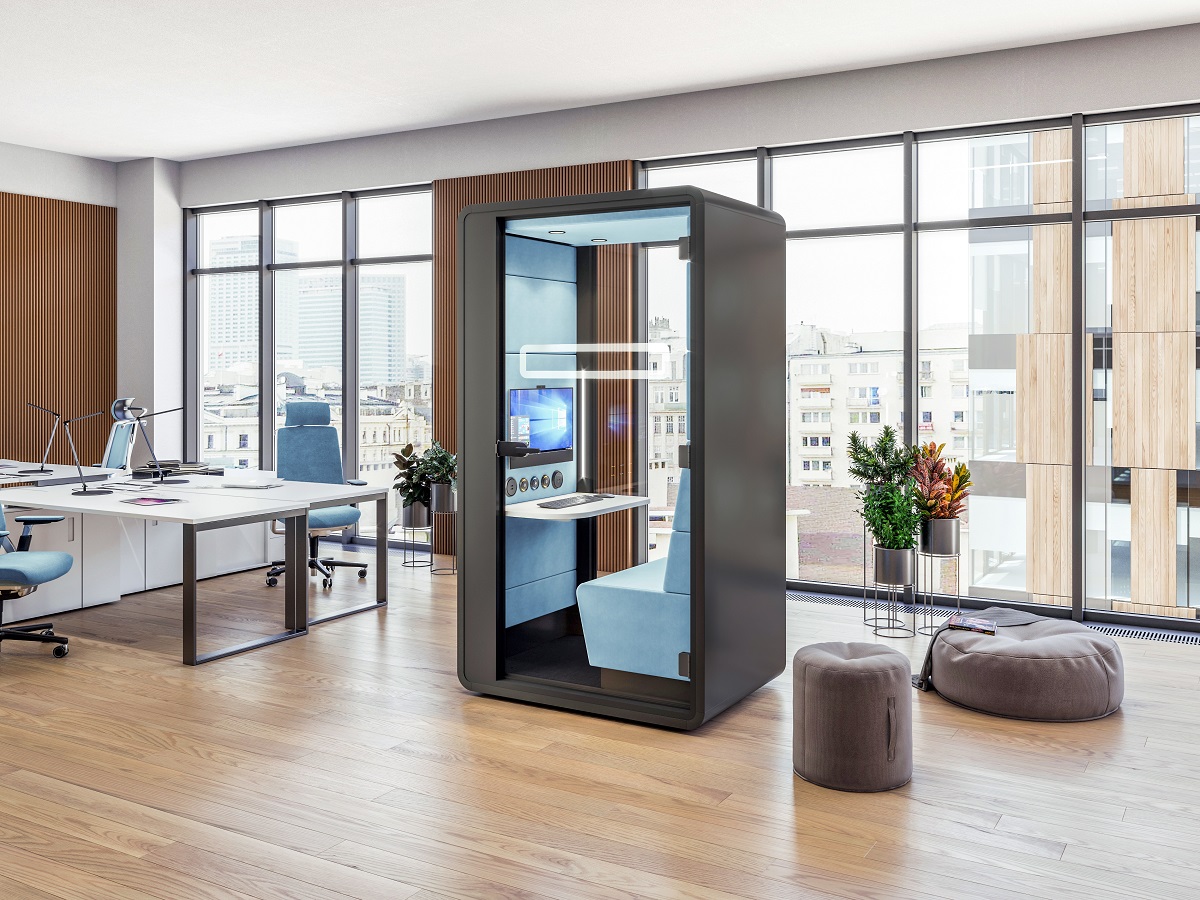 Flexible & Acoustic Lightweight, built-in casters and leveling feet; fine-tuned acoustic engineering that improves office soundscape
Comfortable & Ergonomic Integrated seating and 1.6″ depth-adjustable desk; energy-efficient, adjustable lighting & ventilation
Fully Featured Power outlet and USB ports; optional VESA mount for AIO computer or monitor; optional, adjustable LED video light strips to perfectly illuminate the face
>>> Check out hushHybrid's product page for more specs
---
An all-in-one acoustic office pod. At-hand. On-demand. Fully furnished. Fully equipped. Convenient and comfortable. HushHybrid workpod equals video-conferencing ease.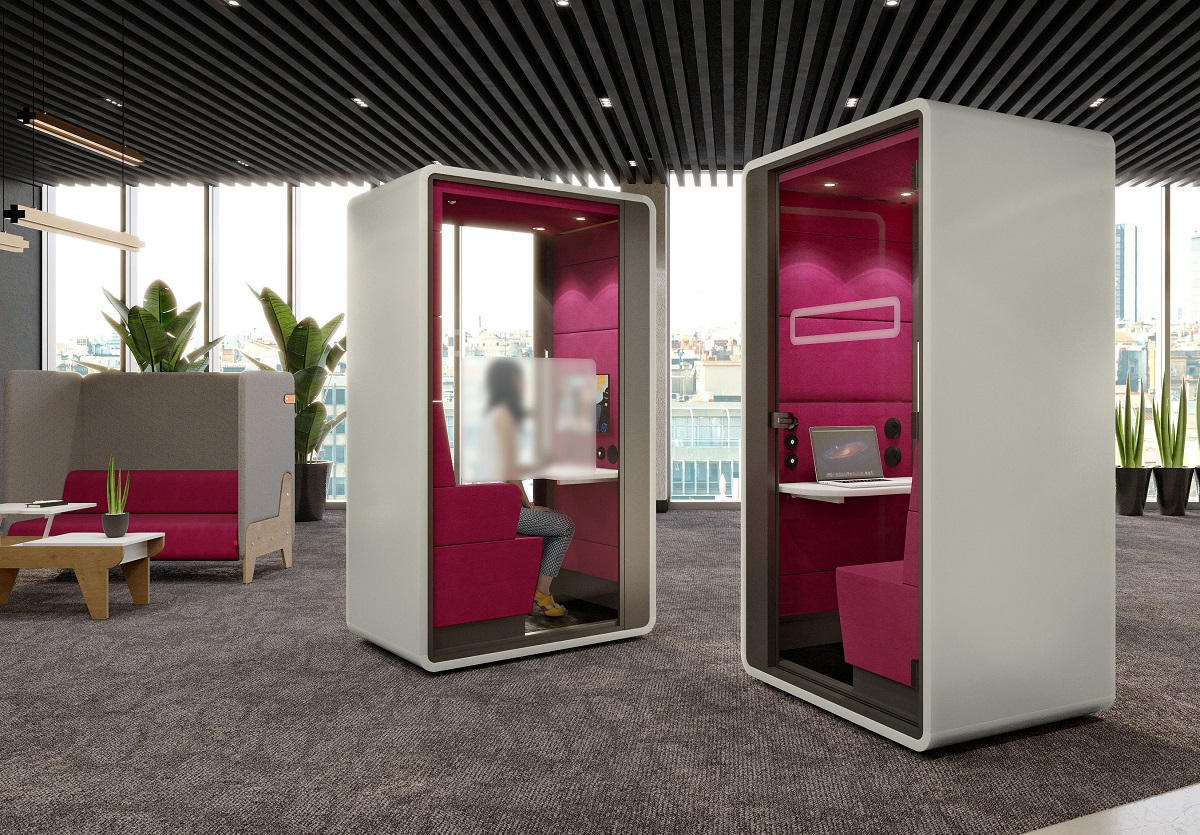 Expert's opinion

Lately we're all asking, how do we facilitate ease in a hybrid world? How do we communicate and collaborate well when the mode is virtual half the time? Enter hushHybrid. Ease is what the video booth facilitates by design, with cutting-edge acoustics, ergonomic seating, excellent lighting, a convenient power module, and an optional monitor mount that can be set up in multiple ways.

– explains Eliza Donek, Product Manager, Hushoffice.
Goodbye, technical difficulty. Good riddance lost connection. HushHybrid is sophisticated and complete. A fully equipped portal connecting you to remote colleagues. Everything from the door handle to the light knobs glide and click smoothly. Its built-in desk slides in and out by 1.5″, locking securely for comfortable laptop work.
The pod provides the optimal environment and all the equipment needed for successful video calls. It's a powerful little product because it's fully functional and fully mobile, an all-in-one portable pod. Two teammates can easily relocate it with a simple push – adds Eliza Donek, Product Manager, Hushoffice.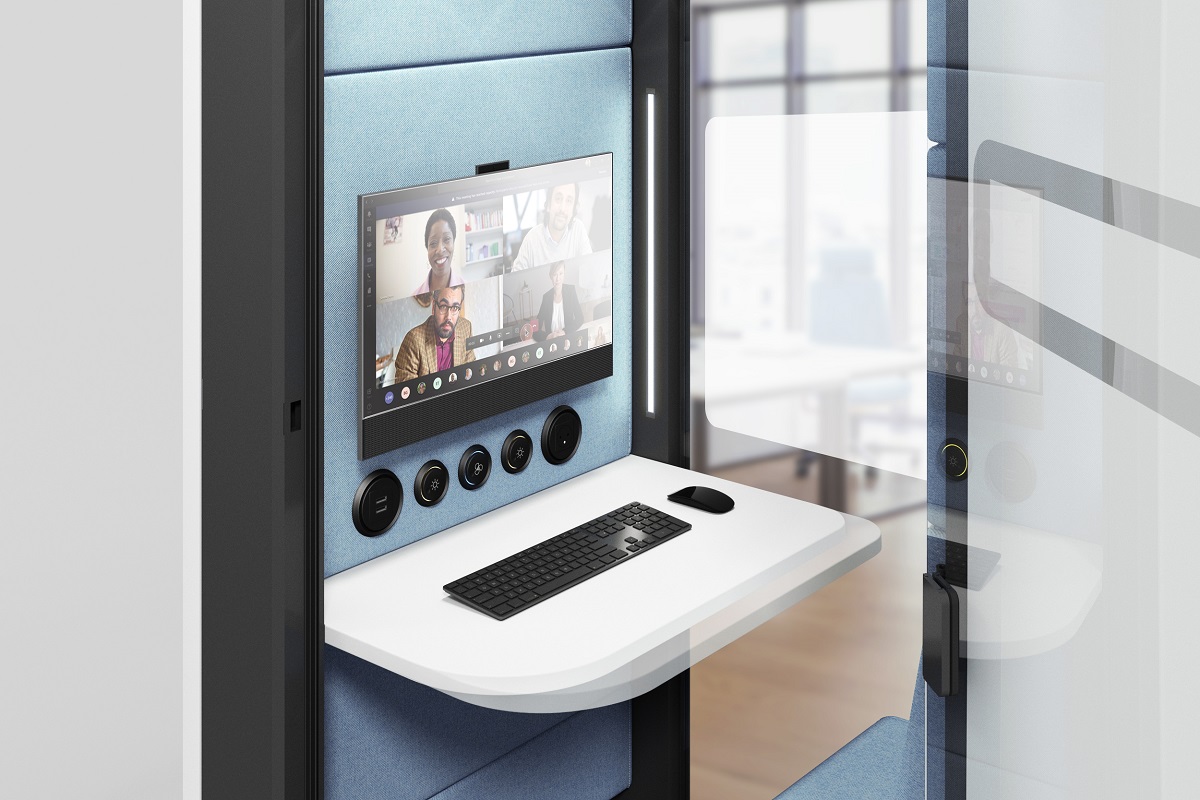 The booth is a satisfying asset by every mark. Functionally and aesthetically pleasing. The business case is satisfying too. It's flexible in the best ways. Portable, compact, relocatable. It's an asset, not a sunk cost. It adapts. Wherever it goes, it delivers the same perfect acoustics and optimal comfort.
Leave us a message if you're interested in hushHybrid!
Lights, camera, action. An immersive video conferencing experience.
Mehrabian's rule tells us 55% of communication is nonverbal. So lighting is an important element of each call, an element we perfected in hushHybrid. The pod's lights fully illuminate body language, emotion, and facial expressions. With a tweakable overhead light and two optional LED video light strips, nonverbal cues are all captured.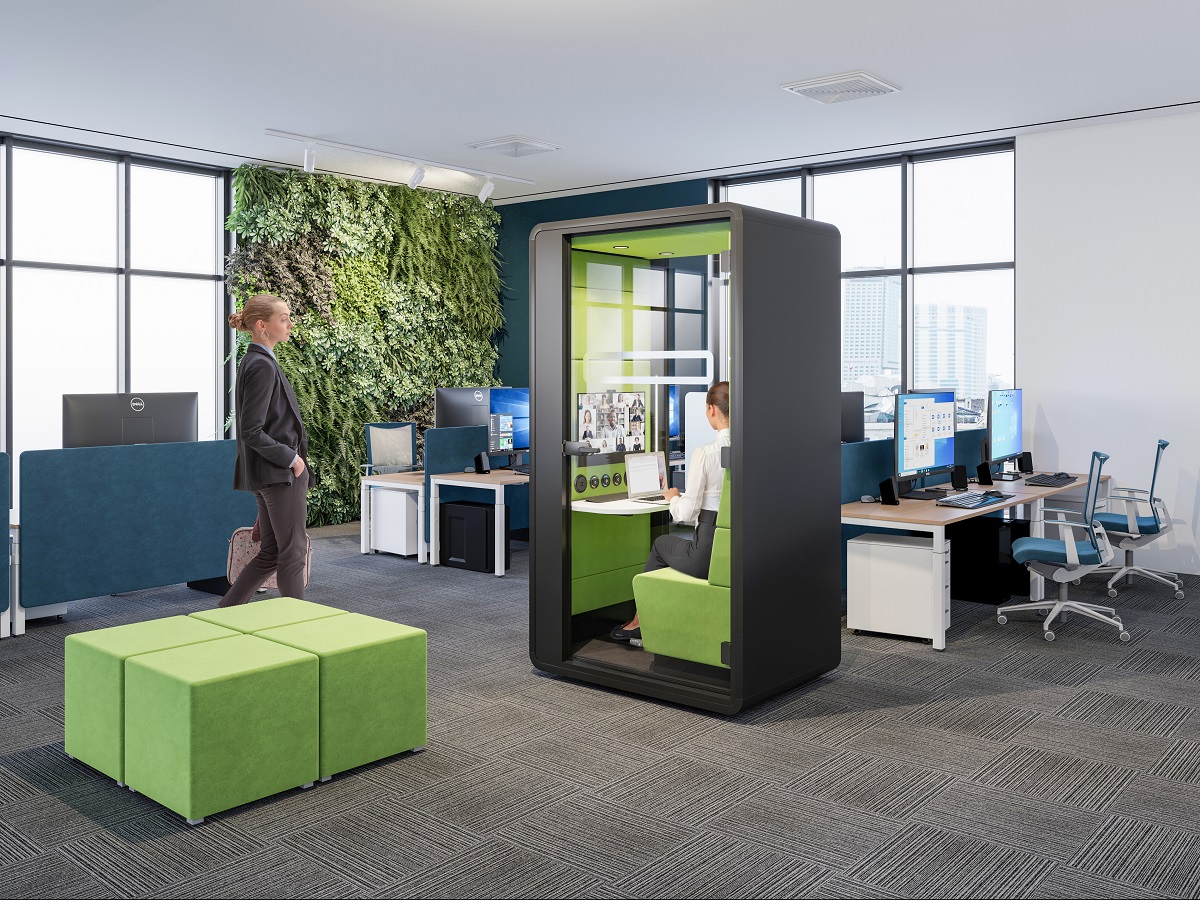 The pod's acoustical quiet combined with its robust features make each call feel more immersive. In hushHybrid, the conversation feels more immediate, the connection to your team feels stronger. You aren't struggling to block out distractions because there are none. You're pleasantly enclosed. And you feel as if your remote colleagues are in the room with you, so your mind naturally tunes right into the discussion. Lights, camera, action. Fully immersed. The overall lighting makes you look and feel professional, poised to connect. The booth's wool-upholstered back-panel frames your face in a simple, pleasantly-colored backdrop. Optional light strips sit ready, to the right and left of the monitor. The strips emit a warm luminescence, flattering and easy on the eyes. Adjust them to illuminate your face to the desired degree.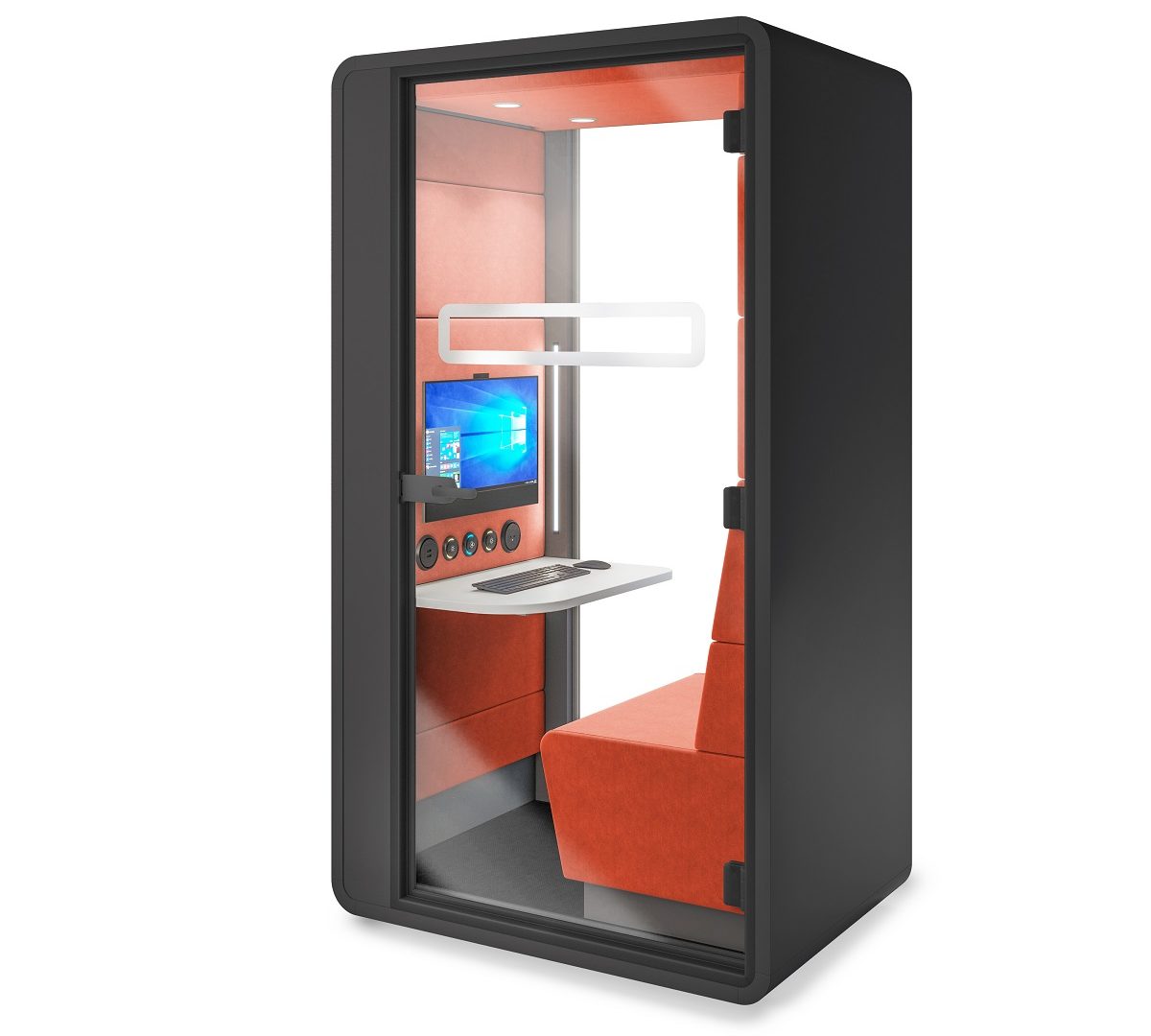 We offer an optional VESA mount. Hang your own AIO computer or camera-equipped monitor for quick laptop connection. Or order the booth without the mount; a laptop camera set on the booth's included desk displays your face at a flattering angle, too.
>>> Learn more about optional hushHybrid features
Got a noise problem? HushHybrid acoustic pod helps with that, too. It's soundproofing benefit is multi-pronged.
A pod like hushHybrid is a solution for any open office with a noise problem. It's careful engineering delivers multiple acoustic benefits. The pod tackles noise in many ways at once.
First, the pod traps the user's noise and provides the perfect acoustic environment for their video call. Second, the pod acts as a sound dampener for the open space, as its tempered glass panels insulate sound. So noise is trapped on the inside, dampened on the outside, reduced overall. The whole team benefits. Everyone enjoys better acoustics and better calls, whether in the pod, on the open floor, or jumping on the call from home.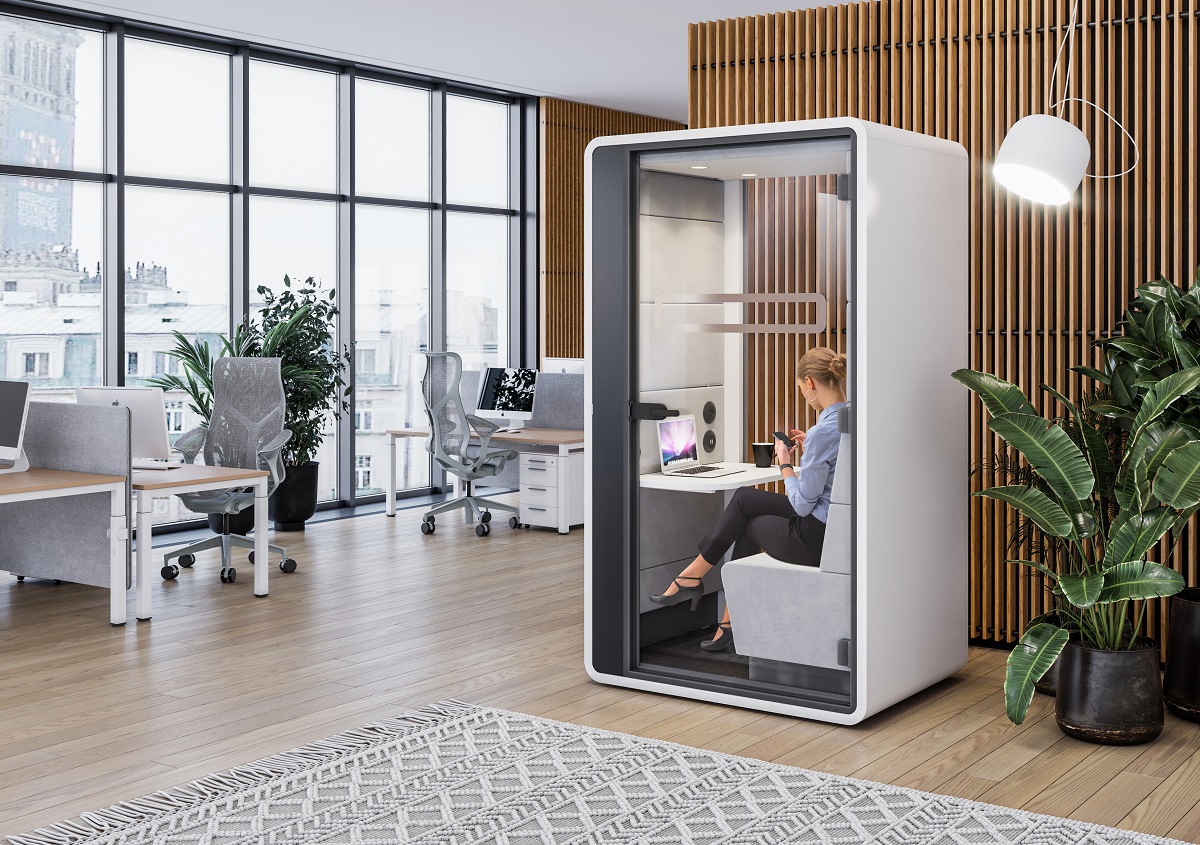 Expert's opinion
Since video calls are so routine in our hybrid world, we see a solution like hushHybrid becoming an office must-have. The pod keeps noise in its place by capturing and reducing a major source of that noise, video calls. It's a long-term investment in the entire team's ability to focus and deliver – explains Mateusz Barczyk, Senior Brand Manager, Hushoffice
Hop in, suss out the details and kinks with your remote team, de-brief, hop out, onward and upward. HushHybrid is masterfully engineered for the task at hand. Acoustic seal in the door frame, acoustic gaskets, acoustic fabric panels. Exceptional speech intelligibility, no chatter or clatter from the open floor. HushHybrid is the "hush" needed in a hybrid world.
HushHybrid booth takes up less space than the average desk. It's portability makes layout adjustments and office relocations easier.
HushHybrid is savvy to the fact of constant change. It's compact, taking up less space than a desk — with a footprint roughly 4 by 3 feet and roughly 7 feet tall. It's light weight with integrated casters and leveling feet. You can easily relocate the pod, keeping your layout functional and comfortable as work patterns shift and occupancies fluctuate.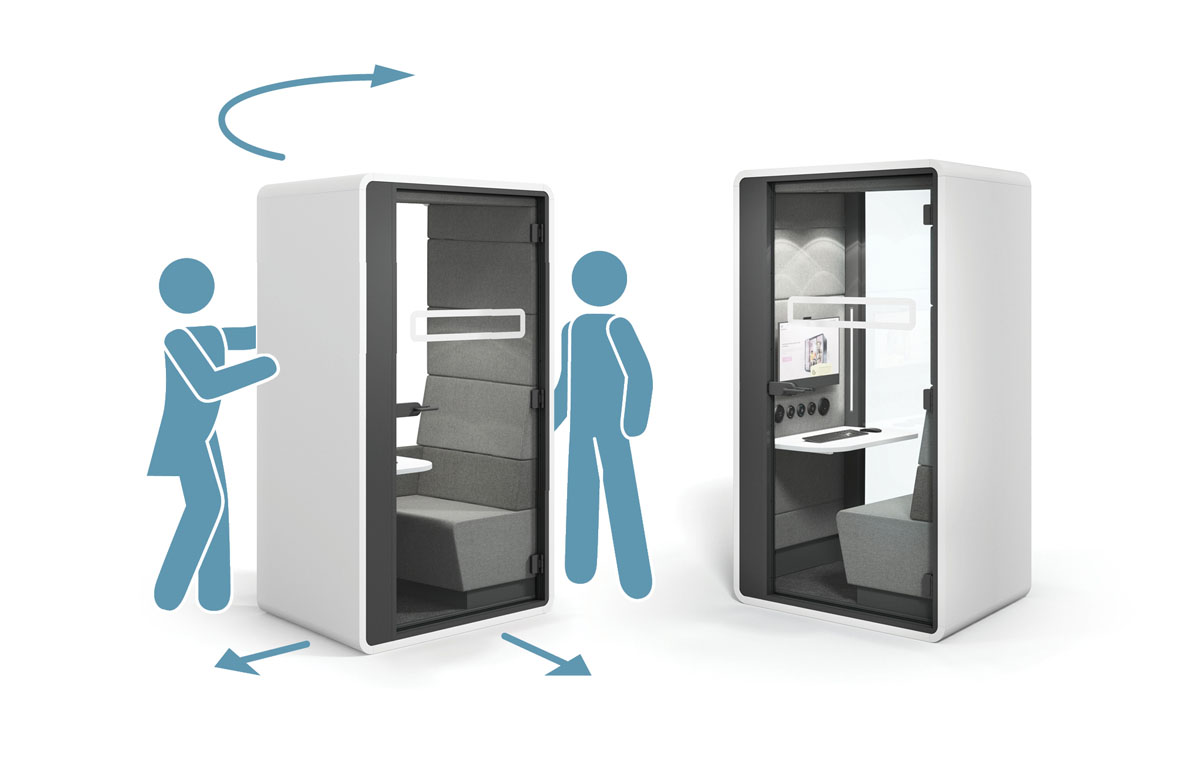 In a future that depends more than ever on video calls, hushHybrid strikes the perfect balance between compactness, spaciousness, and agility. Compact for the floor plan. Spacious for the user. Agile for an ever-changing world. Should you lease out a smaller space, the video call pod comes with you, providing the same high level of function in a small footprint. HushHybrid positions you for change.
Your Hush Your Way!
Interested? Leave us a message.