Posted on: 26 May 2023
By: Hushoffice Team
Office pods aren't just for busy workplaces. They're finding their way into highschools, medical centers, and libraries, as well. For ideas, check out some recent Hushoffice booth implementations in various facilities around our home country of Poland 🙂
Case #1: Booths in a Sosnowiec school give students space where they can think straight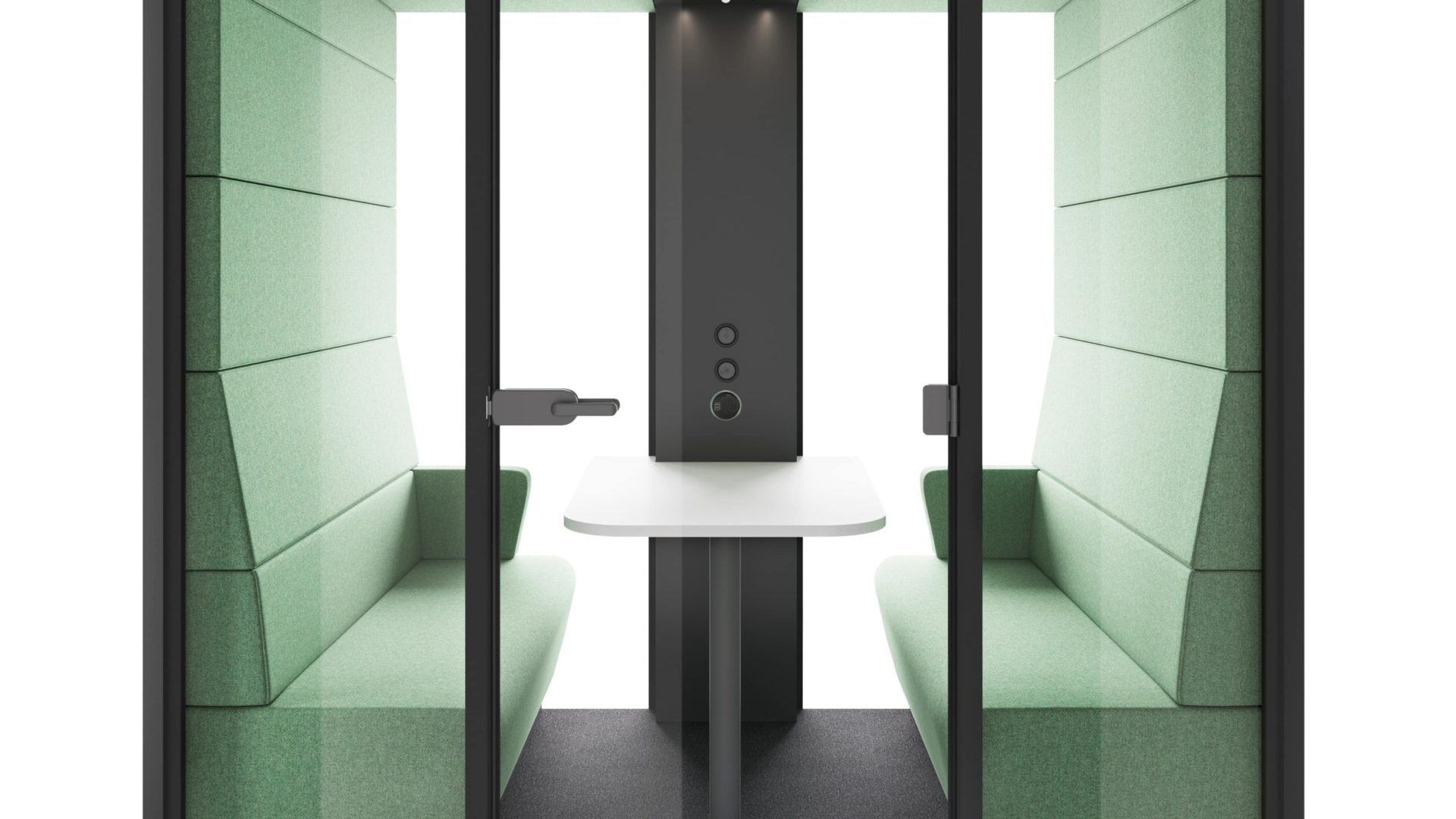 "We really needed it," said Ewelina Stasik, the director who customized a hushMeet 4-person booth for student use in her school. Hushed and secluded, the booth is intended mainly for private instruction. "For such teaching, we always lack rooms where the teacher can focus on the student," she added.
Fortunately, they don't have this problem anymore thanks to their booth. Read the full story here.
In bustling schools, acoustic booths are calm in the eye of the storm.
As dozens of students scuffle noisily through any academy's hallways, quiet booths remain a space of impenetrable peace. They sit ready for anyone in need of silence or isolation, whether to work on homework, settle their nerves, or meet with a teacher.
A booth is the private spot teachers need for 1:1 time with students.
Within a quiet pod like hushMeet, pupils aren't nervous about being listened to by fellow peers. "And the students themselves are happy to use this place, for example, to prepare for classes," adds Ewelina Stasik, who reportedly plans to purchase two more pods as soon as funds allow.
This school in Poland has a reputation for innovative solutions. Naturally, Hushoffice pods appealed to their team, as they are a new way to create low-stimuli spaces suited for special needs students (a focus for this particular school).
Private, acoustic pods work for students of all learning styles and cognitive strengths.
A pod's serene interior is apt for all types, neurodivergent to neurotypical, mathematical to spatial intelligent. "These rooms have been purchased especially for children with autism spectrum disorders and emotional and concentration disorders," said headmaster Paweł Biesiekierski.
Pods are a pleasant environment where focus comes easy.
The booths' interior upholstery can be picked in soothing, subdued colors that promote a sense of calm and foster concentration. Inside, pod users are shielded from interruptions. So all can partake in private or group lessons with natural ease.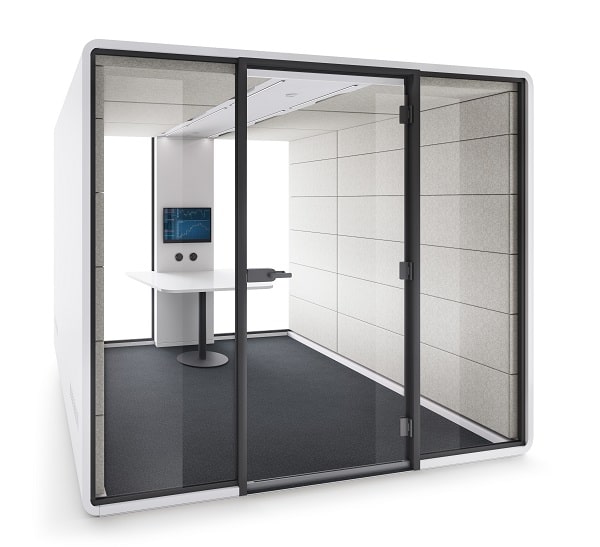 Quiet pods and booths have many uses in schools.
Lesson plans change. But the student's need for spaces where they can hear themself think never does. Quiet pods and booths work because they serve the many needs of academic settings. Small group discussions. Project work. Presentation prep. Individualized tutoring. And so on.
Pods are great for challenging tasks that need enduring focus, from writing research papers to test-taking. That is why we see them being implemented in schools. They make excellent assets for independent study, particularly for students who have difficulty thinking in noisy or crowded environments. They're also much savored by those who are shy or soft-spoken — in a pod, anyone can practice speaking a new language, for instance, or working on a math problem out loud without judgment

– says Mateusz Barczyk, Senior Brand Manager, Hushoffice.
No ordinary library indeed, the state-of-the-art and stunning Mediateka MeMo has something for everyone: various play and video gaming spaces, a vast comic book selection, a theater, a music room complete with drums, congas, and guitars, and a photography setup, green screen and all.
And a booth became their addition that's equal parts novelty and functionality.
When silence is needed, library visitors can retreat to a Hushoffice booth like hushMeet.
Mediateka MeMo's staff customized theirs in rich magenta upholstery — a color of passion well-suited for the establishment all for discovery and fun. They also completed it with power outlets as well as airflow that patrons can fine-tune for their comfort.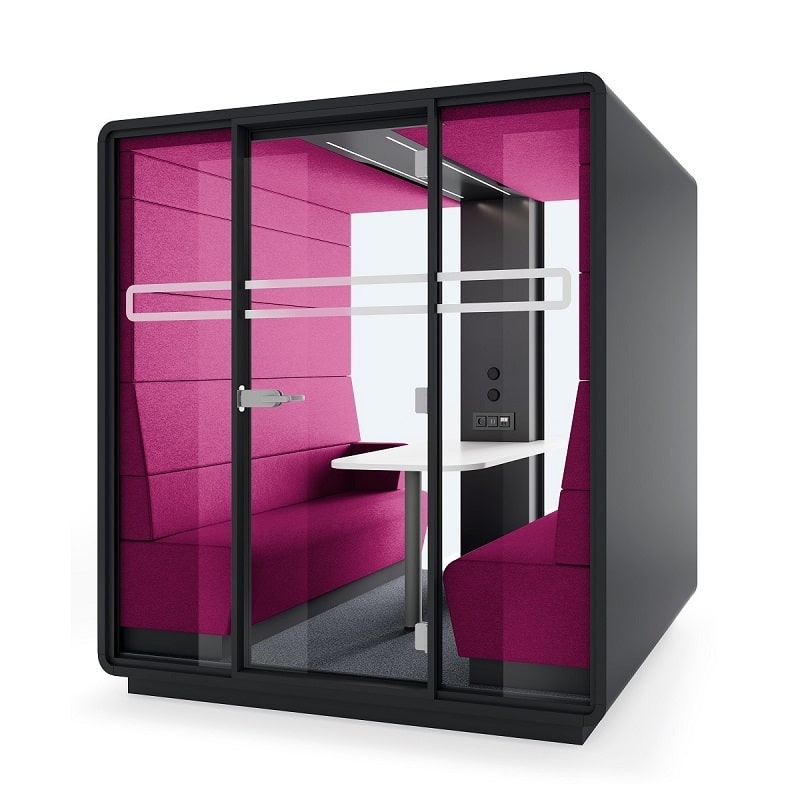 Booths are a contained area where patrons can hang out and converse.
They insulate all noise made inside, keeping the library's shared space quiet no matter what. So they're a super spot for patrons to take private calls or attend video conferences, or just share new ideas with friends.
Quiet library booths make long research days more productive for students.
Students can simply hop in the booth to take a call or talk through their thesis with classmates. In so many ways, pods allow one to bring a finer focus to their studies without ever perturbing the library's treasured quiet.
Booths make sense in libraries in several ways. For patrons who are acutely sensitive to distractions, booths are a retreat where they can read in peace. For library staff, a booth is a confidential space for executive meetings — a place where important matters can be discussed securely. They serve a true array of purposes; a fitting space for interviews, quiet library booths are also where personnel can do detailed administrative work without disruption

– adds Mateusz Barczyk, Senior Brand Manager, Hushoffice.
Case #3: Office booths as self-service health kiosks? Absolutely
We are so proud that select NFZ branches in Poland have set up custom versions of our hushWork booth to serve as health kiosks. Each booth's futuristic look catches the eye, while a cozy interior puts visitors at ease measuring and discussing health matters over their preventative exam.
Implemented as health kiosks, acoustic booths offer reassuring privacy.
Hushoffice pods boost speech privacy. So inside of one, hospital visitors can record metrics like body weight and blood pressure, reviewing their risk for diseases, all the while confident that their information is secure.
ADA-compliant, office booths are for everyone.
Designed for accessibility, these booth kiosks can be used by people with disabilities, including the visually impaired and wheelchair users. They are universally comfortable and universally convenient.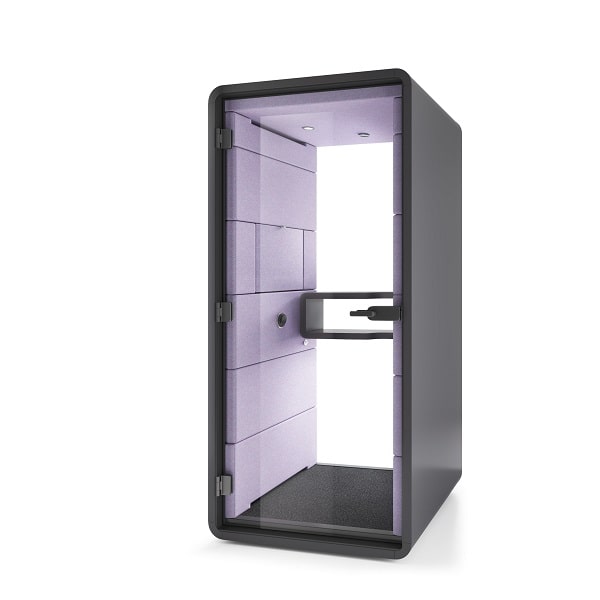 Private booths serve many purposes in medical centers, too.
Telehealth consultations. Hearing tests. Personalized care in all its forms. Inside a private booth, patients don't feel self-conscious or distracted by the outside world. Instead, they are sheltered in a confidential space.
Have questions about our booths? Leave us a note!
Quiet booths – frequently asked questions
What are the different kinds of booths?
Offices booths and pods come in different sizes and with different features. From the Hushoffice family, we offer the hushHybrid one-person video call pod complete with extra face-illuminating LED lights for video calls, the hushPhone private call booth with a fold-away laptop table and comfortable armrest to lean on during calls, the hushMeet 4-person cabin with seating and a meeting table, and the hushAccess.L wheelchair-accessible booth for as many as 6 people.
How do you make a classroom neurodivergent friendly?
Neurodivergent thinkers are typically easily distracted by busy environments. So one of the best ways to accommodate them is by making the classroom quieter. Try offering acoustic booths like those from the Hushoffice collection for private, focused attention.
How do you soundproof a hospital room?
For maximum security of private or confidential matters, consider investing in acoustic booths rated A or B per ISO 23351 like those from the Hushoffice line. This booths guarantee speech privacy. And because they're an independent structure, they can be easily relocated.