Blog
Modular, mobile, soundproof work pods allow the architect to set up a functional office within half a workday, satisfy long-term financial goals and aesthetics, enable participatory space planning, and bring nature within reach. Here's how…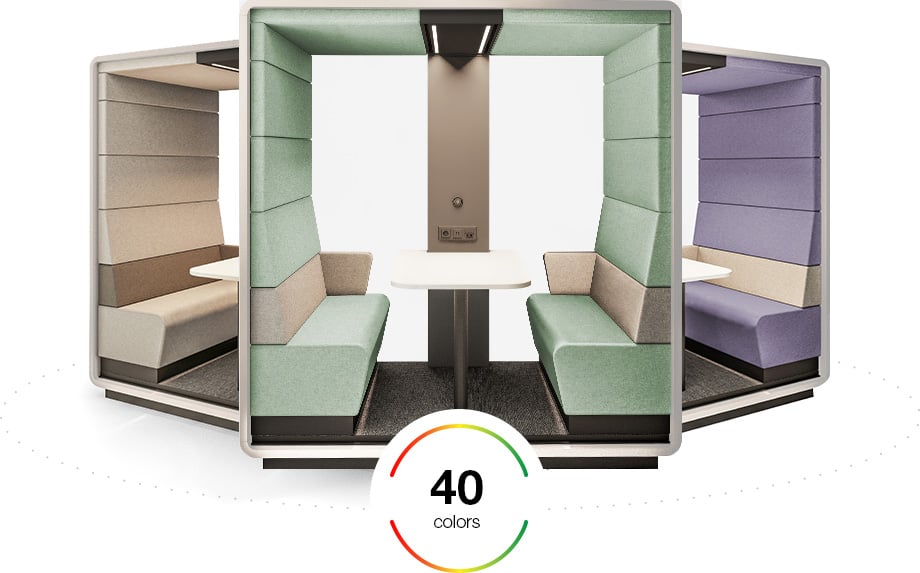 According to Gensler's 2019 U.S. Workplace Survey, employees want choice, autonomy, and variety. Work pods provide all three of these benefits; for employees at the mercy of the open office, their soundproofing spaces are the fix. They handle office noise, offering the ideal acoustic environment for work, and reconciling the need for both privacy and collaboration in an open floor plan. They give autonomy back to employees, empowering them to work as they work best, and pick from pods that fit their workflow. An open office space strategically outfitted with office pods allows employees to move through working spaces each day and unlock a significant ergonomic benefit, too. Work pods simply make work make sense again.
For the architect, the benefits of outfitting a space with pods are equally clear cut: you can set up a fully functional office within half a workday, satisfy your client's long-term financial goals and aesthetic vision, enable a more participatory space planning, and, with the right product, bring more nature into the office through plant-paneled pods.
1. Outfit on-time; set up a fully functional office within half a workday 
Office work pods deliver in their ease of implementation. To use our Hush pod line as a reference point, it takes about 4 weeks for our team to manufacture and deliver a Hush pod, customization, features, and all. Installation of our solo soundproof booth (hushPhone — an office phone booth) takes about 1 hour while meeting pods take about 2. Our hushMeet.L (the modular conference booth or meeting pod) installs in about 4 hours. 
These estimates show that you can set up a functional, modern office within a day if you outfit using office pods or booths. And because the pods have no permanent aspect, you don't have to work rigorously with the landlord or a general contract approving build-outs or renovations. Namely, because there are no build-outs or renovations.
Zero time or energy spent getting approval on build-out or renovation 

4-week lead time to receive your customized soundproof work pod 

1-5 hour installation time depending on the soundproof booth pod model 

1 week to create a fully functional, modern office 
2. Satisfy your client's long-term financials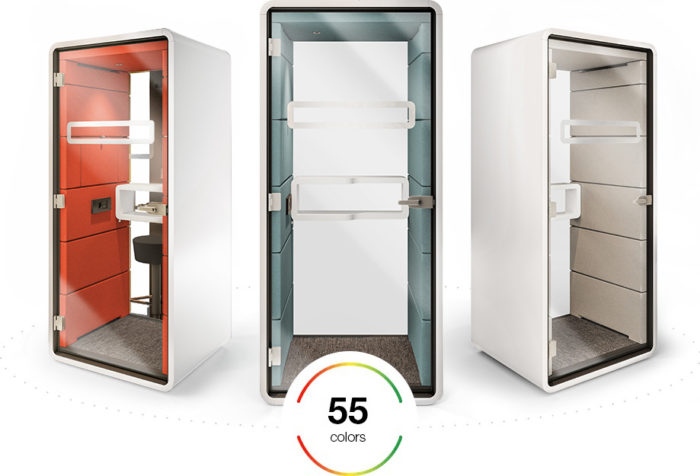 Work pods are a smart alternative to permanent infrastructure because they allow your client to make a one-time investment into an asset they keep forever. Rather than bearing a high sunken cost of infrastructure that's outdated within a few quarters, your client can invest in a modular, mobile product built to last. They can also implement work pods one at a time, maintaining cash flow and testing the success of each pod one by one. 
Modular pods can also be expanded or sized down to accommodate fluctuating needs; they are flexible and adaptive and eliminate the need to purchase brand new solutions. Unlike meeting rooms and seminar halls, pods are also built for relocation — they're like portable, modular soundproof rooms. Your client will never have to cut their losses and leave 'infrastructure' behind. All Hush pods, for instance, can be relocated by pallet jack or with a simple push.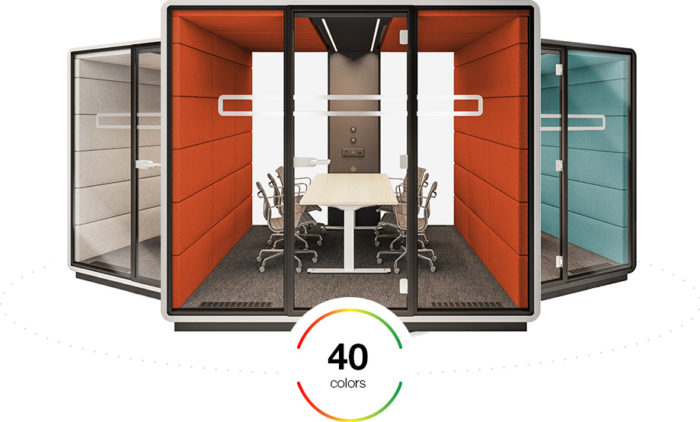 3.Participatory space planning and stress-free layout changes; the flexibility client's need in an agile world
The work world is agile. Work patterns, flows, and tasks are increasingly hybrid and difficult to predict. By outfitting the space with pods, which are essentially Legos, the office layout is made flexible to support fluctuations inherent to an agile work world. The beautify of creating working and meeting space with a Lego-like, easy-to-rearrange solution like this is that a client's entire fleet of talent can be more involved in the space's design, merely because rearrangement is so easy. 
Visualize the work pods in your space with an AR app

See our

MSO Plan

app for reference 

Easy space planning

When you get to the conceptual design phase, simply upload the pod's REVIT files into your modeling program to size up all dimensions, square footage, and outlets, and start planning your space. For reference, see '

Files for the architect

' available on our phone pod — these file types are available for each Hush office pod 

Quick layout changes

Our solo pod (

hushPhone

) is on castors and be moved by one person. All of our larger pods can be moved by pallet jack, no disassembly required (the exception being our large conference pod,

hushMeet.L

) 
Make layout changes more independently of landlord

The big benefit of opting for pods over permanent structures is that you can outfit the office without the need for approval from the landlord or to work with a general contractor 
Modularity = flexibility

Our hushMeet.L can expanded or sized down within a day by adding or removing modules 
Participatory space planning for employees

Because Hush pods are like Legos, layout changes are quick, and space planning is easy. This quickness and ease allow employees to play an involved role in the design of their space. It empowers them to think critically about how the office influences their performance and request the right changes for their productivity
Wondering what Hush Work would look like in your office? Download the AR app MSO Plan. and enjoy virtual pods in your space
4. Express your client's branding as you meet their functional needs
A well-designed work pod or office booth is made by a marriage of smart functionality and artful form.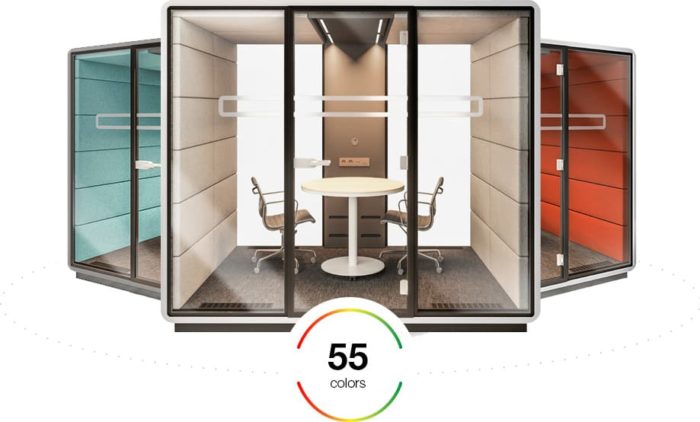 Connectivity and all the features your clients need

When you order a portable work pod, you can specify each feature your client needs. Optional features on Hush pods include a TV mount, sit-stand desk, stool, or Bluetooth speaker. Our hushMeet.L has ample room for your own furniture: a sofa, conference table, or foosball table, for instance. Our Hush sound dampening work pods are also completed with a robust power outlet and a strong wifi signal that both sustain connectivity 

Realize your client's branding through color options

When ordering pods from Hush, you can customize the color of the exterior carcass, interior upholstery, rear window, and central post. This customization allows you to match your client's brand aesthetic

Acoustic work pods are sleek and modern

This one speaks for itself — take a look at the photos of our Hush pods throughout this article. Though not all pod manufacturers design with taste, our team aims to create a product that will delight through time 
5. A big bonus: biophilic and active design in one solution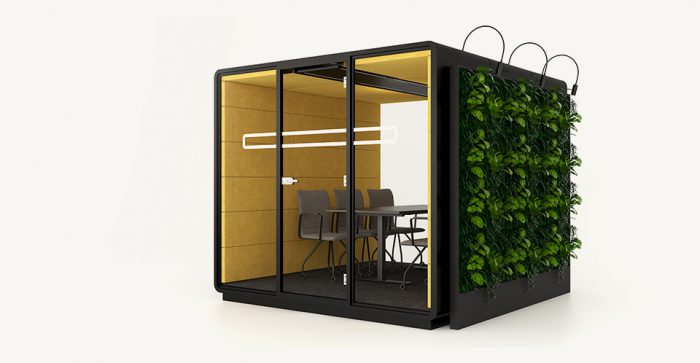 Acoustic pods introduce a very cool opportunity to bring more organic life into the office space. Our Hush pods can be outfitted with a 'green wall.' The fully equipped system we offer comes with a frame, integrated flower pots, and electronically run irrigation. Such a fixture is the beautiful, easy, and obvious way to bring nature within reach.
Pods also afford movement, creating a more active office environment. Some models can be equipped with ergonomic accessories that bring more movement to the desk. And because you can set them strategically to encourage movement — and this setup is easily tweak-able toward this aim — they facilitate more in-office mobility. In simpler terms, they trigger people to move more. 
→ Read more: The hidden ergonomic benefit of work pods: How acoustic work pods afford two vital kinds of movement — triggering cross-pollination and engendering a more active, inspired office.