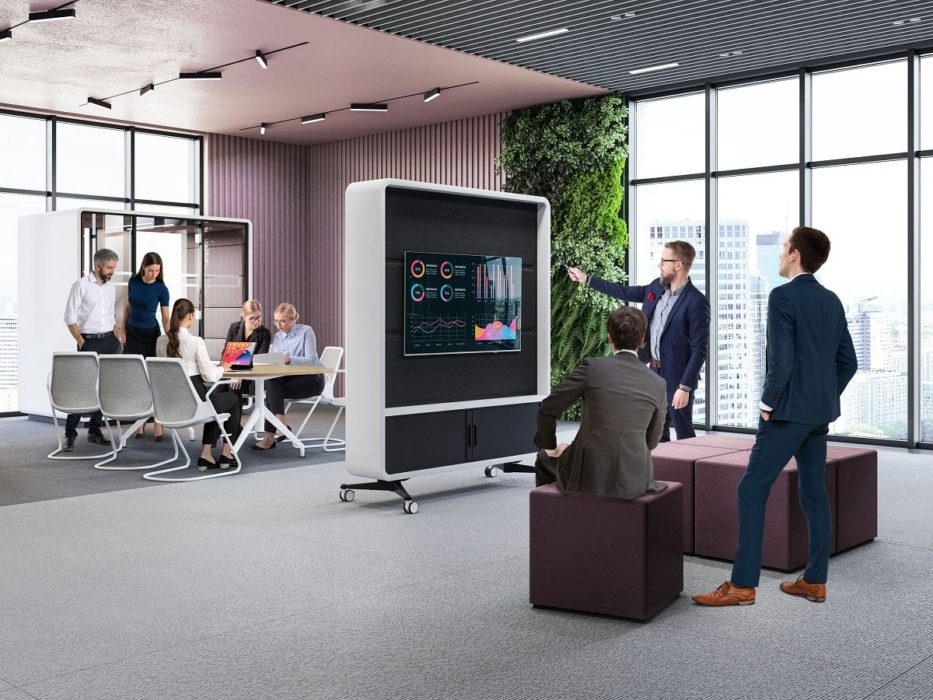 Hurrah! We just debuted hushWall – the extra-large, high-design rolling office partition. A mobile wall. Double sided for dual function. Looks great. Agile. Brings privacy to open spaces. Works brilliantly for a plethora of setups.
For inspiration, let's cover three typical use cases.
Take me to hushWall's product page instead.
Use Case #1: A versatile office partition for HR training…
The HR director recently implemented weekly team training. They needed a functional space that was semi-enclosed. Cozy for employees. This way, attendees would be somewhat cocooned — at home and in their element.
Distraction-free space = stronger presence.
With everyone settled in and engaging with an open, unblocked mind, presence would endure. The key piece. Training sessions can be an hour and a half long. And fitful focus hampers forward motion. So presence was vital.
Need to create productive zones in the open office? HushWall does the dividing.
The director also needed a whiteboard and a TV for various group activities. And, most importantly, the space had to be a breeze to set up. They rarely have a minute to spare.
Enjoy the basic features needed for group work.
Fortuitously, their manager invested in a hushWall mobile wall last quarter. And it instantly became the best product for the job. It's multitalented and fuss-free. It provides every aspect of excellent training sessions. A whiteboard. A TV. Space division. And quick, convenient use.
A mobile office partition that responds to the moment's need.
HushWall is the portable, double sided space divider for open offices. Either side is customizable with one of three options. The standard felt is available in a selection of modern tones. The modified felt features a space to mount a TV bracket. And the whiteboard is the ubiquitous staple. It's an agile product for an agile workplace

– says Eliza Donek, Product Manager, Hushoffice.
When their custom-built hushWall arrived, the director swiftly equipped its modified felt side with a company TV. So the divider always sits ready for training day. No recurring technical troubleshooting here.
Wonderfully multifunctional. Totally mobile. HushWall room divider.
They instinctively "vibed" with hushWall's reversible design and its utter portability. Thanks to bo