Stress in the office is a significant, pervasive issue affecting the majority of workers. Its causes are both psychological, i,e., looming deadlines, and environmental, i.e., interruptive office noise. So there are many simple changes you can make to generate a more peaceful office today.
Stress in the office – tl;dr
What is occupational stress?
Occupational stress is strain from job-related factors. Workload, long hours, lack of control, mundanity, interpersonal conflict, and so on. It is indeed a serious, widespread issue that affects workers worldwide, causing physical and mental issues from heart disease to insomnia.
What are the causes of stress at work?
Concerns about job security. Fear of employer retaliation. Confrontation from customers, supervisors, or employees. Adapting to new workspaces, schedules, or rules. Working weekends or working without breaks. Blurry work-life boundaries. The list goes on and on.
Long-term stress harms workers in serious ways.
The well-documented physical effects of long-term stress include high blood pressure, muscle tension, headaches, and poor sleep. The mental effects include depression, anxiety, burnout, social withdrawal, fatigue, and lack of motivation or focus.
Work-related stressors, spanning from high job demands and tight deadlines to poor managerial support, have a profound impact on an individual's sense of well-being. They can gnaw at mental health, causing a plethora of negative psychological outcomes. Fatigue, aimlessness, and reduced self-esteem, for starters. An employee may totally check out if this stress is not addressed

– says Mateusz Barczyk, Senior Brand Manager, Hushoffice.
Prolonged employee stress is a significant drain on a company's profitability.
Job stress is estimated to cost US employers more than $300 billion annually from absenteeism, diminished productivity, and accidents. Stressed workers are less likely to be energized to perform well or to stay at a company that does not improve work conditions or address the root of the issue.
Stress derails focus through several mechanisms. The fight-or-flight response, for instance. When we perceive stress, say a startling interruption from a colleague, a tense discussion, or a last-minute deadline, our body activates an alarm reaction: a series of hormonal changes — the release of adrenaline and cortisol to help us face the perceived danger. Chronic activation of this mechanism is not healthy and hurts cognitive processes like focus and memory. So when employees are interrupted in a jolting way many times a day, as an example, their cognitive processes are repeatedly hampered, and productivity, cut. This is why private work pods like hushWork are a key feature of the modern office — they shield the employee from alarming disruptions, tackling one of the most blatant, manageable sources of stress

– says Mateusz Barczyk, Senior Brand Manager, Hushoffice.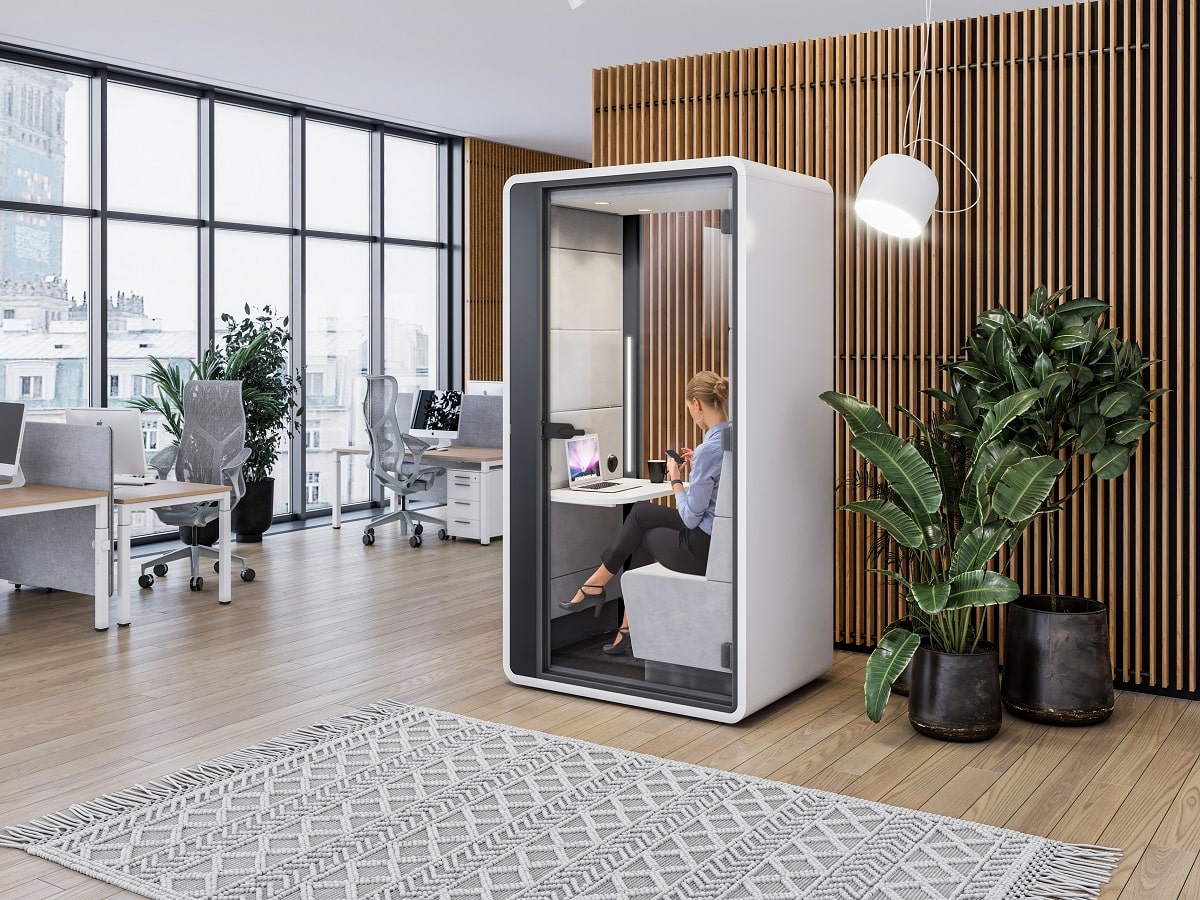 The brain is impressively complex, but severely capacity limited. We can only consciously perceive and act upon a given volume of stimuli. And when we encounter stress, a significant portion of mental resources are allocated to dealing with it, leaving less brain power for the task at hand.
Or the type of memory used to hold and manipulate information in the short term. So stress can make it harder to concentrate on sophisticated tasks, which make up so much of work in our complex world.
Selective attention is the ability to process stimuli selectively when several are occurring at once. When we are stressed, it's more difficult to hold attention and ignore irrelevant information. The hyperarousal typical of a stress response also makes us more distractible yet.
Moreover, stress seeds worry and anxiety.
These mental states take up a lot of real estate in the brain. Anxious thoughts can be uniquely intrusive and demanding, further impeding focus.
No matter how you look at it, the 'stress picture' isn't a pretty one.
But there is a silver lining, because many simple measures can be taken to greatly reduce the base level of stress in your office space, starting with getting a handle on office interruptions like noise.
Office interruptions (including noise) are a top stress factor.
Office interruptions come in many forms: phone calls, unexpected visitors, email alerts, office noise, colleague chit chat, kitchen activity, etc. Regardless of their form, interruptions are interruptive and thwart an employee's peaceful flow, whether they are working or taking a moment's rest.
Frequent interruptions disrupt an employee's train of thought.
This forces them to divert their focus away from the task at hand. And it takes time and mental effort to reorient back to the original task each time an interruption occurs. This constant shifting leads to mental fatigue and results in decreased productivity.
Interruptions make employees feel that they have little control over their work environment.
The sense of lost autonomy that results is a well-recognized source of stress.
Even visits from colleagues can be problematic.
They can create conflicts or misunderstandings, particularly if the visits are seen as unnecessary or invasive. This shapes a tense work environment. The sudden nature of such interruptions when we're deeply immersed in our work can indeed be startling, too, and subsequently stressful.
Workplace interruptions initiate a vicious stress cycle.
They fracture focus and induce stress, which in turn further erodes the ability to focus, and so on. But the many immediate ways to manage and reduce interruptions are low-cost and easy, starting with a team meeting to glean everyone's thoughts and ideas on the matter.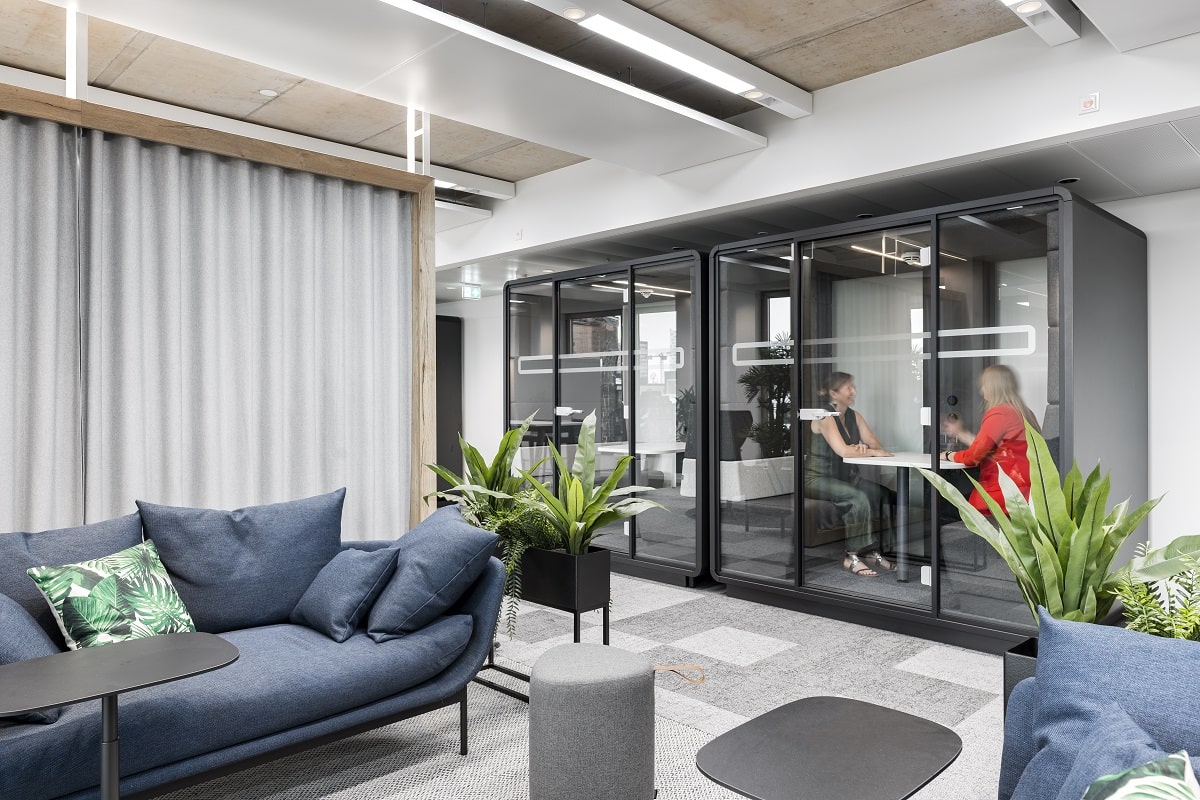 The reality is creative ideas arise in a relaxed, stress-less mind.
So if your employees are chronically unrelaxed, your company's capacity to innovate is stifled. When employees are constantly on edge, they are focused on stress management, not pushing boundaries. The innovative potential within your company is then curtailed.
When the mind is relaxed, it often opens up pathways that can lead to creative thinking.
This is because the human brain is an intricate network of neurons that communicate with each other through electrical and chemical signals. Different states of consciousness, such as focused attention, relaxation, and sleep, are associated with different patterns of neuronal activity.
When you are in a relaxed state, your brain is in a mode called the "default mode network."
A mode involved in imagining the future and mind-wandering. "DMN" can foster creativity in a number of ways: through divergent thinking, the ability to make new connections, the incubation effect, reduced inhibition, and enhanced intuition.
Relaxation techniques to reduce stress at work…
Want to cultivate a more peaceful state of mind in the office? Try any one of these techniques out when you find yourself frazzled or overcome.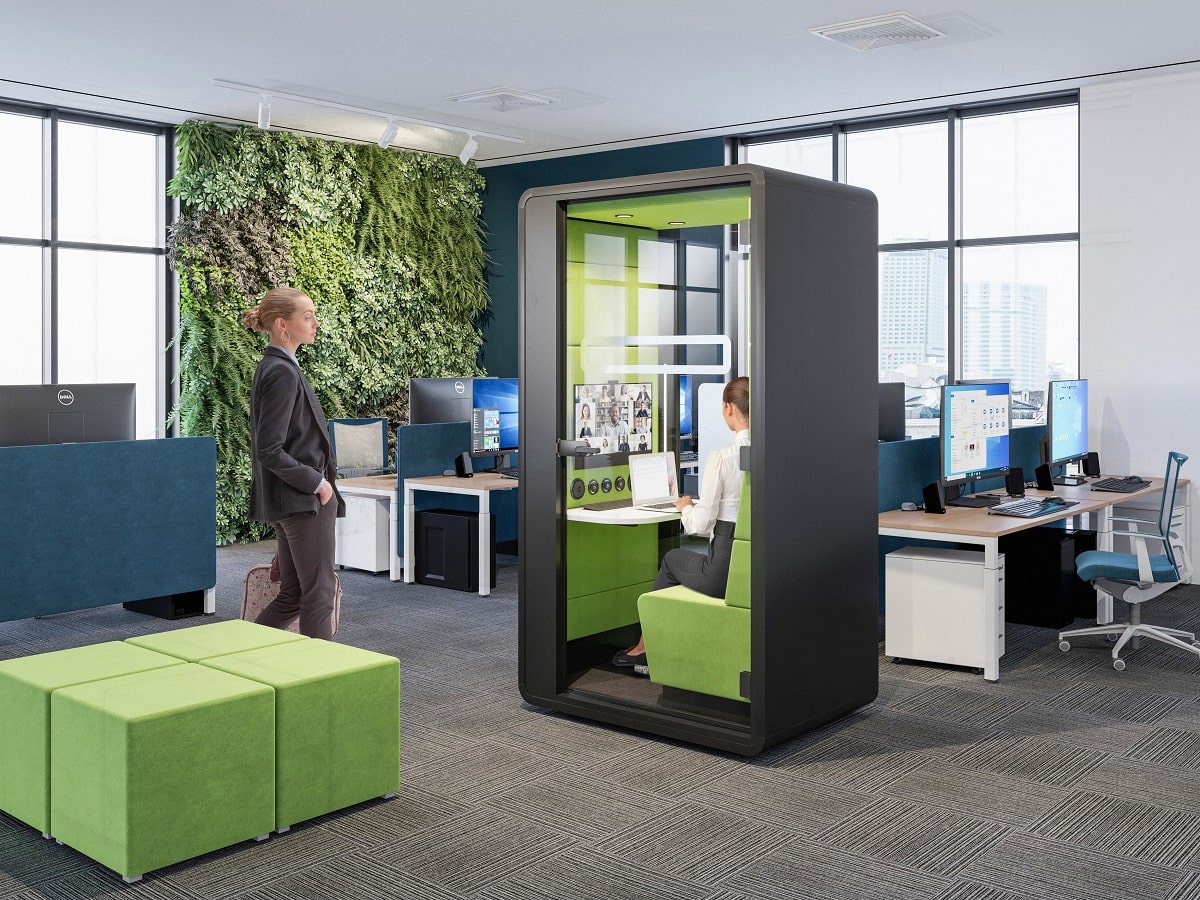 Chillout zones — a necessity in today's office?
Interestingly, noise actually improves selective attention in extroverts, but the opposite for introverts. So the workforce's sensitivity to noise is an individual phenomenon. This highlights the need for a variety of spaces in the office including, most certainly, chillout zones.
Without a doubt, chillout zones, quiet spaces, private pods, relaxation spaces — whatever we call them — are main features of today's office. Contained environments where the sensory-avoidant or overwhelmed employee can find refuge. That's the idea. They complete the office's variety of areas — variety in terms of soundscape and privacy level — giving people options, allowing them to go to the workspace that works best for the moment and take control over their bandwidth, curbing stress

– adds Mateusz Barczyk, Senior Brand Manager, Hushoffice.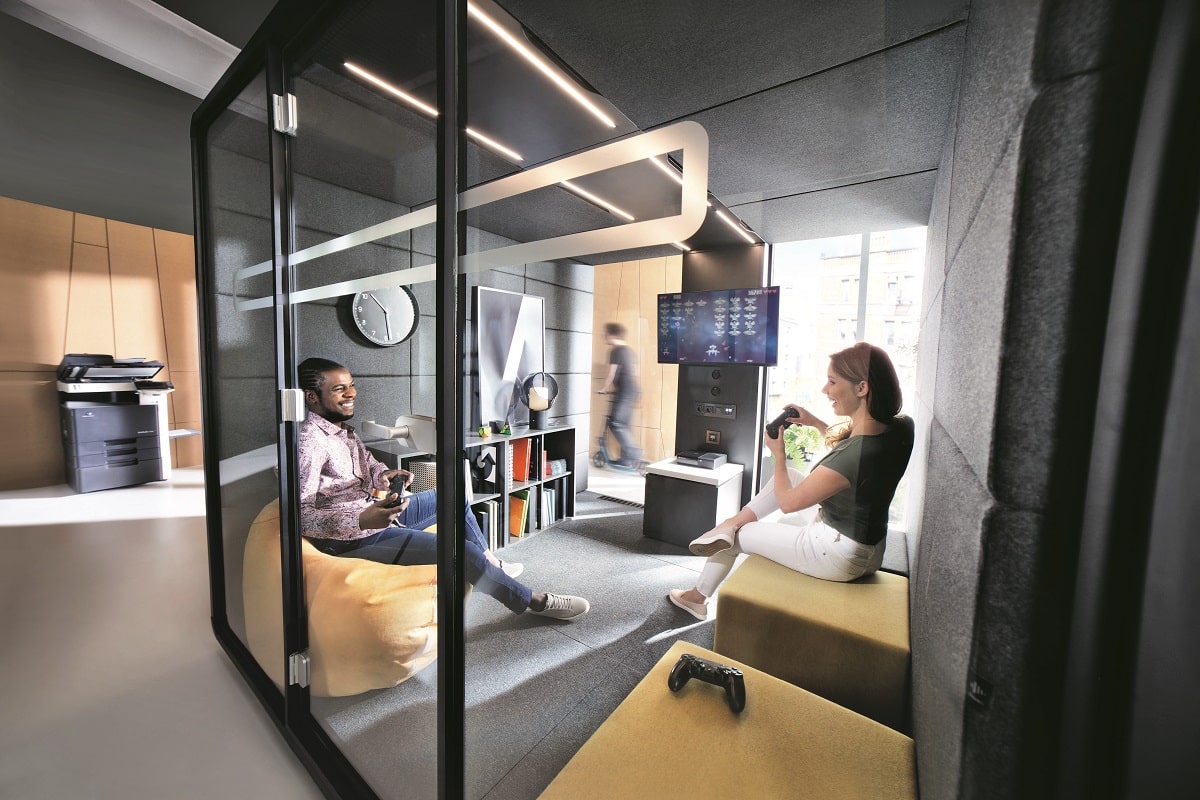 Stress in the office – tl;dr
Stress (and relaxation) in the office – frequently asked questions
How can I relax in the office?
Conscious breathing, visualization, and a progressive muscle relaxation meditation are all proven stress-relieving practices you can do right at your desk. To form a more peaceful work environment long term, consider suggesting quiet hours, meeting-free days, and some form of a recognized busy signal to eliminate stressful distractions and give employees more autonomy over their cognitive load and state of mind.
What causes office stress?
Heavy workload, tight deadlines, long hours, high expectations, lack of control or supervisor guidance, poor communication, job insecurity, and a noisy or chaotic work environment are some of the most common sources of office stress.
How do I get rid of office anxiety?
One of the most effective ways to alleviate anxiety in the office is to implement relaxation techniques in addition to limiting workplace interruptions. It may also be helpful to reflect on the specific aspects of your work environment or tasks that trigger anxiety to understand and address the root causes.