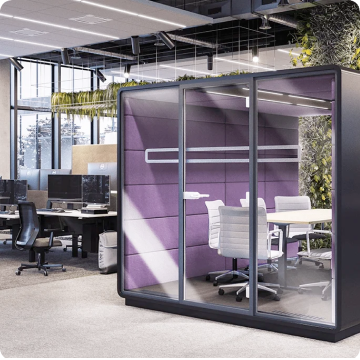 Business meetings at a small company may pose a challenge – especially if the work predominantly takes place at an open-space office. Problems may include typical office bustle, disturbing discussion of different matters, or lack of privacy. How to ensure the possibility to hold confidential, comfortable company meetings and conversations with customers? How to arrange a small office to respond to all of your needs? We explain this!
A small meeting room at the office – adaptation of the vacant space
Appropriate office space arrangement may significantly affect the efficiency and comfort of the team's work. This is particularly important at small companies which usually have a small office area, performing many functions at the same time. At a small office, there is often no place for a separate conference room, used for such purposes as company meetings. Moreover, this is not an optimal solution in terms of use of the space – a separate room occupies a lot of it and is usually intended for larger groups. The truth is that conferences attended by several people do not require large areas.
However, a small conference room can be separated within an open office space. It does not take renovation or any major investments to create it. This is possible with different types of acoustic cabins, enabling easy establishment of a quiet, intimate workstation. Such solutions may act as a conference room or a place for meetings with customers. They will also provide appropriate room to those employees who need silence and seclusion from other team members while performing specific duties.
HushMeet.L – a small meeting room at the company
The Hushoffice brand is perfectly aware of the fact that the needs of your company may change. In certain periods, you might be in need of a conference room for as much as 8 people; in others, such a room may turn out to be a waste of space. This makes the hushMeet.L acoustic booth a perfect solution for so many offices. This project is modular, which means you can modify your conference room at will, adding or removing individual elements. Adjustment of a hushMeet.L to the current needs of the office only takes one day; therefore, it would not disrupt the work or generate high expenses, providing a perfect area for performance of current tasks instead.
HushMeet.L will excellently prove itself as a conference room. You can use it to hold company meetings in a smaller or larger group and discuss the most important organizational matters or the current projects. Thanks to the room's perfect acoustic insulation, no words uttered inside will be heard outside, and the office noise will not disturb the discussion. For this reason, hushMeet.L can also be used to hold important business meetings with contractors or investors – in person as well as by telephone or online. It will be suitable for job interviews and for individual work in silence alike. This is the perfect space whenever you or your employees need some privacy.
Customer meetings at the office
Organization of a business meeting with a customer is a frequent problem for small companies. The office is not always representative enough. Moreover, it usually lacks a place to have a calm, private conversation. A short-term solution may be rental of conference space or meeting in public – e.g. at a restaurant. However, this may have a negative impact on the company's image. A company's seat is its showcase, reflecting its reliability, honesty and professionalism. How to arrange a small office to have an easy conversation with a customer? HushMeet.L will be the perfect solution! An acoustic booth will give you the desired privacy and comfort, while allowing the other party to find out they deal with a serious company.
 A small conference hall for an office
A perfect conference room should be comfortable and appropriately equipped. Privacy is an extremely important feature as well – the room should separate the people inside from any outside noises and allow for free discussion or exchange of confidential information. Construction of such a room is expensive and time-consuming; moreover, there is usually not enough space for it at small offices. This makes hushMeet booths for 2 or 4 people the answer. They include comfortable equipment – couches, tables, lighting, ventilation, power supply – as well as excellent acoustic insulation. Thus, even a lively discussion inside will not disturb the office's work, and the topic or content of the conversation will surely not be overheard. Moreover, hushMeet booths ensure perfect conditions for a brainstorm or another kind of work requiring focus and silence.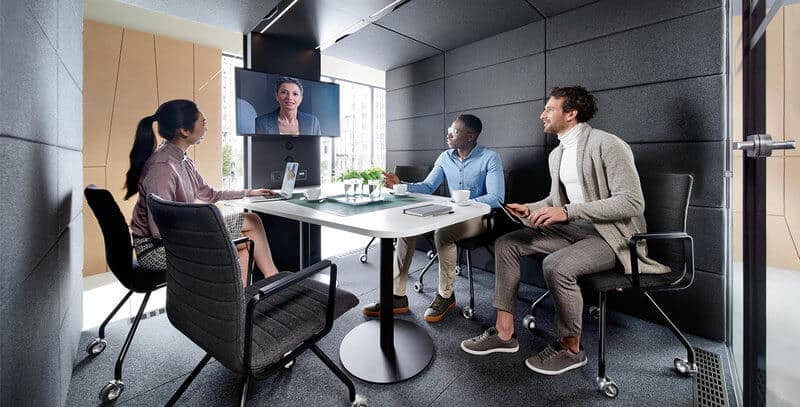 Photo: HushMeet acoustic booths provide many space arrangement possibilities, allowing you to use them in many ways – including for videoconferences.
A mobile solution
A small office is good for starters, but as you expand your activities, you might want to move to something larger. You will then easily take your hushMeet acoustic booth along! This is a fully mobile solution that can change its location together with your company. Furthermore, you can move your meeting room around the office – so the space could always be adapted to the team's needs. This is the reason why investment in acoustic booths turns out to be much more profitable than an interior renovation oriented to create a separate conference room!