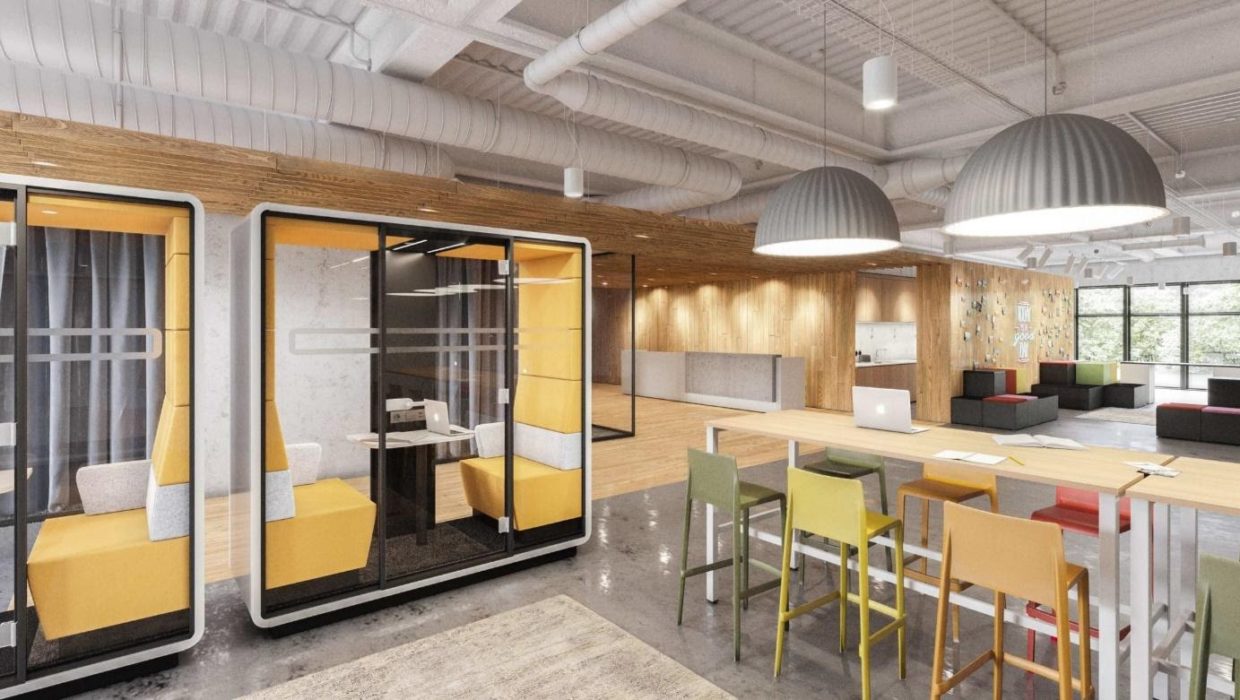 Project meetings, recruitment interviews, creative meetings, teleconferences with clients, internal staff training, arrangements requiring privacy, and even informal office chats – all these activities need a place in the workplace – preferably silenced and isolated from the open space. One conventional meeting room in the office is definitely not enough in this situation, but several multi-functional acoustic booths for different types of meetings… that's something!
The Mikomax hushMeet and hushMeet.open series of acoustic booths, made by Hushoffice brand, are diverse models of acoustic enclosures for the office which can meet the needs of larger and smaller companies and optimise space arrangement and office work organisation. 
Why invest in a soundproofing booth?
Such acoustic meeting booths solve several common corporate problems: too much noise in the office when project teamwork takes place in an open space instead of, for example, in a separate room (which is in short supply), but also the need to pause or postpone talks, meetings or other important gatherings due to a constantly busy conference room, organisational difficulties at work due to the "low capacity" of the employee break area in which there are too few places for informal coffee meetings, Acoustic booths for the office are therefore a great idea to "decongest" a conference room or "increase the capacity" of the social zone, not to mention to quiet the office by "locking" a loudly debating group of people in a soundproof enclosure. There are, of course, many more applications. The hushMeet solutions are one of the most versatile pieces of office equipment. This is already standard in modern companies. 
HushMeet – the way to adapt your space to your employees' needs
The choice of acoustic enclosure model depends not only on the company's premises, but above all on the needs of its employees and the specifics of their work. In some offices (especially those of smaller companies), two-person boxes may be the most necessary, while in others, larger enclosures or even ones that can be expanded as needed prove to be more useful. Sometimes (to keep conversations confidential) soundproof booths are necessary in the office, and sometimes it's mainly about physically separating a certain space – and then open forms like the hushMeet.open work well. This is why Mikomax offers various models of meeting booths as part of its hush office range.
Types of hushMeet acoustic enclosures
Among the enclosed cabins you can choose from: an intimate two-person version, a standard (and at the same time most popular) one for four users and "conference" variants for larger groups (six or even ten people). There are two open forms – for two or for four people.
HushMeet – the perfect space for video conferencing
Video conferencing is a common form of communication today. In addition to a good Internet connection, a laptop, smartphone or other device with a camera and microphone, it is also necessary to have a quiet, tranquil place to conduct them – so that communication is not disturbed by sounds generated in the open space or by the so-called photobombers. The hushMeet cabins are convenient for making these conversations. You can connect the necessary equipment, as the boxes are equipped with power outlets and USB inputs (it is even possible to mount a screen or TV inside). It is also possible to illuminate the work area adequately, as there is independent LED lighting inside. Ergonomic sofas and a table, as well as efficient enclosure ventilation, make it possible to have even longer "sessions" with four people in comfortable, office-like conditions. Importantly, a box takes up only as much space as two standard workstations. In exchange for so little, you gain a significant increase in working comfort and better organisation.
HushMeet.S – an acoustic booth for two
The S variant is a hushMeet with slightly smaller dimensions (enclosure depth 900 mm) than the standard (1390 mm) – designed for up to four people. The hushMeet.S is the perfect space for two-person company meetings – for example those that require discretion (recruitment interviews, negotiations, etc.) or high levels of focus. Such an enclosure is very popular usually in smaller offices, where meetings are usually held in smaller groups and where, due to the room conditions, every square metre of space has to be taken into account. The equipment and ergonomics of the box interior are identical to those of the hushMeet model.
HushMeet.L – an acoustic booth for a larger group
At the other end of the scale, in terms of size and capacity of acoustic enclosures from the hushMeet range, is the hushMeet.L. It's basically a "folding" conference room that you simply insert into the office, thus gaining an additional independent acoustically insulated room – and all this without renovating, tearing down walls or rebuilding the entire office. This booth model has a modular design, which means that it can be easily extended if the company's needs change. The "booth" in its smallest version consists of two modules and seats at least four people. With three modules, it provides meeting comfort for six people, while with four modules, the booth can accommodate eight or even ten participants in a meeting, training course or other corporate meeting. The hushMeet.L offers ergonomic solutions and equipment just like in a professional conference room: efficient air conditioning, comfortable furniture, appropriate sound system, friendly lighting, the possibility of hanging a TV or screen, power outlets and of course… soundproofing (thanks to acoustic glazing and sound-absorbing finishing materials). The price of the hushMeet.L depends precisely on the equipment and finish and, of course, the number of modules that make up the product. Despite its size, this model is still a portable acoustic booth (it can be moved around the office after only partial disassembly).
HushMeet.open / hushMeet.open.S – a compact open box
And finally, two more proposals for compact open boxes for informal meetings in the office, available in two sizes: hushMeet.open (for up to four people) and the two-person hushMeet.open.S. These are very interesting structures that separate a piece of space from the general office space and give it a friendlier, quieter character. In a cosy atmosphere, you can sit here, separate a bit from the rest and relax or, for example, talk to someone over coffee or do some creative work. It is a box with three walls. Its semi-open form