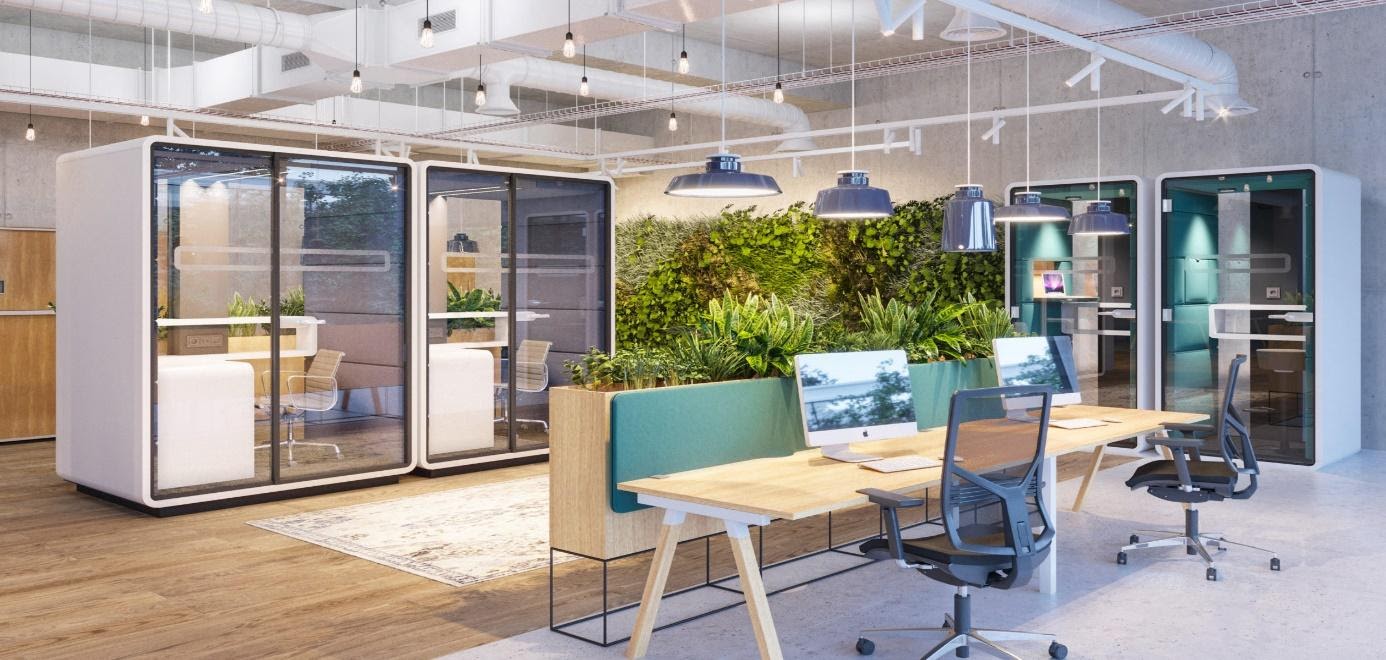 HushPhone, hushMeet, hushMeet.open and other acoustic enclosures from the Mikomax HUSH range are versatile, practical and stylish solutions for any modern office. They improve working comfort by improving acoustics in the company, they are a functional meeting place in the office space, and they are also perfect for the relaxation zone. These are just a few of the long list of advantages of such booths….
Their design arose from the most urgent problems associated with the arrangement of workplaces and with the very organisation of work in modern offices, as well as from careful listening to the needs of white-collar workers. Most of them complain about the disruptive noise in the open space, the lack of a comfortable meeting place in the office, the lack of a quiet room – for individual, focused work, and also the lack of a chillout zone. Acoustic boxes solve these (and other) issues and respond to the real needs of office users.
Acoustic booths – a solution worth investing in
Bearing in mind that improving comfort at work increases efficiency, it makes sense to make your employees more comfortable in the workplace. If its organisation is optimised, a company's performance can increase noticeably. Investing in acoustic enclosures is therefore not only a question of image (because such equipment is a sign that the employer follows trends and cares about his or her team, providing them with appropriate office conditions), but also simply … a great deal. It is an investment that will certainly – sooner or later – pay for itself.
Advantages of Hush enclosures – why should you opt for them?
In addition to the obvious reasons for investing in an office soundproof booth, there are also the "technical" arguments for setting up a HUSH booth…
#1 Possibility of any configuration of Mikomax boxes
Each model in the HUSH family is "customisable" in terms of colour and booth finish as well as equipment. The colour of the body and glass, as well as the type and colour of the wall upholstery inside are selected individually, which makes it possible to perfectly match the booth to the arrangement of a given office, as well as to the specific taste of its users. You can choose from dozens of options for such product personalisation. It is therefore not necessary to "be condemned" only to "the manufacturer's proposals". The Mikomax box can visually reflect the spirit of the company whose office it will occupy. 
#2 Quick and efficient assembly and disassembly of booths
HUSH acoustic booths, regardless of model, are designed in such a way that installing them in an office is not a complicated operation. The assembly and disassembly of individual cubicles varies depending on the size of the booth, among other things, but the whole procedure is calculated in hours at most, not days. The least amount of time (less than an hour) is required for the hushPhone phone booth, the most amount of time (up to four hours) for a booth that is a separate, multi-person room inserted into the office, i.e. hushMeet in its largest version.
 #3 Excellent air quality and perfect booth ventilation
HUSH soundproof enclosures do not allow sound to pass through, but are perfectly ventilated, making them comfortable to work and stay in. The ventilation systems used here have a capacity of 100 m3/h to 140 m3/h. The number of fans in a given product depends on the booth model – smaller booths have fewer fans, while larger ones have more fans to ensure optimum air quality and temperature inside, even when there are several people inside.
#4 Perfect room acoustics – better office acoustics
Improved office acoustics and a sound-isolated place for focused work or meetings away from other people's ears is an undeniable advantage of HUSH products. When they are used in a company, they ensure that it is not only quiet inside the booth, but also outside it. This is the best solution for soundproofing the office. Users inside a booth only hear muffled sounds from outside (at a whisper level) and do not disturb others at the same time, as their conversations do not escape outside the booth.
#5 Possibility to place the booth anywhere in the office
Another "technical" advantage of Hushoffice booths is their mobility. The hushPhone is lightweight and has its own wheels, so it can be transported to another part of the office at any time. Larger booths are also relocatable "in their entirety", for example with a forklift truck. Each box can be placed anywhere in the company, but it is recommended that it is not too sunny and too far from workplaces so that the need or desire to use the box does not require a long walk to the box. 
#6 Interesting and practical solutions inside and on the outside
And finally, a few more highlights… HUSH booths are not just soundproof boxes. They are comfortable, ergonomic places to work, meet or even relax. They feature power sockets inside, USB inputs, automatically activated lighting, sound system, screen or TV attachment option, modern furniture solutions (such as barstools in the hushPhone or adjustable tops in the hushWork). The icing on the cake in this product range are the hushMeet.open (ideal for the social zone) and the hushMeet.L with a vertical garden.
These 6 advantages are just the beginning of a long list of features of HUSH office solutions. But it's a waste of time reading about them – it's better to experience the benefits for yourself – in your own office.