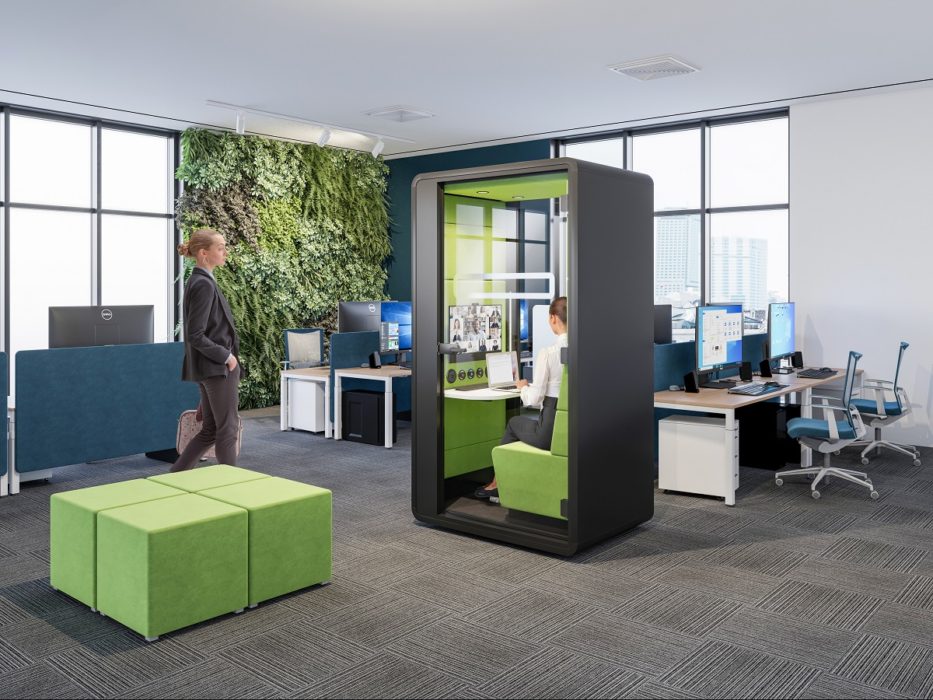 79% of the workforce want to be in the office at least once a week. Hybrid office is the way forward. Because the right workspaces and meeting areas can help draw employees back, we deem the following investments and retrofits essential in the new world of work.
Quick look: 5 essential hybrid office investments
Excellent one-person video conferencing spaces
Safe spaces to meet and collaborate
Private, soundproofed environments for phone calls and concentrative work
Health & well-being kits
Ergonomic workstations
Excellent one-person video conferencing spaces
Employees expect to return to a better office. More physical space, higher quality acoustics, and stellar video conferencing pods or booths

– says Mateusz Barczyk, Senior Brand Manager, Hushoffice.
As video calling is a glue of hybrid work, the office must adequately support it, making each call easy and successful. One-person spaces are critical. Without them, employees are forced to take up an entire team meeting room for one call. Or, worse yet, take their call on the open floor, subjecting others to their noise all the while suffering office distractions.
Acoustic. Private. Comfortable. Built with every feature needed for successful video conferencing. The hybrid workplace's video call spaces should hit these marks. A video conferencing pod is a fantastic solution because it's uniquely flexible while giving unparalleled acoustics. Consider the hushHybrid video conference booth as a model — built on wheels, with an optional monitor mount and optional video call light strips for superb calls. It's the "Hush" needed in a hybrid world; an agile prefab pod, ready-made, responding to change. Like a portal connecting on-site employees to at-home employees. Ultimate video conferencing ease.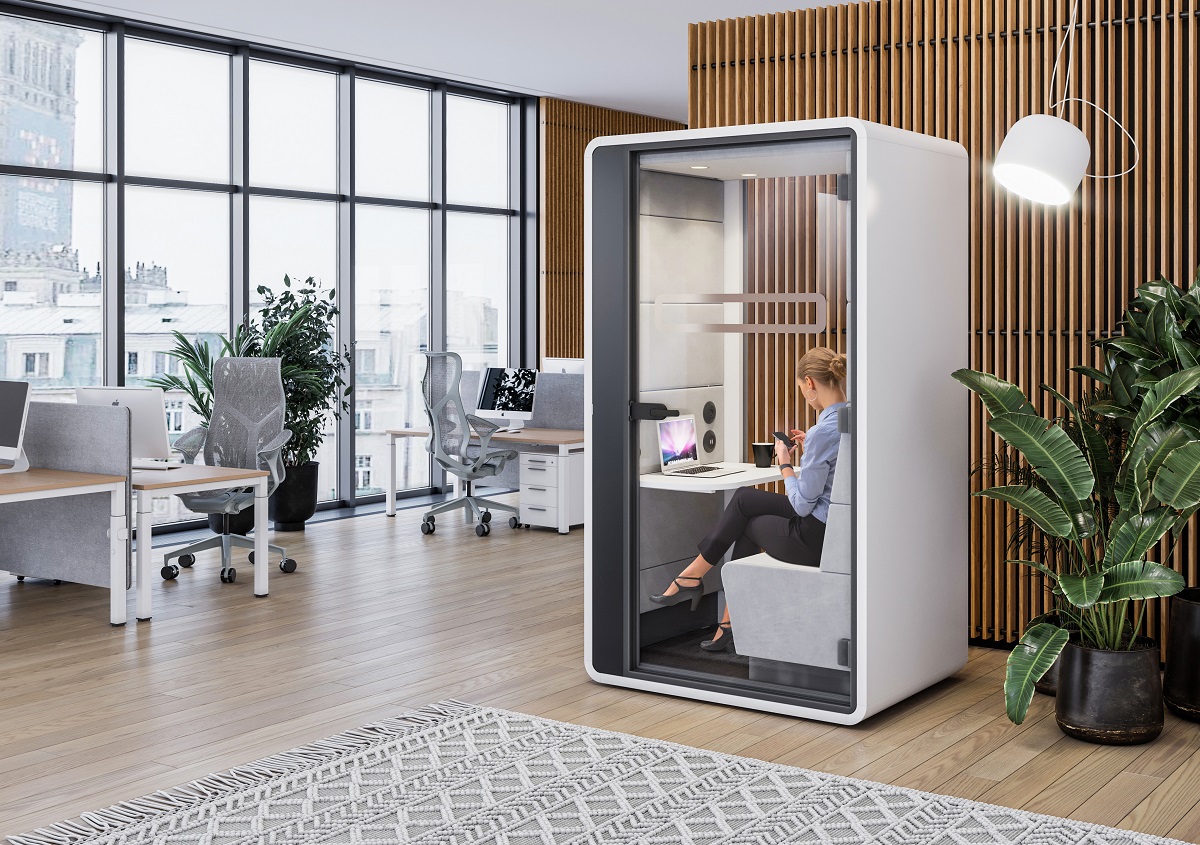 HushHybrid office call booth. Fully furnished. Fully equipped. An all-in-one video call pod.
Safe HushHybrid is enclosed and protected against microbes proliferation. All frequently touched surfaces in the pod are coated in Anti Virus solution.
Flexible Lightweight; built-in casters; leveling feet. HushHybrid is a portable pod relocatable by push.
Acoustic Brilliant two-way soundproofing: hushHybrid contains the call itself while giving users a quiet environment. Its glass panels also help dampen broad office noise.
Ergonomic Structured sofa, a touch "plush," supports a healthy, natural posture; 1.6″ depth-adjustable desk included for convenient laptop work; adjustable, energy-efficient lighting & ventilation enable optimal comfort.
Functional Power outlet and USB ports; optional VESA mount for AIO computer or monitor; optional, adjustable LED video light strips to illuminate the face.
Read more about hushHybrid: Videoconferencing just got better with hushHybrid acoustic office pod for hybrid work!
Safe spaces to meet and collaborate
Gensler's 2020 US Workplace Survey confirmed what we're all recognizing on our own teams. Employees see the workplace's in-person collaboration as essential, a reason to return to the office. Because human-to-human interaction is a driver of successful hybrid working. It is no surprise that 61% of the workforce is craving "real" human interactions with colleagues. Or that 73% of workers want to work from places that facilitate human connection.
Staple Meeting & Collaboration Spaces in the Hybrid Office
A Private 1-on-1 Meeting Space
1-on-1 meetings are invaluable. Devoted time to gauge morale, stressors, and overall job satisfaction. Track progress and uncover personal and professional hurdles. Set goals. Swap feedback. Nurture a working relationship. They're a special meeting because they're intimate and organic, unlike large team meetings. They can touch on sensitive topics. Hence they're proven needle-movers! In adopting 1:1 meeting protocols, GE enjoyed a 5X productivity increase while Adobe saw a 30% decrease in voluntary turnover.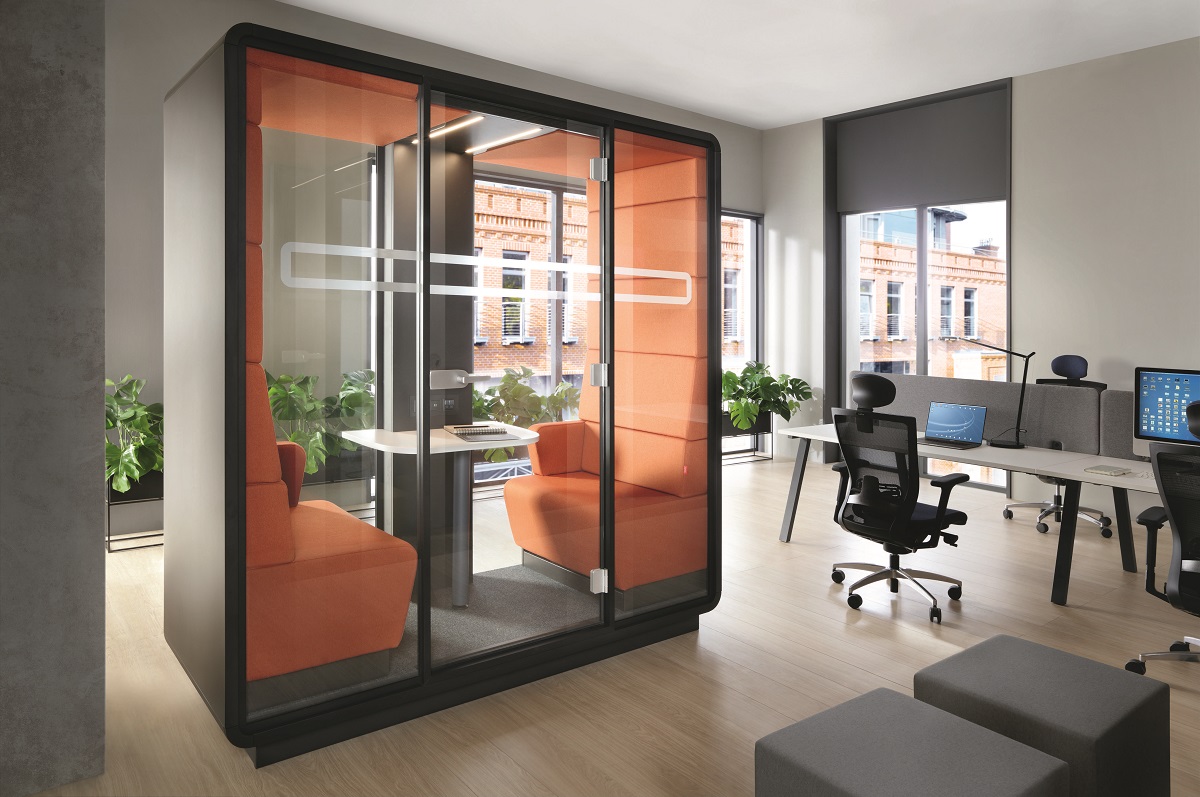 An Acoustic 4-person Meeting Space
Status updates and progress checks. Project planning. Client call recaps. Presentations and proposals. Brainstorms and ideations. Kick-offs and employee onboarding. 3-4 person team meetings are one of the most common types. The hybrid office should have multiple spaces to accommodate them. Private, acoustic, and convenient are the benchmarks.
Meeting pods are a popular finishing solution for open spaces because they trap all meeting noise. They're also flexibly designed for portability. Teammates can easily move their pods around their space. So they give the layout stunning tinkerability — tinkerability that's priceless in a world marked by change.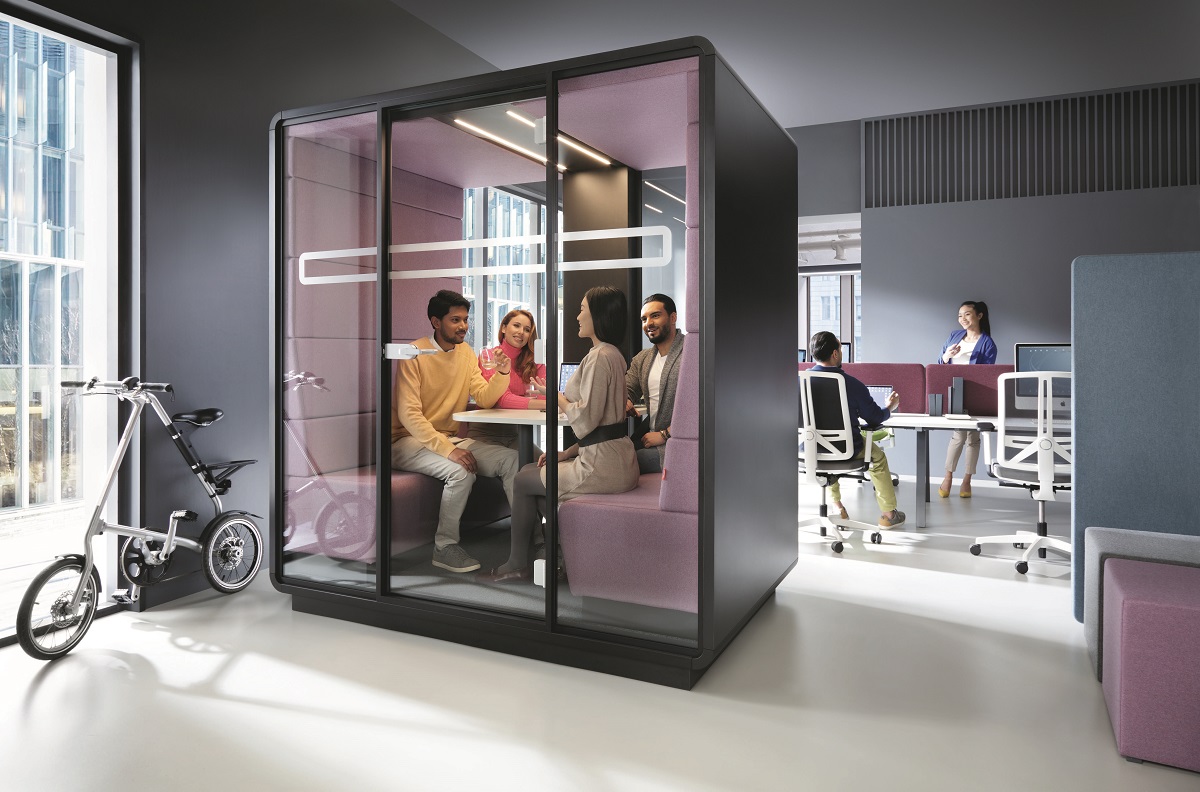 Offering a sleek desk, a cozy sofa, and a robust power module, a fully appointed pod like hushMeet is a cut above the rest for its sheer convenience. Teams can hang their own monitor on its central panel for quick content sharing. Like every other pod in the Hushoffice collection, hushMeet is also coated in an Anti Virus solution, making it a safe space for teamwork.
A Conference Room Seating 4-8 Employees
Favor flexibility? Check out hushMeet.L. A soundproof conference room. Movable by pallet jack. Modular to accommodate change.
LED light with dimmer
Energy-efficient ventilation system, activated by presence sensor
Ability to hang TV on pod's central panel (think presentations and conference calls)
Optional conference table
Can be ordered empty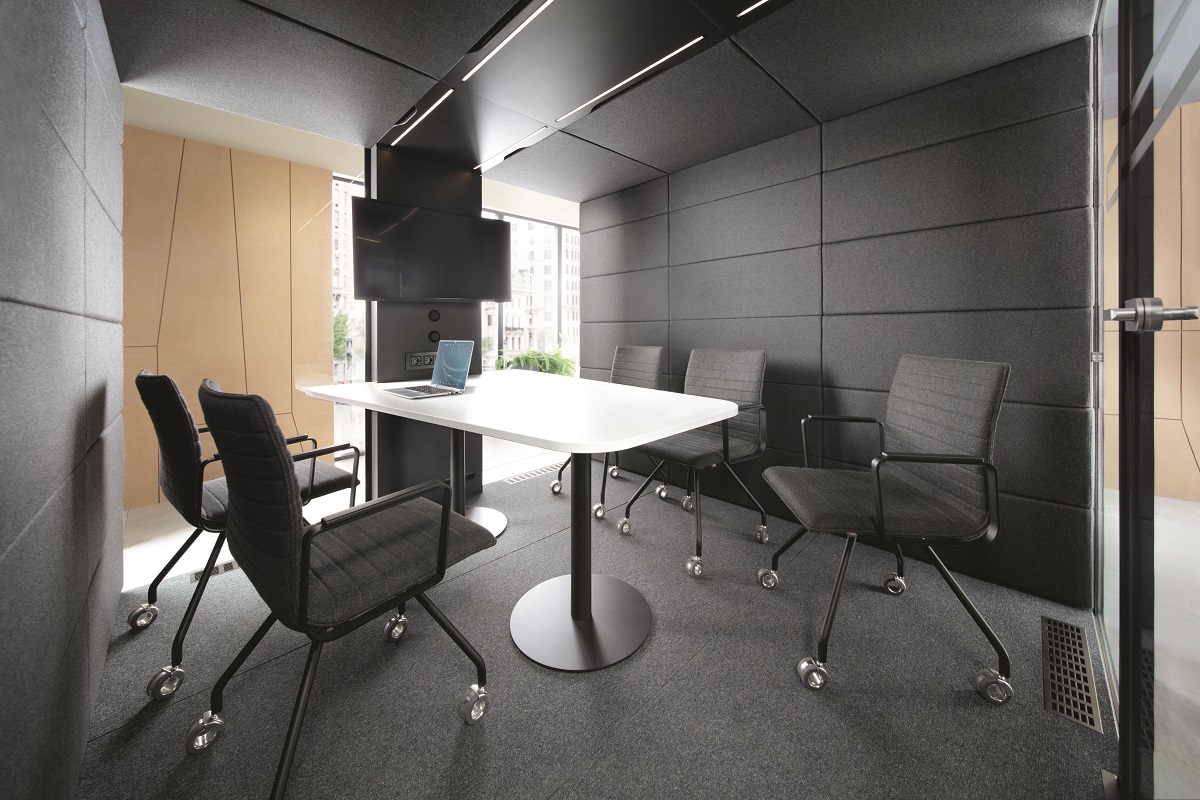 Private, soundproofed environments for phone calls and concentrative work
47% of the US Workforce prefers a mostly or totally private environment. This means the office must provide the right array of private workspaces.
An office phone booth for private calls. Hint hint: hushPhone.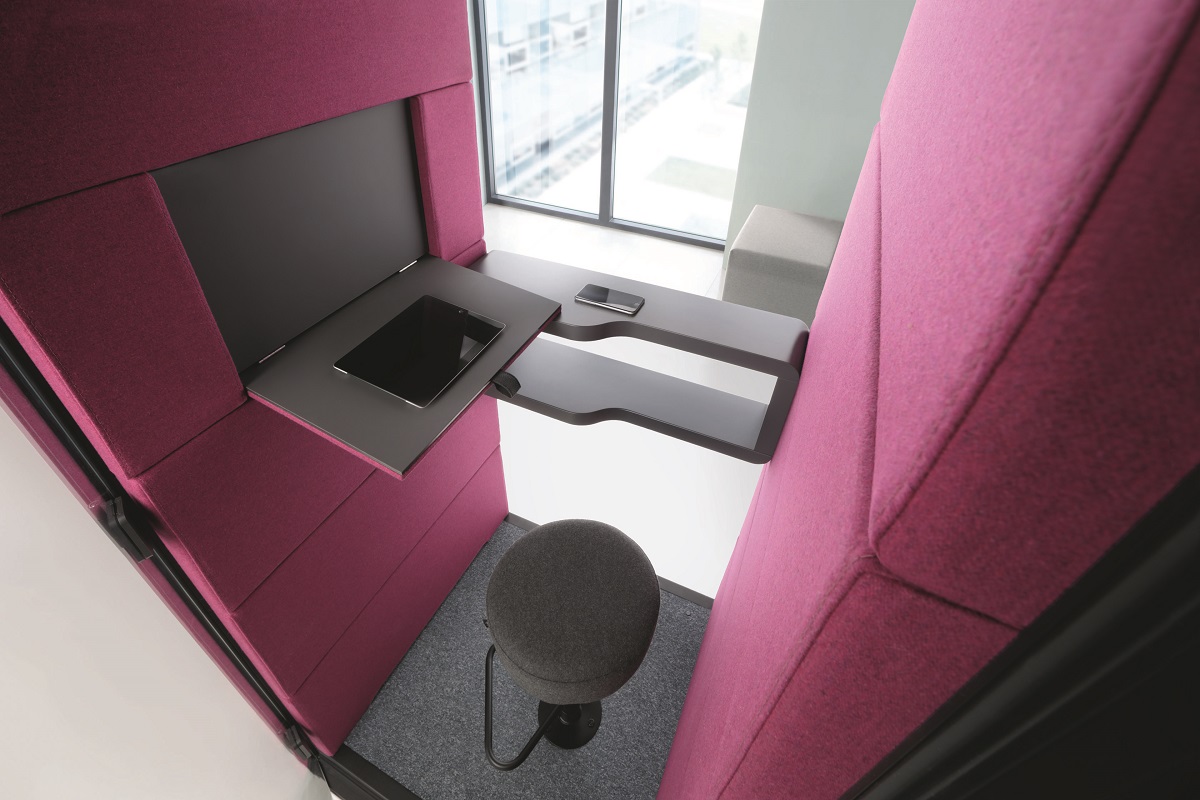 Phone call use surged in 2020. And for a good reason. Voice forms a human connection. Tone, pitch, speed, emotion… These distinct communicative attributes of voice are missing in written words. Since calls have become a primary way we connect, our hybrid office must have dedicated spaces to hold them.
Spaces like hushPhone are ideal. Soundproofed. Private. Complete with power, a fold-away laptop table, and an armrest to lean on for comfortable standing. HushPhone's acoustic environment maximizes speech intelligibility for high-quality calls in the office. What's more, the soundproof call booth sits on casters and leveling feet so it can be relocated by push.
A workspace pod like hushWork. Peaceful and convenient, fuelling productivity.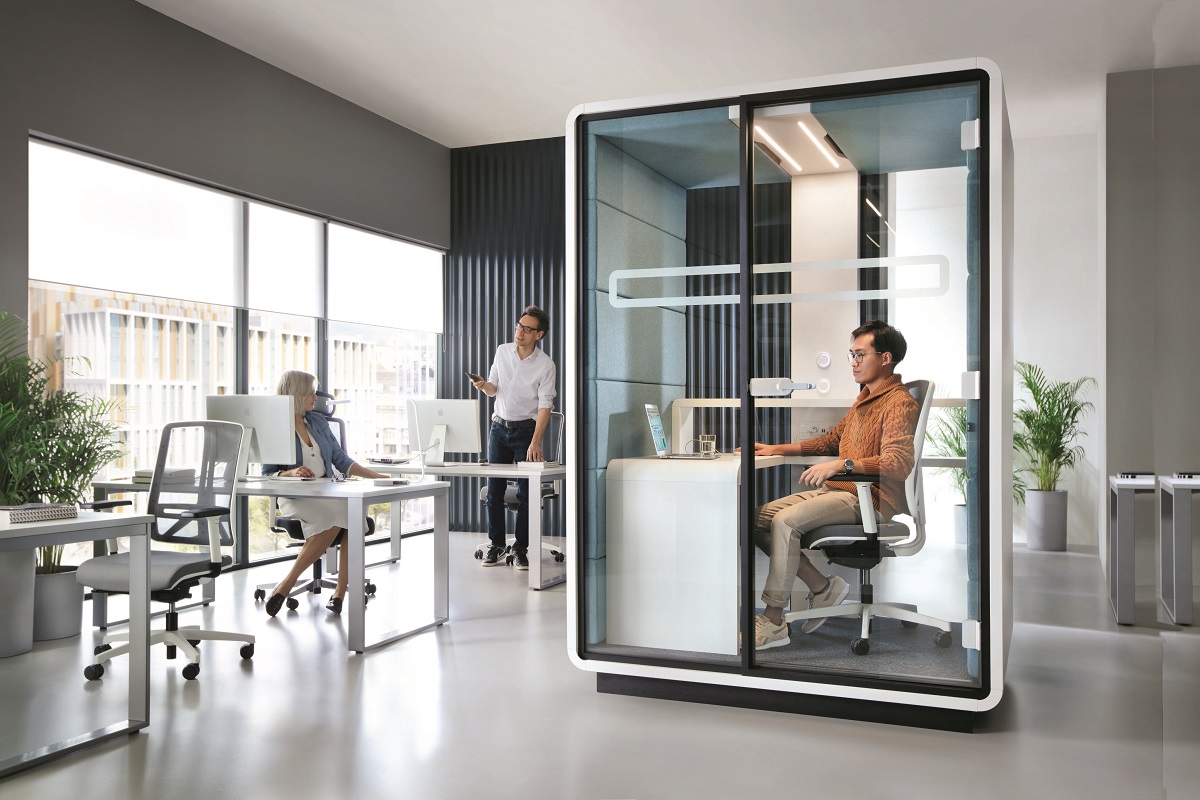 Shortly after the open space's renaissance, employees began asking for their privacy back. HushWork is a mobile office pod that delivers this privacy. It's an individual desk pod with all the functionality needed for "heads down" work: a sleek desk, an outlet, and — perhaps most importantly — peace and quiet. Its acoustics are fine-tuned for focus.
A casual ancillary space like the A11 Armchair. Opportunities to relax and recharge in hybrid office.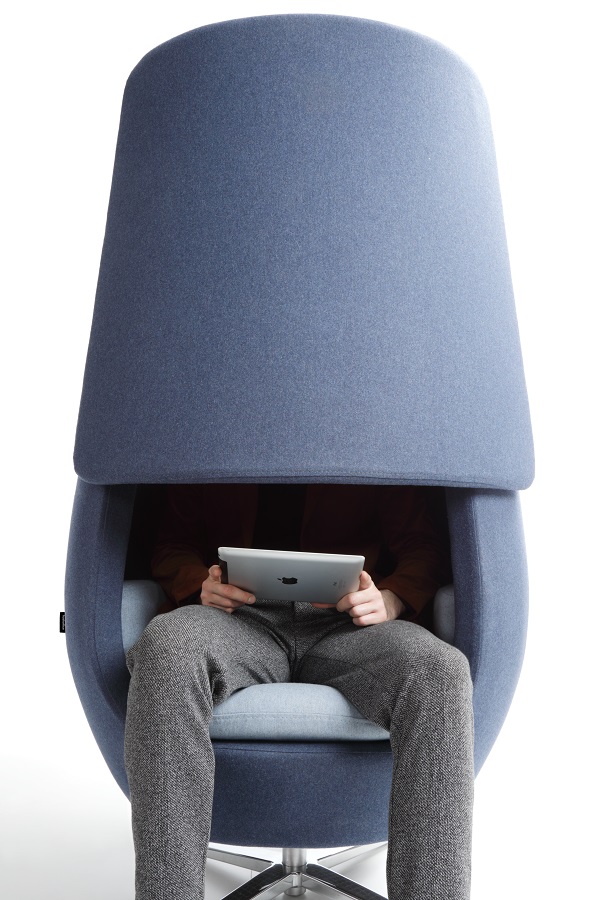 Looking for a statement piece? The A11 is a futuristic, functional lounge chair. Its optional sliding panels partially cover the upper body, allowing employees to achieve their desired level of privacy and quiet. Its armrest, backrest, and headrest all contribute super comfort for short breaks or quick calls. Upholstered in premium Italian wool that imbues luxury. Complete with a USB port. The A11 is a special space for employees — a cool, calming respite from open office commotion.
Health & well-being kits
A simple one but a sure one. At least half of US employees are at least "somewhat concerned" about virus exposure. Small investments can give your team peace of mind. Communicate the "why" of each product, as worried employees will be assured by the rationale.
Blue light blocking glasses
Desktop air purifiers, fans, and indoor plants
Anti-microbial office supplies: pens, keyboard, mice, vinyl desk pad/mat, etc.
PPE: masks, gloves
Solid brass or copper loop
Sanitization: wipes, sanitizer, spray, a multi-surface cleaner
UV disinfecting products: compartments, portable wands, phone sanitizers
Thermometers and test kits
Get creative for employee well-being. Think about opening windows to achieve gentle cross-ventilation. Update ancillary spaces. Look into inspired furniture like the A11 soundproofed lounge chair. Improve office acoustics, step by step, tackling the worst noise culprits one by one. To this end, acoustic work pods are an important piece of the puzzle because they trap and eliminate those worst culprits (phone calls, video conferences, team meetings). Aim to enhance lighting, too. Let natural light flood select areas of the office. Open a few blinds and opt for semi-transparent space dividers so employees can get sun throughout the day. Outfit outdoor patios so people can work outside together more often.
Talk to your team and think freely. Minor changes can yield significant improvements in employee wellness — it's often the little things that make a big difference.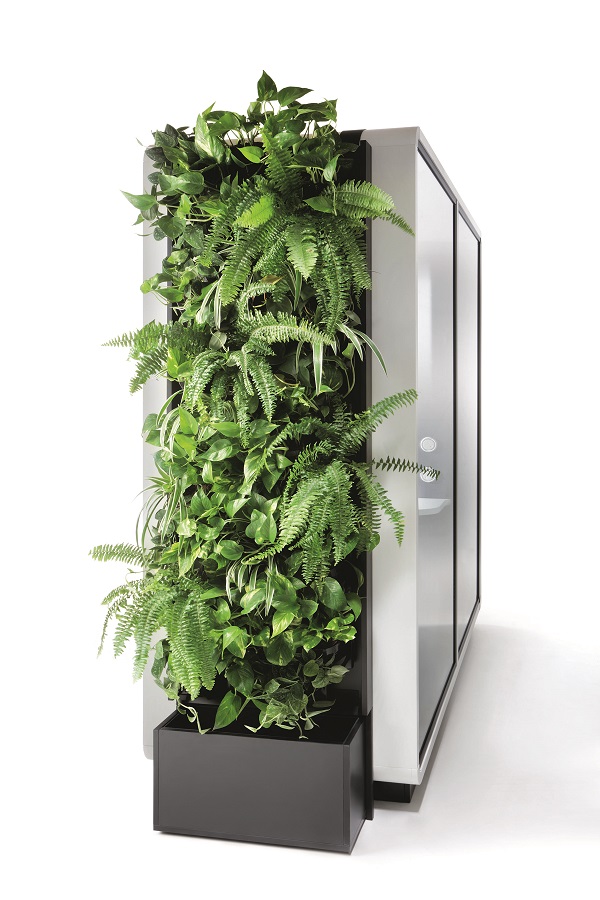 Ergonomic workstations
Some people had never worked from home pre-2020 and were ill-equipped, without an ergonomic desk setup to support healthy postures. Some worked off a laptop alone, with no riser or external monitor/keyboard combination available to them. Most were also limited to 1-2 environments, physically restricted by lack of adequate workspaces.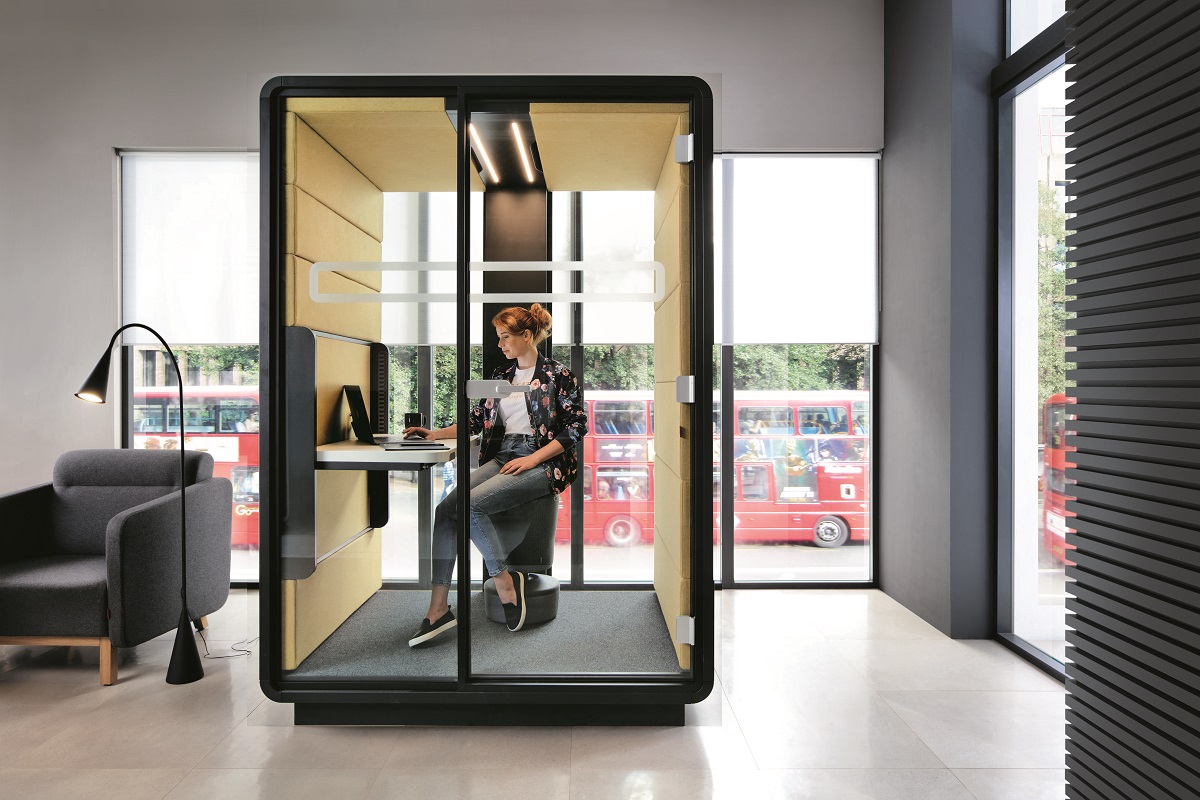 Aches, pains, and stiffness result when the desk setup isn't ergonomic or fails to support movement by design. The good news is, in providing a full range of healthy workspaces, the office is positioned to draw employees back. Height adjustability and comfort are the specs to look for — desktop converters, sit-stand desks, standing desks, and sit-stand work pods are all worthy investments. Simpler equipment like second monitors, laptop stands, vertical mice, and footrests can also be remarkable game-changers. Survey your team to gauge needs. Ergonomics is a strong foundation for work well-being and productivity.
Need some ergo inspiration? HushWork.sit&stand's height-adjustable desk powers sit-to-stand working comfort; hushHybrid's depth-adjustable desk lets employees easily work off their laptop, debriefing video calls; hushPhone's fold-out laptop table and ergonomic armrest supports long calls or standing work. HushHybrid, hushTwin, hushMeet, hushMeet.S, hushMeet.open, and hushMeet.open.S all have a built-in sofa boasting supreme ergonomic comfort — it's structured yet plush, for a healthy working posture.
Why you should consider office pods as you're looking into hybrid workplace retrofits…
Pods are a future-proofed answer to an immediate need for safe, functional workspaces in the open space office.
Office pods are a flexible solution for work, meeting, and lounge spaces. They are mobile, modular, and compact.
Flexibility allows us to navigate change. A flexible office — finished with mobile pods, modular booths, adjustable workstations, and freestanding partitions — is an asset because we can quickly adapt it to keep on working safely and effectively despite evolving regulations and employee preferences

– says Mateusz Barczyk, Senior Brand Manager, Hushoffice.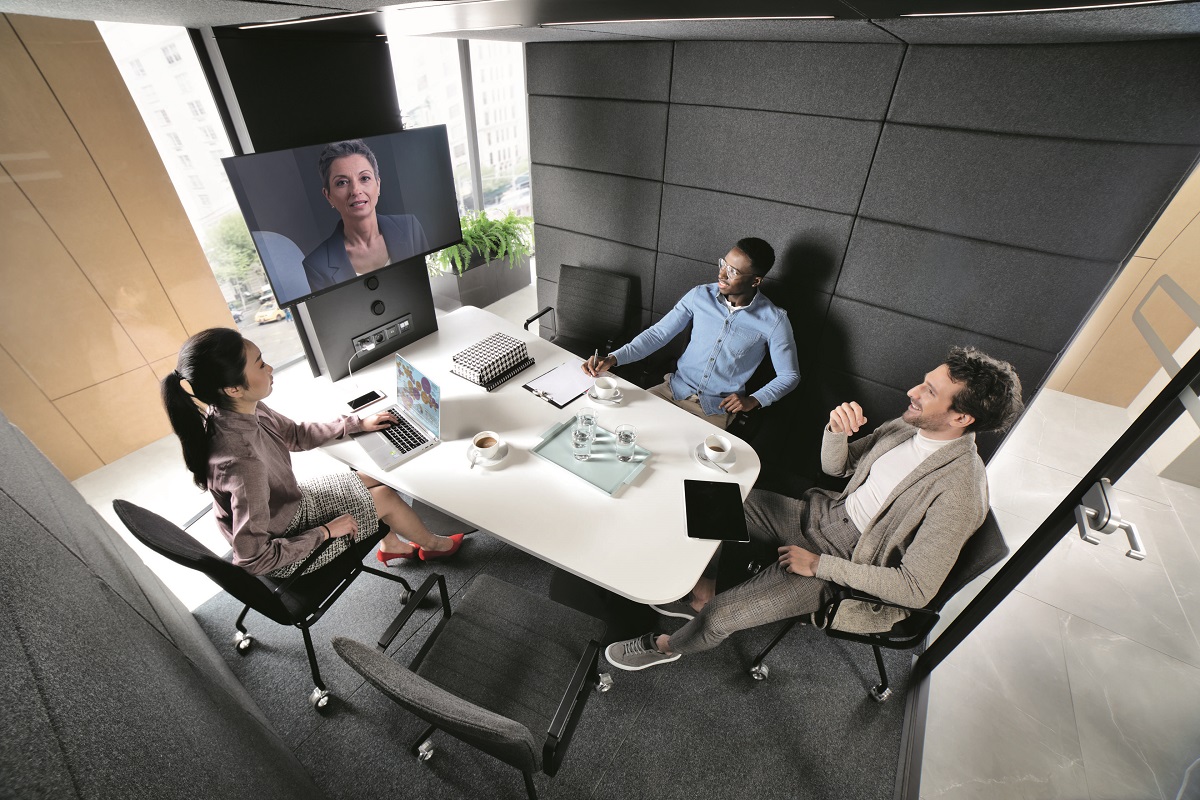 Hushoffice soundproof office cabins work for basic reasons. They're portable, easy to move around the office. They make layout adjustments a breeze. You can tweak your pod arrangement to improve office functionality, all the while enjoying quality office acoustics that never wanes. No construction mess or stress. Unlike structural conference rooms, pods also come with you to new buildings, should an office relocation appear on your team's horizon.
Pods solve the open space office's noise problem for good. They tackle the "A" (absorb), "B" (block), and "C" (cover) of office acoustics.
Pods make considerable headway into office noise by eliminating the worst offenders: phone calls, video calls, and meetings. They convert a 70 dB blare into a 36 dB ambiance — a hum. This reduces speech intelligibility — the distinct element of calls and meetings that makes them so distracting in an open space.
Work pods contribute to a quality office soundscape for all — a soundscape that supports work in its multitude of forms

– lends Eliza Donek, Product Manager, Hushoffice