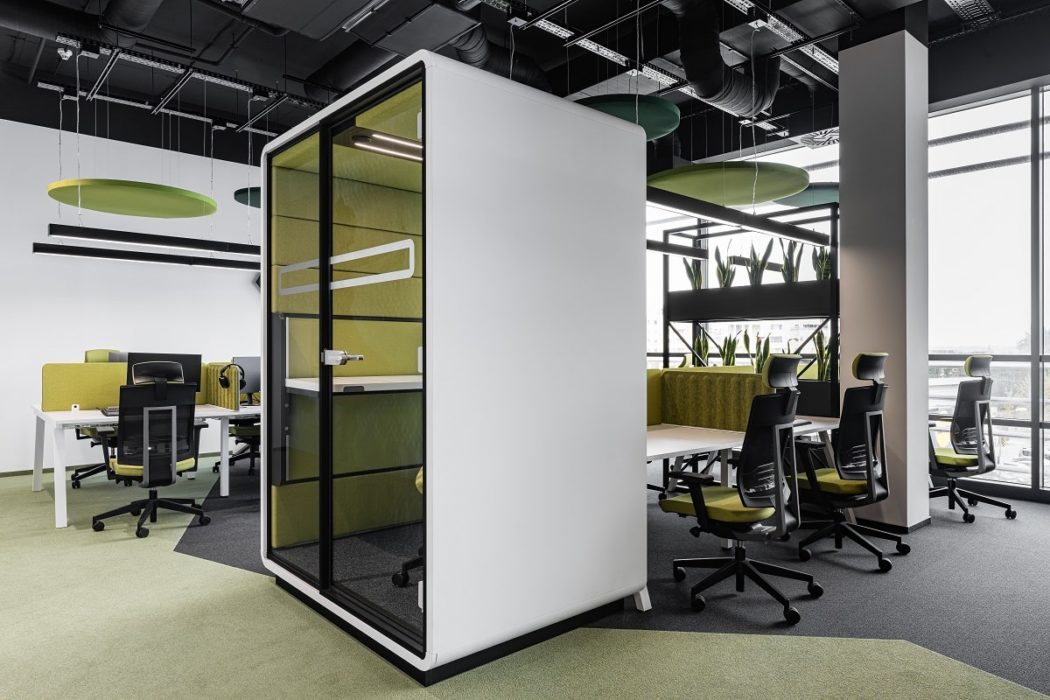 We've shared the business case for office pods. But what does it actually feel like inside the private pod? To answer that question, the following blog tells the "privacy story" of our most popular pods. The hushPhone call pod, hushHybrid video call booth, hushWork.sit&stand work pod, hushMeet team pod, and hushMeet.L modular conference booth.
It's 1PM. You're working out the details of a new AdWords campaign. Rrrriiiing… An unexpected call from a highly valued partner. A partner you've been nurturing for months in hopes of a long-term contract. You need privacy, pronto.
The hushPhone call booth keeps privacy at hand
The bad news is all meeting spaces are currently in use. The great news is your team just invested in two new hushPhone call booths. So without missing a beat, you tuck your laptop beneath your arm and make a dash for the nearest hushPhone just feet away. You enter the pod by the second ring.
Soundproofed, impenetrable focus
Stepping into hushPhone, you step into your zone. The pod is masterfully soundproofed. So it's comfortably quiet. No office noise from the open floor pervades its oasis. At the same time, the office phone booth's watertight acoustics ensure not a word of your conversation will be picked up by colleagues outside.
The peace needed in a noisy world
This acoustic soundproofing gives you peace of mind. It allows you to convey naturally -— no overthinking it. So instantly upon closing the pod door, you relax. Instantly, you're at ease. Instantly, you're ready to communicate.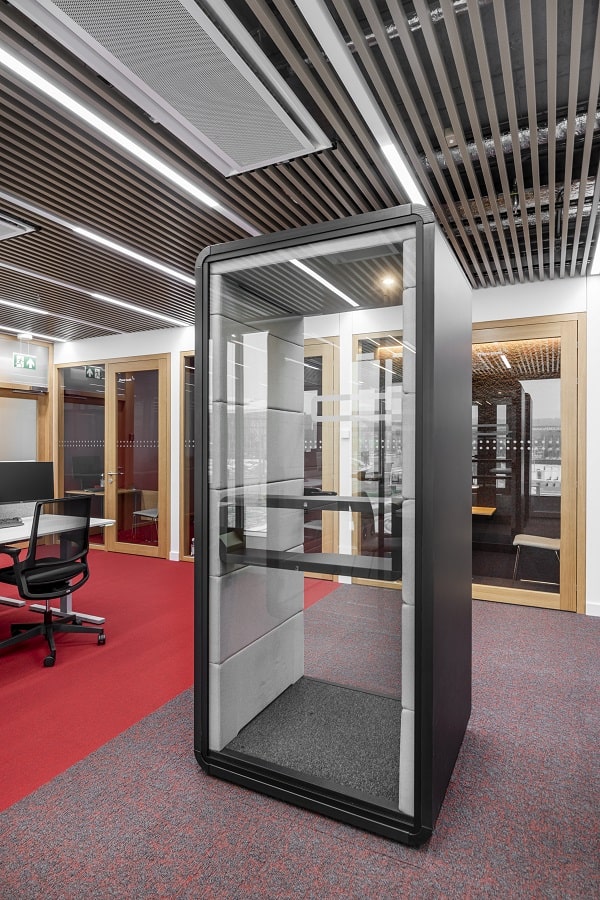 Tuning out office chaos to tune into conversation
You pick up the phone by the third ring and tune in, liberated of all office distractions. You've effortlessly switched gears. Your presence is full. In a bright, energizing voice, you say hello and share greetings. Then you get right to it, addressing crucial points of concern as your partner illuminates them one by one.
Strong speech intelligibility and speech privacy with one soundproof acoustic solution
From the get-go, you read telling changes in pace of speech and tonal inflection. In turn, you're crafting word choices to speak more artfully, more persuasively. For this, you're grateful to hushPhone's brilliant quiet, which preserves speech. Not a syllable is lost in translation. You're powered on.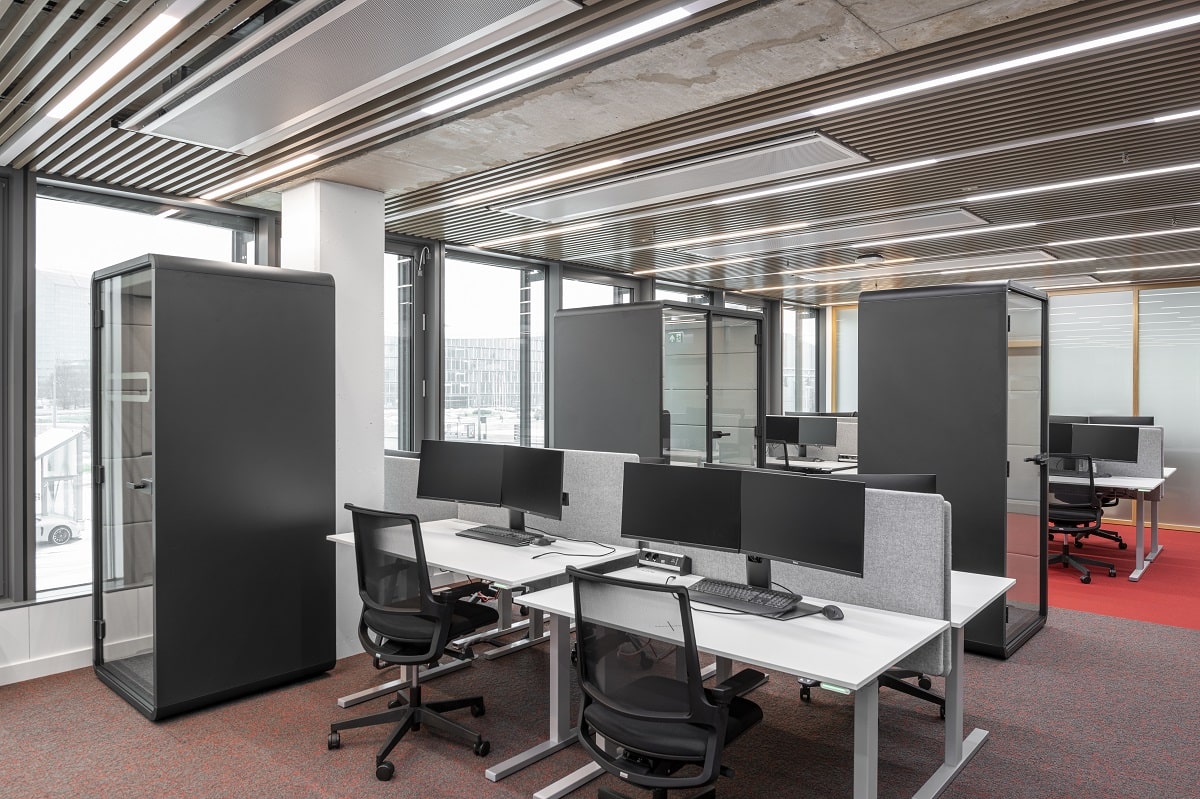 Leave workplace racket behind in your very own soundproof phone booth
Momentarily, you even forget about the office and other tasks completely. You're in your zone within hushPhone. This is in large part because the soundproof phone booth's hard walls block visual activity. So you aren't bothered by movements on the floor.
You'll be at home in hushPhone
HushPhone also gives you what's called "architectural" privacy. Or a feeling of at-home-ness in your immediate space. And you don't feel isolated at all inside. The Hush pod's glass panels maintain a sense of connection to your team as you conversate. The experience is delightful.
Designed for convenience
Seven minutes in, you fold out the office cabin's laptop tray. You set up your device and research a few events as they're mentioned. As you peruse, you think of ideas, writing them down in a doc. The back-and-forth is unscripted yet brimming with opportunity. HushPhone's call environment is just terrific.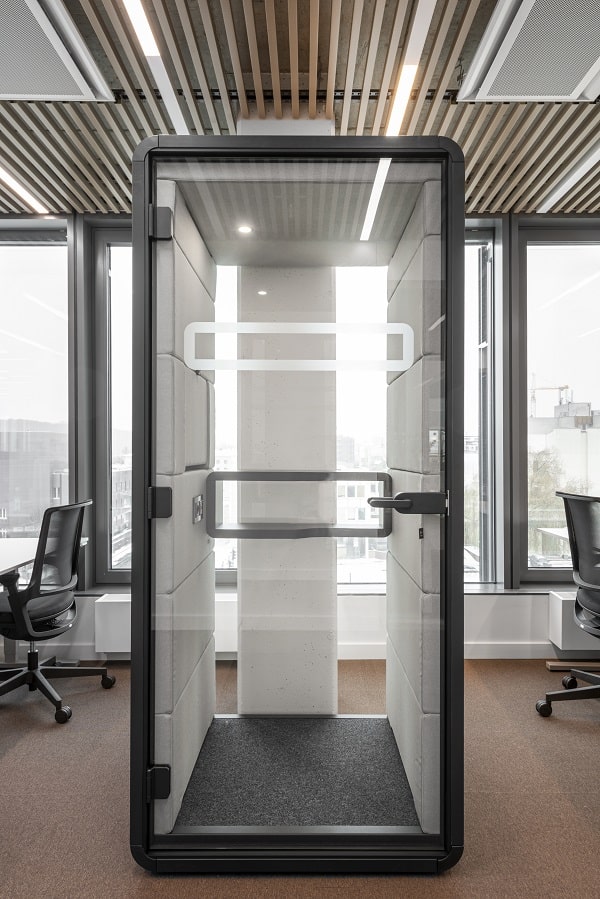 A phone pod boasting ergonomic comfort
As the conversation pans out, you periodically lean on the phone pod's armrest. Alternating between a standing and leaning posture feels good. It keeps you comfy. Poised, too. The frequent movement releases frenetic energy. So your mind is attentive, never scattered or anxious.
Here's to true communication
It's going great. You're candid and graceful. You instill trust. You listen well and respond intelligently, from a place of stillness. HushPhone's relaxing atmosphere fosters this stillness. And by the end of the call, well… you've done it! You've brought your partner on board. You'll be working together in a larger, more permanent capacity. A dream come true.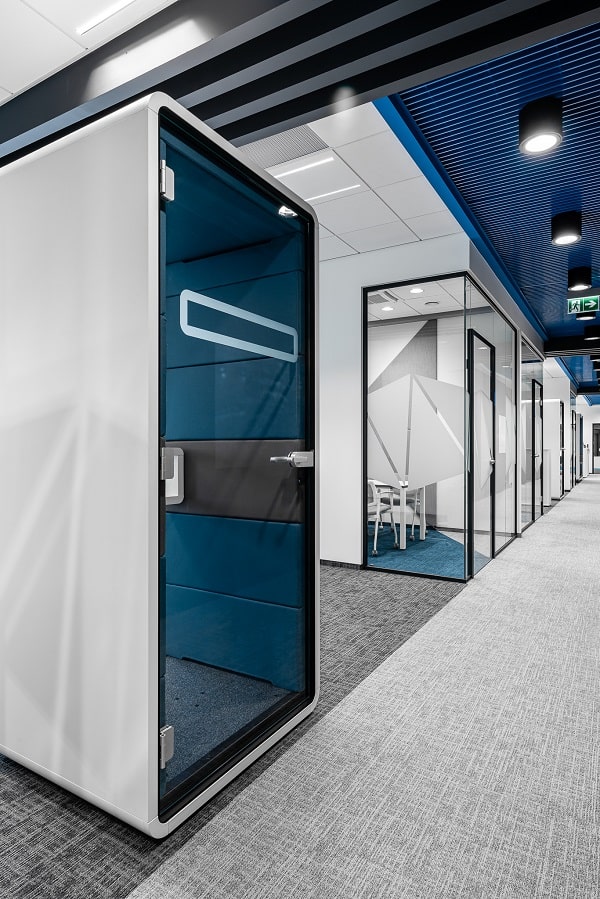 A quick yet pivotal call thanks to your hushPhone office call booth
You finish up. They want to see the proposal updated with details just hashed out. One final look and they're ready to proceed on that long-term contract. What a win! You're thrilled! You leave hushPhone with fresh zest and a hard-earned victory to show for months of stick-to-itiveness. Stepping back onto the floor, you're ready to start an exciting new chapter on your team's behalf.
Check out hushPhone's product page here.
It's Tuesday. You have an important video call in the afternoon so you head into the office. Your home setup is a little cluttered and a lot chaotic. You need the privacy and convenience of your office's hushHybrid video conferencing cabin. You're following up with a prospect that could mean significant business.