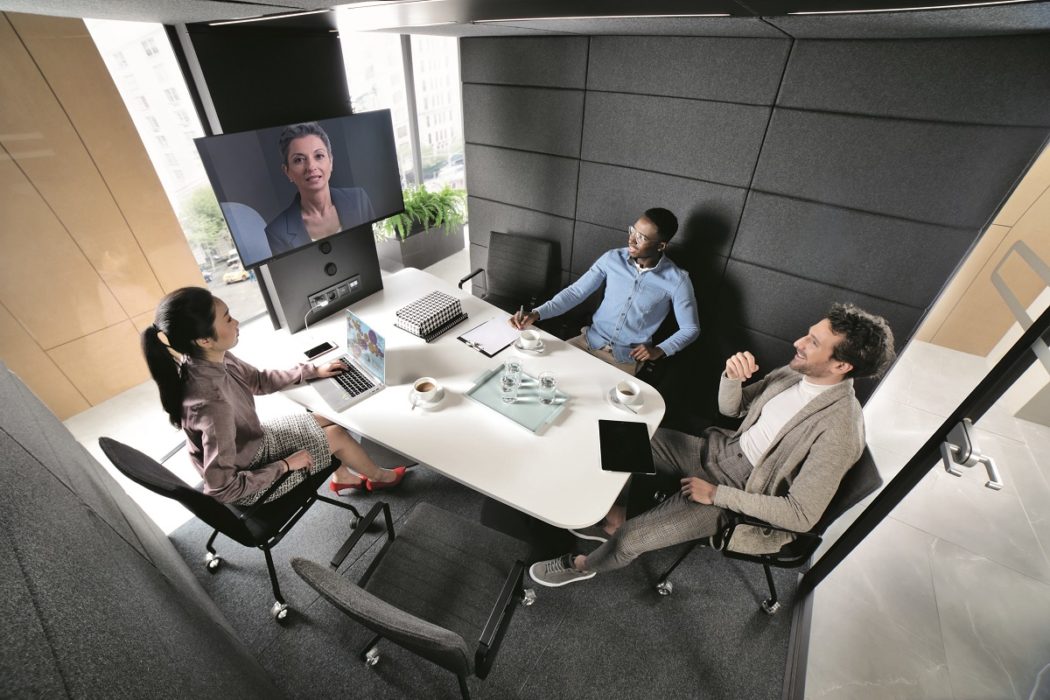 What does the agile office look like? How does it behave? What are its building blocks in terms of interior solutions? How do we arrange desks, dividers, pods, and other mobile furnishings for sheer functionality? How do we design a workplace agile in the truest sense, "able to move quickly and easily" in response to change?
It all hinges on mobile office furniture and thoughtful design, working in tandem.
Agile office – key takeaways:
The office must be mobile — flexibly designed to "flex," supporting the ever-emerging needs of an agile world.

Flexible solutions include portable soundproof walls, mobile office pods, modular conference call booths, and rolling collaboration boards.

Pods are a super-compact, mobile, modular fix well worth considering. Maximum function, minimal square footage. They balance compactness and comfort brilliantly while dividing space.

5 fundamentals of an agile office layout: balance open areas against closed ones; prioritize video call spaces; position work/meeting spaces for easy access; design for socialization; space-plan with neurodiversity in mind.
Remember "visual" privacy as you're making retrofits. With visual privacy, employees are neither distracted by activity around them nor feel like they're in a fishbowl. Solutions here include device filters, freestanding desktop screens, portable room dividers, mobile walls, modular cubicles, and glass films.
Change is the only known. The office must be mobile — flexibly designed so it can "flex" in step.
Employee behaviors evolve. Team dynamics shift. Work patterns have a life of their own per priority projects. Collaboration takes infinite forms. Hybrid working is a new domain. All this change needs to be accommodated cleverly, swiftly, by the workplace

– says Mateusz Barczyk, Senior Brand Manager, Hushoffice.
55% of employees want to work in offices that can innovate and adapt to future crises.
It makes sense. Modern work is quick, complex, and mutable. Its dynamism only flourishes in an agile workplace built to keep up — an office that's fully mobile and can transform, in a wink, supporting new needs as they emerge. Say, a need for more private workspaces or privacy in general. A need for 1-2 more active collaboration zones. Multiple one-on-one meeting spaces. A need for more quiet. Less shared area. More visual privacy. 3-4 soundproofed spaces to video conference. Quiet places to take quick calls. So on and so forth. Today's model office is like a living being — it's characterized by mobility.
What is agile office design?
Agile office design gives employees a range of effective, engaging work and meeting spaces to pick from. It aims to create an office landscape marked by variety, offering choice. The goal of agile office design is employee autonomy — to empower each employee to work where they work best and, ultimately, thrive.
The keywords of agile office design are autonomy, variety, choice, and options. The key function is mobility.
Portable. Reconfigurable. Modular. Wheels, casters, cranks, lifts, and mounts for the win. Flexible furnishings, the building blocks of agile office design.
Flexible furnishings are the best foundation for agility because they allow teams to tweak their spaces quickly and easily. The laundry list of solutions for it includes portable soundproof walls, mobile office pods, modular conference call booths, portable video call cabins, rolling collaboration boards, configurable office benching systems, and other similarly adaptive fixes. Shared workspaces should be adjustable to seat more or fewer employees as occupancies fluctuate. Conference rooms should be modular to accommodate larger team meetings comfortably within a tight amount of space. Work, team, lounge, and break zones should all be relatively easy to redesign, always catering to the latest preferences. In short, mobility is critical.
5 fundamentals: an agile office layout
Balance open, active, shared spaces against closed, quiet, private spaces according to current team preferences

Prioritize excellent video conferencing spaces for employees to attend on-site without distracting others

Position private work and meeting spaces nearby open areas for easy access

Design for socialization — retrofit cafes, lounges, patios, and huddle spaces for connection

Space-plan with neurodiversity top of mind, creating a dynamic office landscape where a workforce of varying preferences can thrive
Read more about the hybrid workplace: 5 essential hybrid office investments.
Remember "visual" privacy as you're making retrofits. With visual privacy, employees are neither distracted by the activity around them nor feel like they're in a fishbowl and too visible, closely watched or monitored.
Great solutions to boost visual privacy on an open floor include privacy filters for devices, freestanding desktop privacy screens, portable room dividers and partitions, mobile walls, open shelving, tall planters, modular cubicles, and frosted, matte, or opaque glass films, stickers, and graphics. Any interior solution that encloses or separates flexibly cuts the mustard.
So as you're shopping around, focus on furniture pieces that promise visual privacy. Key features take many forms, from frosted finishes preventing laptop onlookers to panels that attach to seating like horse blinders, blocking visuals from the left and right. With your space's design comprising these features, you can be sure that visual privacy will remain protected every time you rearrange your mobile office, regardless of the final layout.
Opt "acoustic." Acoustic panels and pods absorb and contain the most problematic noises in an open space, making the floor plan more peaceful and productive.
Intelligible speech, conversation snippets, halfalogues, and collaboration of every kind, low-key to lively. These are the most distracting and most common noises on the typical open floor. In a hybrid working model, video calls are another serious office noise culprit (enter: the acoustic video call pod).
Room dividers are perfect for an agile office because they're both mobile and acoustic. With dividers on hand, teams can easily redefine the zones in their workspace, maintaining a quality soundscape.
Pods and booths fit the bill, too — they're a beautifully flexible way to deliver privacy and primo acoustics. Each pod type is engineered for a specific work function, thereby containing the worst sources of office noise, one by one, all the while giving the pod user privacy. Private phone booths like hushPhone (for calls) and hushMeet (for meetings of 4) are premium options to note. HushPhone eliminates call noise from the floor while giving the user speech privacy. HushMeet eliminates meeting noise from the floor while preventing confidential information from "leaking." The pod's acoustic benefit is awesomely multi-faceted.
Did you know there's a link between office noise, stress, and burnout? Check it out: Is the open space a source of office burnout?
Of course, one of the hybrid, agile office's primary roles is to support collaboration. Mobile furniture can be quickly relocated and reconfigured, supporting collaboration in its multitude of forms.
Within soundproofed spaces (zones partitioned off by acoustic dividers and planters — or totally contained soundproof office booths) sound is contained. Privacy, artfully perfected, treatment by treatment, divider by divider, booth by booth. Collaboration can run wild without distracting colleagues on the floor.
For inspiration, consider high back office sofas or half-enclosed soundproof booths like hushMeet.open (seating 4) and hushMeet.open.S (seating 2). All built for lively connection. Acoustic upholstering dampens conversation snippet spikes as users enjoy an environment that's more open and more stimulating than that of a fully enclosed booth. Such casual, semi-enclosed collaboration spaces can be created with any number of well-planned product typicals that include mobile furnishings like space dividers and panels of all kinds, from whiteboards to shelving to planters.
Check out our recent article: What is the office's role in a hybrid work world?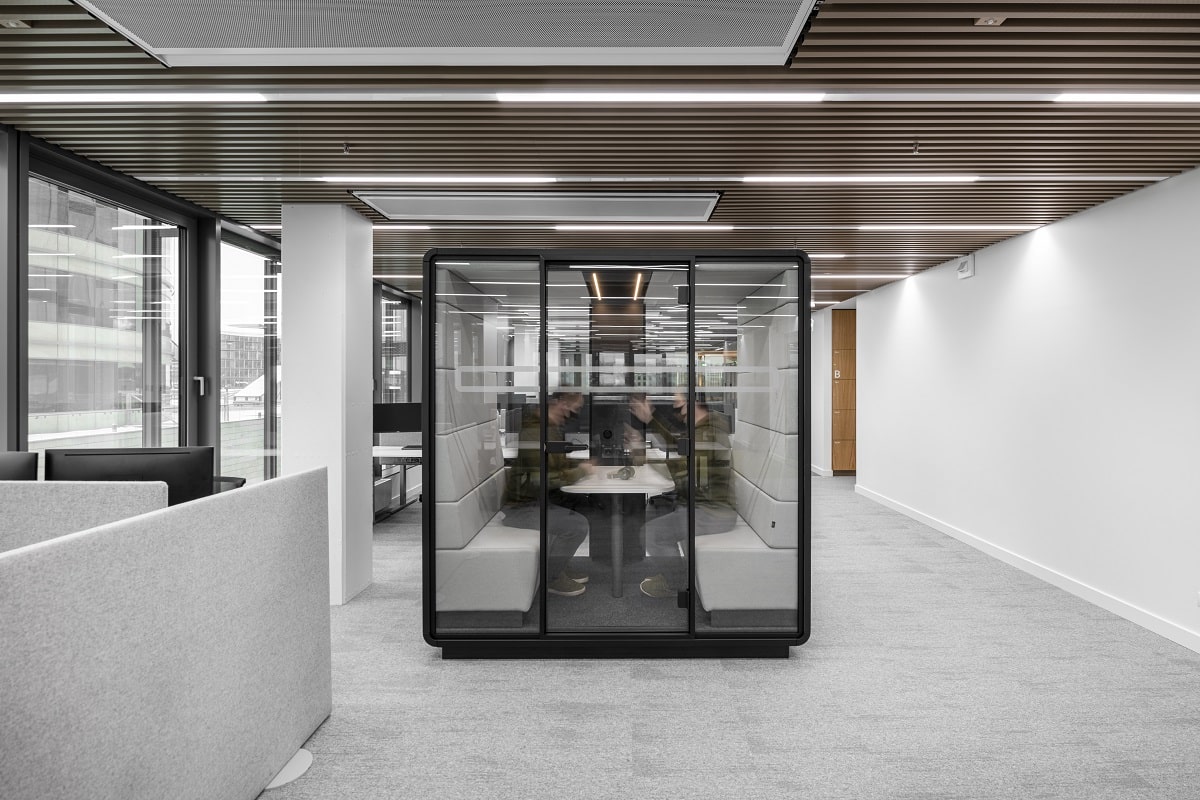 Portable room dividers and office pods also help divide space, achieving safe, comfortable distances between colleagues.
Taller physical barriers like relocatable walls and panels are space dividing. Mobility is the function to hone in on here too if space-division is needed — when your mobile office breaks down into mobile space-dividing furniture pieces, you can quickly adapt the layout, facilitating distances between colleagues that your team is comfortable and happiest with.
Any furniture solution or configuration that encloses gives employees more privacy and control over their space, as well. This can create more assurance returning to work; while the office is open and shared, uncontrollable to some degree, pods, booths, and rearrangeable "zones" are semi-enclosed and more private, much more controllable. Within such enclosed or semi-enclosed spaces, employees have more control over a personal workspace — they can wipe it down and sanitize it, claiming the space as their own. And as mentioned, control is the name of the game. Employees with control over their work environment show enhanced individual, group, and organizational performance.
Concerned about germs? Check out the Hushoffice Anti Virus pod coating for safer open space offices.
Just how compact are soundproof pods? Take Hushoffice pods as an example. They're perfectly compact — built for an agile office. They balance maximum function, minimal space, and comfortable roominess brilliantly. HushPhone and comparable call booths deliver private calls — exceptional speech intelligibility, total speech privacy, and acoustic comfort. No more focus-breaking halfalogues on the open floor. All within ~9 sq. ft. of space.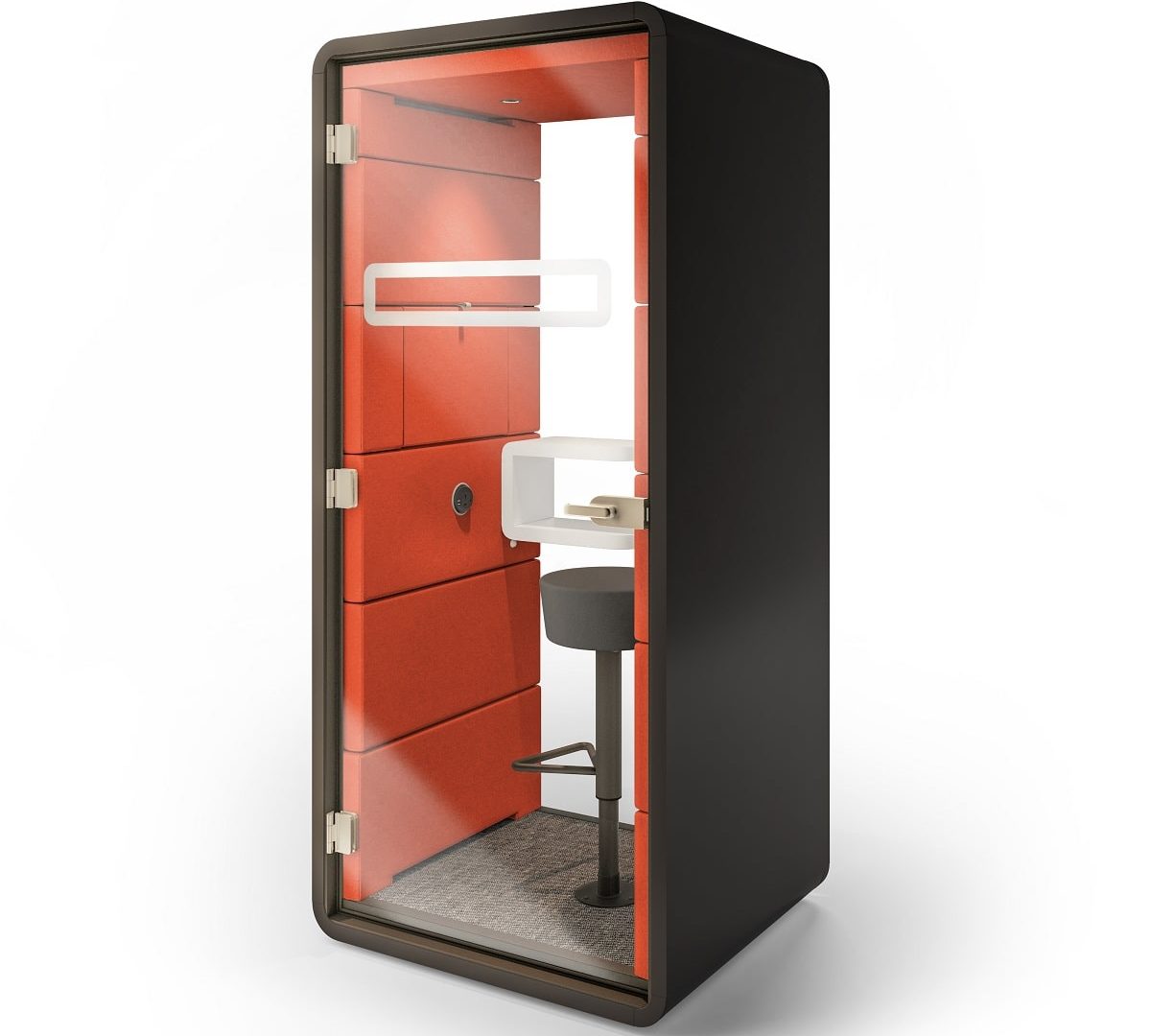 HushWork.sit&stand is a one-of-a-kind office booth. A peaceful sanctuary with sit-stand freedom, only 20 square feet big. It's an excellent workspace for employees who prefer ambient quiet to open floor commotion. Also great for those who speak under their breath when thinking through a problem.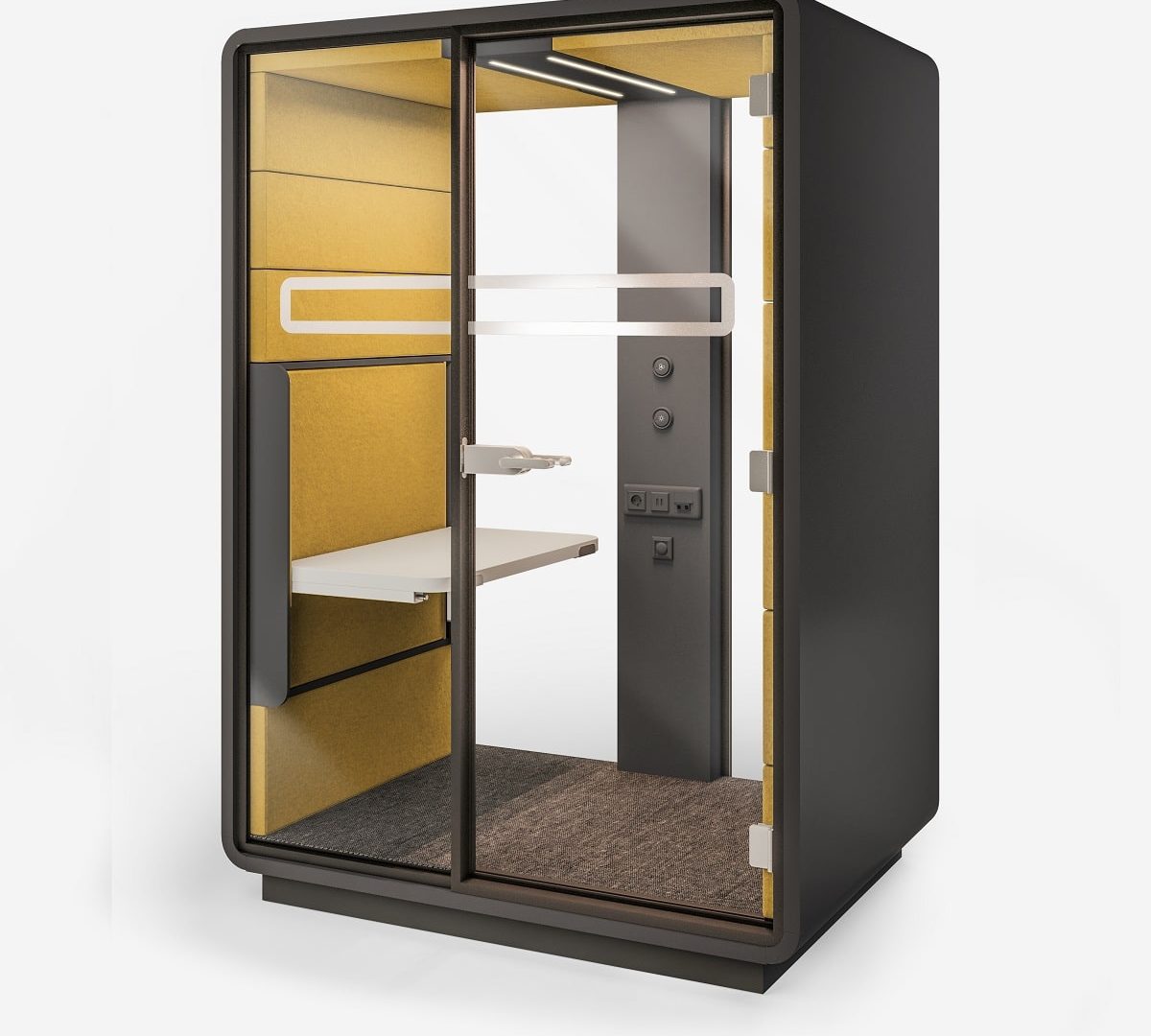 HushTwin. The most compact pod yet, made of conjoined "twins." 2 separate, complete workspaces — comfortable sofas, working desks, adjustable environments (lights and ventilation). Roughly 21 square feet of space.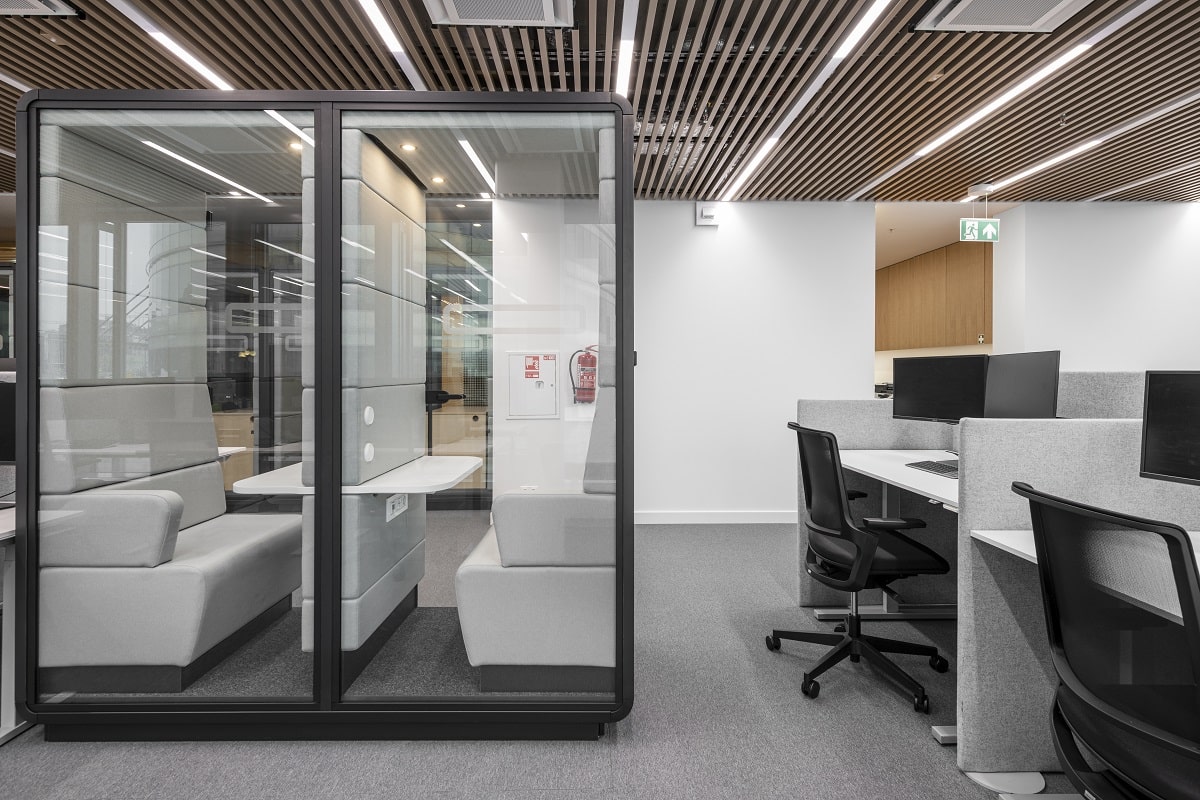 Then there's hushHybrid. The best office booth for video conferencing. Optional monitor mount and face-illuminating video light strips. Beautiful wool upholstery available in 40 colors for the perfect backdrop. About 12 square feet. Read all about it: So… what's it like inside hushHybrid office pod?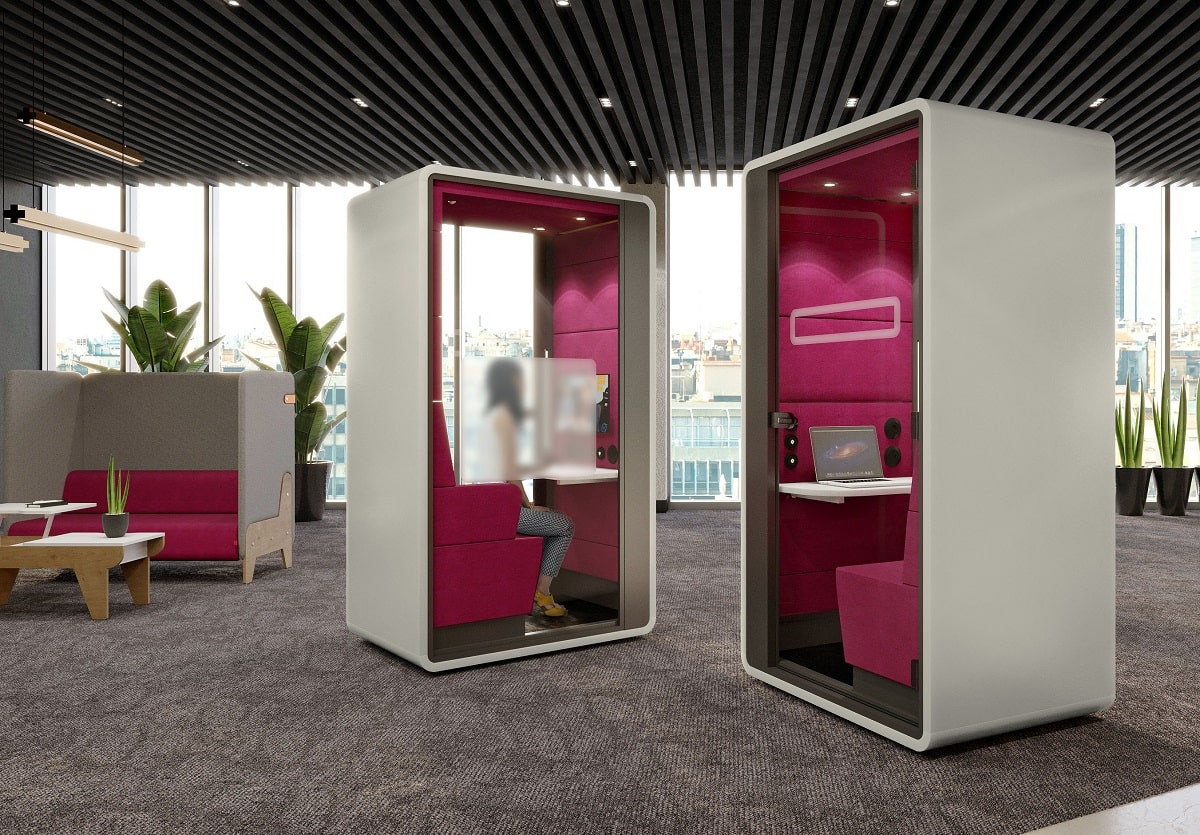 Meet hushMeet (the mobile meeting booth). A primo space for collaboration. Architectural, visual, and acoustic privacy guaranteed. Sized just right for 4 employees to meet comfortably. Anti Virus coating lends peace of mind. About 31.5 sq. ft. total. One hushMeet replaces two traditional desks efficiently.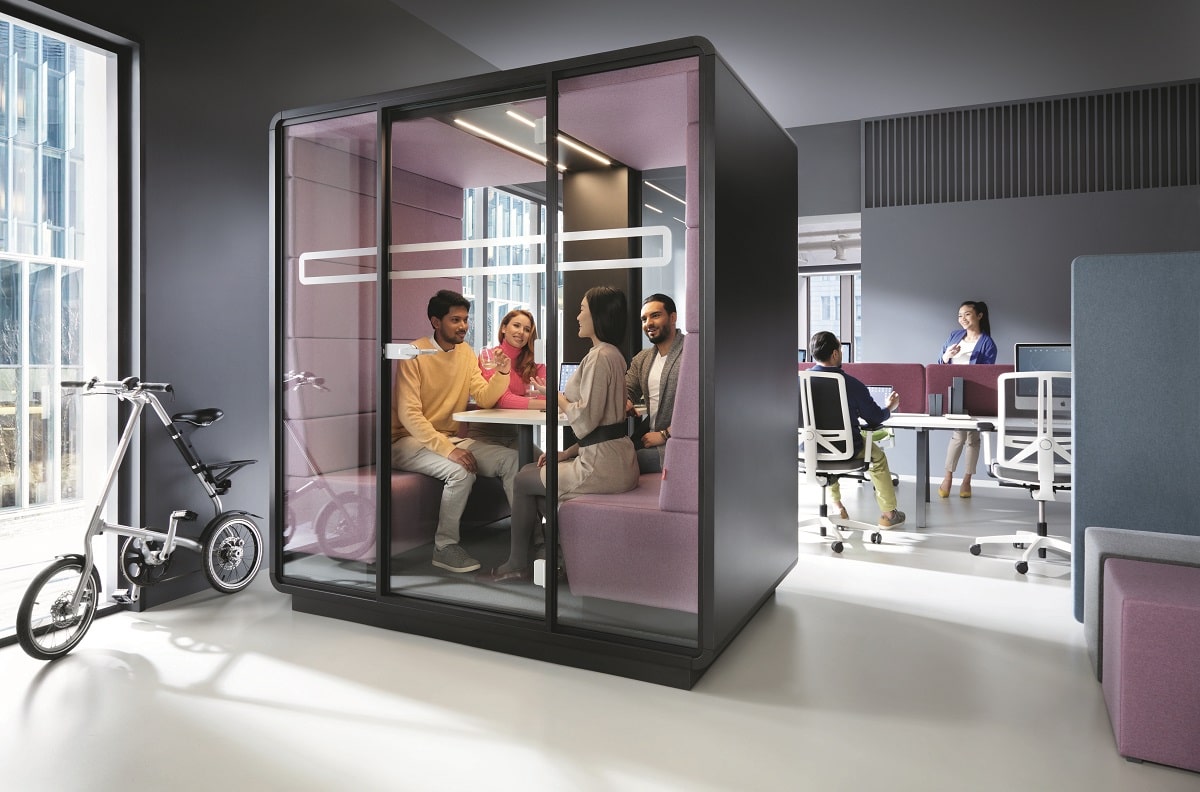 The hushMeet.S 2 person acoustic pod. Fully private one-on-ones. Adjustable environment for optimal thermal comfort as well as choice light level for focus. Just ~21 square feet of space.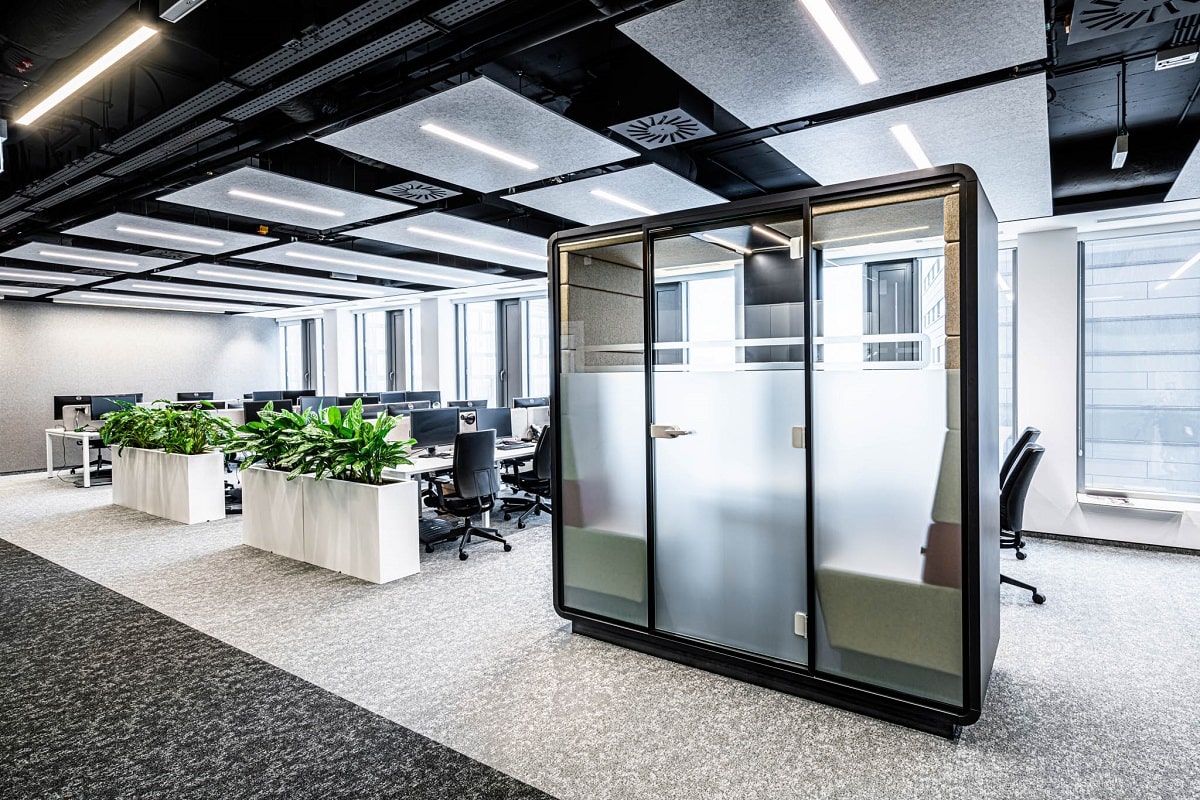 HushMeet.L is like a portable soundproof conference room seating 4-8 employees. Its interior central panel is ideal for hanging a monitor to cast meeting presentations or break room entertainment. Acoustically perfect. Privacy ensured. 51-102 square feet depending on its module count (2, 3, or 4).
HushMeet.L is special because it's versatile — an office furniture booth that typifies "agility." You can retrofit its cozy yet spacious interior, transforming it into the new "room" your team needs as these needs arise and, surely, change in time. The soundproof pod functions well for a range of uses. As a small, acoustic conference room for needle-moving conference calls… As a break room complete with cozy seating for project leads to de-brief together… As an enclosed huddle space to toss around new, nascent ideas… As a large private office for managers or supervisors to meet with small teams… As a modern, sophisticated space to meet privately with high-value clients…
Whatever space your team needs, the pod delivers. And like all private office pods in the Hushoffice line, hushMeet.L is an acoustic oasis, apt for any task that's confidential or sensitive. Best of all, the product is modular; you can add or take away modules to harmonize organizational needs and spatial parameters as both develop.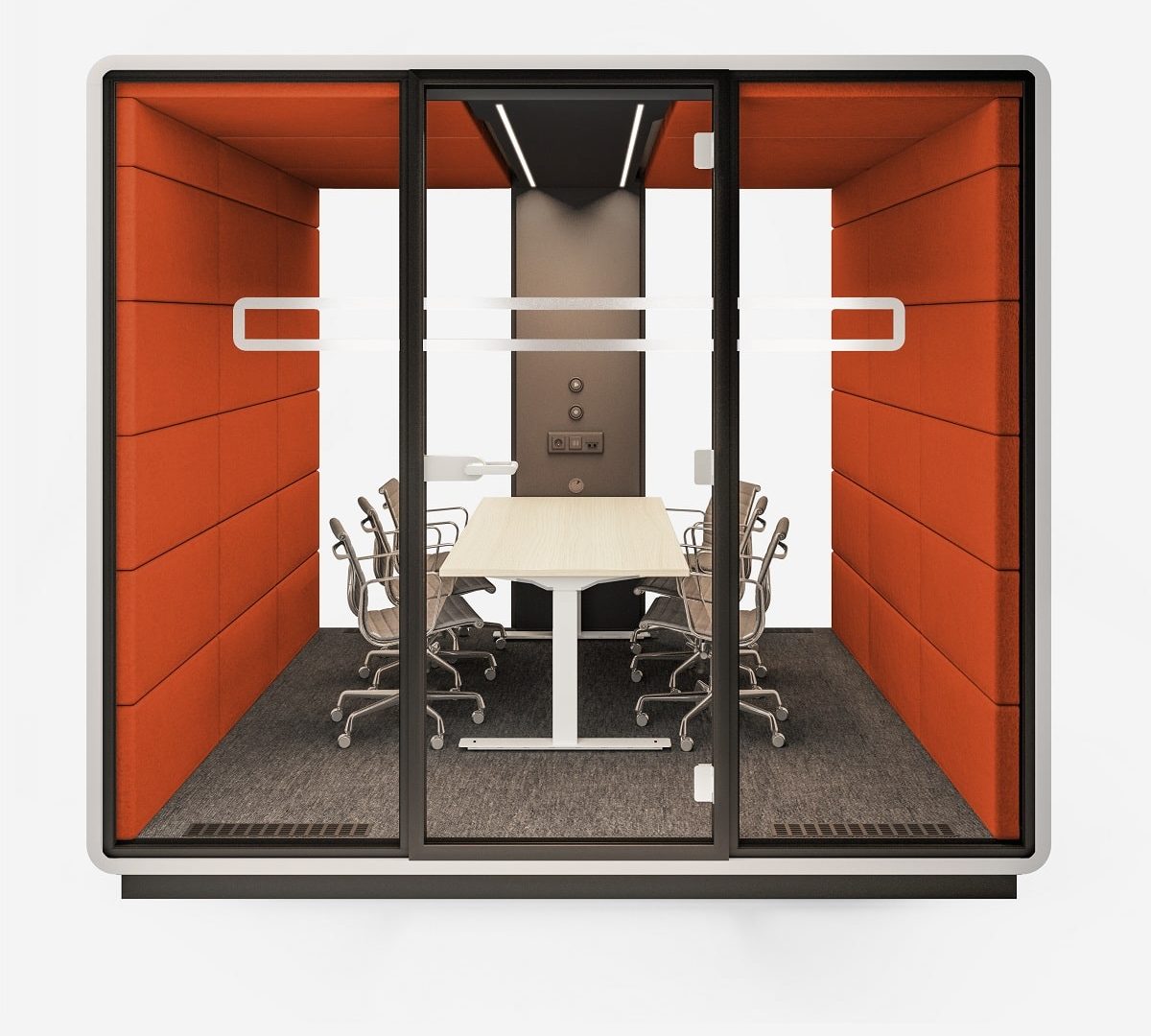 How do I relocate each pod in the Hushoffice acoustic booth line?
The hushHybrid video conference booth and hushPhone private phone booth both have built-in casters and leveling feet. They can be pushed by two teammates to new spaces.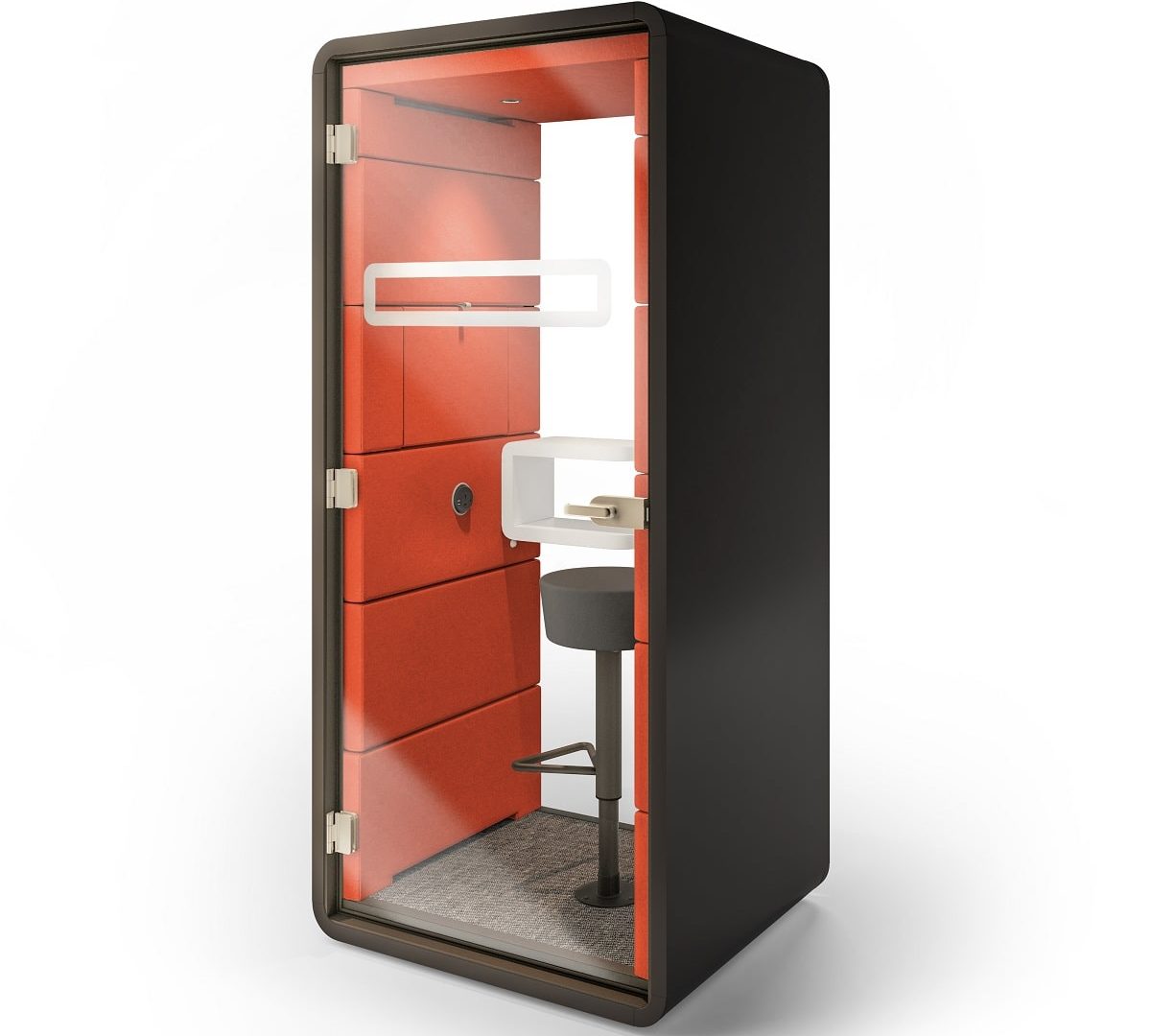 The HushMeet.L modular conference booth breaks down into 2-4 modules. Disassemble it, move its modules with a pallet jack, and reassemble it whenever you need to reposition your booth or bring it to a new building.
All other pods in the Hush line sit on a frame creating ample space beneath for a pallet jack to fit, quickly relocating. This includes hushWork.sit&stand for private, quiet desk work, hushTwin for small office layouts, hushMeet for collaborative team meetings of 4, hushMeet.S for intimate one-on-ones, hushMeet.open for energized, impromptu 4-person meetings, and hushMeet.open.S for lively, casual 2-person meet-ups.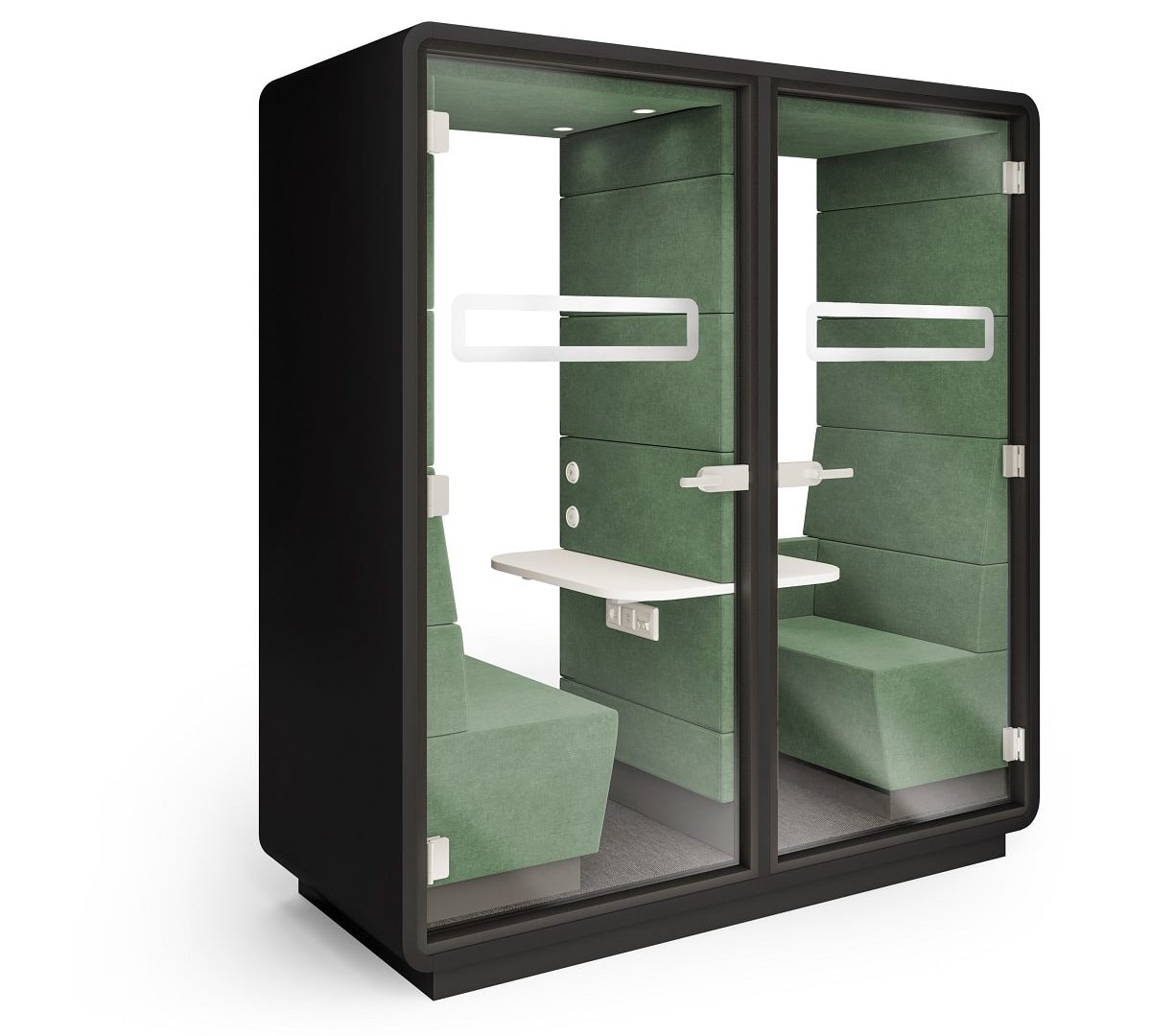 Golden rules: where to place your pods
It's all about proximity. Pods/booths are one of the best ways to give employees at-hand, on-demand, private work and meeting spaces. The key: set yours up near employee spaces, so they're accessible in a jiffy, no stress.
All Hushoffice pods need a ceiling clearance of 10 cm/3.8″ for sufficient ventilation. To ensure the most comfortable interior environment, you'll want to avoid placing them in direct sunlight, which could cause stuffiness. Note that, pushed against the walls, your pods may not get a pleasant degree of natural light. Lastly, make sure your pods aren't blocking walkways.
Have questions? Leave us a note!
Key takeaways: