Teams now recognize the importance of quiet spaces for focused work and private conversations. Thus, acoustic work pods are becoming increasingly popular. They reduce office noise while providing a distraction-free environment where work efficiently flows.
So what are the most important criteria to look for in a pod?
Top criteria for office booths – tl;dr
Class A or B acoustic rating
Ease of assembly, disassembly, and relocation
High-quality materials
Efficient ventilation
The right size booth for your needs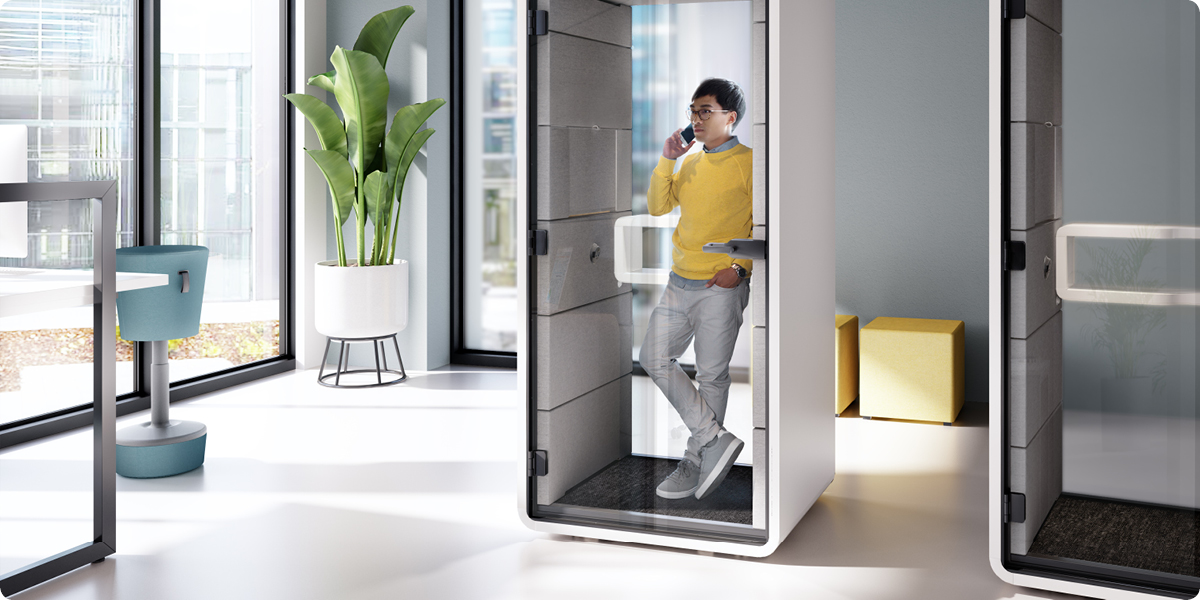 Quiet, but not too quiet — the mark of an acoustically superior work pod.
Your booth should have finely-engineered sound insulation to prevent floor noise from permeating its space and vice versa. This way, inside, employees feel calm and unbothered by office noise. Their speech is also clean, intelligible, and protected in the booth, not a word of it heard from outside.
Be sure every detail in your prospective booth's design is acoustically sound, so to speak. This includes the obvious elements like noise-insulating fabric upholstery and carpeting as well as the more subtle elements like door frame seals and gaskets. When not only is speech made inside unhearable from the floor, but the pod environment itself feels plain comfortable, never stark quiet, you know it's a sonically excellent product

– says Mateusz Barczyk, Senior Brand Manager, Hushoffice.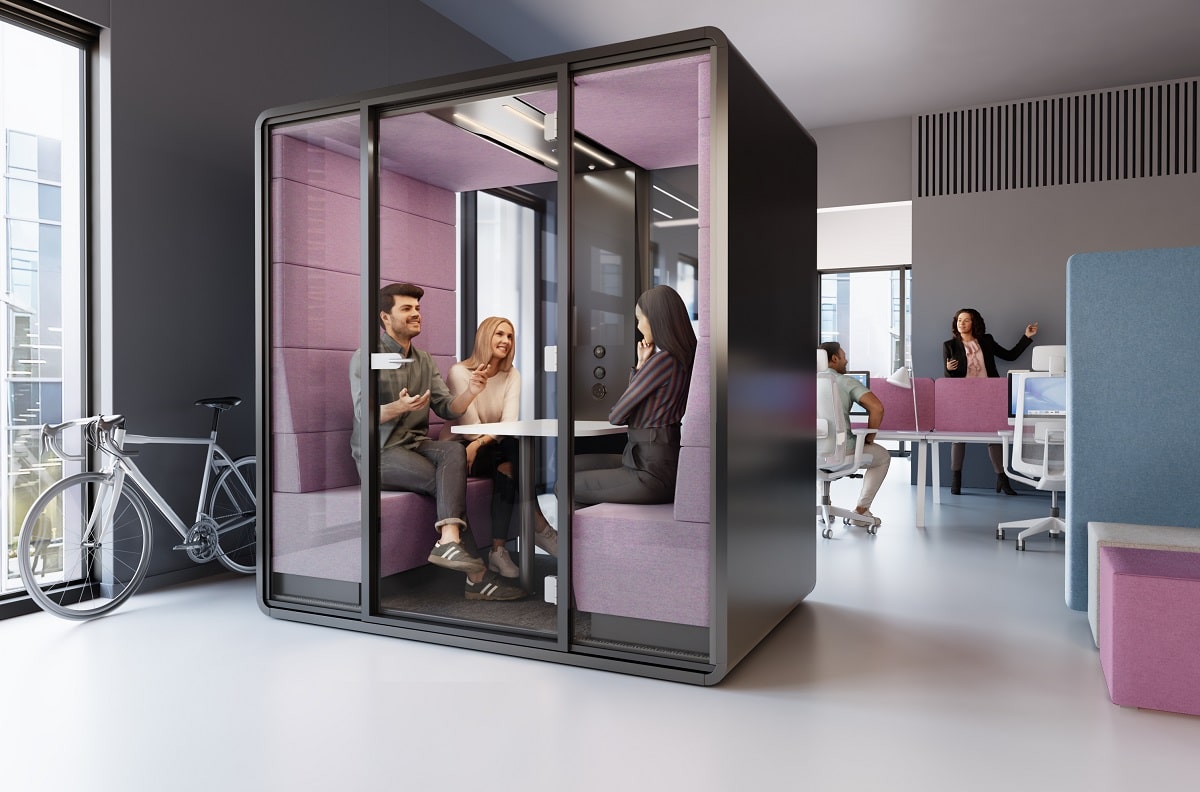 Read more on the actual acoustic experience of an office work pod here.
Ease of assembly, disassembly, and relocation = exceptional ongoing leeway.
As you shop around, consider each booth's method of installation, breakdown, and maneuvering. One of the best choices for your flexibility is to opt for movable pods built on lockable castors (and thus relocatable by push) or built on a frame that makes them relocatable by pallet jack.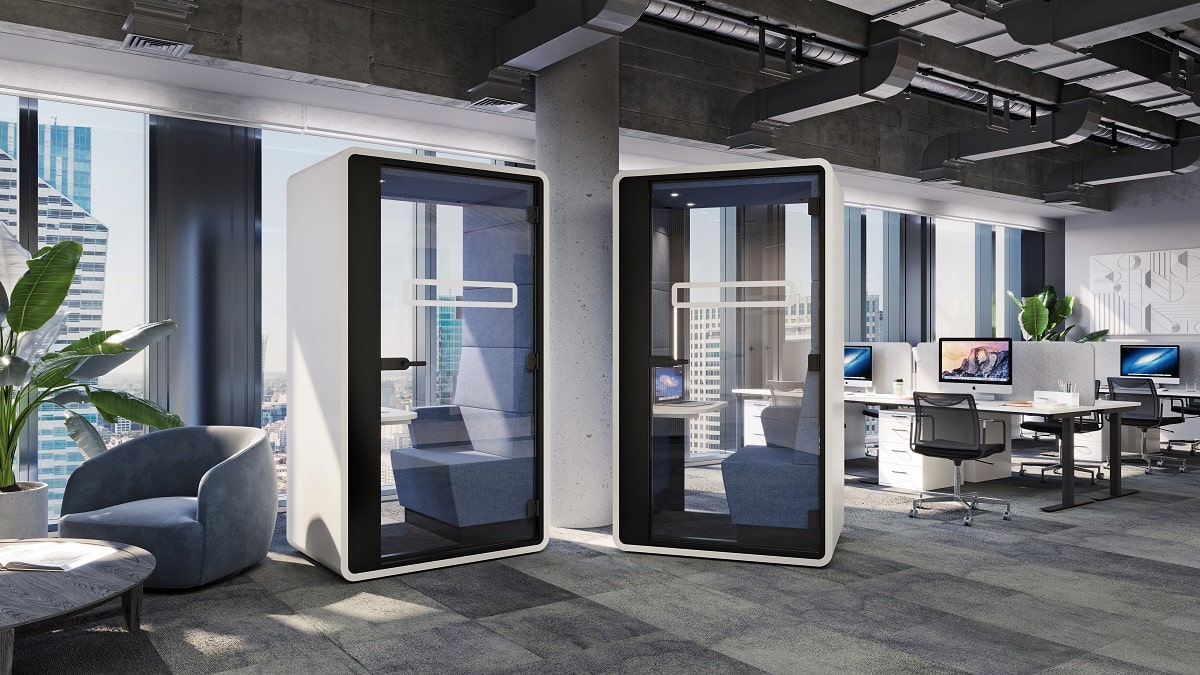 What materials indicate a high-quality booth?
An aluminum body, anodized aluminum door handles and hinges, thick, tempered, laminated glass panels, and premium sound-insulating interior fabric and carpeting all indicate a top-caliber booth.
Did you know Hushoffice booth furniture and fabric panels can be upholstered in premium Italian wool? Explore your options using our configurator.
Efficient, continual ventilation is a must-have.
Proper airflow will help maintain good indoor air quality in your office booth, which is crucial for the health and productivity of employees using it. An efficient ventilation system will also help regulate the booth's temperature and humidity levels, making the space feel fresh, never stuffy.
Hushoffice booths are perfected by their carefully engineered air circulation systems that recycle stale air and lingering scents continually while the booth is in use. The crisp, clean interior promotes optimal cognitive function as well as a general sense of wellness

– says Mateusz Barczyk, Senior Brand Manager, Hushoffice.
What size office booth is right for you?
This depends on many factors, from the amount of space you have to the types of activities you need your booth for. Pods and booths range in size. There are one-person pods like hushPhone for private calls. There are large wheelchair-accessible booths like hushAccess.L for meetings of 6 people.
1-person booths are for independent work.
Solo pods are designed for phone calls, video calls, and focused creative work (for employees who think brightest in a standing posture).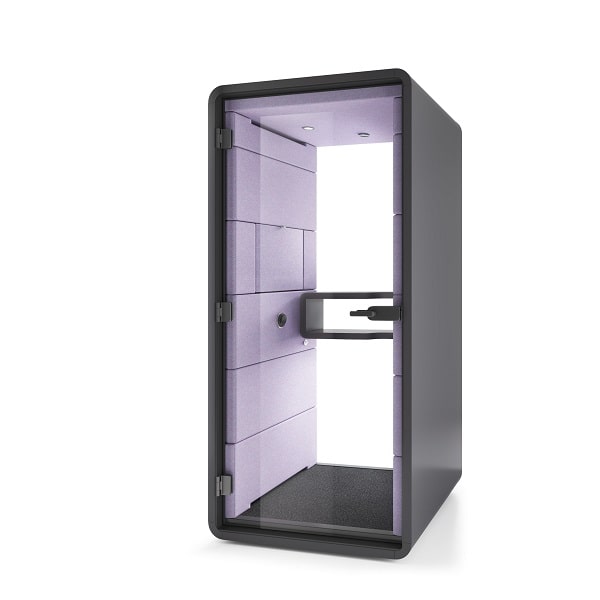 2-person booths are for private conversations.
One-on-one meetings, sensitive or confidential discussions, and mentoring happen most naturally in an office booth for two.
3-4 person booths are for small team meetings.
Booths for 3-4 people make welcoming, professional spots for client negotiations, group work, and relaxed gatherings.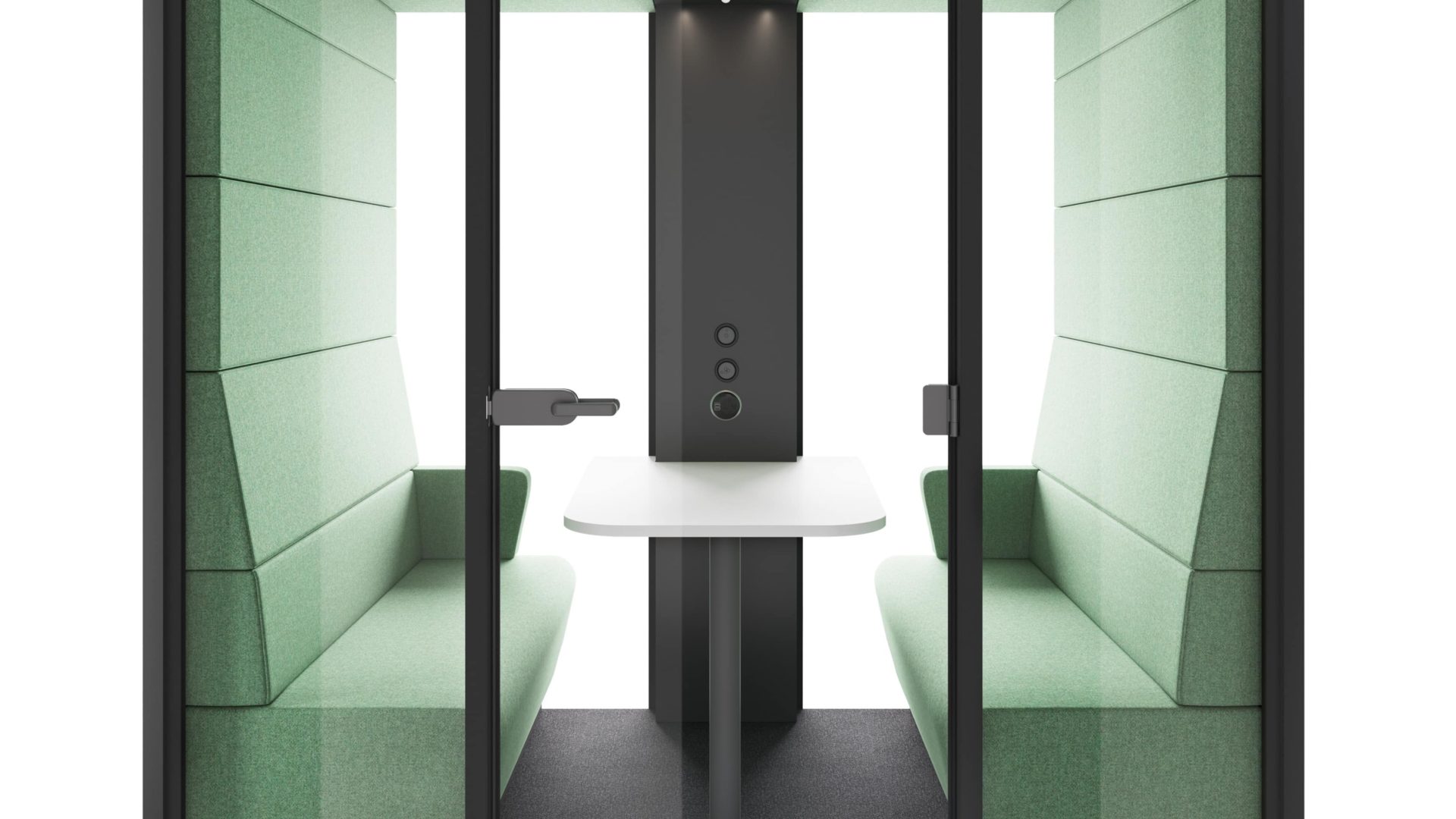 5-6 person booths are for group collaboration.
Larger booths like hushAccess.L support brainstorming sessions, presentations, and team conference calls.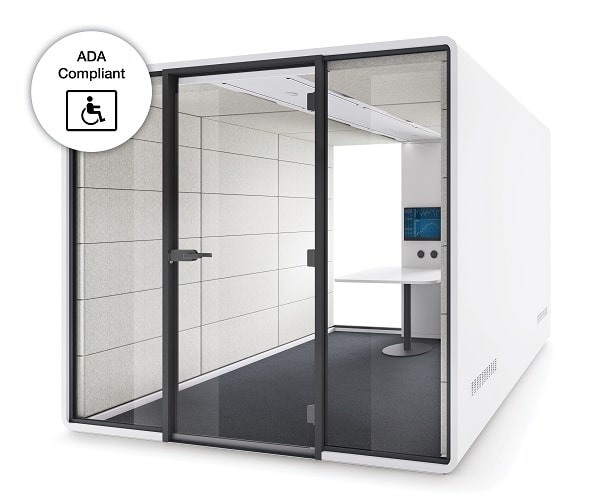 A special benefit of smaller booths is that they are very easy to move around and can fit into tight underutilized spaces like corners and hallways. Our hushPhone 1-person standing call booth, for instance. It takes up just roughly three by three feet and can be moved by the push of one employee

– says Mateusz Barczyk, Senior Brand Manager, Hushoffice.
Do you have questions? Would you like to talk to someone from our team about your needs?
Leave us a note, and we will get right back to you!
Top criteria for office booths – summary
Class A or B acoustic rating
Ease of assembly, disassembly, and relocation
High-quality materials
Efficient ventilation
The right size booth for your needs
Top criteria for office booths – frequently asked questions
Are office phone booths soundproof?
Office phone booths like hushPhone guarantee speech privacy while blocking out office floor noise, giving the pod user a focused space for calls.
What to look for in an office booth?
Firstly, you want a Class A or B acoustic rated booth. Ease of assembly, disassembly, and relocation are important for flexibility. High-quality materials are just as important, too. For maximum user comfort, pick a booth with efficient, constant, motion-activated ventilation. Adjustable lighting is also a must-have for employee performance. Lastly, built-in furniture and power outlets will aid in overall ease of use.
Check out the Hushoffice collection of booths and pods for ideas.
What is the purpose of office pods?
Also known as work pods, office pods are enclosed workspaces. They offer privacy and separation within open office environments. They provide awesome acoustic control, reducing background office noise. They're a sound-insulated space to work alone or meet up with others. Movable and customizable, pods are a versatile solution for businesses that need to adapt to changing work requirements. They also bolster employee well-being, as they are quiet, cozy work environments where peace and focus are both fostered. Check out the top 5 questions about work pods for more information.