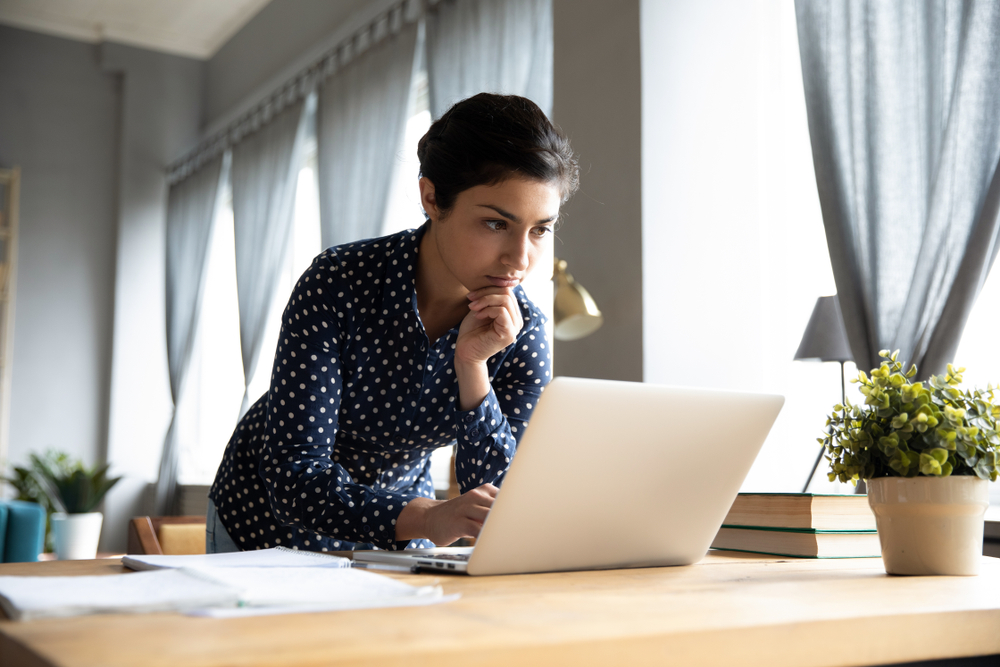 The working environment has an enormous impact on our efficiency and well-being. Therefore, it comes as no wonder that many people accustomed to work at a bustling office are unable to focus during so-called home-office or remote work. On the other hand, those who value calm often have problems performing their duties in a company bustle. Regardless of the preferences, you can be efficient both at home and at the office. How? We explain!
Does the workplace matter?
When deciding to take a job at a given place, what we pay attention to in the first place is the scope of responsibilities, the atmosphere, the salary or additional benefits. Development possibilities are very important to many people as well. The office's location, arrangement and design matter to a lesser extent, but an increasing number of people take account of these factors too. No wonder – the atmosphere at work is more than just good communication with the team or easy-going and motivating management. The functionality and visual attractiveness of the space affects your well-being to a large extent. The working efficiency grows along with the well-being, which is why care for appropriate conditions at the office is, above all, in the employers' interest.
The number of attractive offices is increasing. Ergonomic equipment, relax zones, plants, an excellently equipped kitchen and social room with snacks and beverages provided by the employer are all factors expected by an increasing number of people. Another crucial aspect is arrangement of the working area, enabling optimal implementation of different projects – both group and individual ones. Conscious employers realize that sometimes you need time and concentration, and sometimes, a possibility of free exchange of opinions and ideas in a group of several or even more than a dozen people is needed. Consequently, the arrangement of the office should reflect it. 
When performing remote work (home office), it is worth ensuring an appropriate atmosphere as well. Such situations can easily descend into disorder resulting from a clash between professional and household duties within one space which is often small. Therefore, in such situations, the key is skillful organization and use of solutions which may facilitate separation from any distractions.
HushWork – a booth for work at the office and at home 
Arrangement of a quiet space for work at a busy place – regardless whether it is an office or an apartment full of family members – may pose quite a challenge. Usually, separation of a room to ensure the desired silence and calm is too expensive or outright impossible. This is why acoustic booths have been invented; they provide a mobile, simple and extremely comfortable way to arrange a workstation. The advanced and functional solutions include the hushWork booth, with which focused work – including work in deep concentration (Deep Work) – is not a problem anymore.
HushWork booths insulate you efficiently from sounds of the outside world, suppressing them down to a comfortable level that favours concentration. They may be arranged in many ways to enable comfortable work. They are equipped with ventilation, lighting, as well as other systems facilitating the work (e.g. power sockets). They are perfectly suited for efficient focused work but can also be used as an office telephone booth. Sounds from a hushWork do not get outside.
HushWork.sit&stand – standing and seated work
Uninterrupted work in a seated position for 8 or more hours is not just unnatural but harmful to your health. According to the principles of ergonomics, office workers should make regular, short breaks to relax the spine and eyes which are often incessantly fixed on a monitor. However, you can go one step further, offering the hushWork.sit&stand acoustic booths to your personnel. They are equipped with adjustable desks enabling work in both seated and standing position. This brings more comfort and helps you care for your health. It also allows every personnel member to work exactly as they like to, while enjoying the silence and comfortable atmosphere at the acoustic booth.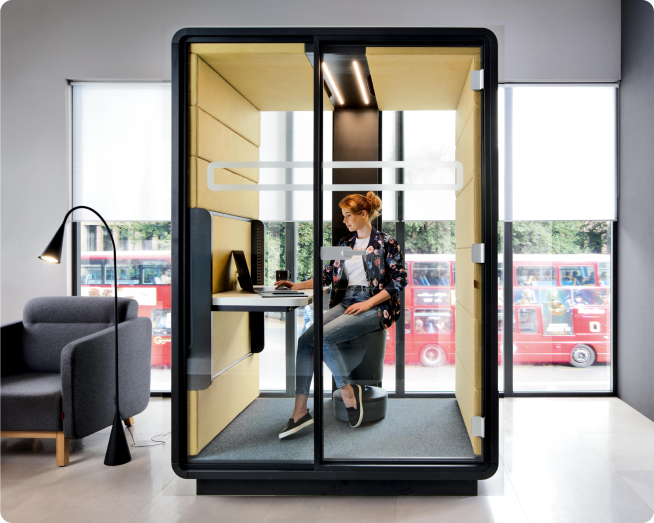 Photo:HushWork.sit&stand is a small acoustic booth for one person, equipped with an adjustable-height desk. This enables comfortable work in both seated and standing position.
Efficient focused work
Nowadays, increasingly more people have difficulties achieving the desired level of concentration. Stimulated by many external factors, we get distracted very easily, which makes us perform the intended tasks much more slowly and less precisely.  Efficient focused work is a real art, yet you can learn this skill. This is aided, among other things, by tools helpful in shutting out the distractions that disrupt your concentration – such as hushWork acoustic booths. They make deep work at an office full of talking and noises much easier. With their small size and mobility, hushWork booths can also support remote work, acting as a home office.
Open space – work only for the enduring
There was a time when offices utilizing the open-space concept used to be very popular. This solution was intended to support cooperation, exchange of ideas and experiences. In practice, however, it is being increasingly moved away from. It turns out that open-space work does not always work well. It is detested, above all, by introverts and people who can only focus in silence. However, on the other hand, there are sectors and teams in which such an office arrangement can be favourable. There are also people who are satisfied with such an atmosphere. At open-space companies, it is worth providing a place for work in seclusion, far from the rush and noise. Thus, specific tasks could be performed under optimal conditions.