Blog
What must not be missing in any office? Most employees will probably answer that a coffee machine. That's true! However ...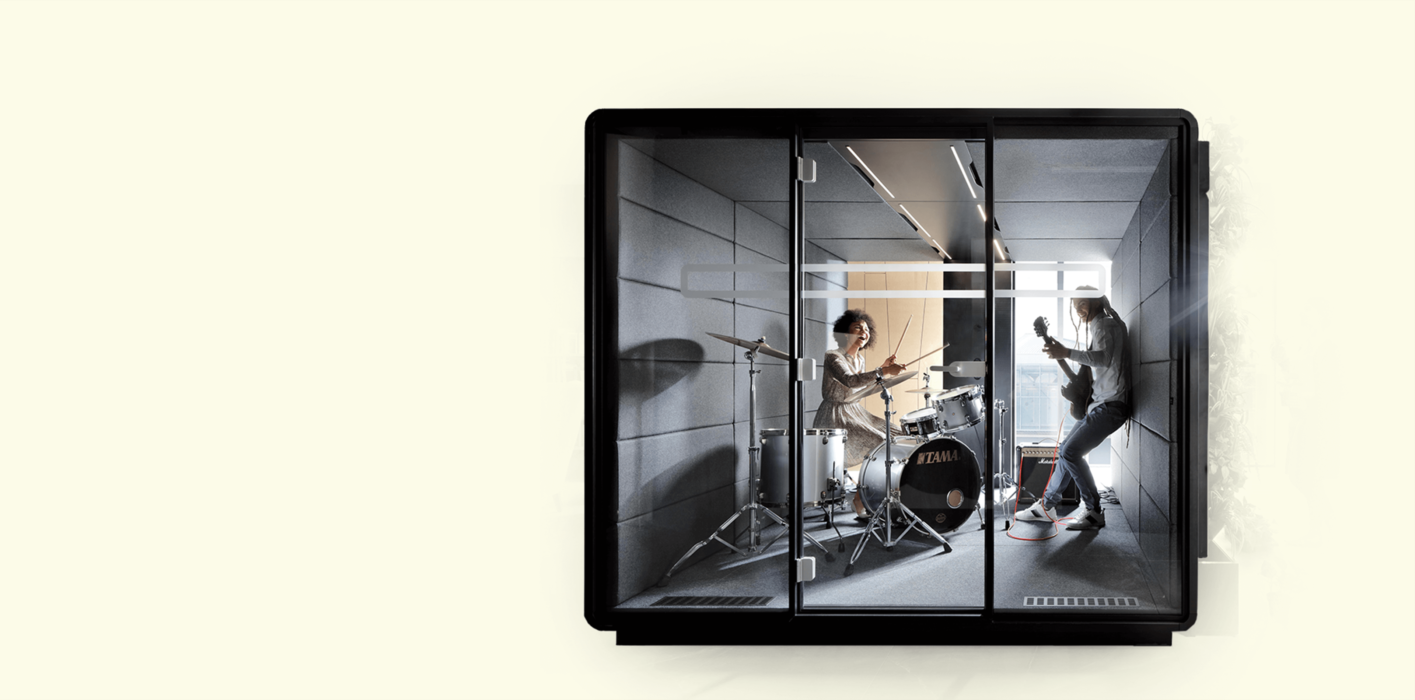 What must not be missing in any office? Most employees will probably answer that a coffee machine. That's true! However, if you have ever had a video-conference at work, you will certainly appreciate the possibilities offered by a professional teleconference room. Not every office can afford complete renovation and separation of an additional room – here, a special office acoustic booth comes in handy. Why is it worth investing in this solution?
Teleconference room – a necessary room in every office
Teleconferencing is a very useful tool: this way it is possible to connect several or even a dozen participants in different places – not only nationally, but also worldwide. This is undoubtedly a great convenience, but it also places certain demands on employees. During a teleconference, sound is important, but also image, and in many offices it may not be possible to talk via video connection. While headphones with a microphone are often enough for a telephone conversation, the right conditions and the right background are needed for a teleconference. In large offices, especially those of the open space type, it is difficult to find a bit of peace of mind for employees talking to clients, contractors or colleagues working remotely. A good solution in this situation is a room for teleconferencing, which is a space where important conversations can be conducted freely – without background noise or colleagues moving behind your back.
How to organise a teleconference room?
The decision has been made: your company will create a video meeting room. Don't you have an idea how to arrange it? First and foremost, focus on functionality: the video-conference room in an office should be equipped in such a way as to ensure comfortable conditions for all users. In the case of group teleconferences, unrestricted access to the virtual interlocutor is crucial. The room will also need an additional sound system and a screen to which you can connect your laptop. Proper ventilation and lighting is also very important. Once we have met all these technical conditions, it is worth thinking about aesthetics: after all, the conference room is the company's showcase, so the equipment should form a coherent whole. Too many contrasting elements can distract and obstruct important conversations. In turn, the lack of any decoration discourages the use of the conference room – so it is worth introducing an interesting layout. Many companies choose décor that is similar to the colour scheme of the office: this way, all rooms form a coherent whole. Organising a teleconference room may involve extensive renovation, which in turn usually generates considerable costs. Not every office will be able to secure such a room. An alternative is a small conference room in the form of a booth.
HushMeet.L – a mobile meeting and video chat room
The hushMeet.L is a modern solution that will successfully replace a teleconference room and a small conference room. You do not need to remodel the whole office to provide space for meetings and video calls. The employees of an open space office especially need a place where they can talk on the phone in silence and focus or hold a conference call with customers or contractors. You don't have to be afraid of downtime in the office due to a major refurbishment – a large acoustic booth allows you to provide an additional room without any refurbishment work. If you are looking for a comfortable and reliable solution that works in every office, choose the hushMeet.L!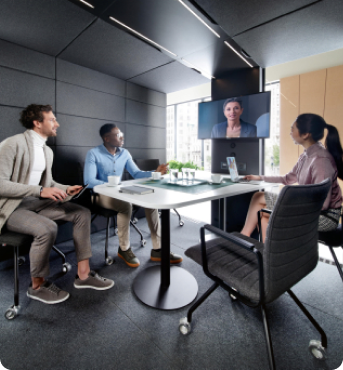 A solution for large and small offices
Is it easier to make a video call in a large office? Not necessarily – if there are many workstations in the room, it is difficult to find peace and quiet. In such a case, it is worth enabling employees to work on an important project in focus or to meet their team in a smaller, quiet room. A large acoustic booth can be positioned almost anywhere – offering your employees space to work intensively or talk to customers. Small offices, on the other hand, may have a problem with dividing the rooms so that they can accommodate an additional conference room. An acoustic booth is then the perfect alternative: it is airtight and at the same time easy to use on a daily basis. If the accounting, human resources and customer service departments work together in one room in your office, separate an additional room by setting up an acoustic booth – your employees will surely appreciate this solution.
Effective attenuation of unwanted external sounds
Modern acoustic enclosures allow you to attenuate unwanted sounds – making them ideal for people who need silence to work in concentration. In addition, even seemingly insignificant sounds can often distract and disturb the caller during a video conference. An acoustic booth protects you from typical office noise: inside you can't hear conversations, the sounds of electronic devices or the steps of your colleagues. At the same time, the booth is not completely cut off from the world; the employee inside will hear the sound of a fire alarm or other safety-critical sounds.
A meeting with the highest comfort
Is there not enough space in your office for meetings with clients? Do you receive your counterparties in the front office? Or perhaps teams working on one task meet in the kitchen or at desks? A comfortable meeting room will be useful for employees working on the same project as well as for those responsible for contacts with clients and counterparties. The hushMeet.L booth is a convenient alternative to a small conference room or office. You can freely arrange its interior and create a meeting space for employees and clients. Stylish, modern equipment will provide comfort during conversations or work. If you can't afford to organise your customer contact space in a separate room, choose an acoustic booth that will become your perfect showcase.
A flexible solution that follows your needs
Modern companies increasingly rely on flexibility, creativity and non-standard solutions. Instead of a small social room, offices are opting for chill out areas, and cooperation between employees is not limited to sending out more emails. A modern office should follow the needs of its employees, so comfortable, mobile acoustic booths are a great solution. You can design their interior as you like. Do you need a place where you can recruit new staff? Having an important meeting with customers? Modern acoustic booths will work in all circumstances – place them in your office if you value flexible and convenient solutions.