Posted on: 28 November 2022
By: Hushoffice Team
Want to blend desirable aspects of the cubicle-style office with that of the open-plan? Want to bring more privacy and functional flow to the floor? Zone the office. It's a good time to do it (or re-do it) since hybrid working has changed priorities, changing the workplace's role through and through.
By carving up one sprawling space into multiple focused sub-spaces, or zones, you make the office more orderly, more coordinated. A calmer, more productive overtone follows, with activities contained to individual zones rather than permeating the layout wildly. Done well, zoning also uses your square feet in the most balanced, most efficient way

– says Mateusz Barczyk, Senior Brand Manager, Hushoffice.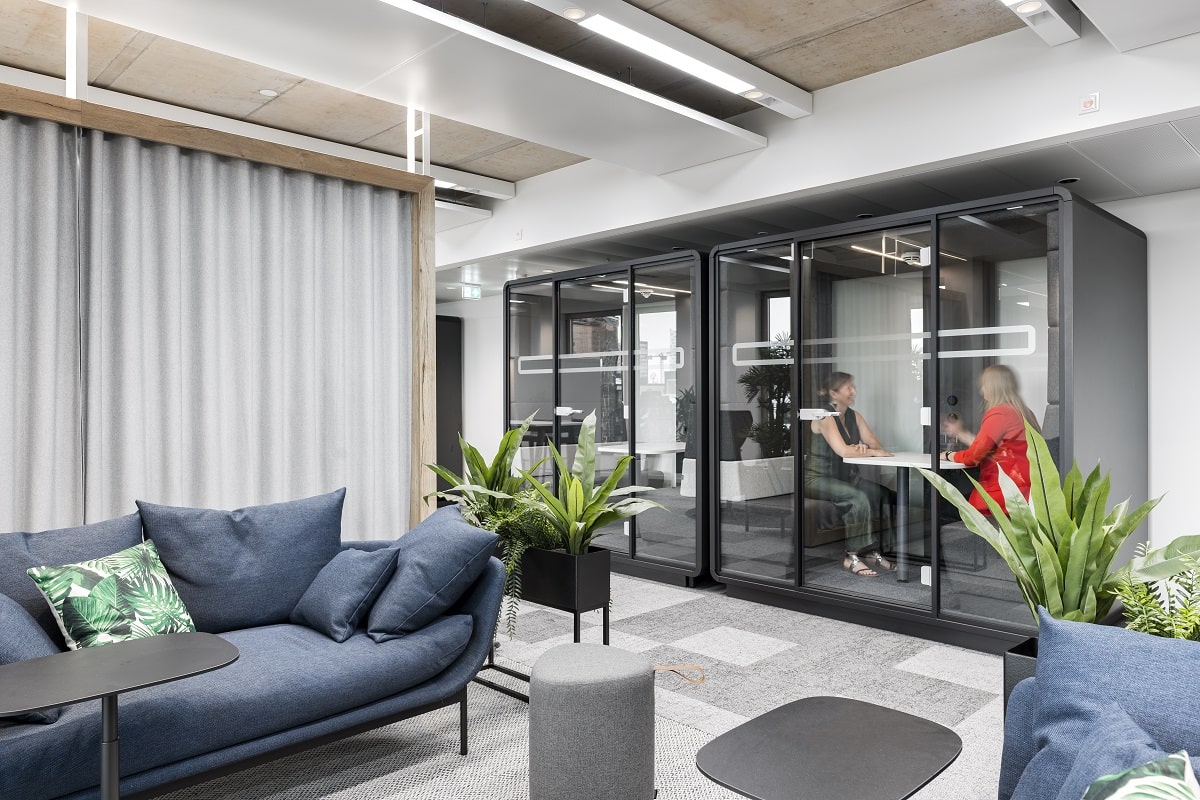 Ask your team what they want from the office.
What are their current complaints? What would make the office worth the commute? What frustrations do they meet at home? This last question reveals the exact needs the office can fulfill that home cannot, helping close the gap, making people more productive at both places.
Use the "office neighborhoods" approach to help you identify zones.
The office neighborhood method of planning an office space clusters communities of people in designated neighborhoods. These communities can be based on any commonality, from projects to wheelhouses to amenities needed (say, frequent access to the printer).
Neighborhoods let people work together and share resources more seamlessly.
They also make interior solution choices easier; rather than making a vague zone for "collaboration" outfitted blindly, meet the needs of a known community. I.e., a mobile dry erase board like hushWall and a modular benching workstation like STAND UP R per your website rebuild team's specific request.
The neighborhood approach to zoning is nice because in specifying communities down to exact numbers of people, you can size each neighborhood or zone perfectly, making each one comfortable, not too cramped nor too spacious. So the floor plate is being used most efficiently

– says Mateusz Barczyk, Senior Brand Manager, Hushoffice.
Tight floor plate? Implement dual-purpose zones to save space.
Rest and private work both need quiet. Figure storming and workshops both need buzz. Wherever there's overlap, pilot dual-purpose zones. In addition to saving space, you'll boost cross-pollination and collisions, merging groups that might not otherwise ever merge.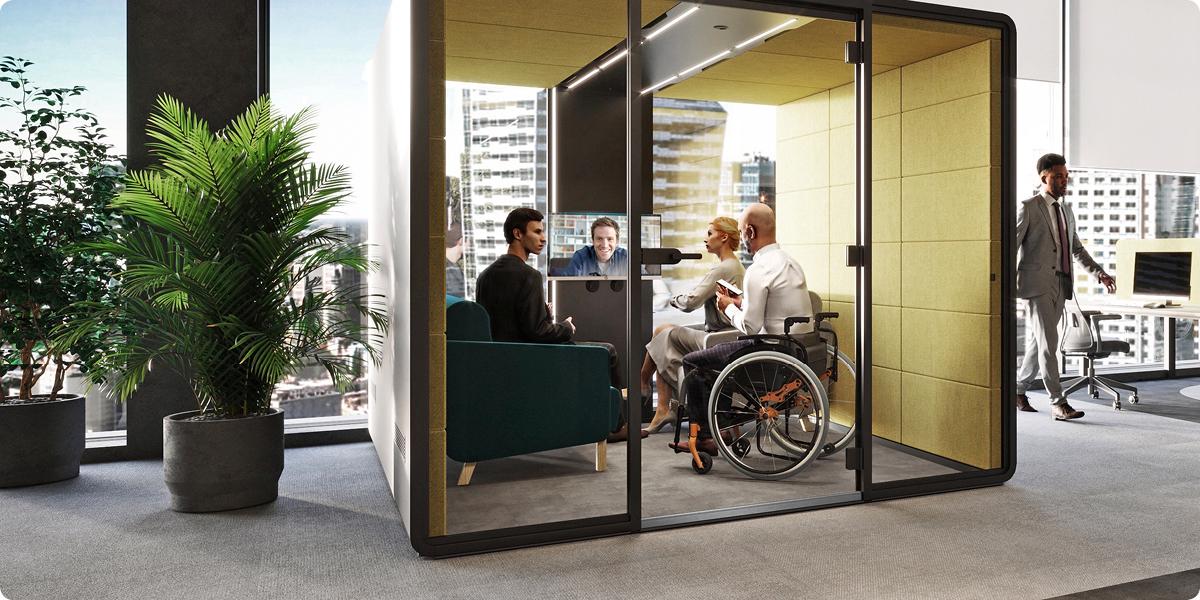 Be sure to denote each zone's ideal acoustic parameters.
For instance, if you're creating a call zone, make note that speech privacy is essential. If it's an informal work lounge, a little background hustle-and-bustle might be more apt.
Knowing detailed parameters of each zone down to acoustics will make it easier to pick the right furniture solutions when you get to that step. It'll make picking between sound dampening office room dividers, private phone booths, and mobile meeting pods a no-brainer, as you'll know exactly what kind of environment you need

– says Mateusz Barczyk, Senior Brand Manager, Hushoffice.
Once you come up with a tentative plan, run it by everyone.
Employees with control over the setup of their workspaces and choice in where they work report higher job satisfaction. So let their feedback lead the process and influence it every step of the way.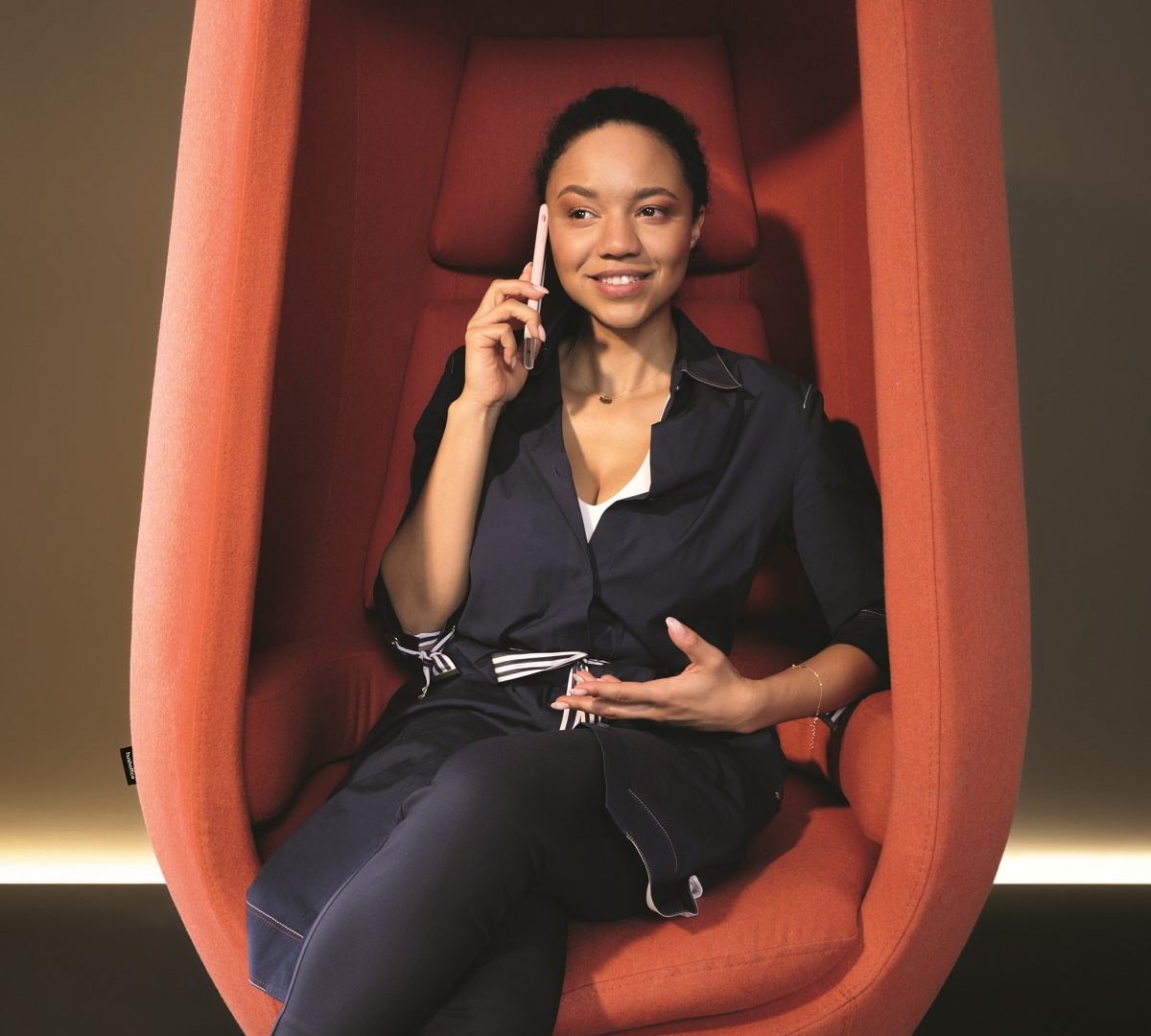 Once you've identified your zones, piece them together like a jigsaw puzzle.
This may seem like tedium, but it can actually be quite exciting since you're effectively shaping the buzz of your workplace's bee hive. Shaped well, you'll engender an intangible yet undeniable harmony.
The thing to make sure of here is that no zone compromises its neighboring zone.
That instead, each zone contributes to the function of the zone beside it. I.e., the casual vibe of the cafe overflows into its next-door breakout space and vice versa. Both are permeated and enhanced by one another. Just like jigsaw puzzle piece tabs, your zones can fit into one another like this.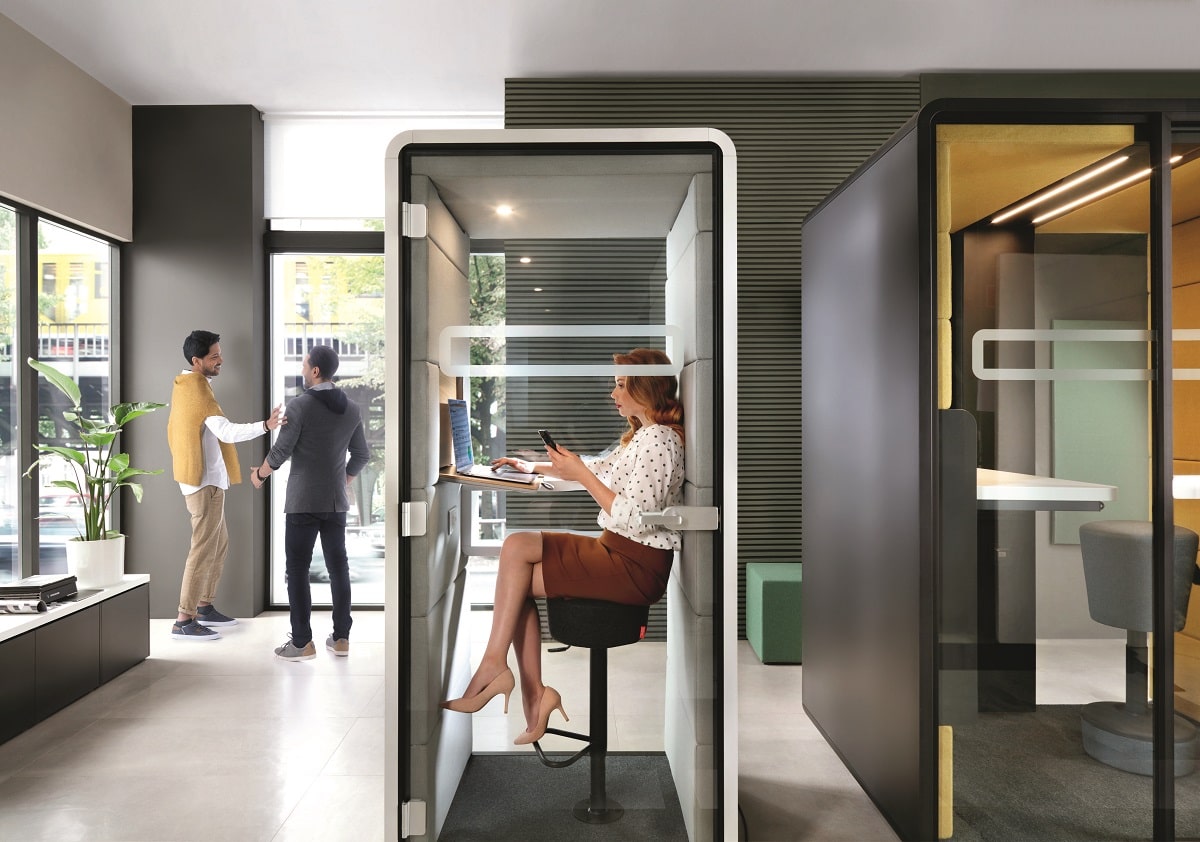 Placing synergistic zones side-by-side is the way of skillful office zoning.
Say your marketers regularly work with your designers on digital assets. Through a survey, you find that fluid real-time correspondence between the two would draw both groups back to the office. Placing their zones side-by-side would help them capitalize on their office experience.
Pick flexible furniture solutions like mobile pods for ease and resilience long term.
Rolling whiteboards. Portable booths. Adjustable room dividers. Such flexible furniture allows you to meet today's needs while making the office more responsive to tomorrow's. They make the workplace retool-able, making the task of zoning a natural, ongoing process rather than a stressful feat.
Balancing space efficiency and employee comfort when zoning can be difficult, but prefab solutions like pods make it easier since each pod seats a specific number of people comfortably. The hushHybrid booth for hybrid calls seats 1 person, hushMeet office meeting pods seat 4, and the hushAccess.L conference cabin with wheelchair accessibility seats as many as 6

– adds Mateusz Barczyk, Senior Brand Manager, Hushoffice.
Your furniture should be an asset, not a sunken cost.
Hence picking desks, dividers, and pods that are flexible makes sense — furniture pieces that can be relocated or reconfigured, adapted to changing needs, not retired because of them.
Collate machines in one space.
Place printers and scanners in one area as a one-stop shop. You'll isolate irritating printer whirrs and fax machine beeps to a single space. Also, employees crossing paths will be able to chit-chat freely as they tend to the minutiae without disturbing others.
Think creatively as you delineate space to construct each zone.
Dividers are quite popular. As are planters, benches, shelving, and utility cabinets. But zones can be demarcated in countless inventive ways that aren't so physical, too. Just playing with the basics (color, texture, lighting, and fabrics) can set one zone apart from the next.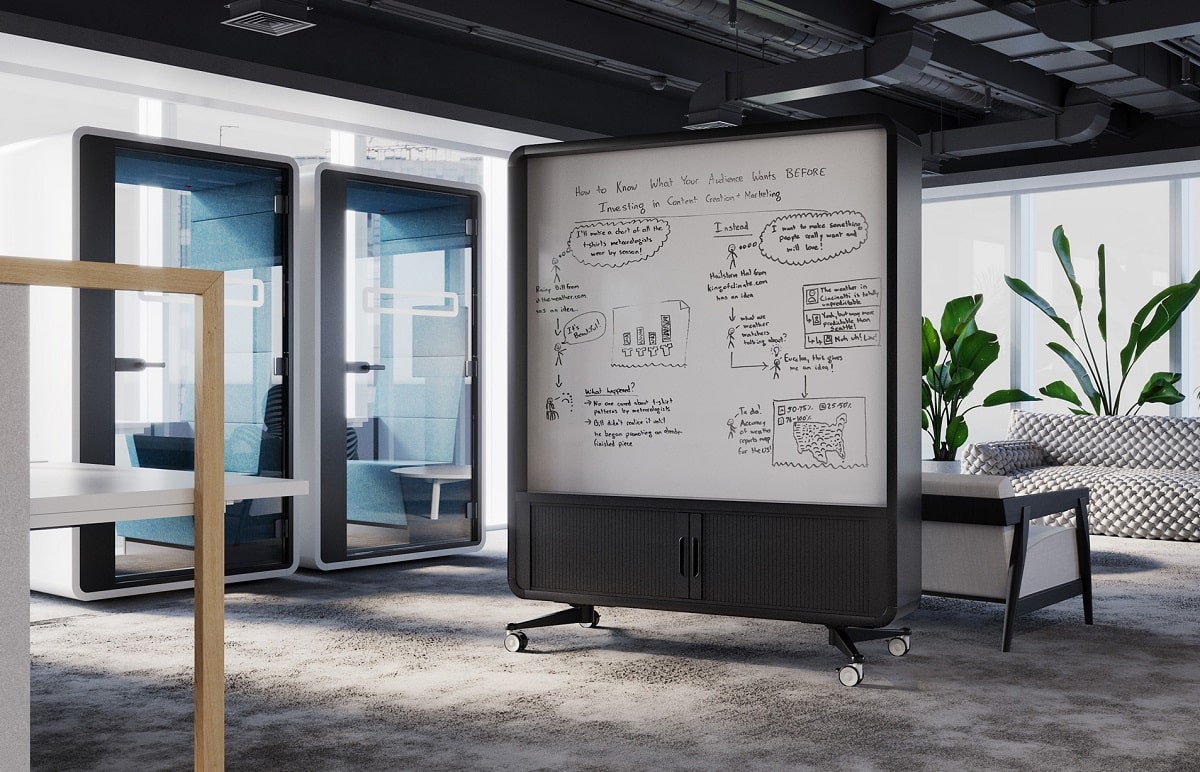 Keep wayfinding in mind.
Strong wayfinding is a mark of excellent zoning. Because however you split it up, the office must be intuitive for everyone.This makes your space more accessible to all.
Neurodivergent employees, especially, must be able to find their way without struggle.
While chaotic spaces stress them out, coherent spaces soothe them, making the transition between tasks a breeze, as navigation between zones comes easy. And neurodivergent talents, let bloom, are a special competitive edge for any company.
To optimize wayfinding, be sure each zone is sufficiently unique.
Make the workplace a rich ecosystem of coordinated variety that one automatically orients themself within, never feeling adrift. Bring in a few distinct landmarks. Signature furniture pieces like the spaceship-shaped A11 armchair, for instance — any interior solution which is instantly unmistakable.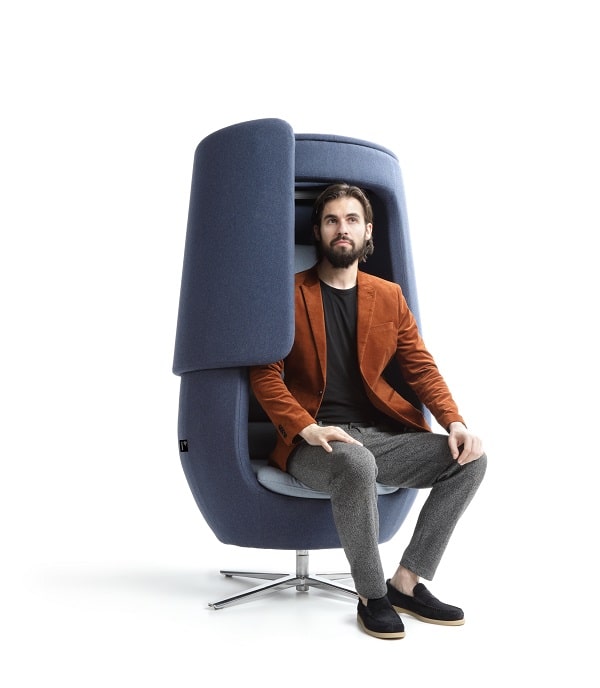 Prioritize high-quality video call zones.
Ah yes, one of the vital links between on-site and remote employees that makes hybrid work… well… work. Video calls.
Video call zones should be private and quiet.
They should be isolated from the open floor's jungle. If you're stumped for solutions, think about a 1-person video call pod like hushHybrid. It's acoustic, giving employees the speech privacy and speech intelligibility that makes for great hybrid meetings.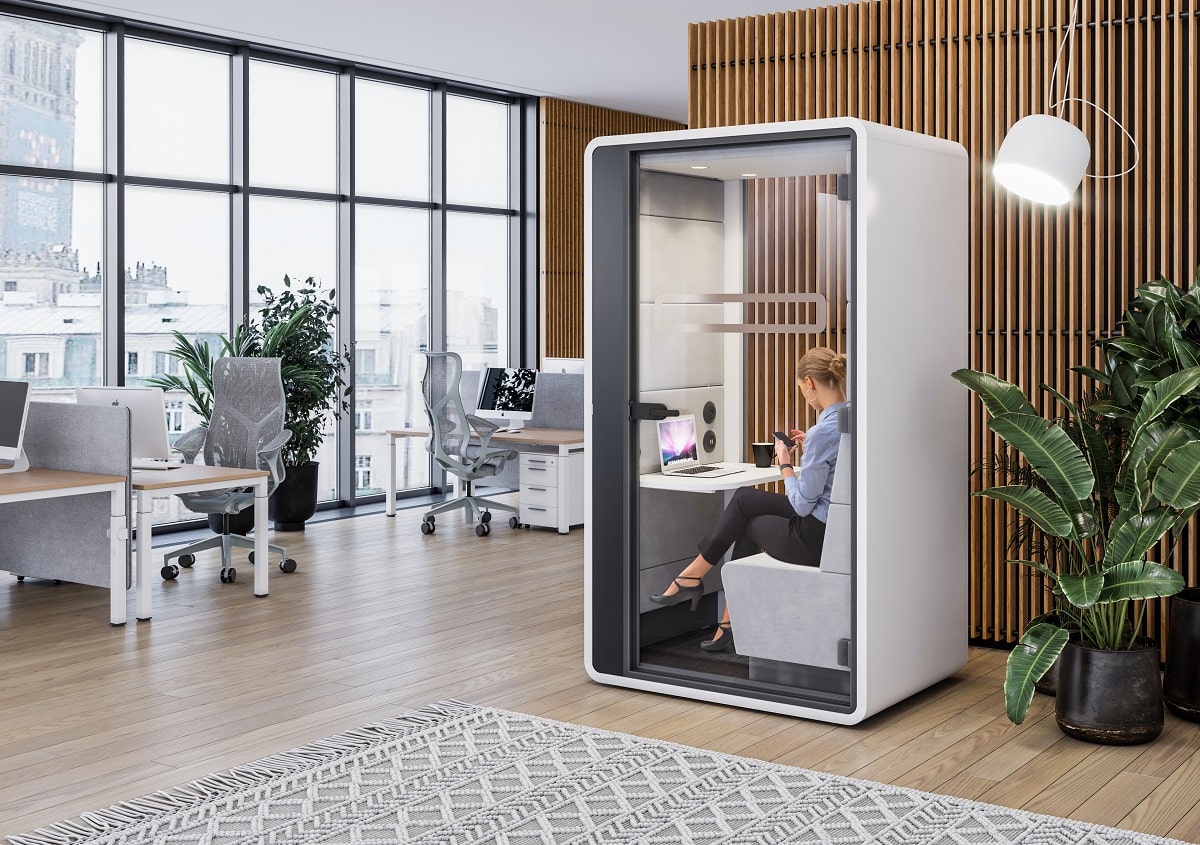 Include negative space in the layout.
Empty, undefined space keeps the office balanced — light and lovely rather than heavy and cluttered. Call it necessary elbow room. Yet another big help to neurodivergent peers — say, a teammate with ADHD who is discombobulated by excess stimuli or prone to claustrophobia.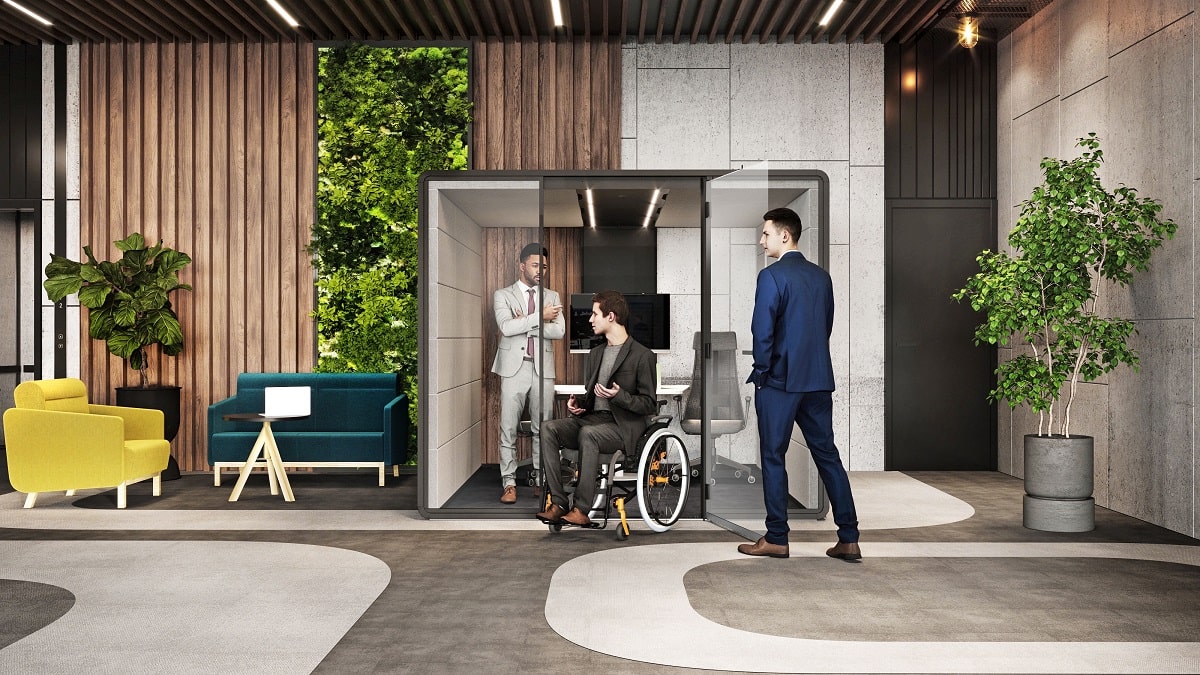 Undefined space does much more than make the office feel good.
It allows you to accommodate the occupancy ebb-and-flow that's inevitable in a hybrid mode. And it allows for growth, too.
Keep it simple.
When it comes to design — from desks to decor — less is more. Start small. Opt for unbusy, neutral patterns and palettes. See how each zone is used. Survey your team. Then add to or alter the layout. Minimalism is a broadly appealing style; adopting it will result in the most inclusive space.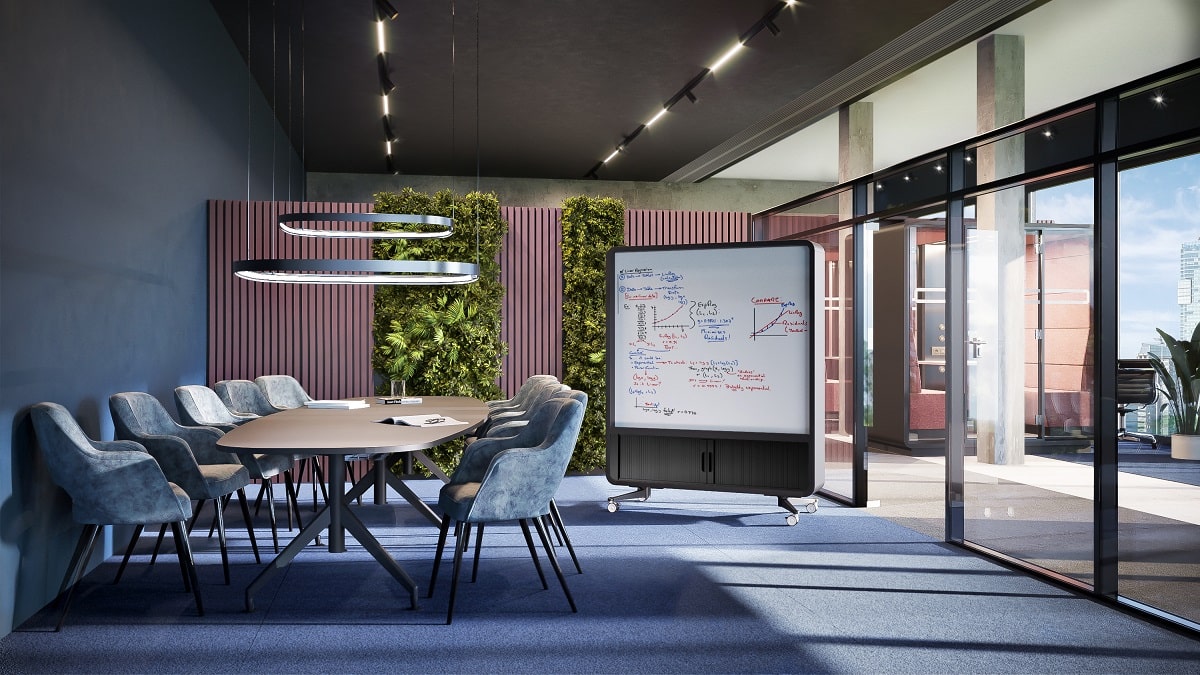 Office zoning – frequently asked questions
How do I redesign my office for hybrid work?
To adapt your office for hybrid work, zone it using flexible furniture solutions like free standing dividers and portable pods. By carving up the floor into multiple zones, each with a designated hybrid purpose, you make the workplace calmer and more structured. Simultaneously, you make the layout pliant since it's outfitted with flexible solutions.
What is a hybrid office layout?
A hybrid office layout accommodates both on-site and remote employees equally well, making both feel included and engaged. It features acoustic call spaces like the hushPhone pod, private video call spaces like the hushHybrid pod, and confidential meeting spaces like the hushMeet pod.
What's the best office pod for hybrid meetings?
The hushHybrid 1-person video conference pod is the best office pod for hybrid meetings. It's acoustic, blocking out office noise and sound-insulating, giving the user speech privacy. The pod also features video call light strips to illuminate the user perfectly.