Agile, hybrid, and flex office spaces are catching on. The idea: bring people and technology together in the most efficient way possible. Consider the following 4 essentials as you become more agile.
Key takeaways: 4 essentials of an agile office
Open-plan benching

Several breakout spaces

Office quiet pods

Places to meet
Open-plan benching
Agile work environments are flexible work environments. They're environments where employees have free reign to work when, where, and how they want to. Open, shared spaces are a crucial aspect of this type of office. They let agility happen at its own pace

– says Mateusz Barczyk, Senior Brand Manager, Hushoffice.
Its low-key atmosphere allows flowing communication between project teams. Transparency among departments. Camaraderie. By design, open spaces are livelier. They're animated by discussion and activity. They can be uniquely dynamic, making them a staple in an agile layout, which caters to change itself.
The open-plan area in an agile office is where much socialization happens.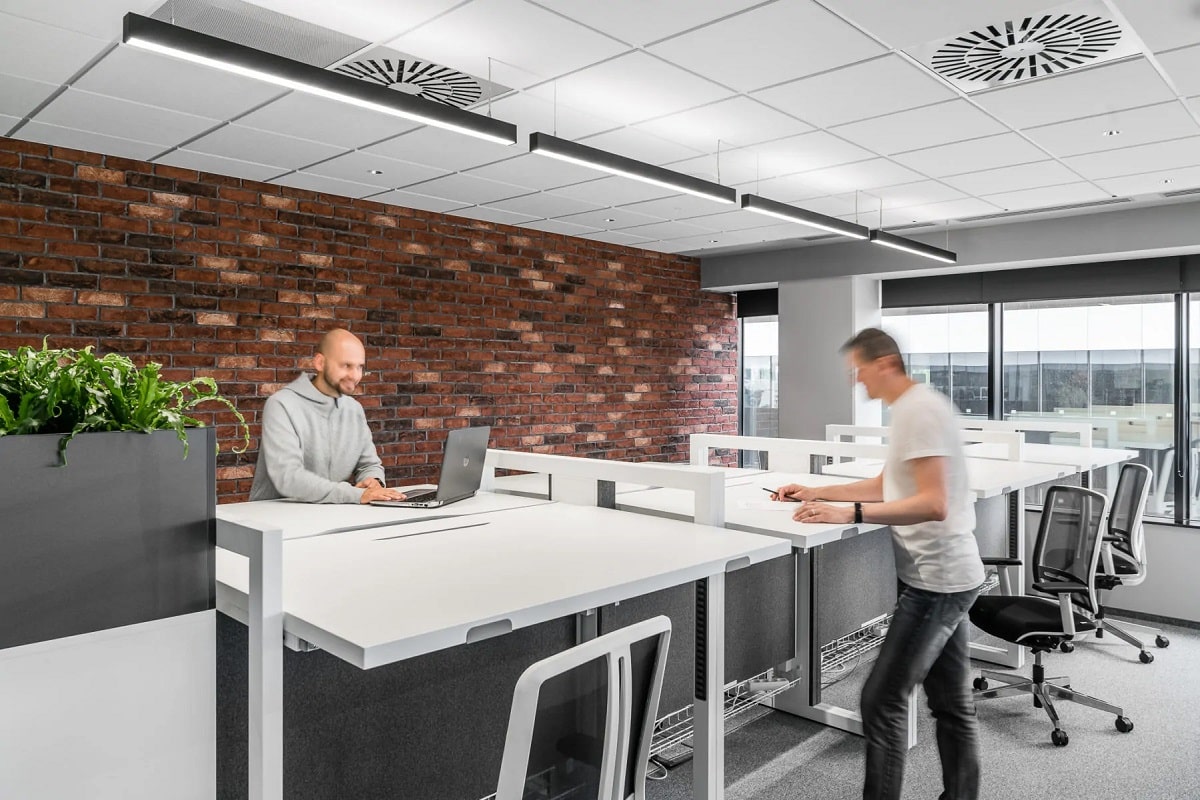 The open plan is also where significant culture happens.
Because it's the main touchpoint for working and being together. It's like a watering hole. Here, people connect. Relationships bud. Energy circulates. A healthy sense of team evolves. Work gets done in the most inspired mindset.
Open benching is space-efficient, too.
You can comfortably fit a high density of workers at compact bench-style desking.
To keep it flexible, pick flexible solutions for your open-plan area….
Flexible equals agile.
● Modular open plan benching that can be easily reconfigured
● Freestanding, height-adjustable desktop privacy panels for acoustic, visual, and architectural privacy
● Mobile office partitions to section off or sub-divide the space as needed (see the hushWall extra large room divider)
● Lightweight, ergonomic computer chairs and office equipmentHeight-adjustable desks (see STAND UP R, a dual-sided workstation system great for benching setups)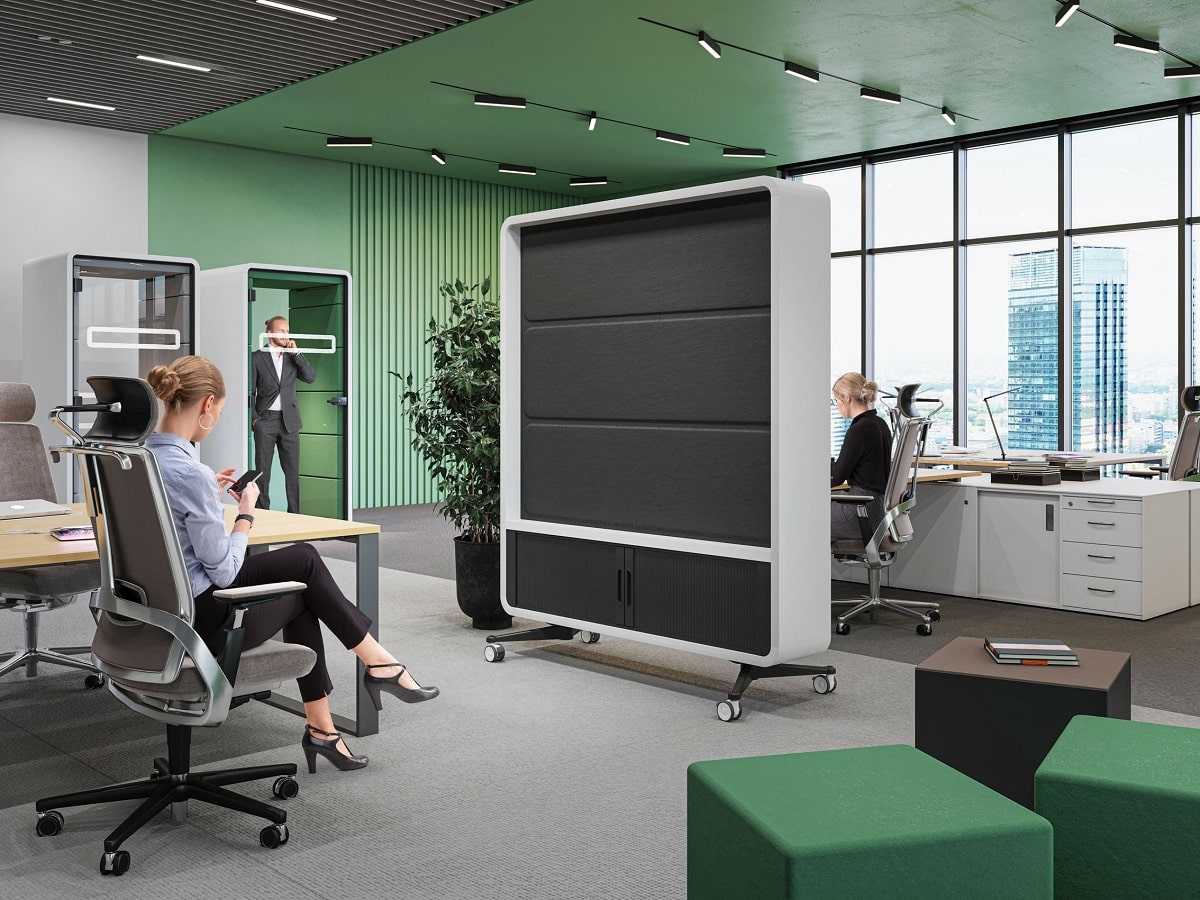 Want more on the topic of privacy? 3 vital types of privacy in open floor plan explained: acoustic, visual, architectural.
Several breakout spaces
Breakout spaces are areas of the office separate from formal working ones. They're an opportunity to "break out" of one's regular workflow, so to speak. Take a breather. Regroup. Return to work refreshed. Employees are encouraged to use the space however they wish.
Well-designed breakout spaces look like modern lounges.
They're inviting. They're cool. They're cozy. They're multi-purpose. A successful one will be used frequently for any number of activities.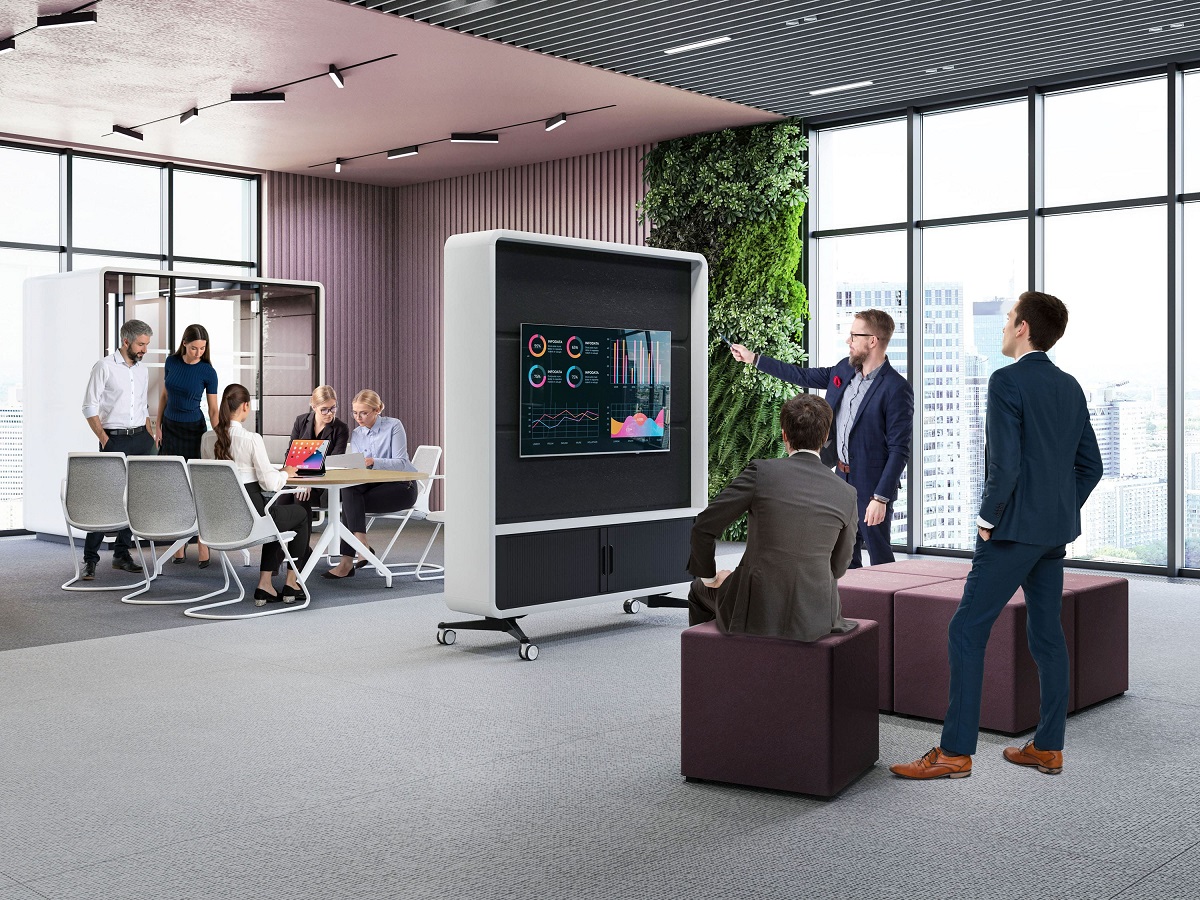 Breakout spaces typify "resimercial." They're homey.
We consider them essential because they're particularly laid-back zones. Thus, they're versatile, accommodating a spectrum of needs — work, rest, everything in between. Because they serve both work and non-work functions, they can assist better work-life balance.
They're different things for different types of people.
To some, they're simply a change of scenery — a welcome getaway from the desk. To others, they're a chance to unplug and socialize. Or, perhaps, get creative in a new landscape. Others consider their breakout space the choice destination for relaxed team meetings (thanks to its fluid quality).
To all, breakout spaces are two things universally: comfortable and convenient.
They must be furnished with welcoming pieces. As is typically the case, a mix is ideal here — try to employ a mix of furniture settings, from cafe-style to bar height. They must also be equipped with all the tools employees need to work and meet at ease. Power modules, rolling whiteboards, you name it.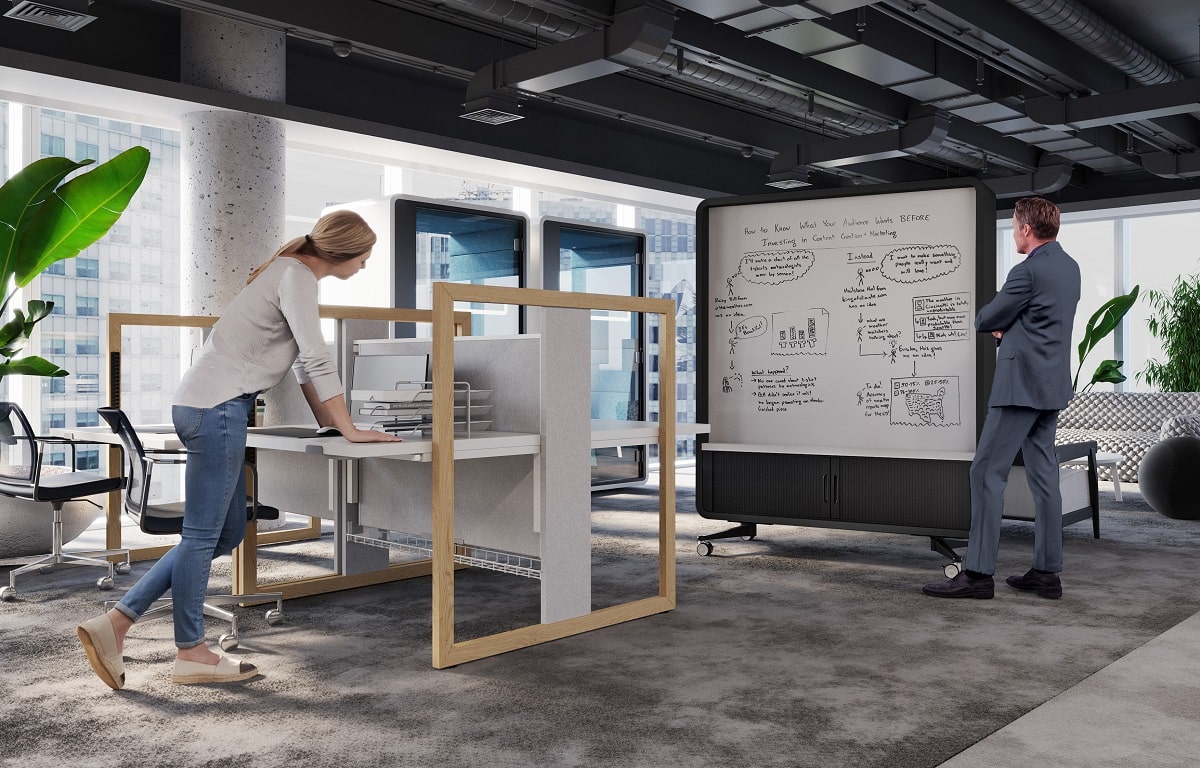 Flexible lounge furniture for the win….
The basics deliver.
● Lounge chairs (see A11 for inspiration)
● Plush sofas and coffee tables
● Bar-height furniture settings for dining or conversing
● Lightweight cafe tables and stackable chairs for easy rearrangement
● Office partitions and dividers for space-division
Office quiet pods
Privacy. Peace. Productivity. In an agile office, quiet pods for offices are needed for heads-down work. They're the essential refuge from activity on the floor.
Acoustic office pods and booths are suitable for confidential matters.
They make terrific touchdown spaces, too, because they're fully furnished for quick use. Employees can jump in and tackle tasks at the drop of a hat. A quality office pod or isolation booth is also finely engineered for focus. Check it out: What does privacy actually feel like in an office pod?.
A pod for every task; maximize the office's functionality.
Pods are task-specific. Office call booths like hushPhone, for instance, are for private calls. They give the user speech privacy and intelligibility. At the same time, because they trap noise made inside, they prevent distracting "halfalogues" from leaking onto the floor.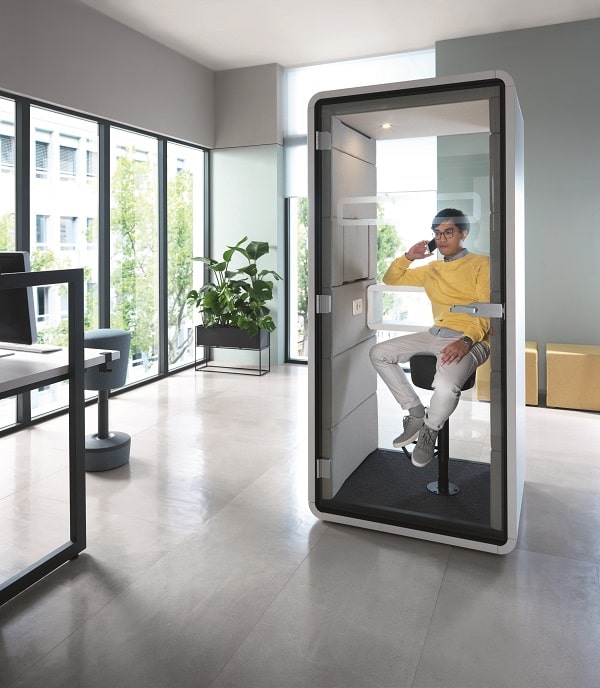 Small meeting booth pods like hushMeet are for private meetings.
Acoustically perfect, they allow teams to speak as freely and loudly as desired, at no risk of bothering others outside the pod. The list of pod types goes on to include pods for video calls (like hushHybrid) and pods for conferences of up to 8 people (like hushMeet.L).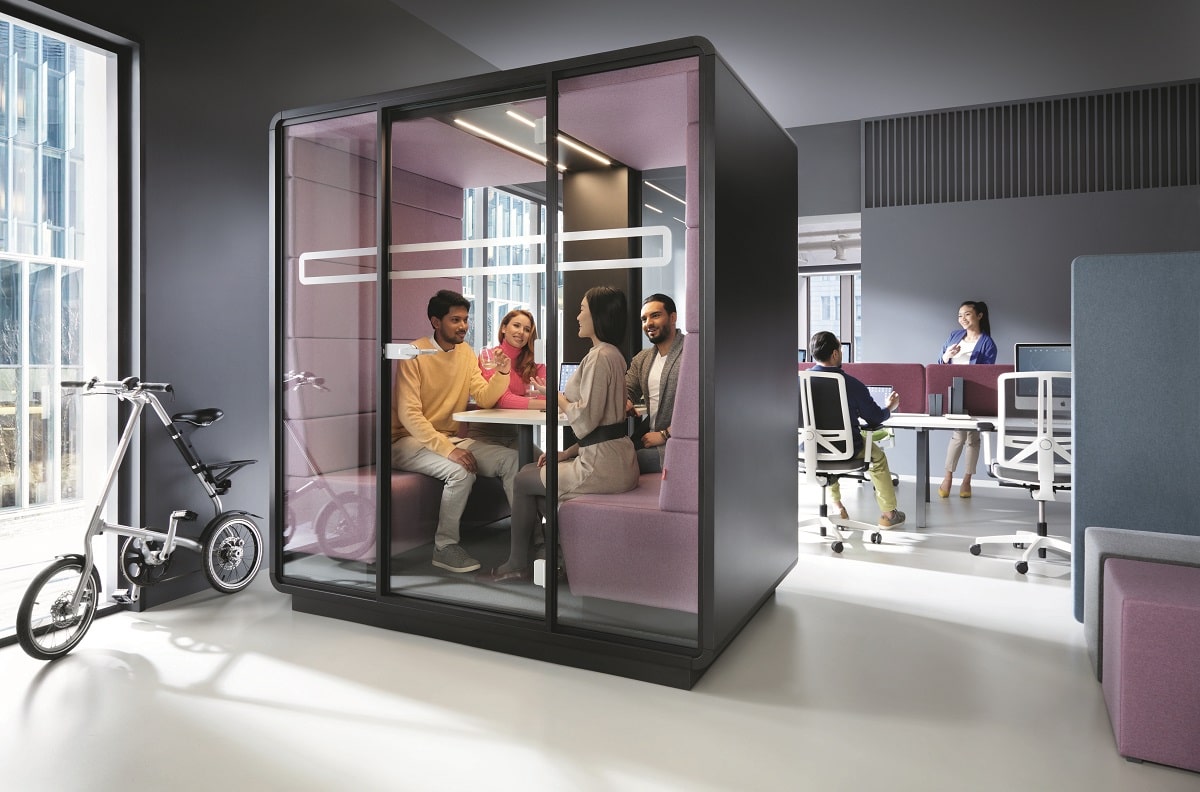 Mobile office pods work well in an agile space because they're flexible.
The goal of anyone adopting an agile work model is to become a more responsive organization. The office can support this responsiveness. Flexible furniture plays a considerable role — desks, dividers, and pods which are mobile, adapting to change

– says Mateusz Barczyk, Senior Brand Manager, Hushoffice.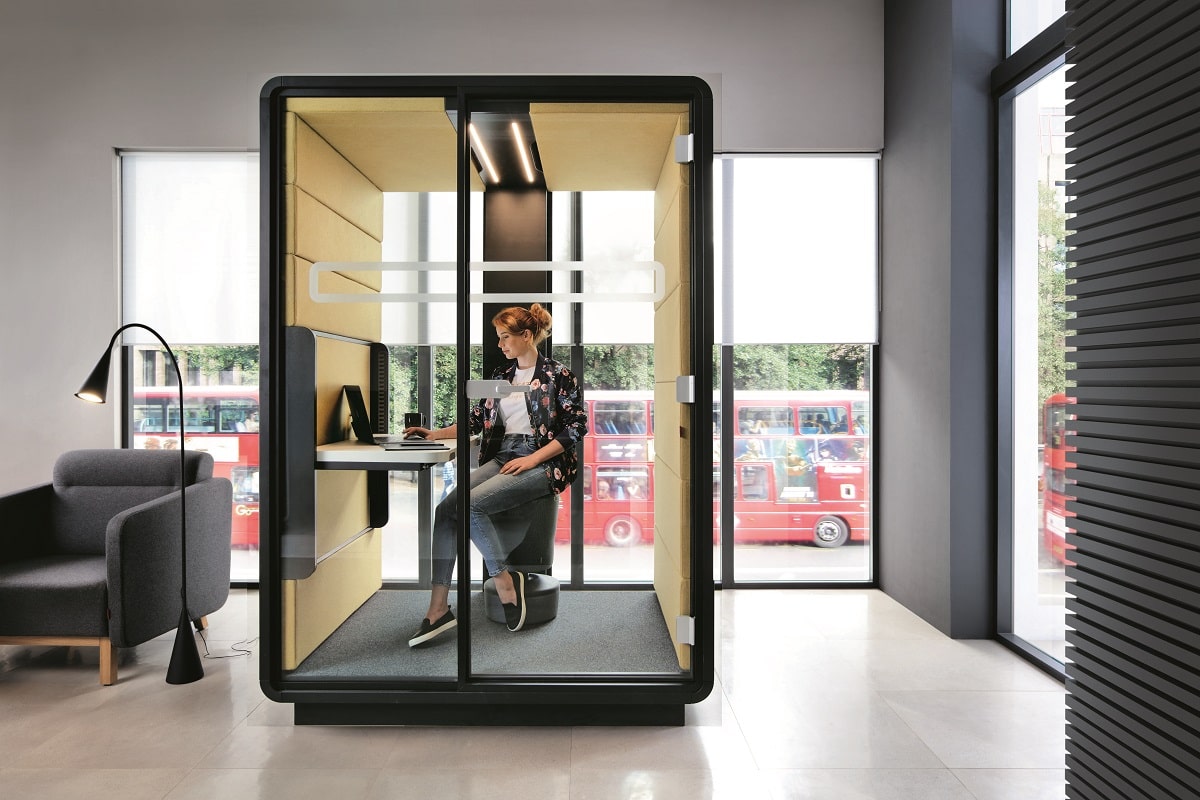 We spoke recently about how the agile office must be flexibly designed (using flexible furniture). This way, it accommodates the evolving needs of our evolving work world. Pods fit the "flexibility" bill in several ways. They are super compact, for one. They deliver a lot of function within little square footage.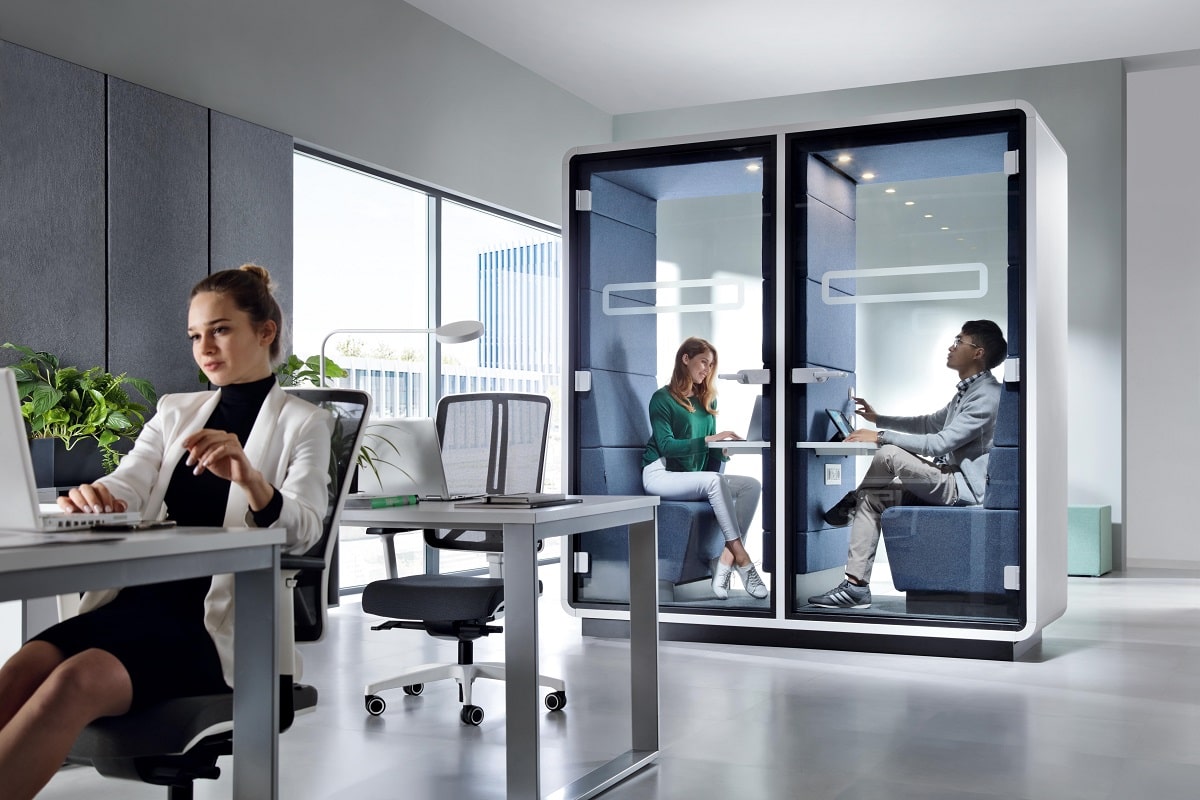 Pods are mobile. Relocate them without breaking a sweat.
They make the layout adjustable. They also divide the floor plate. Most office pods are 7-8 feet tall, functioning as large partitions (in addition to being freestanding workrooms). Most importantly, they give employees excellent places to work in partial isolation from the floor. They're great assets for an agile team.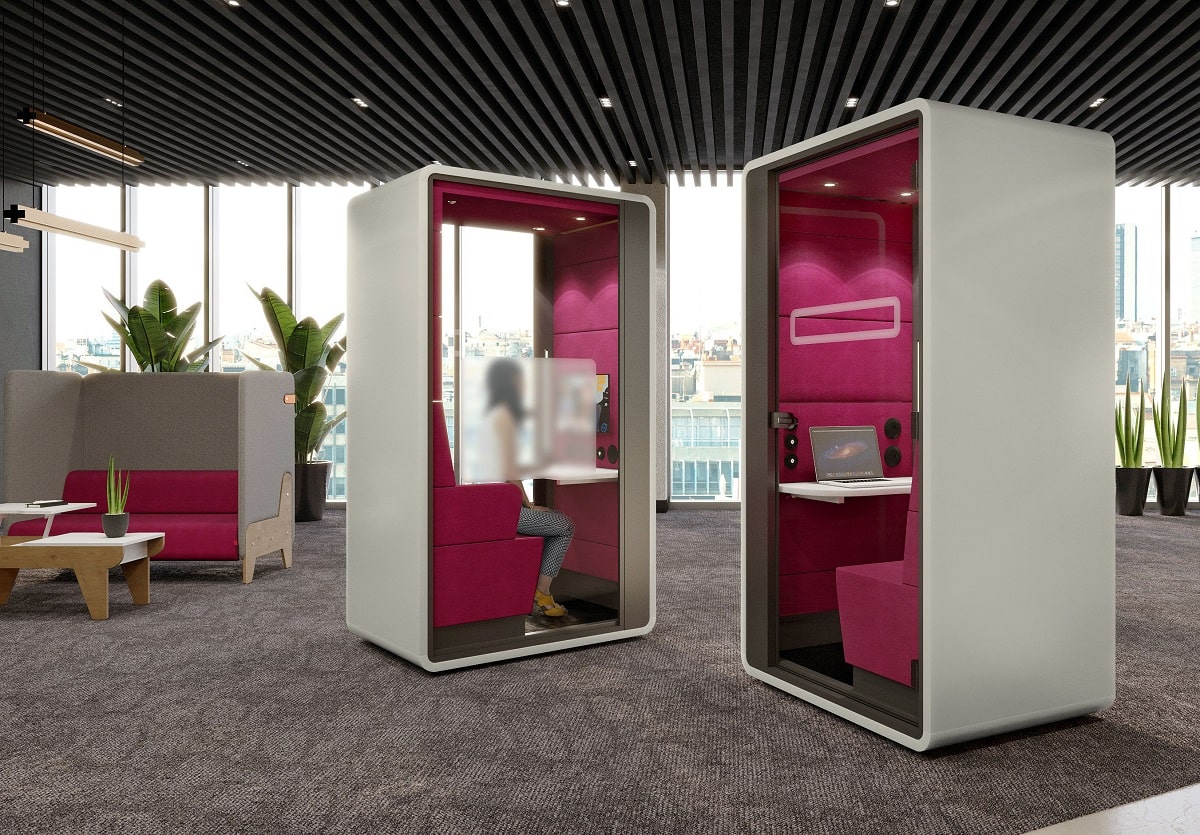 A variety of pods satisfies a variety of needs…
From phone calls to video conferences.
Places to meet
This one is obvious. But all-important. Hence its mention. Fact is, meetings are a cog of modern work. And they take many forms. Thus the agile office must feature a range of adequate meeting spaces.
Short, focused scrums. Long, unscripted talks. Daily huddles. Client meetings. Hybrid calls via video. Meetings are many in a hybrid world. The agile workplace must offer a scope of spaces to support a scope of meeting needs

– offers Mateusz Barczyk, Senior Brand Manager, Hushoffice.
A selection of meeting spaces for a spread of meeting formats.
Think private meeting cabins for sensitive conversations. Wrap-around booth seating for casual ideation. Large acoustic conference rooms or booths for formal gatherings. Name your need; we bet "there's a pod for that."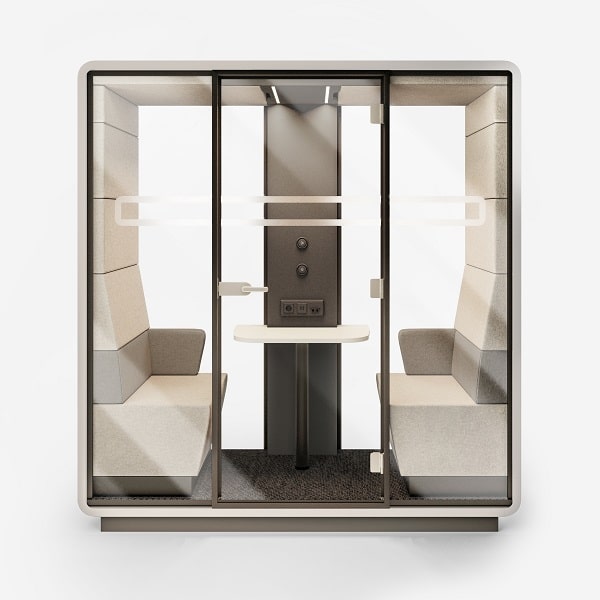 For more inspiration, check out our recent post: Mobile furniture, the flexibility an agile office needs.
So… what makes an agile workplace work?
Variety. Aim to create a variety of spaces in the office. We consider the 4 mentioned here to be essential.
Variety caters to varying employee preferences.
A critical factor! Preferences are highly individualized per personality type, cognitive functioning, and even job role. By catering to varying preferences, you create a more inclusive and universal office that's ultimately more effective, boasting better work. Read more on the important topic of universal design: Office design for a neurodiverse workforce.
Summary: 4 essentials of an agile office
Open-plan benching

Several breakout spaces

Office quiet pods

Places to meet
Agile office and pods – frequently asked questions
What is an agile office?
An agile office is highly flexible by design. Modular open plan benching, portable isolation booths, freestanding desktop privacy panels, mobile office partitions, lightweight tables, stackable chairs. Its flexibility empowers employees to work when, where, and how they work best.
What is agile furniture?
Agile office furniture is flexible above all else. Portable, stackable, reconfigurable, modular, and/or height-adjustable.
How do you create a breakout area?
First, build a foundation using welcoming furniture pieces. A mix is ideal here — try to employ a mix of furniture settings, from cafe-style to bar height. Then equip the area with all the tools employees need to work and meet at ease. Power modules, rolling whiteboards, you name it. Make it cool, cozy, and multi-purpose.