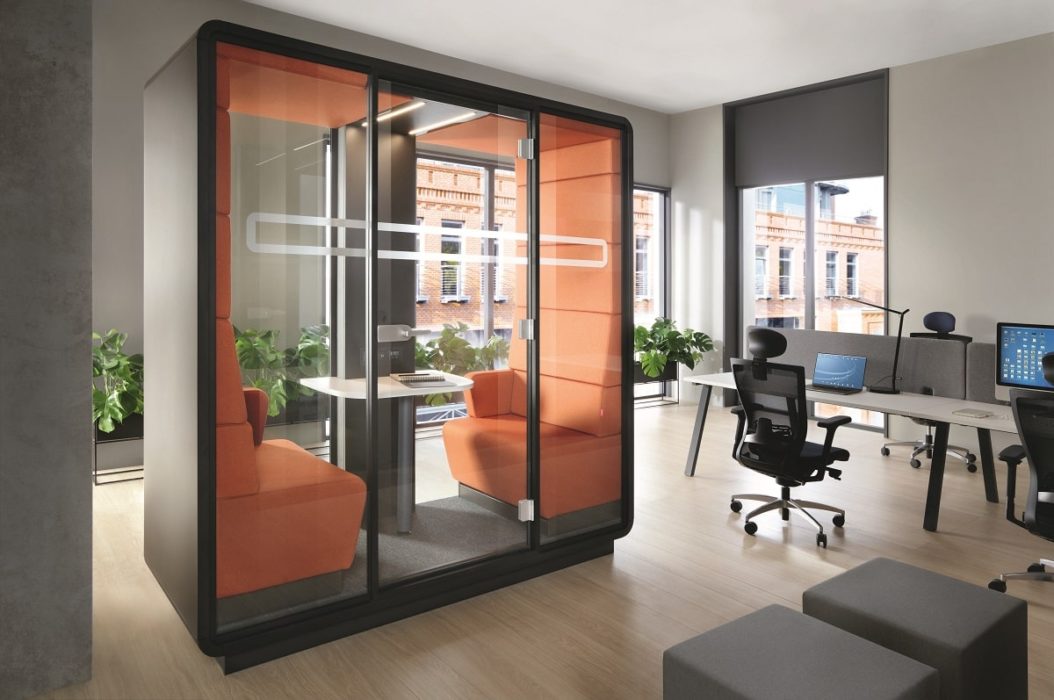 HR is the glue. The vital link between executives and employees. Their part in the roll-out of hybrid working policies is therefore massive. They're the ones understanding strategic organizational needs, listening intently to staff preferences, and developing the systems and processes to harmonize both.
The challenges are clear. How do I ensure effective communication? Collaboration both virtually and in person? How do I maintain accountability? How do I protect my employees from burning out at home? How do I keep remote workers on equal footing with on-site workers in terms of feedback and information?
A lot to think through. The following guidelines will help orient your mind as you craft a unique approach to hybrid work.
Quick look: 5 guidelines for HR managers — hybrid working
Get to understand your workforce's wants first
Define clear expectations
Shoot for seamless connection on-site to at-home
Leverage the office's social functions
Set aside one-on-one time with managers
Aim for "employee-driven" hybrid working. Get to understand your workforce's wants first.
We see hybrid working as an enormous opportunity — a chance to tap into the unique capital of our workforce by empowering each employee to choose when, where, and how they work. A flexible work practice that's tailored to employee preferences will ultimately elevate talent

– says Mateusz Barczyk, Senior Brand Manager, Hushoffice.
Understanding your workforce is the first step. Survey your team — learn how many days per week they prefer to work in the office, from home, etc. Gauge emotions as well — concerns and stress points. Have a long talk. Getting to know hopes and worries well will help you craft a keen working strategy. A mix of open and closed-ended questions is ideal, spurring valuable conversations filled with insight.
Sample employee return-to-work preferences survey
Ideally, how many days would you like to work in the office per week?
What do you like and dislike about working at the office?
What do you like and dislike about working from home?
How do you feel about returning to the office? What are your hopes? Excitements? Concerns?
What office retrofits, investments, or protocols would make you feel more excited or safer about returning?
What did you miss most about the office?
What did you like and dislike most about the office most pre-2020?
What is your home office setup like? Is it inadequate in any way? What would improve your home working experience?
Open space office noise an employee complaint? Consider soundproof office pods — they eliminate office noise for good, allowing productivity to flow for on-site employees.
Pods are an effective office noise solution because each pod is built for a high-volume hybrid work task. HushPhone is a soundproof phone booth for quiet calls. HushMeet is an office meeting booth for 3-4 person meetings. HushHybrid is a video call cabin for video conferences. HushWork.sit&stand desk pod is a private, height-adjustable workspace for heads-down focus. Because they're all acoustic, a fleet of office pods eliminate office noise by trapping those worst sources of it — calls, meetings, and video conferences. All the while, the employee enjoys a perfect space for the task at hand… peace and quiet for a successful call in hushPhone… or premium lighting for a high-quality video conference in hushHybrid… or engineered ambiance that conceals all meeting noise so attendees can tune in and make as much as much ruckus as they wish in hushMeet…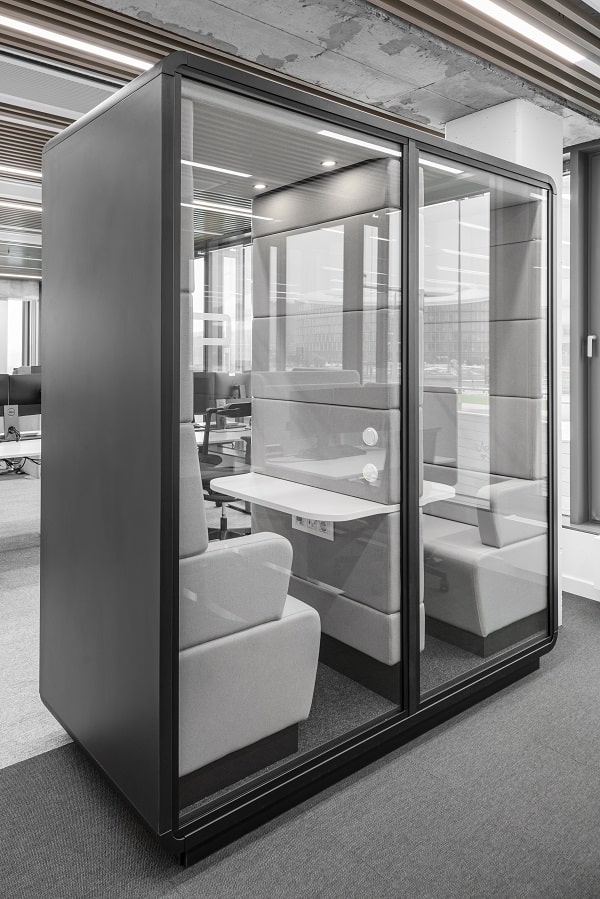 Define clear expectations.
Clear expectations are key to success. Everyone on your team should know what's expected.
Components of a hybrid working policy
What formal working hours will your organization implement?
What is your official flexible work hours policy?
Is your remote team expected to be "on the clock" during a certain window?
How many days are employees required to work from the office, if any?
Are project teams required to attend daily or weekly scrums? Bi-weekly department meetings? Monthly team social outings? One-on-ones?
What rules govern office hours? After-work emails? Breaks?
How will you support remote workers?
How will you communicate new policies?
Review the full scope of the employee experience — on-site to at-home. Shoot for seamless connection across the two.
STEP 1: Give each employee the gift of an ergonomic, productive home office setup
At home, employees should have a quality desk, an ergonomic chair, an external monitor or laptop riser elevating the screen to eye-level, and an external keyboard and mouse that allow natural typing and computing postures (~90° elbow bend). Shorter employees may benefit from a footrest for healthy leg circulation. If anyone struggles with eye strain or headaches, bluelight-blocking glasses are another simple product well-worth the small investment.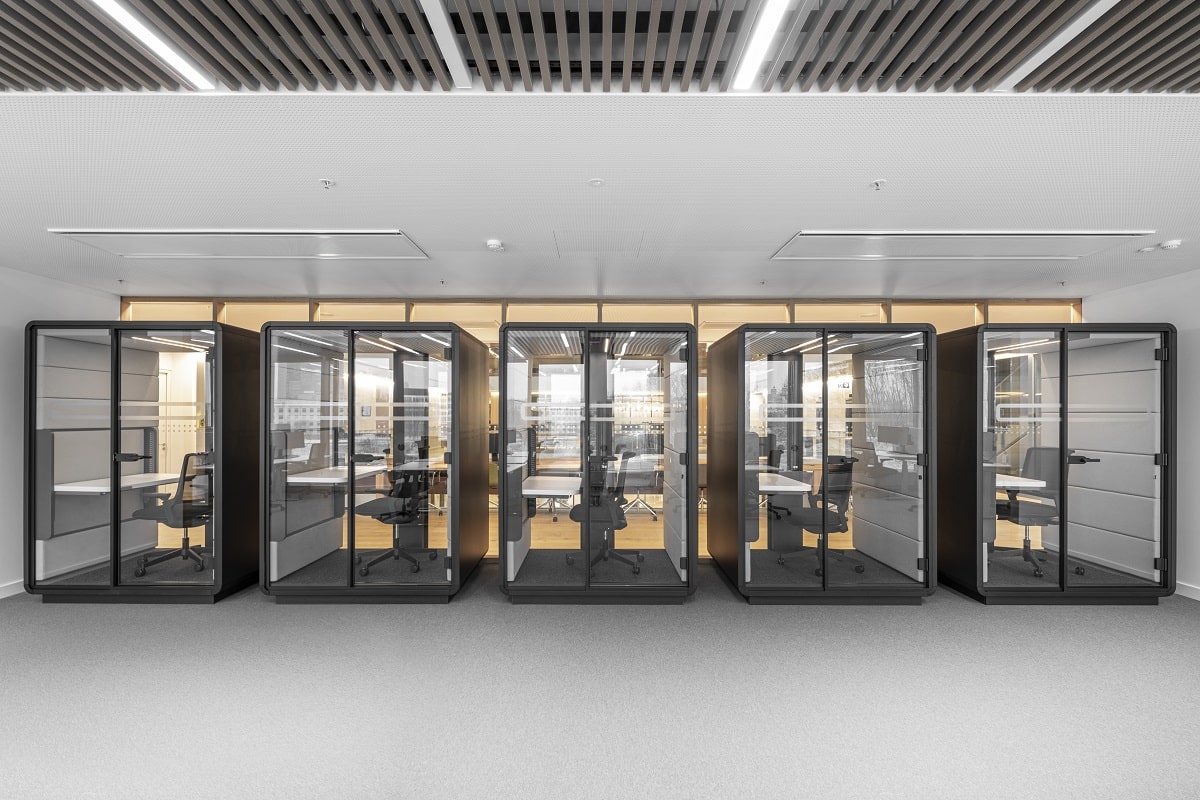 STEP 2: "Hybridize" your office with the right work and meeting spaces to fully bridge the virtual gap
Communication and collaboration are challenged in a hybrid world for obvious reasons. Namely, meaning and emotional tone can be lost when the mode of connection is virtual.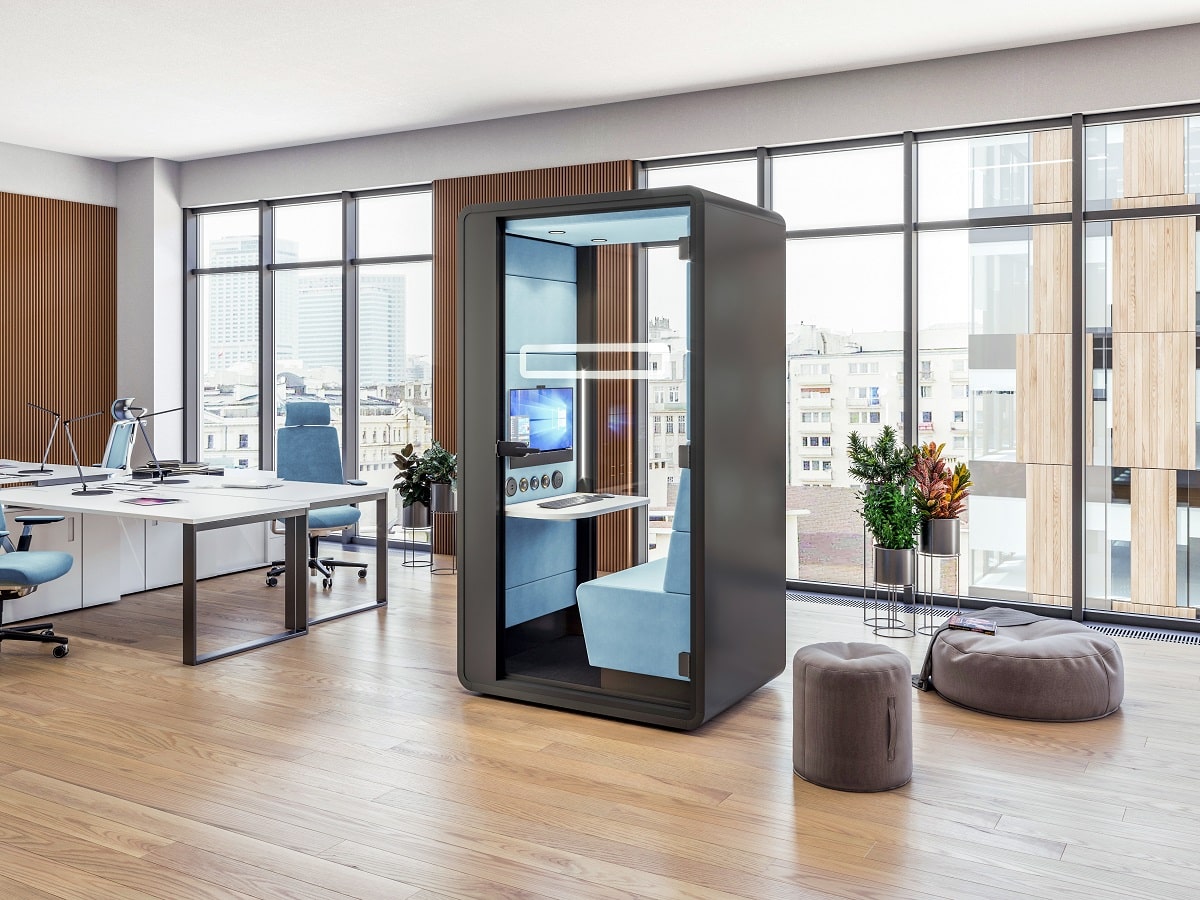 Excellent meeting, working, phone call, and video conference spaces help bridge the virtual gap. If your open office is chaotic, noisy, or lacks privacy, these spaces should be soundproofed and private — and are absolutely crucial. Essential hybrid office environments include high-quality one-person video conferencing spaces, conference rooms seating 4-8 employees, private 1-on-1 meeting spaces (see: hushMeet.S), acoustic 4-person meeting spaces, and office phone booths for private calls. Check it out: 5 essential hybrid office investments.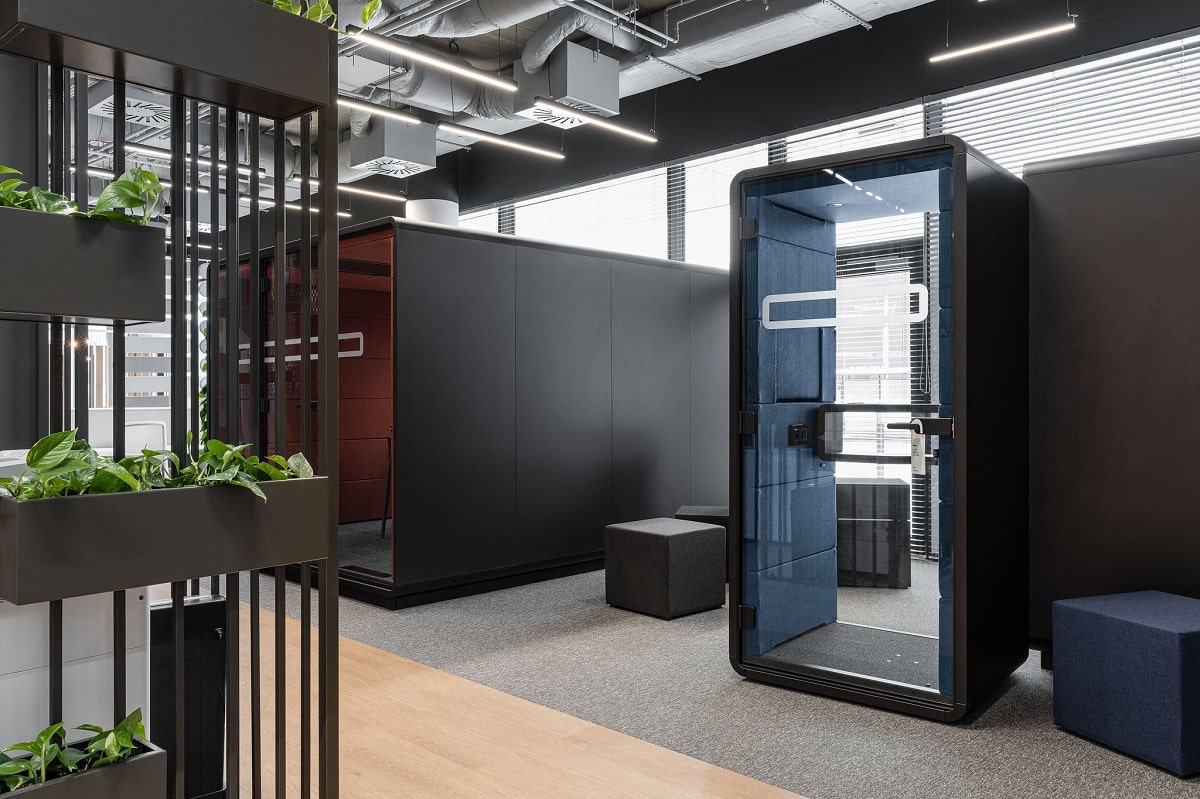 STEP 3: Prioritize mental health & well-being when planning for hyrbid working
Future Workplace's 2021 HR Sentiment Survey reveals that employee mental health and well-being comprise the top priority among forward-thinking HR leaders. To follow are fundamental ways to support both in a hybrid world.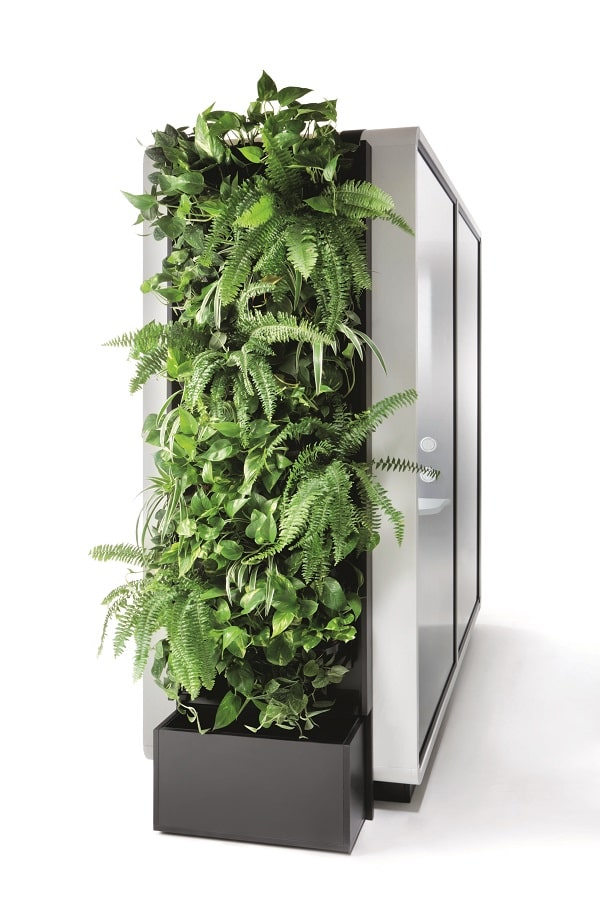 Empower the individual…
Bringing home our first guideline. "Employee-driven" is the wisest approach when wellness is the north star. When people are listened to and understood, they're empowered. They have the ability to harmonize work and life. A more integrative approach results, producing better results across both. In fact, Gartner finds that businesses with high degrees of flexibility are almost 3X more likely to see high employee performance.
Reduce office noise…
Office noise is a serious stress point that can contribute to burnout. As mentioned above, office pods are a worthy noise contender because they trap and eliminate the primary sources of it. And because they're enclosed or semi-enclosed, they also reduce bothersome visual stimuli, which can be equally stressful.
Once you've eliminated the primary sources of noise, portable acoustic panels, soundproof foams, sound absorbing paint, and other interior fixes like ​​sound dampening curtains and fabrics can help perfect the office's "soundscape," zone to zone. Read about the important link between office noise (and other distractions), stress, and burnout: Is the open space a source of office burnout?
Give employees more privacy in the office…
Privacy in the office is correlated with job satisfaction and performance. This is because ​"architectural privacy," or the feeling of privacy at, say, one's workspace, affects "psychological privacy," or sense of control over oneself. In layman's terms, privacy makes employees feel well; productivity flows from a state of wellness. Thus employees need access to on-demand private spaces at work.
When a teammate needs to take a personal call, they should be able to simply jump in a phone booth or small meeting room. When they need to connect one-on-one with their supervisor for a sensitive discussion, they should be able to easily meet up in a 2-person booth like hushMeet.S (or similar private environment). When an employee simply needs peace and quiet for focused work, they should be able to set up shop in a personal workspace like the kind hushWork.sit&stand offers.
So ensure your teammates are never fighting over limited spaces or forced to step outside for calls — or, worse yet, taking their calls or meetings on the open floor. Privacy is foundational.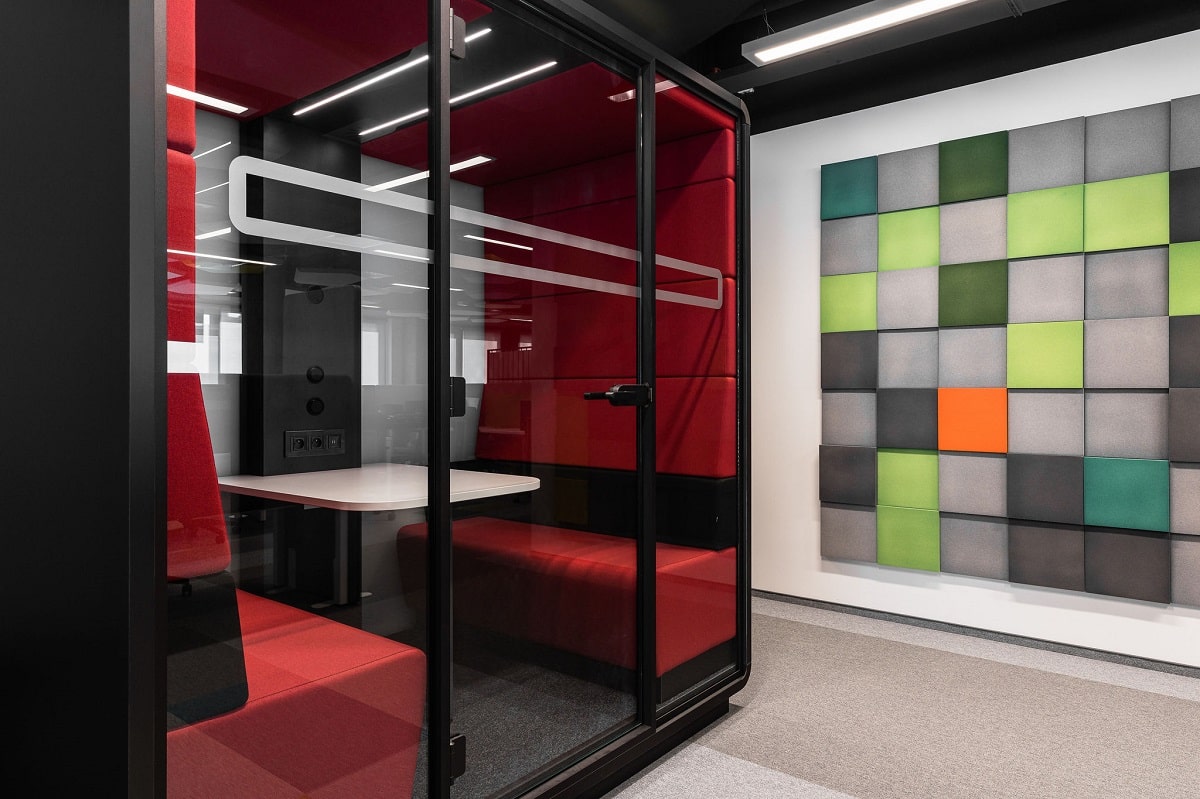 Boost workplace autonomy…
Autonomy is also central to wellness. Employees with higher levels of autonomy in their work report positive effects on their overall well-being and higher levels of job satisfaction. Because pods, booths, and other enclosed workspaces give employees autonomy over their work environment, they're one of the most powerful investments in open-plan office wellness.
See, not only does each pod lend quiet and privacy — pods are also fully featured, with adjustable lighting and ventilation. In a pod or booth, the employee has control over every basic environmental aspect of their workspace: sound, light, visual stimuli, and ventilation.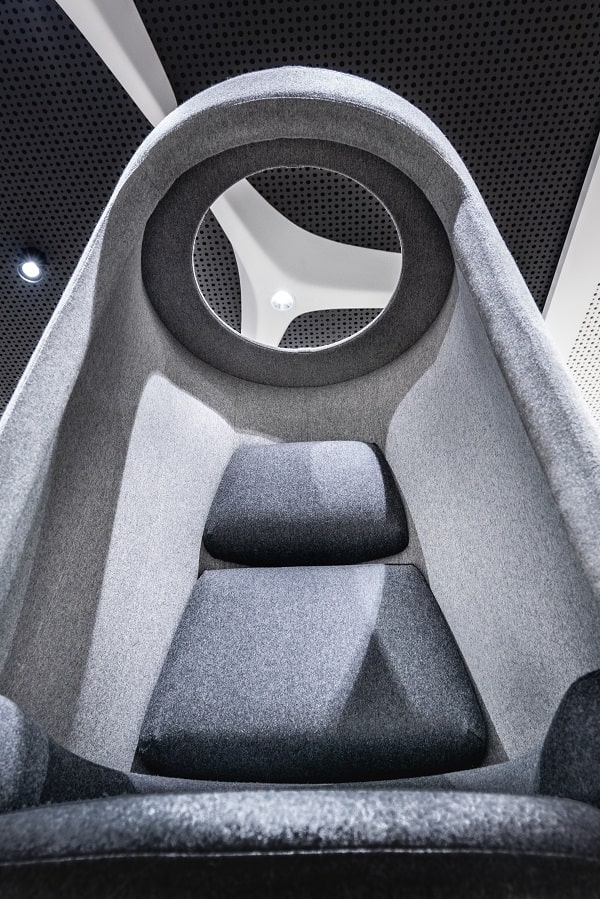 We're social, emotional beings. Strong social, emotional bonds make for happier, healthier, higher-quality working

– offers Mateusz Barczyk, Senior Brand Manager, Hushoffice.
Part and parcel of effective remote working is an office that fully supports social functions. This is because the office fosters those raw, candid moments that form relationships. And relationships produce better work on the back of higher morale. In fact, work friendships can double employee satisfaction by 50%, and employees with a best friend at work report being more engaged. Socialization simply gives meaning to work and life alike. The real, human elements of physically being together, of catching up, sharing the latest, and brainstorming ideas are what balances out the remote nature of working from home.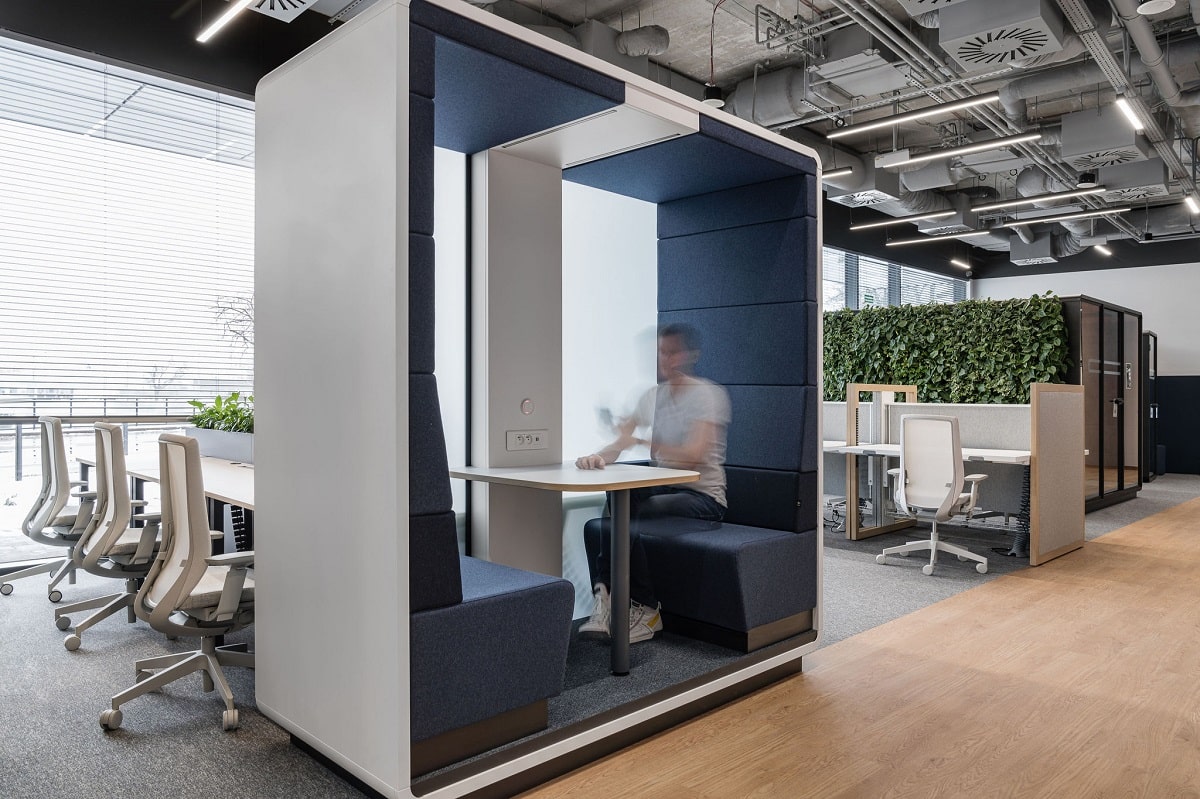 Read more about this timely topic: What is the office's role in a hybrid work world?
Let's talk germs.
Prior to 2020, workers in open-plan offices were taking 62% more sick days than those in traditional layouts. This comes as no surprise considering that without dividers, panels, or walls of any sort, germs have free reign in a workplace.
And of course, germs aren't the only open space factor affecting health. Open office noise also contributes to stress — and stress weakens the immune system. Lack of privacy also contributes to stress, as mentioned above. The great news is, a solution like a work pod is a three-for-one. For one, pods can be much more sterile than the shared workspace. As an example, all commonly touched surfaces in Hush booths are covered with a nano-photocatalyst coating which prevents the development of viruses and other microbes. Titanium dioxide in the nano-coating catalyzes reactive oxygen species under light, oxidizing viruses, bacteria, and other organic contaminants. In short, the booth's frequently touched surfaces are kept virtually sterile. At the same time, each booth is eliminating office noise and giving employees privacy. Three stress points biting the dust in the name of wellness!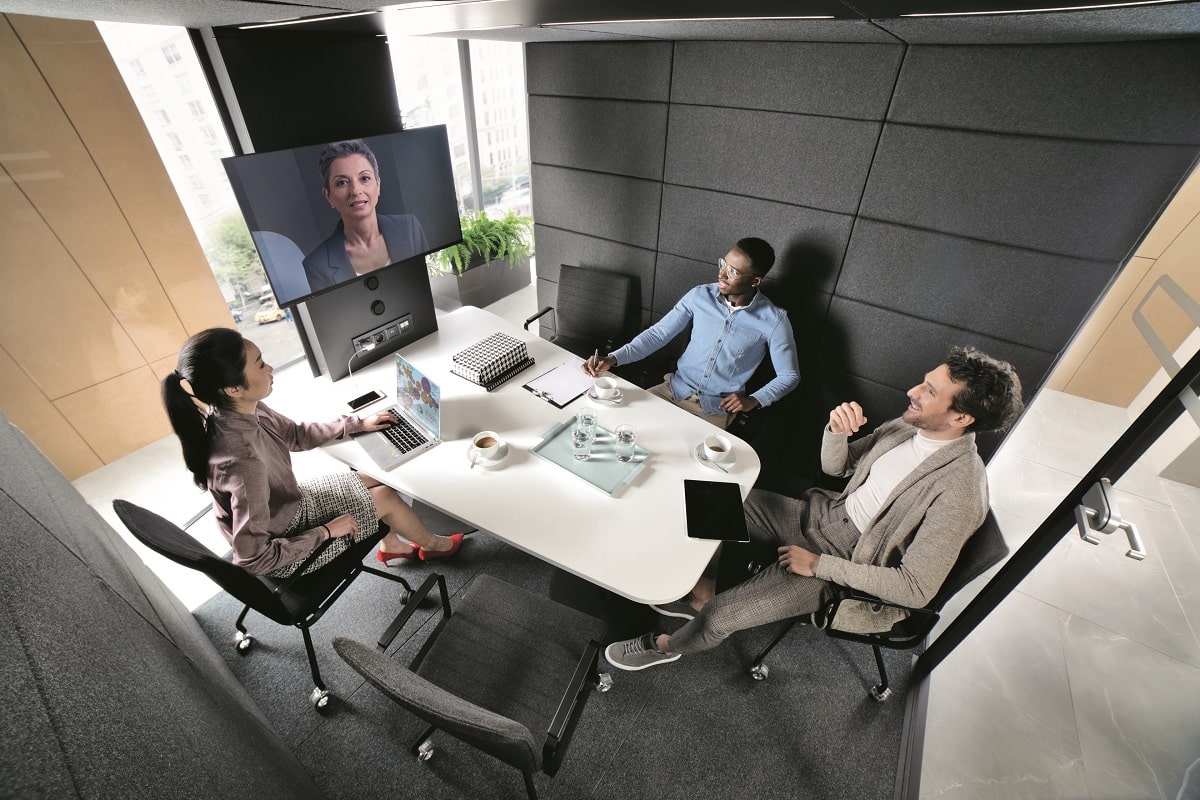 Set aside monthly one-on-one time with managers.
Performance management, coaching, mentoring, training, and so on. HR managers influence every "people" aspect of business. They need adequate environments in the office to meet with team leaders one-on-one

– says Eliza Donek, Product Manager, Hushoffice.
Identifying and fully understanding hurdles is hard enough. Devising and implementing the right changes is another ball game entirely. Making "hybrid" work for everyone will require our best teamwork, no doubt about it. Devoted one-on-one time will therefore be pivotal in the months to come. Managers will need consistent support and training. 1:1s are also an excellent time for managers to meet with team members independently. As manager visibility is inherently less in a hybrid world (with teammates working remotely a portion of the time), 1:1s will become an indispensable time to touch base.
Sample survey — meeting one-on-one with managers
How can the office better support your remote team members? On-site team members?
What struggles are your team members encountering at home? In the office?
Do you feel your team members are more or less engaged when working from home?
What was your team's greatest accomplishment this month? Greatest challenge?
What frustrations do you encounter in the realm of collaboration? Communication?
What challenges are you facing in the oversight of employees? Are you having an easy time tracking progress?
What components of our new policy do your teammates like and dislike?