Posted on: 13 February 2022
By: Hushoffice Team
We just debuted hushWall – the extra-large, high-design rolling office partition. A mobile wall. Double sided for dual function. Looks great. Agile. Brings privacy to open spaces. Works brilliantly for a plethora of setups.
For inspiration, let's cover three typical use cases.
Take me to hushWall's product page instead.
Use Case #1: A versatile office partition for HR training…
The HR director recently implemented weekly team training. They needed a functional space that was semi-enclosed. Cozy for employees. This way, attendees would be somewhat cocooned — at home and in their element.
Distraction-free space = stronger presence.
With everyone settled in and engaging with an open, unblocked mind, presence would endure. The key piece. Training sessions can be an hour and a half long. And fitful focus hampers forward motion. So presence was vital.
Need to create productive zones in the open office? HushWall does the dividing.
The director also needed a whiteboard and a TV for various group activities. And, most importantly, the space had to be a breeze to set up. They rarely have a minute to spare.
Enjoy the basic features needed for group work.
Fortuitously, their manager invested in a hushWall mobile wall last quarter. And it instantly became the best product for the job. It's multitalented and fuss-free. It provides every aspect of excellent training sessions. A whiteboard. A TV. Space division. And quick, convenient use.
A mobile office partition that responds to the moment's need.
HushWall is the portable, double sided space divider for open offices. Either side is customizable with one of three options. The standard felt is available in a selection of modern tones. The modified felt features a space to mount a TV bracket. And the whiteboard is the ubiquitous staple. It's an agile product for an agile workplace

– says Eliza Donek, Product Manager, Hushoffice.
When their custom-built hushWall arrived, the director swiftly equipped its modified felt side with a company TV. So the divider always sits ready for training day. No recurring technical troubleshooting here.
Wonderfully multifunctional. Totally mobile. HushWall room divider.
They instinctively "vibed" with hushWall's reversible design and its utter portability. Thanks to both qualities, they're setting up employee training spaces in a jiffy every time. They just roll their handy hushWall to the breakout area, cast the video from their laptop, and proceed.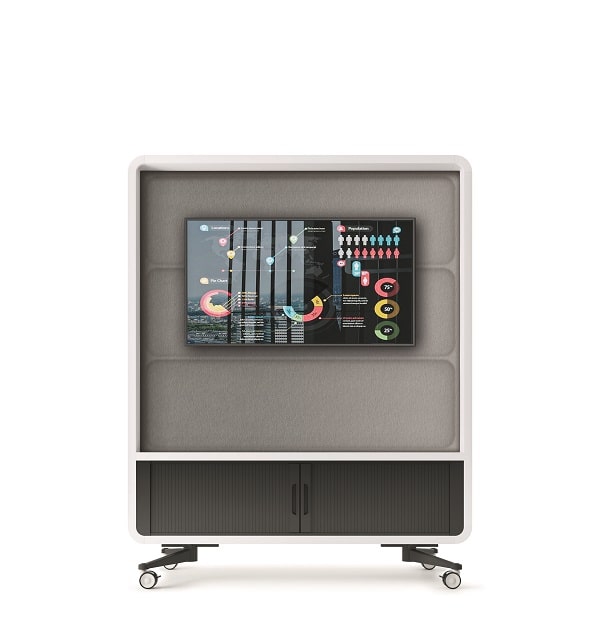 Fluid office rearrangement. Fluid group meetings.
Fast forward to three training sessions later? Each session has proven more fluid and fruitful than the last. Thanks in part, of course, to hushWall's readiness.
It's a portable whiteboard for tactile learners and visual thinkers.
The training includes Q&A sessions and small workshops at 15-minute stopping points. At every stopping point, the director simply pauses the video. They flip their hushWall around to use its backside — the whiteboard. It's an essential tool.
HushWall does it all.
With dry erase markers at the ready, the team organically takes notes and draws pictures as they ask and answer questions. They complete several thought exercises. The tactile quality of writing as a group boosts engagement. Everyone gets properly enthralled by the content.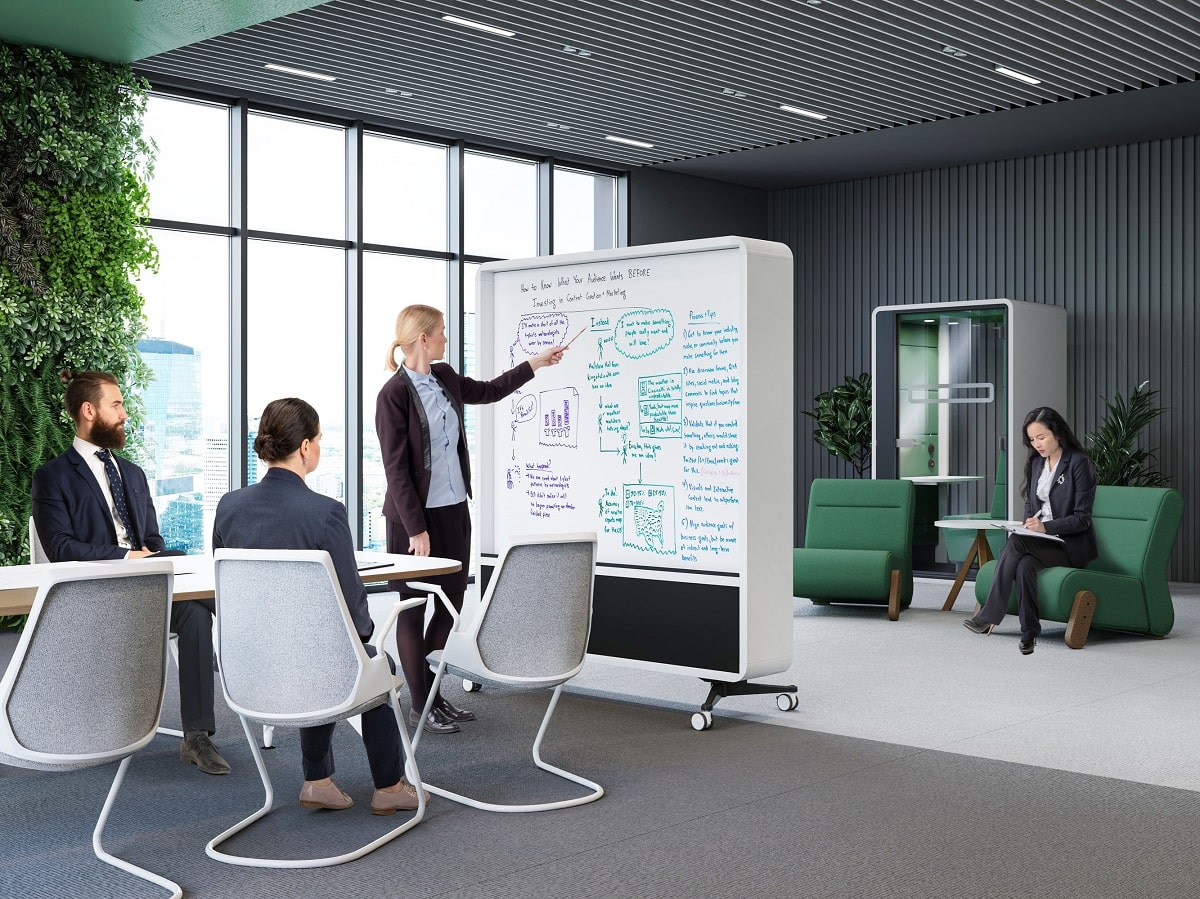 Perfect for small group settings.
Because schedules vary, the HR director has had to train employees in blocks throughout training day. About 5 people at a time. This means they are setting up and breaking down the space numerous times in one day.
Set up and deconstruct work spaces without breaking a sweat or wasting a second.
And because hushWall castors glide smoothly, there's virtually no "set up" or "break down" in actuality. They just roll their hushWall to the best space for the task. They corral their team around it. They get to it and debrief. And they roll their hushWall back to its home base when breaking.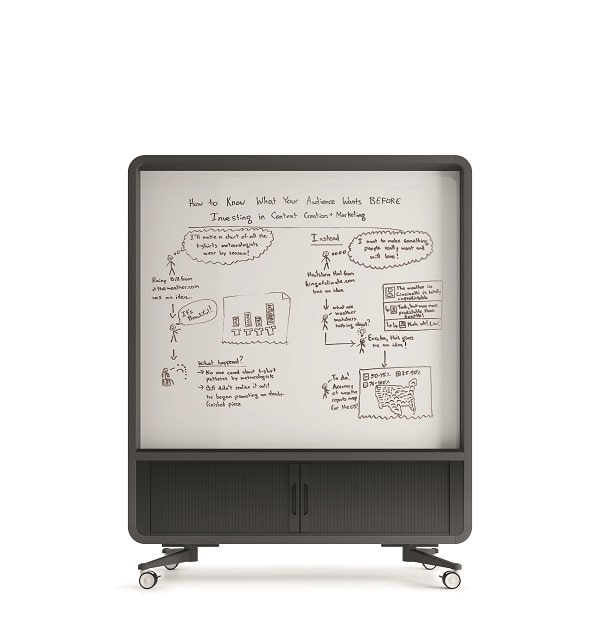 Our office partition creates semi-enclosed work areas that are as effective as they are temporary.
Because it's large, hushWall also partially flanks the team when in use. So everyone is comfortably enveloped in a human scale space. And this space is undisrupted by open floor activity.
Attention rarely wanes during training sessions with hushWall.
People freely share ideas, no matter how rough. No one is self-conscious of being watched by others in the office beyond because their small group is pleasantly hemmed in by hushWall. By blocking visual distractions out while encircling the crew, the privacy divider turns commotion into calm.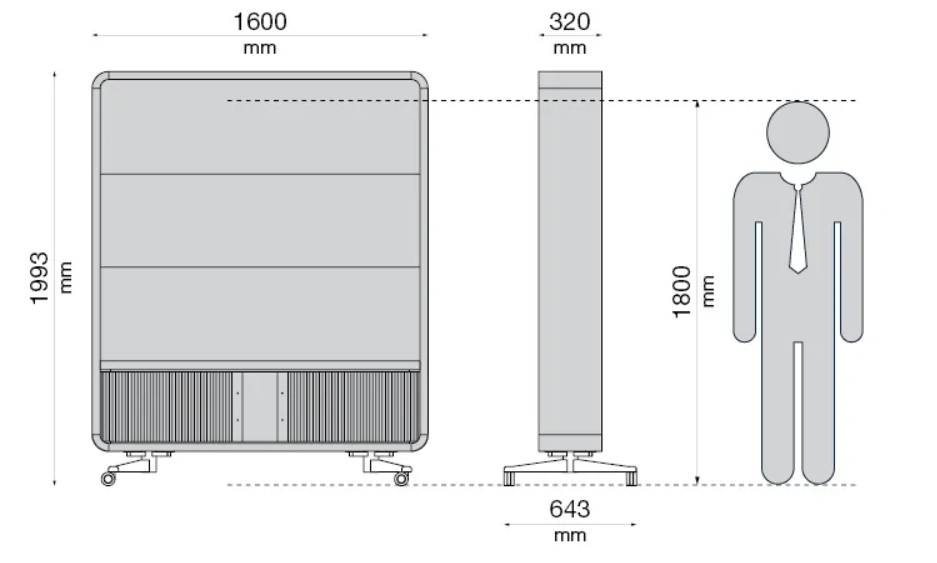 Put an end to the awkward fight over limited meeting rooms.
HushWall works beautifully for this particular marketing team's case because it allows the director to set up a small team hub in a wink. A hub that functions. Colleagues are no longer fighting over the best meeting rooms. Or using an entire conference booth inefficiently. With hushWall, forming high-quality, temporary hubs is easy and satisfying as pie.
Use Case #2: A double sided whiteboard for the sales team's workshops…
The sales team has come to love their hushWall portable dry erase board for two chief reasons. First, it flanks the open work lounge area, separating it from the office's moderate chaos. So reps enjoy a peaceful, productive environment as they meet and mingle. Second, its whiteboard is apt for mapping out and revisiting the big picture — which the group does a lot of on the whole.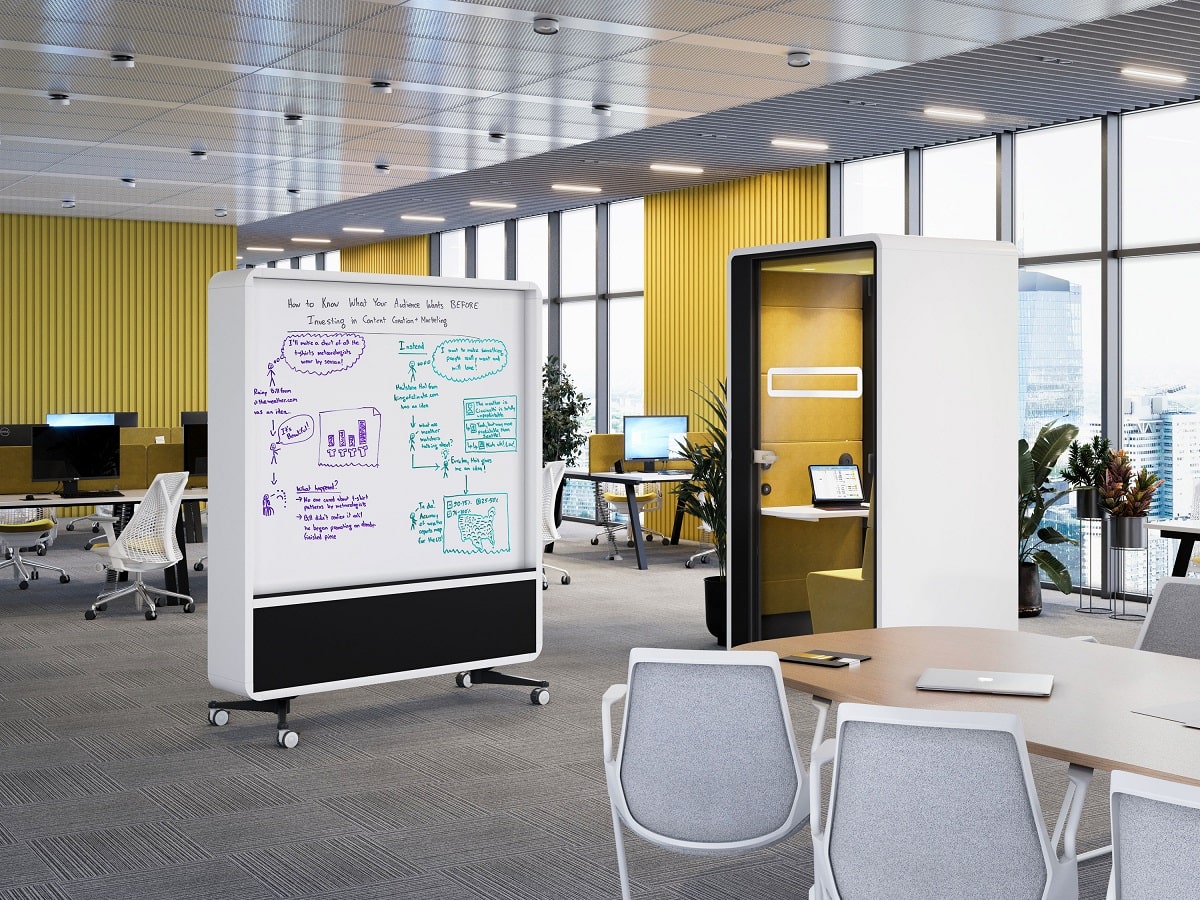 Configure functional zones in the office double quick with hushWall.
Many on the team are remote a portion of the time. So they're in and out of the office sporadically. With hushWall, their leader has been able to set up an adequate zone for spur-of-the-moment tasks without delay.
Whether the move is a strategy session, a proposal review, or team building, hushWall always moves in step, keeping up

– adds Eliza Donek, Product Manager, Hushoffice.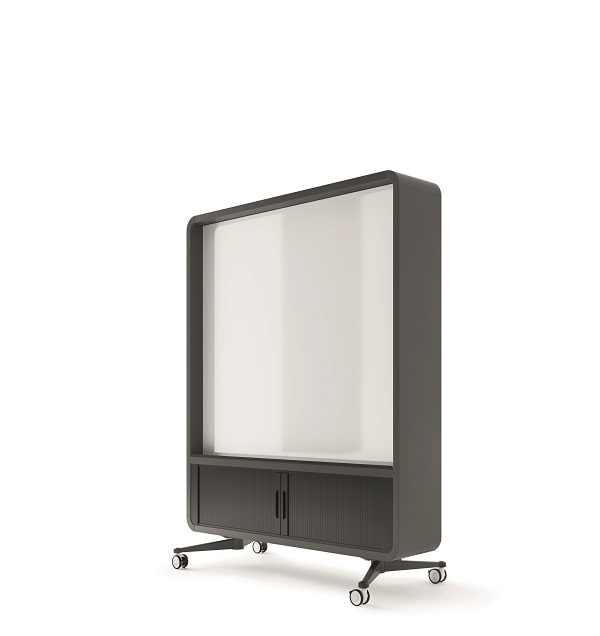 HushWall never misses a cue. It rolls where it's needed when it's needed.
Luckily, the group has its meeting protocol down like clockwork. They gather at the open work lounge. Their leader introduces the day's workshop. Guidelines are specced out on their hushWall whiteboard. And then they have at it.
Think bold and dream big using hushWall's whiteboard.
They take a "divide and conquer" approach, rotating their hushWall 90°, dividing their lounge into two halves. They then split up into two teams for either team to tackle the activity using either side of the reversible whiteboard.
Solid ideas. Strong solutions. HushWall lets your imagination soar.
By dividing and conquering with their hushWall like this, the group always produces more ideas and solutions. Rock-solid ones. Hence the monthly workshop being their unsubstitutable needle-mover.
A rollable white board for those who brainstorm best in motion.
HushWall works super well for them because it's freestanding. It leaves ample floor room around it for shuffling about. So participants are free to move as they work. They're in tune with their physical energy and flowing thought processes. The atmosphere is organic. Bright new insights are abundant.
Keep it moving with hushWall.
Attendees particularly like this organic aspect of workshops with hushWall. It allows those who learn kinesthetically (through movement) to think on their feet as they explore new approaches. Synthesizing from a high level in a lively environment is a particular joy for any such team of can-do go-getters.
Use Case #3: The marketing team savors deep focus with their hushWall portable office space divider…
The marketing team holds forums every Thursday. Each one has the same set goal. Reconsider current assumptions by reviewing the week's content frankly and informally. They're a keen use of brainpower, always leading to tighter, more integrated, more lucrative ad campaigns and autoresponders.
HushWall lets you fashion sub-spaces that nourish creativity.
Of course, the team is highly creative. So their environment for these forums needed to nourish creativity. In the past, the problem has been obvious. Their open floor was a little too open — chaotic and noisy. But their meeting rooms were a little too closed — stuffy and uninspired. Not to mention booked half the time. HushWall has given them a middle way — a mix of "open" and "closed."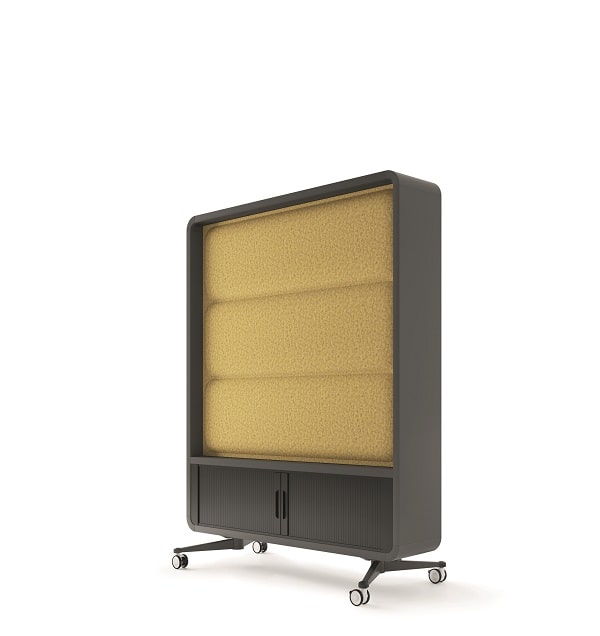 Enjoy more control over your work environment.
HushWall is a terrific solution for creatives because it allows them to adapt their work environment. And creative people are often more introverted and more sensitive to their space. HushWall delights such creatives because it allows them to tweak their space to suit their needs. By rolling the divider to a choice area in the open office, they can separate or enclose themselves to the best degree. Naturally, better work follows

– offers Eliza Donek, Product Manager, Hushoffice.
It's all about balance.
This marketing team's environment needed to feel cozy yet connected to the office's dynamism. Not disconnected from it completely. HushWall makes the model space. Just enough hustle and bustle to nourish creativity. Not too much. Visually and acoustically fit.
Premium felt paneling for a premium feel.
So twice a week, they grab their nearest hushWall space divider. It's a double sided partition (either side surfaced with premium felt). They roll their hushWall to the breakout area, dividing it into two subspaces. They lock its casters. And boom — their environment is complete. It's primed for flow.
By dividing the open floor into effective zones with hushWall, you make the office work.
Used this way, hushWall turns one shared area into two more private, more relaxed zones. It doubles the floor plate's utility. Whenever the marketing team sets up their space for a forum, for instance, colleagues use the adjacent sub-space the wall has created. So the office is made more usable for everyone.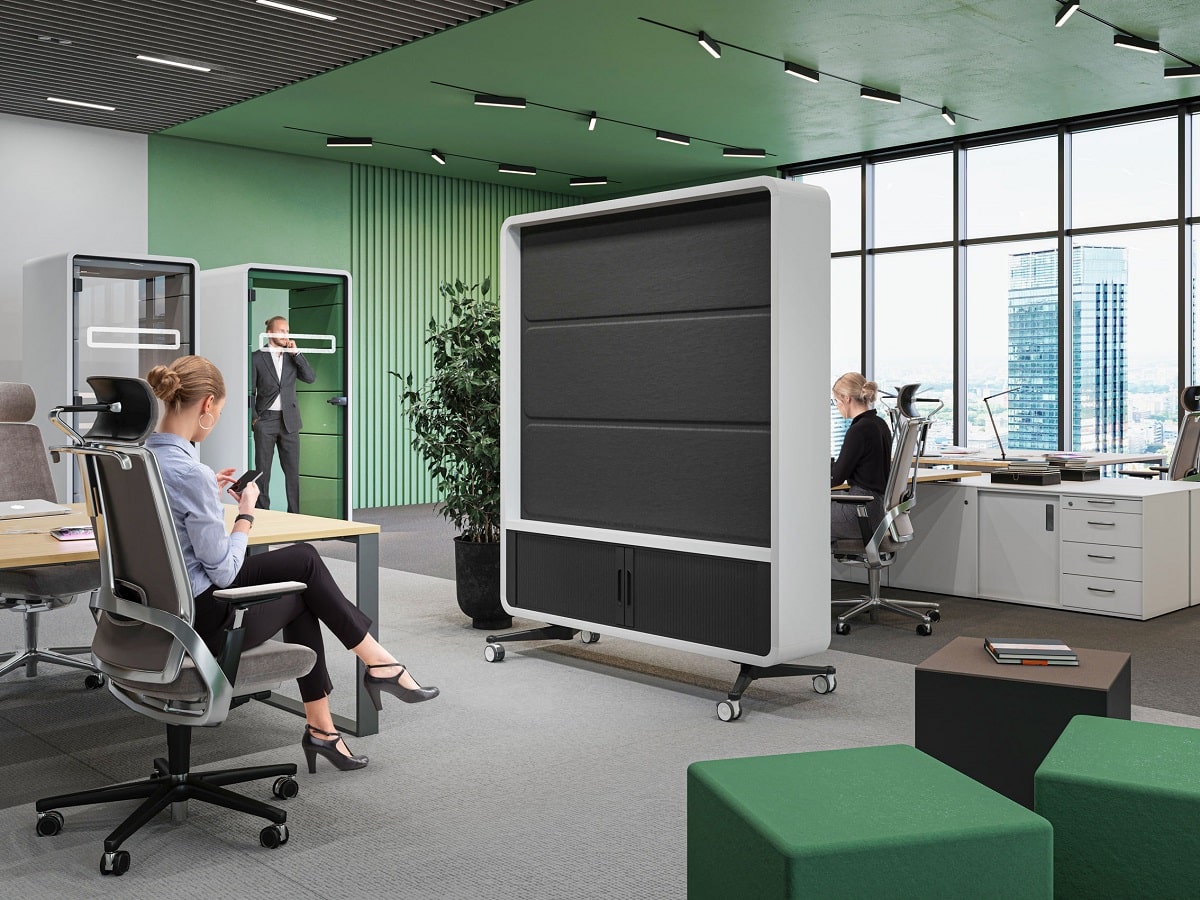 Make temporary layout changes with hushWall.
When they're done, they simply roll hushWall back to its main spot. This part is imperative. The app dev staff uses the large breakout area regularly, so returning the area to its original dimensions is the norm. With hushWall, doing so is an effortless roll.
Click here to download the hushWall brochure.
HushWall office partition – frequently asked questions
Which partition is best for the office?
Rolling, double sided partitions are best for the office. Consider hushWall, which rolls smoothly then locks stably, allowing employees to set up ad hoc workspaces at ease. HushWall is reversible, doubling the function. It's also extra-large — about 6 feet tall and 5 feet wide — giving employees an optimal amount of privacy. Check it out.
What are the customization options for the hushWall double sided space divider?
You can choose between classic white and cosmos grey for hushWall's body. For either side of hushWall, pick from 1 of 3 options: felt paneling, modified felt paneling (with a place to mount a TV bracket), or a whiteboard.
What kind of mobile office whiteboard is ideal?
A mobile whiteboard for the office should be at least 6 feet tall by 5 feet wide. These dimensions give employees more than enough space to get their messy, inspired thoughts out for review. A big rolling whiteboard like hushWall is an apt fix because it's large enough to fully separate or enclose employees in small group settings.
Have a question about hushWall? Let's hear it!