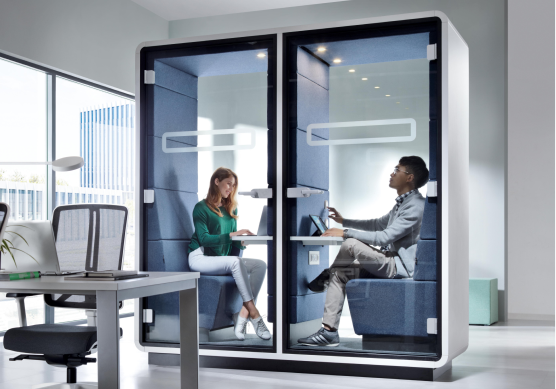 The coronavirus has made us all live in a new reality: both domestic and professional. Learning and working remotely, limited opportunities for meetings and free movement, detailed guidelines on disinfection and social distance – each of us has been affected by changes that nobody had expected a year ago. Circumstances related to the pandemic have also made the hybrid model of office work – a combination of remote and stationary work – very popular. What are the opportunities, but also the risks of such a solution and what can be changed in the office space to ensure the comfort and security of employees?
Remote working – an undervalued solution
Until recently, remote working was usually considered a privilege to which the employer did not always agreed; full-time employees performed their duties from the office, and remote working was the domain of freelancers or people employed on a contract. The coronavirus pandemic caused most employers, out of concern for the safety of their employees, to decide to introduce remote working wherever possible. The great advantage of office work is that it can be done virtually anywhere: a computer with Internet access is enough for you to be able to perform your job without any problems. However, most of the work is done at home; thanks to this, employees do not waste time and money on commuting to the workplace. Yet, this is not a completely flawless solution: some people do not have the opportunity to organise their home space in such a way as to ensure comfortable working conditions. Lack of a comfortable desk, noisy household or Internet problems are the most frequently mentioned problems related to switching to remote mode.
Stationary work in a new reality
Although remote working remains the recommended solution, many employees decide to return to the office. Here they can count on fast Internet, a comfortable workstation and the ability to perform their duties in focus. Unfortunately, the problems with access have not disappeared – on the contrary, the more restrictions on public transport, the more difficult it is to get to work on time. The disadvantages of this solution also include the need for regular disinfection and compliance with the sanitary regime: new restrictions can be quite onerous for many workers. Not every industry can also organise fully remote work; it is difficult to replace direct contact with customers in this way.
Hybrid model – a combination of remote and stationary work
The coronavirus has made the hybrid work model popular: offices are no longer the only place where employees can perform their tasks. Depending on the company, hybrid work can mean a constant division into teams working stationary and remote, rotation of groups working in the home office system and in the office, or even discretion – in this case, employees gain access to the office when they need it.
What are the advantages of hybrid work? Employees save time for commuting and create their own workstation tailored to their individual needs. They do not have to worry about who will take care of their children after school and they do not have to lay off work to arrange an appointment with a plumber. Work in this system is primarily focused on the performance of tasks – the employee is accounted for productivity and results rather than presence in the workplace. At the same time, the employer also reduces the costs of office operation and gains the opportunity to employ the best employees, who increasingly often impose conditions and are only interested in remote work. In the hybrid model, the office is primarily a place to build interaction between employees: this is where training, conferences or integration meetings take place.
How to organise an office for hybrid work?
When the majority of employees work remotely and only appear in the office for team meetings or customer meetings, maintaining multiple workstations is no longer necessary – the concepts of Activity Based Workplace and hot desking are applied in such offices. The office space is divided into zones for individual and group work, rest and silence and a place for meetings with customers. Employees do not have strictly assigned workstations – they take care of their tasks where they are most comfortable. How to provide comfortable conditions for those who need maximum concentration?
Acoustic booths – essential for hybrid work
In this model, it is difficult to expect an atmosphere of concentration and silence in the office: employees come to consult their project with their supervisor or meet with colleagues, customers also come to the office, many conversations are also held through video conferences. hushTwin and hushWork.sit&stand booths is the answer to the need for a quiet zone in the office. Acoustic booths are designed to effectively suppress unwanted sounds: this way, employees inside can easily have an important conversation or complete tasks requiring focus. The HushTwin are two interconnected, fully equipped booths – there is enough space inside both parts to sit comfortably with your laptop and documents. The HushWork.sit&stand, on the other hand, is a single-person booth, equipped with a countertop height adjustment system – it depends on the employee whether they prefer to work sitting or standing. Hush booths are a combination of technology and design – they perfectly fit into the interior design of modern companies. They are especially suitable for those employees who come to the office when they are tired of working remotely and are looking for a place where they can concentrate and complete their tasks. Fast, trouble-free installation allows to change the arrangement of rooms according to the current needs of employees – as a result, the space and equipment of a hybrid office can change constantly.