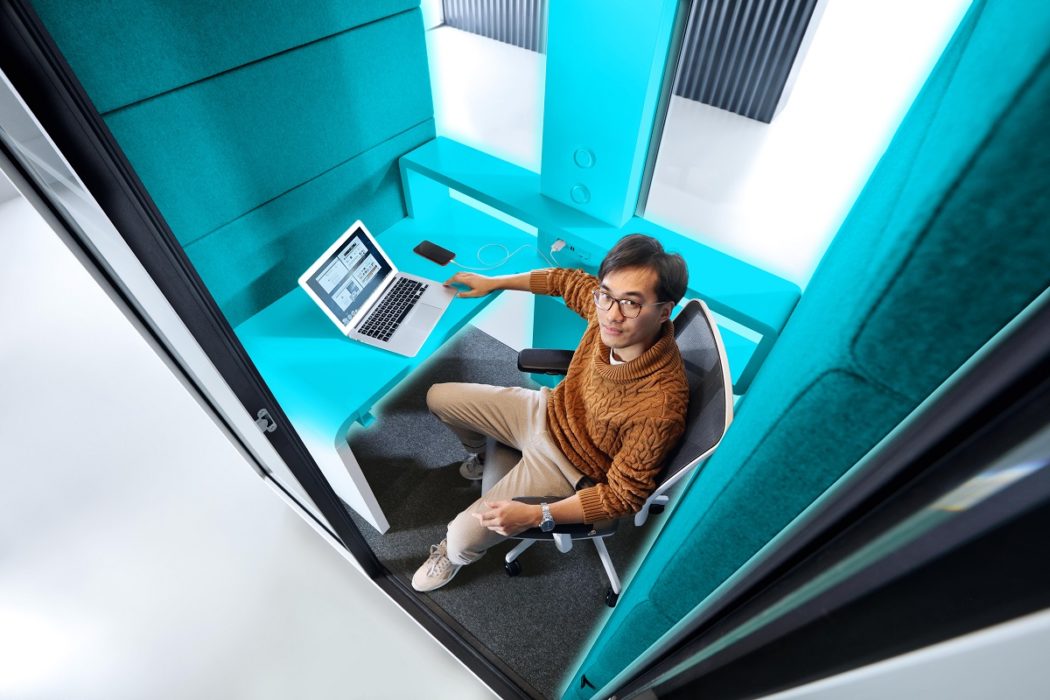 Hybrid is the new reality. Employers need their workplaces to lure teams back — to capitalize on collaboration, socialization, and other functions that only happen human-to-human in the office. Safe, clean, functional, and flexible is the vision. The right retrofits and upgrades can make the hybrid office the staple needed in this half-remote model.
So… what specifically do office tenants want in a hybrid world?
Key takeaways
Safety, health, well-being
Workplaces with more privacy & separation
Excellent video conferencing spaces
Good acoustics
An effective, functional workplace
Amenities
Tenants want safety & health
As occupants begin to return to the office, it's critical that we invite everyone into a guaranteed safe space. With more than half of the workforce concerned about getting sick, stringent health and safety measures are paramount

– says Eliza Donek, Product Manager, Hushoffice.
JLL determines health, safety, and security to be the top tenant needs entering the new reality. The focus on health is stronger than ever. Eagle Hill's COVID-19 Returning to Work Survey finds 54% of U.S. employees are concerned about exposure to the virus. For the near term, we can confidently assume the occupant's top concern will remain the safety and health of their employees. Employers need their offices to give teammates total assurance that they're returning to a safe workplace.
Retrofits and initiatives for a safe, healthy hybrid office
Biophilia, Fresh Air 2020 showed us the importance of indoor air quality (IAQ). Occupants want a well-ventilated space filled with fresh, clean, pathogen-free air. Service the HVAC system and keep it in pristine condition. Make regular repairs, filter changes, and duct cleaning to improve circulation according to ASHRAE Standard 62.1 and similar code-compliant ventilation rates. Let cracked windows, indoor plants, and desktop air purifiers assist in the pursuit of better IAQ and healthier buildings.

Enclosed, Microbes Protected Work, Meeting, and Lounge Pods An office pod like hushPhone office phone booth or hushMeet sound proofed meeting pod traps and kills germs with its Anti Virus Coating. Each pod's ventilation also brings fresh air in from the open floor continually. Contained and convenient, pods bring security and modern function to open offices, giving employees the assurance of a sanitized workspace as well as the convenience of comfortable seating, built-in desktops, power modules, and other basic work features. They make the broad office space easier to control and disinfect because they're enclosed. This gives tenants peace of mind.

Health & Safety Kits Masks, hand sanitizer, sanitizing wipes, gloves, thermometers, antimicrobial office supplies, test kits, antimicrobial brass/copper door opener or touch tools, and all the rest. That 54% of employees concerned about getting sick? 58% of this group say the availability of protective gear like masks, gloves, and hand sanitizer will make them feel safer; 53%, COVID-19 tests. The right supplies make a tenant's team feel safer and more sure returning to the office.

Social Distancing & Sanitization Practices Signage, partitions, crowd control, and well-communicated policy help maintain safe occupancy limits and social distancing across all communal spaces of hybrid office — conference rooms, lobbies, elevators, kitchenettes, restrooms, etc. Implement a strict sanitization routine tackling every shared space for maximum tenant confidence. Aggressive cleaning is key. Teams want to see high-touch surfaces like door handles and elevator buttons regularly disinfected. Visible, consistent cleaning equals trust and confidence that the workplace is safe. Team up with the janitorial crew and provide ample hand sanitizer and wipes, allowing tenants to control their own environment.

Touchless Where possible, upgrade systems to touch-free. Lights, faucets, trash cans, toilets, soap and paper towel dispensers, hand dryers, doors, water fountains, hand sanitizer dispensers, charging docks, vending machines. Germs can live on a surface for 48 hours — and 80% of infectious diseases are transmitted by touch. Touchless increases tenant assurance in the safety of their space.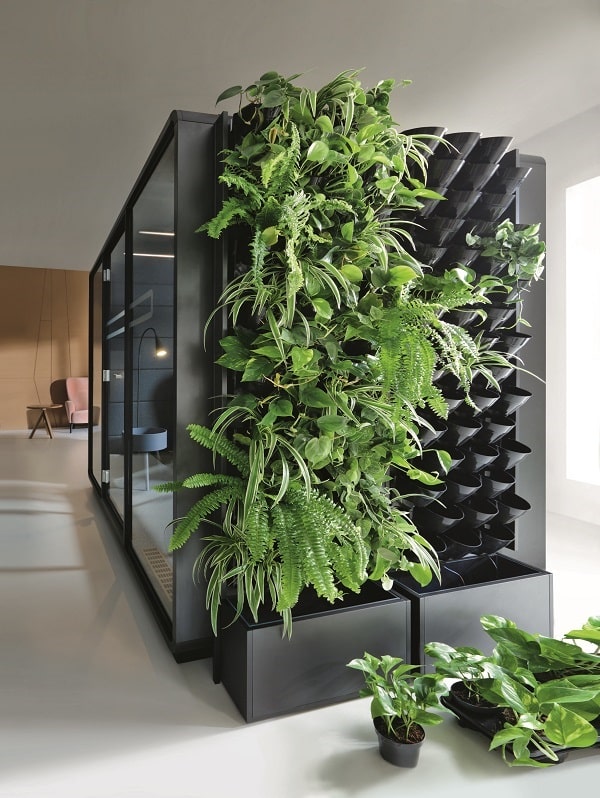 More privacy and separation. A more "closed" open office.
JLL's "Tenant needs in a post-pandemic world" predicts one of the top tenant needs to be: space design that offers greater dedication, privacy, and separation from others. If your floor is purely open, divide it up and zone it off to a workable degree. Simple barriers and booths block a germ's transmission route while giving tenants that dedication, privacy, and separation.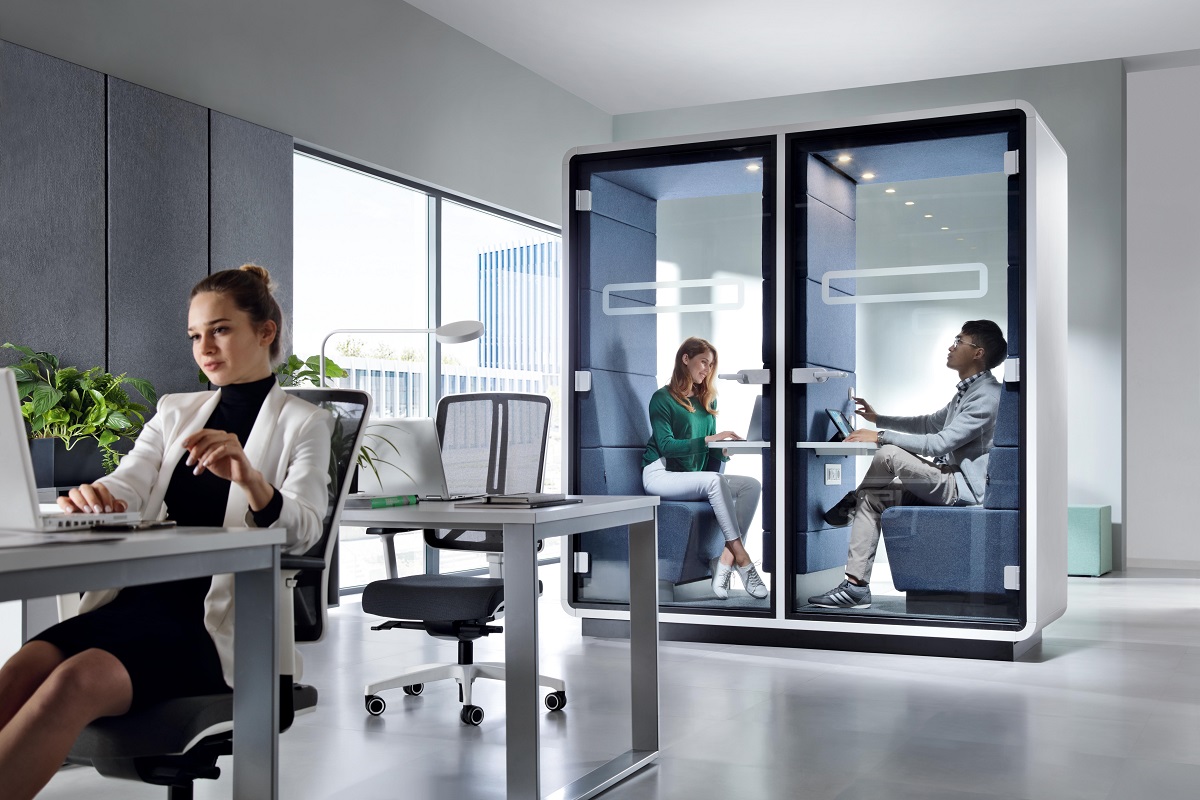 No need to renovate or build out toward this end of space division. Consider a hybrid office – modern, mobile space dividers, crowd control solutions, planters, and work pods that can be easily reconfigured to make pleasing, functional arrangements. Flexible, tweakable interiors give tenants options. And when your floor plan features such modern solutions, it's always sitting weeks closer to move-in ready.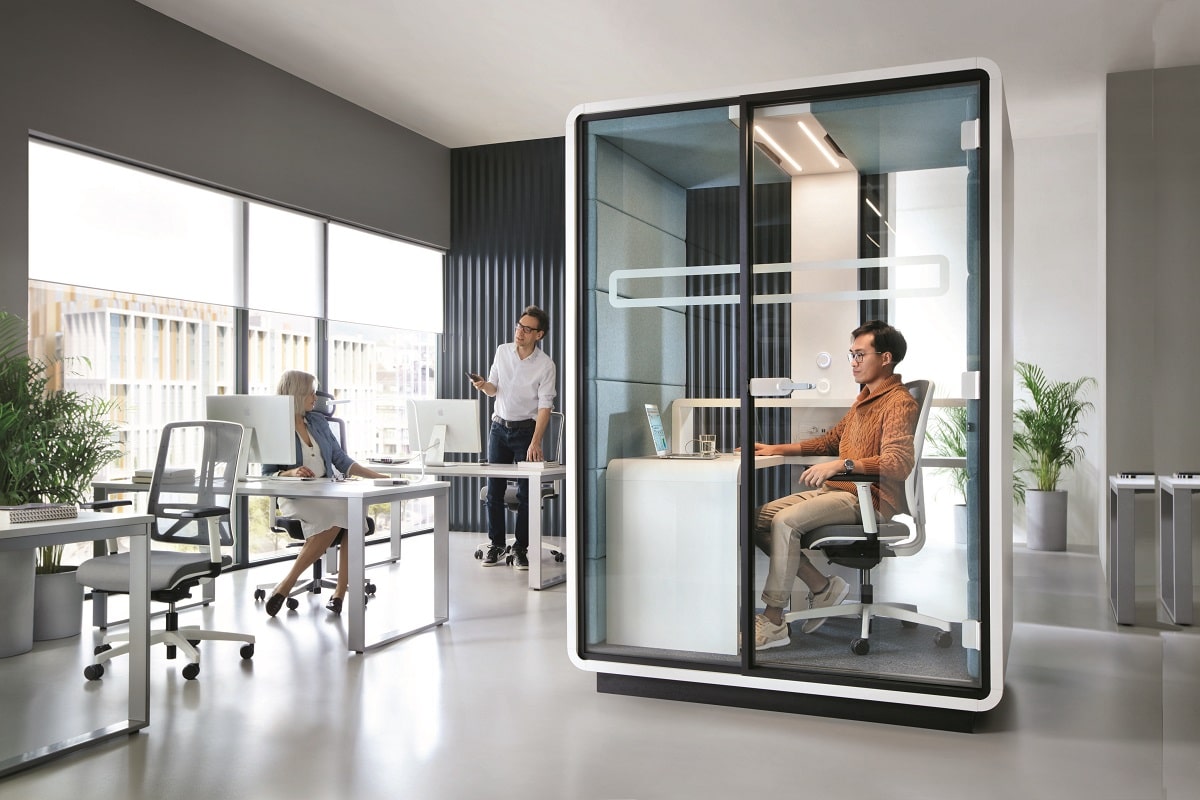 Excellent video conferencing spaces.
As video calling has become standard for hybrid offices, video conferencing spaces, connectivity, and technologies have become key office amenities, top occupant must-haves

– lends Mateusz Barczyk, Senior Brand Manager, Hushoffice.
CBRE's 2021 Occupier Sentiment Survey reports 70% of large companies (10,000 or more employees) are investing in enhanced video conferencing hardware and software. Businesses have fully adopted hybrid working. And hybrid working depends on successful video calls. Offices need spaces to take them.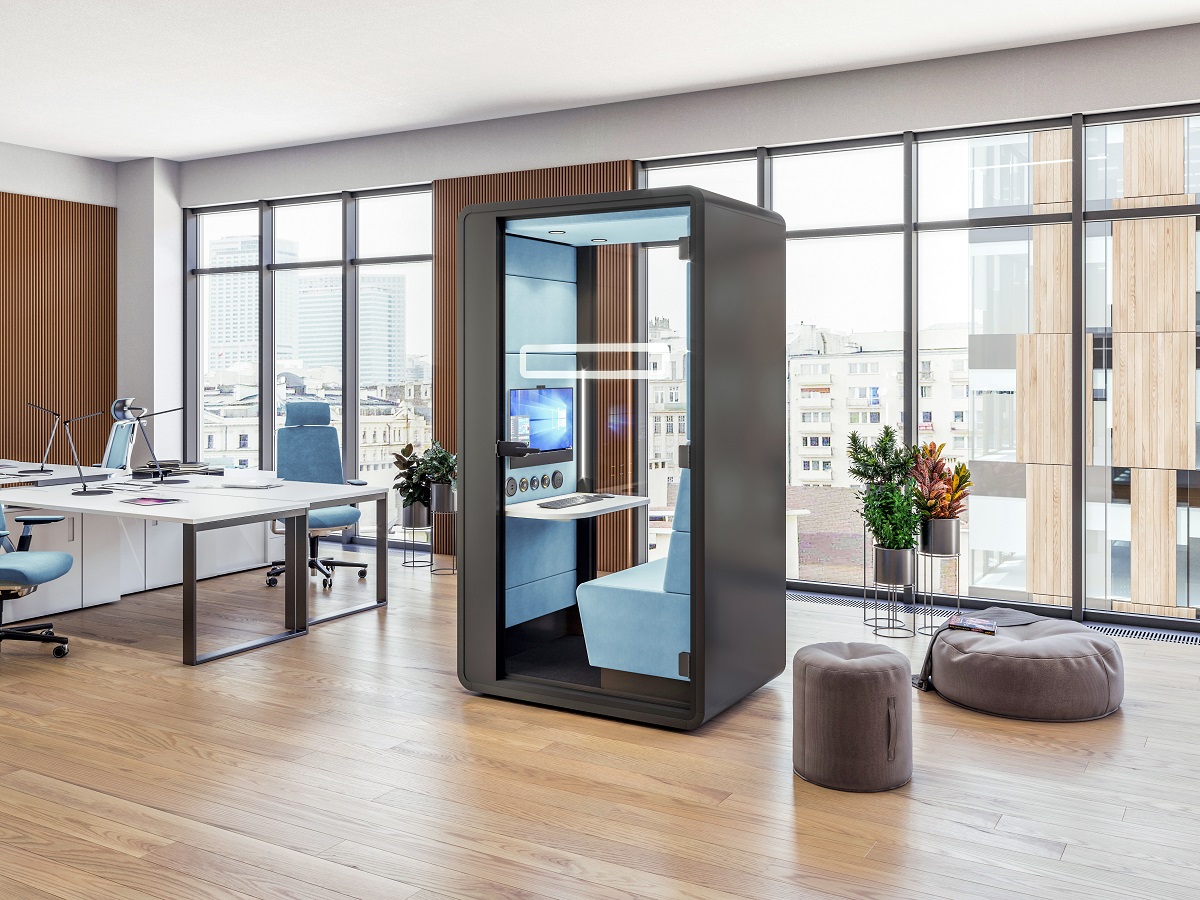 $29,500. That's what old-school video conferencing rooms cost. $3,500 for TV, power, data, and the camera, $19,500 for high-quality video conferencing software, $6,500 for acoustic upgrades that support video conferencing. All for inflexible build walls and a sunken cost. The hushHybrid conference call booth is a flexible alternative to consider if your building lacks private environments for video calling. It's mobile and lightweight, so occupants can easily roll it around their space to facilitate new layouts. It's also customizable; teams can outfit their hushHybrid with an AIO computer or camera-equipped monitor for video calls. It's an all-in-one video conferencing booth.
Good acoustics.
Noise is recognized as a serious workplace environmental stressor. Quality office acoustics have thus become a strong selling point. Most home office environments are noisy and distracting. So, like a peaceful, productive sanctuary, your building's acoustics have the power to lure employees back.
Good office space acoustics in 3 steps
Absorb.

Sound absorption is the first step. We define noise as sound that's unpleasant or distracting. If your space is noisy (boomy, clatters, echoes), look to acoustic carpeting, sound proofing paint (both sides of shared walls), sound dampening soft seating and textiles/upholstery/curtains, soundproofed lighting fixtures, acoustic ceiling tiles, acoustic wall panels, space dividers, and other materials with a high NRC (noise reduction coefficient). Plants make good sound absorbers too.

Block.

Making retrofits? Opt for materials with a high Sound Transmission Class (STC) rating. Dividers, tiles, flooring, doors, and windows can all assist in blocking noise. The higher the number, the more noise blocked.

Cover.

Also called sounding masking, or covering noise up with a soothing, more diffuse sound of a comparable volume. White noise machines and systems work.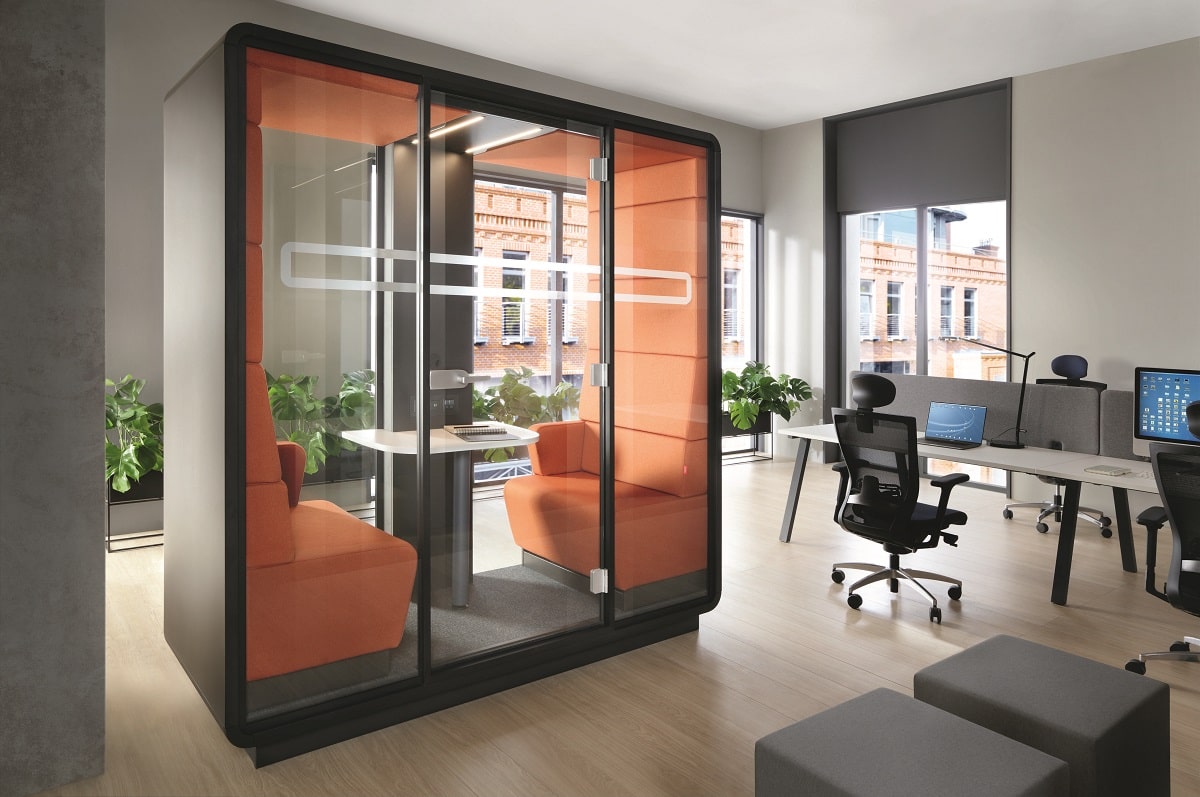 On a budget? Work pods are a powerful office soundproofing solution because they absorb the primary, most distracting sources of noise in open spaces: phone calls, team meetings, and videoconferencing. Consider hushHybrid, a video call pod for a hybrid world. Acoustic. Mobile. Fully furnished. Fully equipped. Convenient and comfortable. HushHybrid equals videoconferencing ease, day in, day out. It's flexible, answering the need for dependable function and great calls, allowing occupants to adapt their floor plan, staying productive as occupancies fluctuate. Other popular office pods include the hushPhone room phone booth, hushWork pod workstation, and hushMeet acoustic meeting pod.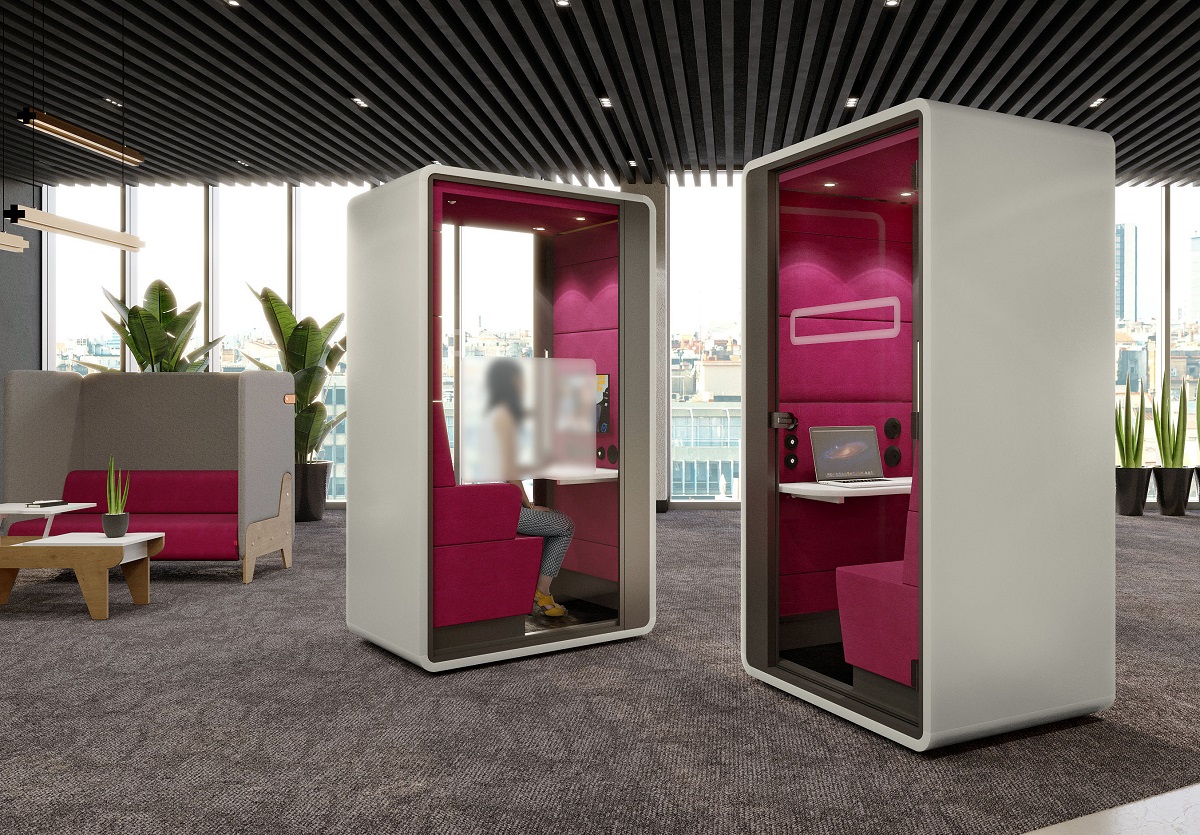 A flexible, effective workplace. One that's guaranteed to support a productive workforce. Outfitted with flexible interior solutions (mobile, modular, or adjustable).
Flexibility gives the occupant more resilience in the face of change.
Businesses need adaptability in the form of flexible office interiors. Adaptability means resilience, or the capacity to shift gears quickly, maintaining momentum in a continually evolving world. It means we can continue to work productively as external factors fluctuate, like regulations and worker preference. We just adapt the layout. Keep working. Repeat

– offers Mateusz Barczyk, Senior Brand Manager, Hushoffice.
CBRE Genesis's Fast Forward 2030 report shows tenants are more apt to sign longer leases when the space they're considering is flexible. A flexible space gives a team the options, resilience, and agility — thereby, giving you an edge on owner-operators with rigid floor plans. You'll attract occupants thinking long-term. Tenants that are, in turn, more liable to succeed over the long haul.
Modular, mobile pods are preferred to structural conference and meeting rooms. Freestanding space dividers are preferred to built walls within hybrid office. Portable planters that artfully divide space are preferred to traditional meeting and conference rooms. Standalone plexiglass desk dividers are preferred to hard cubicles. Across the board, flexibility is in demand. Tenants expect to be able to adapt their space easily.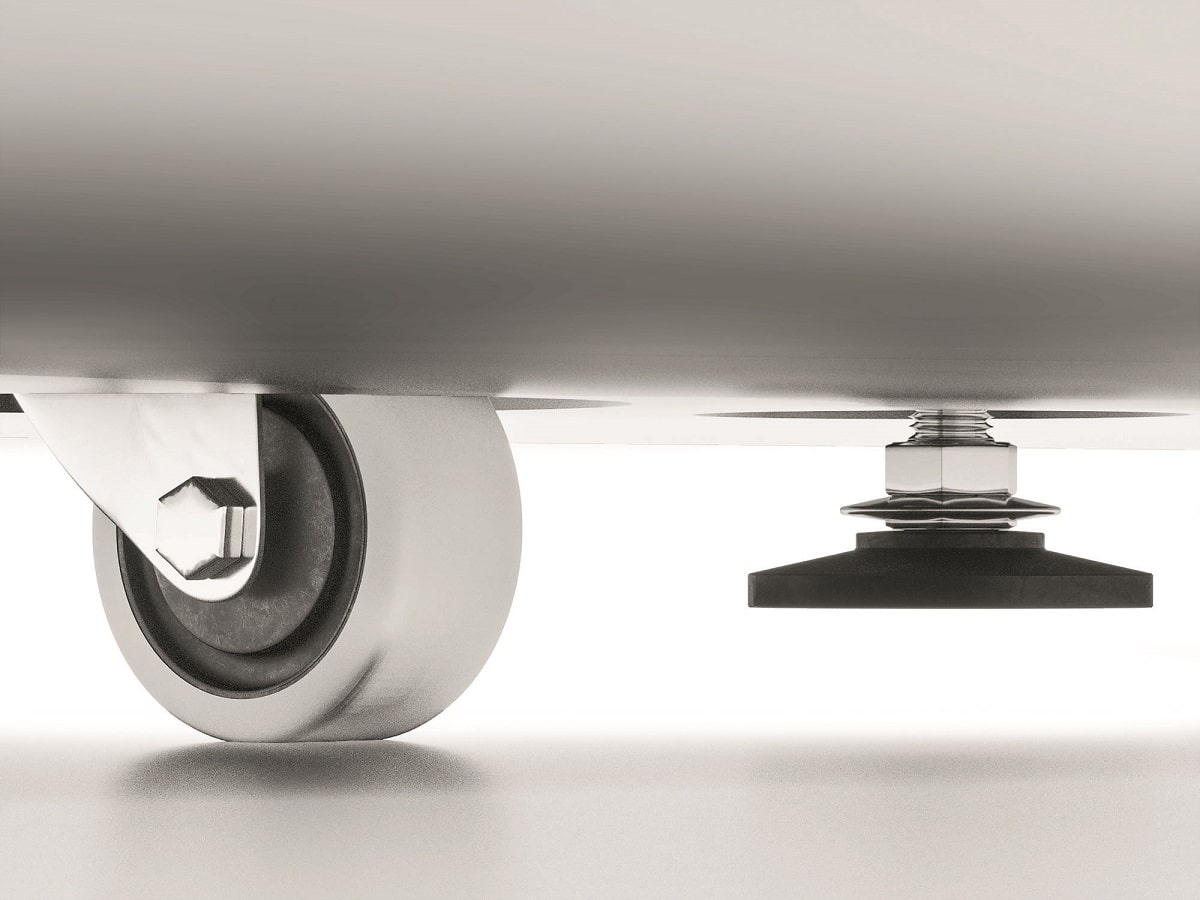 Consider work pods. Pods are like building blocks; utterly flexible, easy to work with. They're a mobile, modular solution for work, meeting, and conference spaces.
Rebuild the entire layout, no extra capital expense, no renovation.
Tenants can make their own layout changes without your approval and without having to involve an architect or general contractor — zero renovation required.
Mobile & Compact.
Tenants can move the pods themselves. Whereas with infrastructure, layout changes are an undertaking; tenants won't even need your approval to make changes to their pod arrangement because there isn't any permanent construction. The hushHybrid virtual conference booth and hushPhone soundproof call booth both have built-in casters and leveling feet. The hushMeet.L modular meeting booth breaks down into modules for relocation. All other pods in the Hush line have space beneath for a pallet jack.
Modular.
Expanded or sized down by modules, the hushMeet.L conference booth accommodates layout changes and evolving employee needs.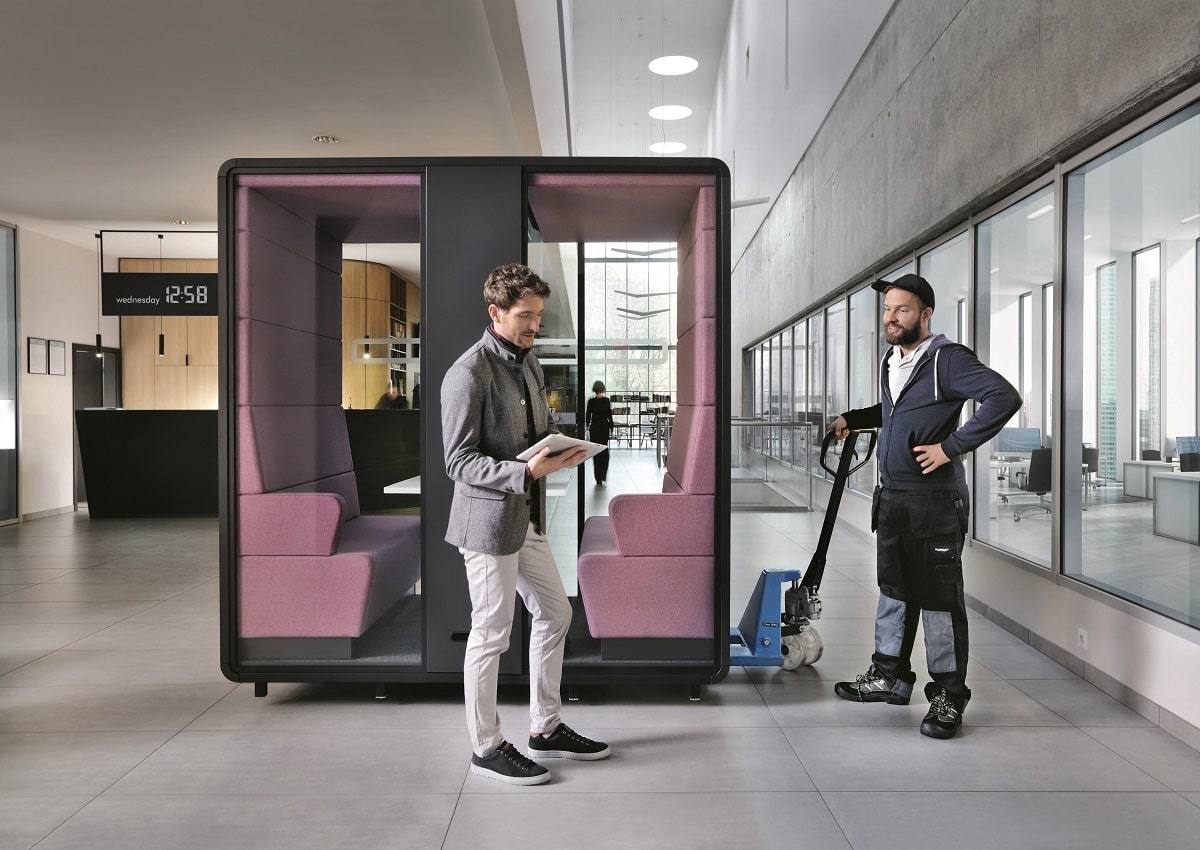 Amenities.
Work-from-home freedom only strengthened employee expectations for control over when, where, and how they work — or autonomy. A space that's rich with the right amenities is positioned to attract forward-thinking occupants that are making autonomy happen. Lounges, cafes, breakout spaces, and other traditional amenities. According to CBRE's The Future of the Office 2021 U.S. Occupier Sentiment Survey, large companies (>10,000 employees) consider shared meeting space, flexible open space, and flexible office space, the most in-demand building amenities of the future.