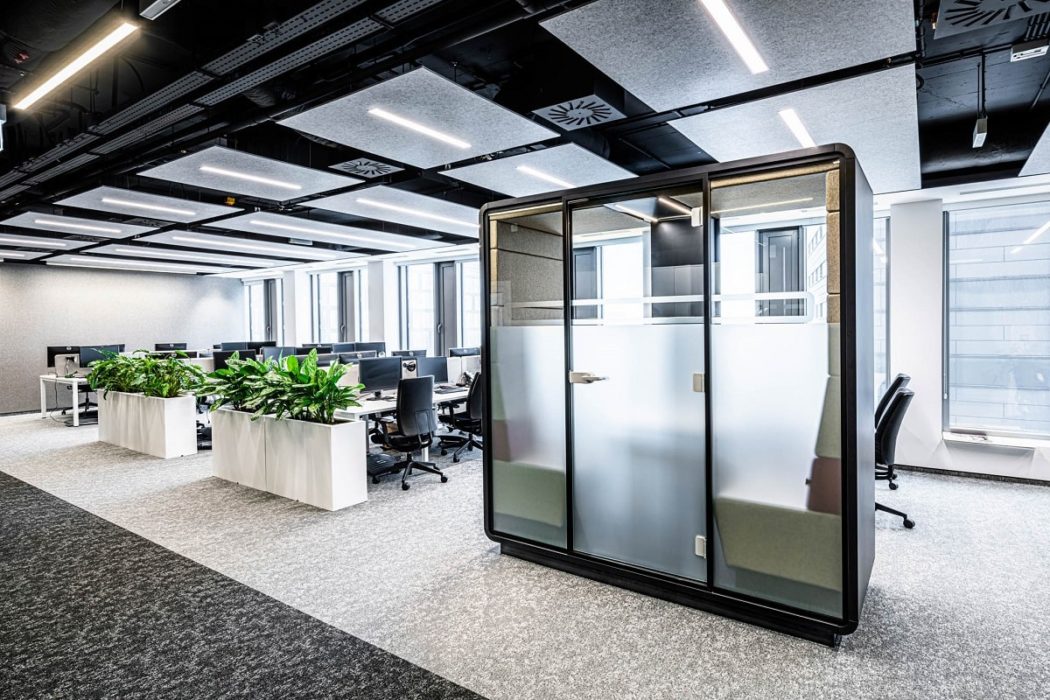 Hybrid working introduces many questions.
Who works from the office? How often?
How do we keep remote employees engaged?
When and why are teammates expected to get together?
How will we ensure quality collaboration, both in-person and remotely?
How will we monitor performance?
The fact is, there's no clear consensus on what "hybrid" means. Hybrid working will take a distinct form, company to company, business model to business model, culture to culture, workforce to workforce. But there are universal keystones for its success.
Quick look: 4 keystones of an effective hybrid working strategy
Let employees guide your approach to hybrid working
Define metrics of success (at the onset) in order to adapt per feedback in time
Make the office a space of socialization and connection
Prioritize hybrid meeting spaces and high-quality hybrid meetings
Let employees guide your approach to hybrid working.
Hybrid work looks different, organization to organization. Different models and industries entail different working patterns and structures. To get it right, let's first listen to our workforce. Their input can help form an approach that's aligned with company culture — and that fully embraces employee expectations

– says Mateusz Barczyk, Senior Brand Manager, Hushoffice.
A hybrid work plan that hasn't deliberated employee preferences is liable to disengage people and hurt culture. On the flip side, a thoughtfully considered, well-implemented hybrid strategy created by group effort can drive new collaboration as well as more productive independent work — it can help teams work better than before.
4 tips: an employee-driven hybrid working policy
Survey the workforce to understand current expectations, hopes, and concerns regarding hybrid work
Hold group workshops to get input on working policies
Frequently check in with managers and team leaders one-on-one
Gauge individual productivity, morale, engagement, and well-being every quarter using surveys
Define metrics of success (at the onset) in order to adapt per feedback in time
Like any element of a large organization, determining what "success" looks like and figuring out how to gauge it can be difficult. But it's also a prerequisite to course-correcting in time. Employee engagement is a wise metric to focus on first as it affects a multitude of principal business drivers (performance, retention, profitability…).
Data points, surveys, and 1:1 meetings help illuminate the path forward.
Monitoring the right metrics will reveal what aspects of your strategy are and aren't working. Not only do frequent surveys and one-on-ones lend each employee's pulse — they make the team feel heard, that their experience is being considered, and their input is forming the long-term hybrid work plan. Data can also reveal opportunities — perhaps employees are more engaged when they work from home 3 days a week instead of 4. Or perhaps preferences and behavior may vary sharply by generation.
Sample survey — measuring employee engagement
How do you feel about your job today? Were you excited to sign in? Why or why not?
What do you like most about your work in general? What do you dislike most?
Do you find meaning in the projects you're handed?
Tell me about your core team. What aspects do you enjoy? And not so much? Tell me about current challenges.
Are you motivated by our vision, mission, values?
Do you see yourself employed by us in a year? 5 years?
Have you ever considered moving on? If so, why?
Would you recommend our organization to friends? Why or why not?
In what ways are you proud of your employer and/or job? Not so proud?
Do you feel recognized? Tell me about a time your efforts weren't appreciated.
Is your supervisor heavily invested in your success? Are you supported?
Do you have all the resources and tools needed for productive working in the office? At home? How about the resources/tools for collaboration?
Employees are far happier and more productive when they feel connected to their colleagues. The thing is, social connection is an organic thing. It happens naturally face-to-face. Creative design and management of the workplace can help foster it

– lends Eliza Donek, Product Manager, Hushoffice.
The top thing employees missed about the office was "the people," according to Gensler's 2020 Work From Home Survey. At the same time, employees saw a stunning 37% decrease in collaborative time. This number is concerning, knowing that innovation has always been the way forward. The multifaceted dilemma of "WFH isolation" clearly defined the office's primary role in a hybrid world — connection. Today's office is a place of socialization, meetings, and collaborative work. Our recent article speaks in-depth on this topic.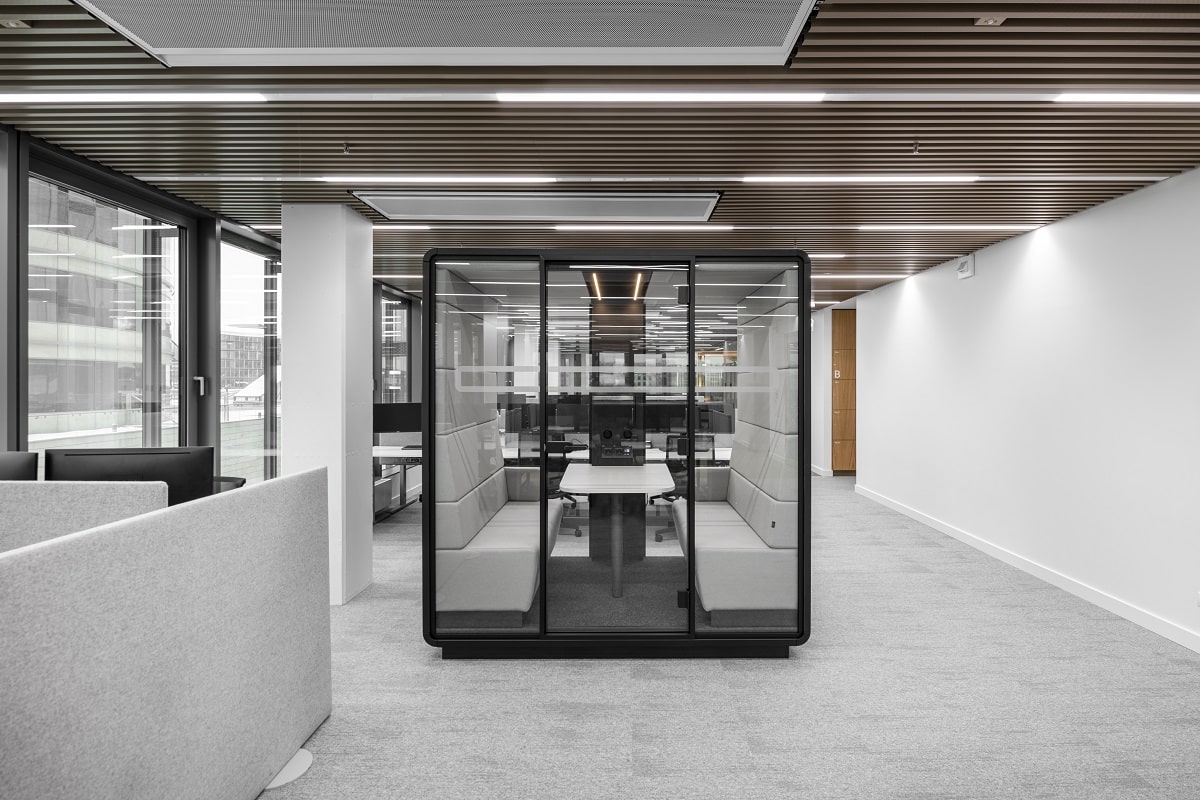 Social connections, quality in-person meetings, and lively collaboration make the office worth the commute.
"Home" doesn't provide socialization (or social work functions). And the office does. Human-to-human connection is an exclusive office element. It can help lure employees back. By boosting it through well-considered design and a few basic initiatives, organizations can make the workplace a desirable location and, in turn, capitalize on those functions carried out most effectively in-person like project meetings, training sessions, spontaneous ideation, and the like.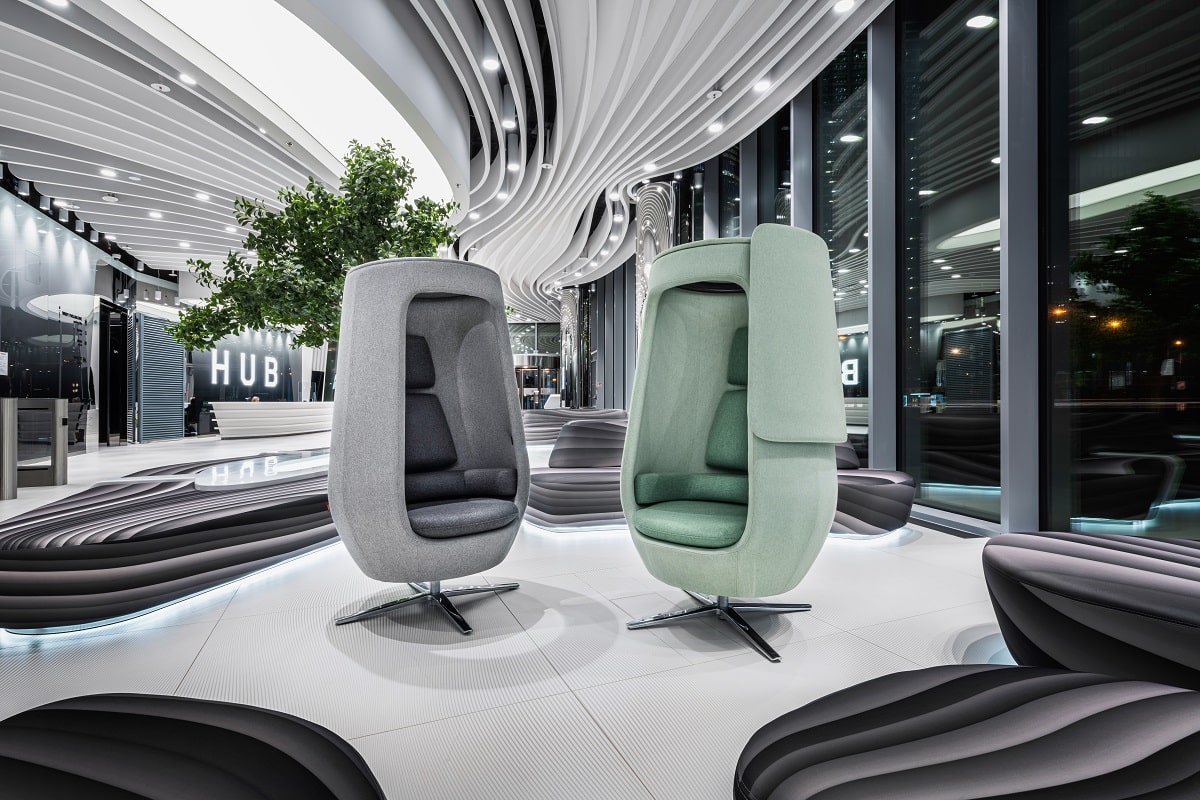 How to boost socialization? Improve each touchpoint where it happens. Team lounges, work cafes, and meeting spaces. To this end, it comes as no surprise that 66% of business decision-makers are looking to redesign their workplaces to better accommodate hybrid work environments.
Level up the kitchenette

Invest in a new, more sophisticated coffee machine as well as teas and healthy snacks. Coffee, teas, and snacks are something most relate to and make time for.

Deck out the lounge

Make the team lounge a place people want to be using planters, collaboration boards, and soft seating. If space is limited or noise is an issue, consider a prefab solution like hushMeet.L, a portable, soundproofed lounge room available empty for teams to furnish it themselves. HushMeet.L is also compact, taking up only ~8.5 by ~6 feet of space.

Host regular social events

Social hours, lunches, dinners, and local outings. Even bringing local donuts and coffee to the office can take the edge off and facilitate fresh connections.

Celebrate wins, big and little

Positive feedback is a vital part of work. Whether it entails blasting out balloon emojis via the team messenger app or detailing the week's victories on the office's announcements board, celebrating each win unites the front.

Start an employee of the month program

Another straightforward way to acknowledge an employee's efforts and achievements as a team.

Celebrate birthdays

Once a month, invite all staff members into the office for cake and a casual celebration of everyone who has a birthday that month.

Roll out a group speaker series with monthly focuses

Nutrition, fitness, mindfulness, etc. Pick a topic for each quarter and encourage everyone to share their best resources.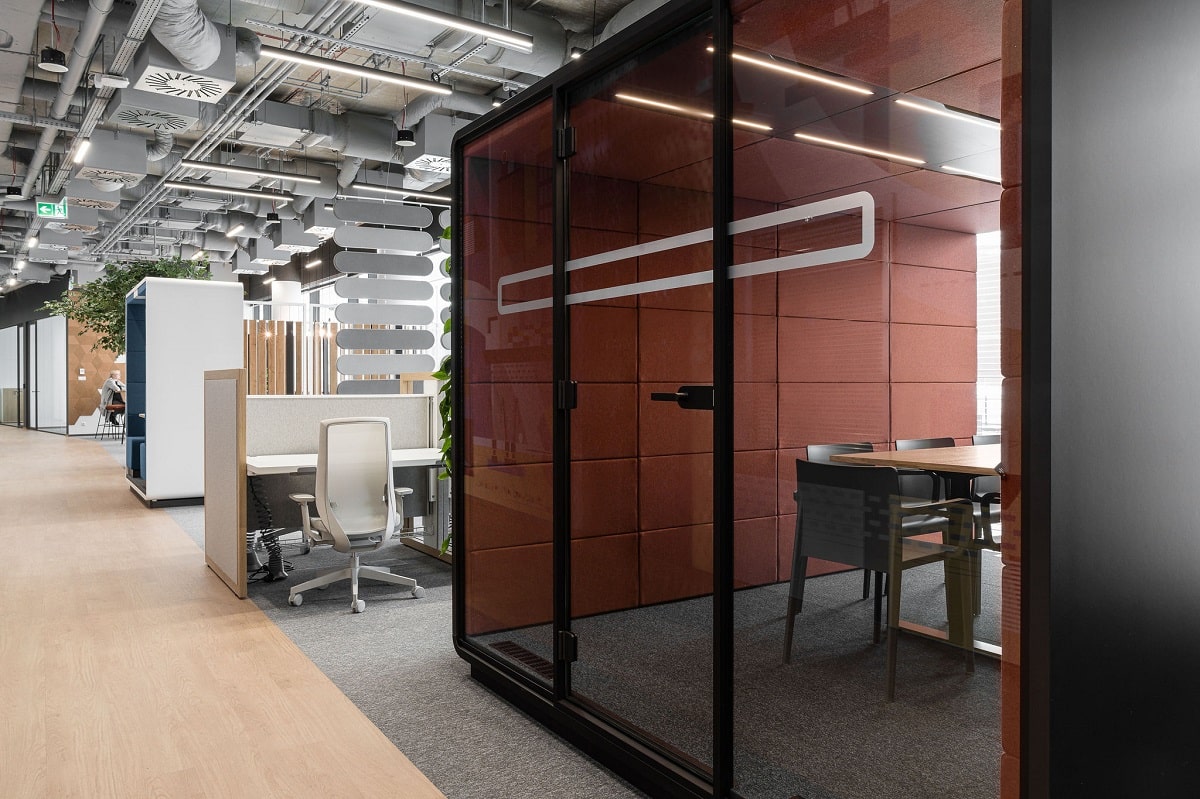 Prioritize hybrid meeting spaces and high-quality hybrid meetings.
Here, we're talking about two kinds of meetings. In-person meetings (1:1s, 3-4 person meetings, and conference meetings) as well as hybrid meetings or video calls. To facilitate both, we deem the following spaces to be essential environments in the hybrid office.
Private 2-person meeting spaces
Managers play a critical role in this new world of work. They directly support leaders in implementing and modifying brand-new ways of "doing." As a result, they need private 2-person meeting spaces in the office to connect regularly with teammates and supervisors independently — to glean and swap feedback. These 1:1 meetings are simple but powerful in times of change because they're more personal and fluid than big team meetings — both parties can express freely and listen openly, learn what's working and what's not, and identify "next steps" together. It follows that leading research shows managers who hold regular 1:1 meetings have better performance than those who don't.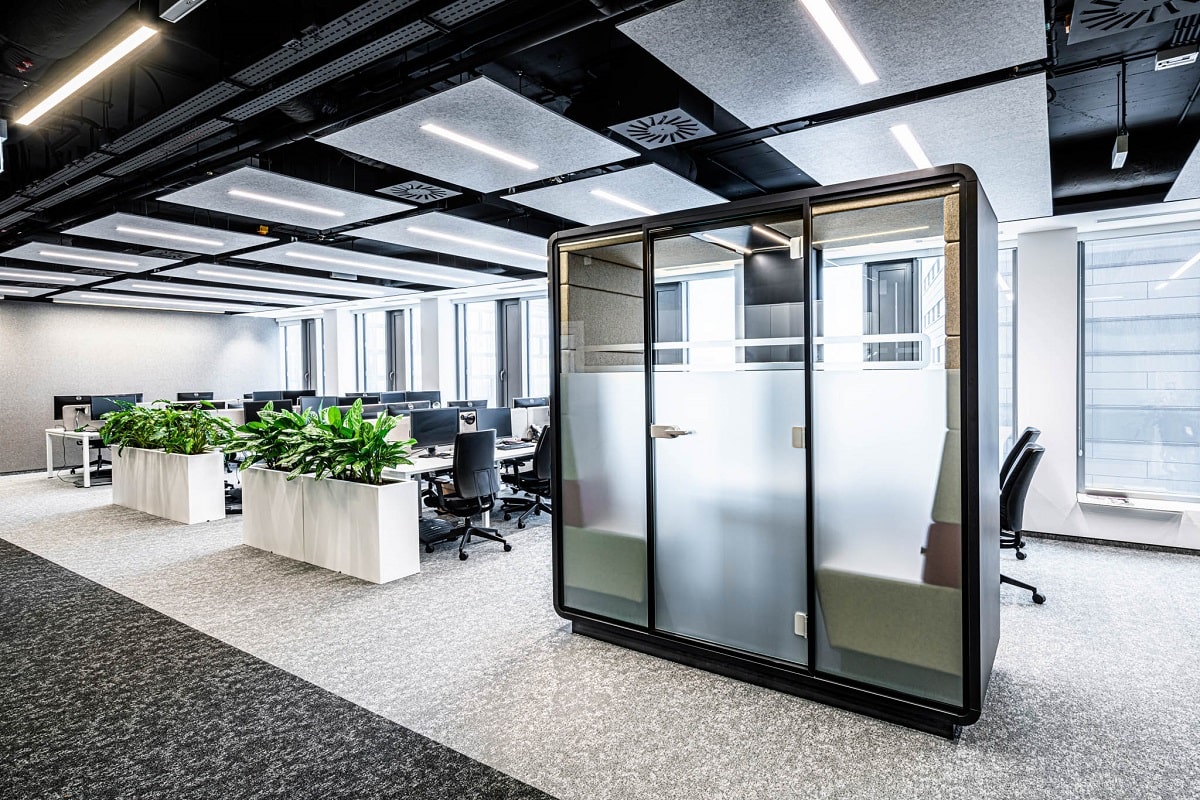 Well-trained managers will be prepared to set the right expectations for their teams despite uncertainty about the future. With support, they'll be more confident in guiding each teammate toward success

– adds Mateusz Barczyk, Senior Brand Manager, Hushoffice.
Private, quiet 2-person meeting spaces are also ideal for interviews, manager-supervisor check-ins, manager-employee 1-on-1s, training, and development. Read more on this topic: 5 essential hybrid office investments.
Acoustic videoconferencing spaces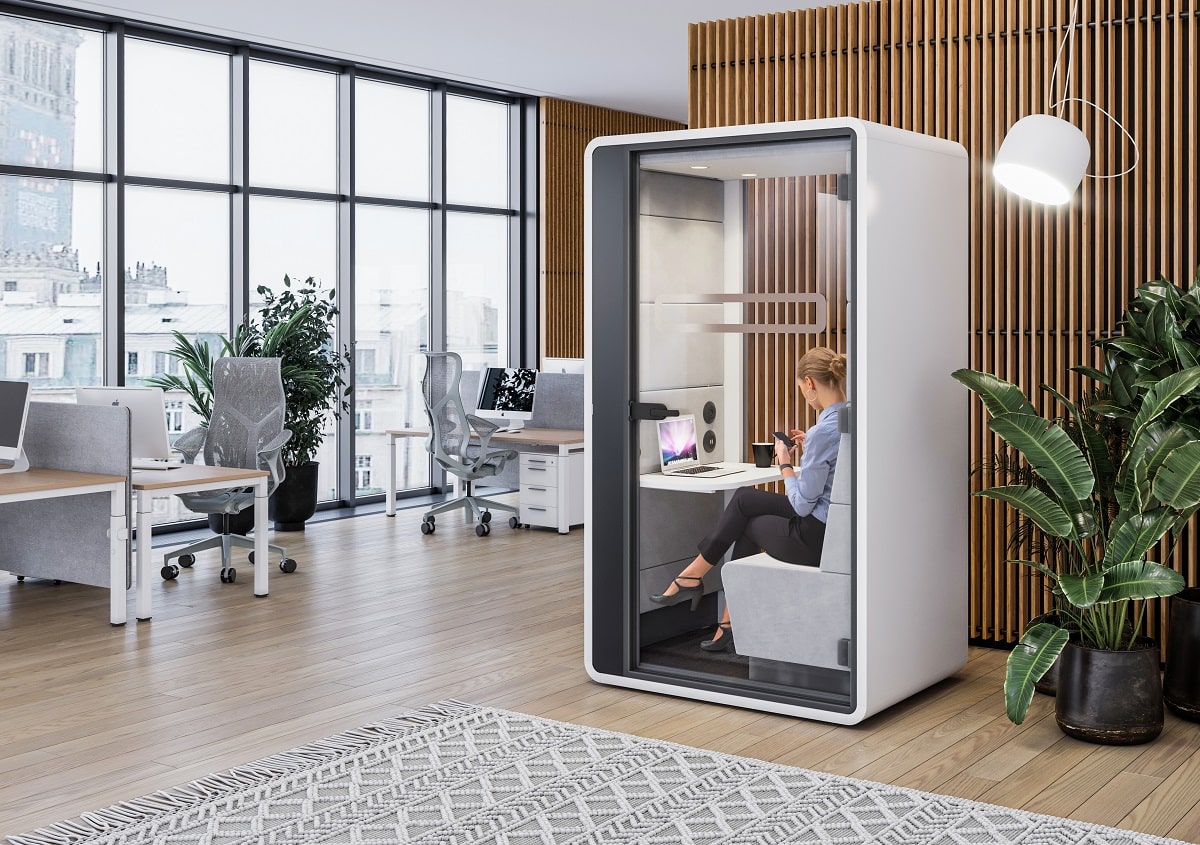 Video conferences are a staple in a hybrid world. Employees need private, quiet spaces to attend them from within the office.
Limited space? Office noise a problem? Consider a compact solution like hushHybrid — an acoustic, all-in-one video call booth.
Safe

HushHybrid is private and enclosed — a one-person pod. All frequently touched surfaces in the video conference booth are coated in a continuously disinfecting Anti-Virus solution.

Flexible

HushHybrid is a mobile, prefab solution relocatable by push. It's light, with built-in casters and leveling feet — mobile for ultimate layout flexibility.

Quiet

The pod contains call noise while giving the user a quiet, peaceful environment. Its glass panels also help sound-dampen office noise.

Comfortable

HushHybrid features a cozy sofa, a 1.6″ depth-adjustable desk for easy laptop work, and adjustable, energy-efficient lighting & ventilation for maximum comfort.

Fully Featured

The video conference booth includes a power outlet, an optional VESA mount for an AIO computer or monitor, and optional LED video light strips. Learn more on the product page.
Read more about the hushHybrid conference call booth: So… what's it like inside the hushHybrid office pod?
Small soundproofed conference rooms or booths in hybrid working
Conference calls, managerial discussions, board meetings, staff training… The small conference room is essential for formal meetings of 4+ people in a hybrid world.
Soundproofed, it's one of the best spots in the office for vibrant collaboration or confidential discussions. It's a secure place to talk about sensitive business, like new ideas, launches, or classified information. It's private and fully equipped, sitting ready; 4-8 employees can come together in the conference room, align, and problem-solve as a unit, no fuss. And it's professional — modern. A suitable space to meet with clients.
HushMeet.L is a mobile, modular conference room booth seating between 4-8 employees (depending on the module count). It's the flexible alternative to structural conference rooms in a hybrid, ever-changing world.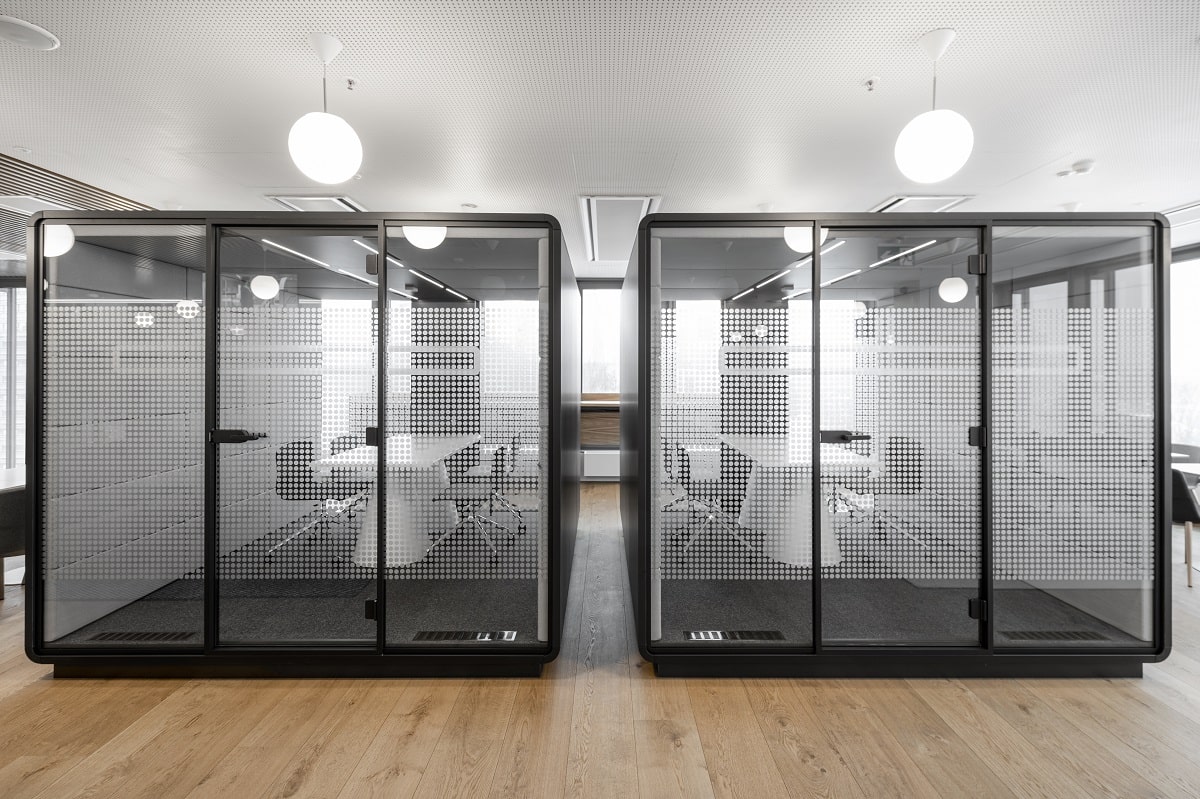 Remember: hybrid working is an opportunity.
"Hybrid" is a new domain for many. An extraordinary chance to discover the best ways of working as a team. Although no one knows just what the future holds, a strategy formed by employee feedback is a solid foundation to start with. Then, experimentation will be vital — empowered leaders will make strategic, data-informed decisions, changing course as needed. And by making suitable investments and retrofits to "hybridize" the office, a business can fully realize the various competitive advantages of bringing their people safely together again.
Summary: 4 keystones of an effective hybrid working strategy
Let employees guide your approach to hybrid working
Define metrics of success (at the onset) in order to adapt per feedback in time
Make the office a space of socialization and connection
Prioritize hybrid meeting spaces and high-quality hybrid meetings
Hush space pods frequently asked questions
What acoustic meeting pods and booths does Hushoffice offer?
HushMeet.S for private 2-person meetings; hushMeet for private 4-person team meetings; hushMeet.open.S, a semi-enclosed pod for casual, collaborative 2-person meetings; hushMeet.open for casual, collaborative 4-person meetings; and hushMeet.L, the modular conference pod seating 4-8 employees (depending on the module count).
Does Hushoffice offer a phone pod?
Yes! Check out hushPhone, the office phone booth for private calls at work.
Where can I learn more about Hushoffice's pod/booth Anti-Virus coating?