WHY HUSH?
Hush IS AGILE
BY EVERY MEASURE
Mobile agility;
Easy layout changes
None of the core Hush pods require disasembly for relocation. HushPhone has built-in castors that allow employees to move it with a simple push. All other pods sit on a frame that creates about 10 cm of space beneath for a pallet jack to lift. Rearrangement takes a few minutes and creates no mess or interruption of employees.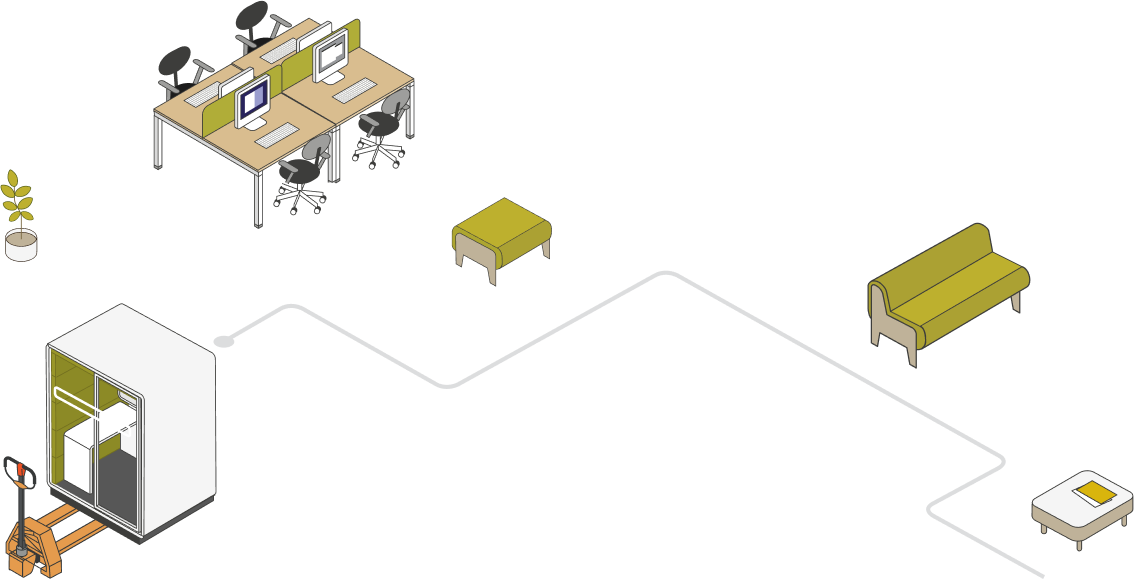 RELOCATION agility;
STRESS-FREE
OFFICE MOVES
Unlike the traditional conference room, Hush comes with you when you move. Think of Hush as you think of any other company asset; it's a piece of equipment you keep forever. Best of all, it adapts to change.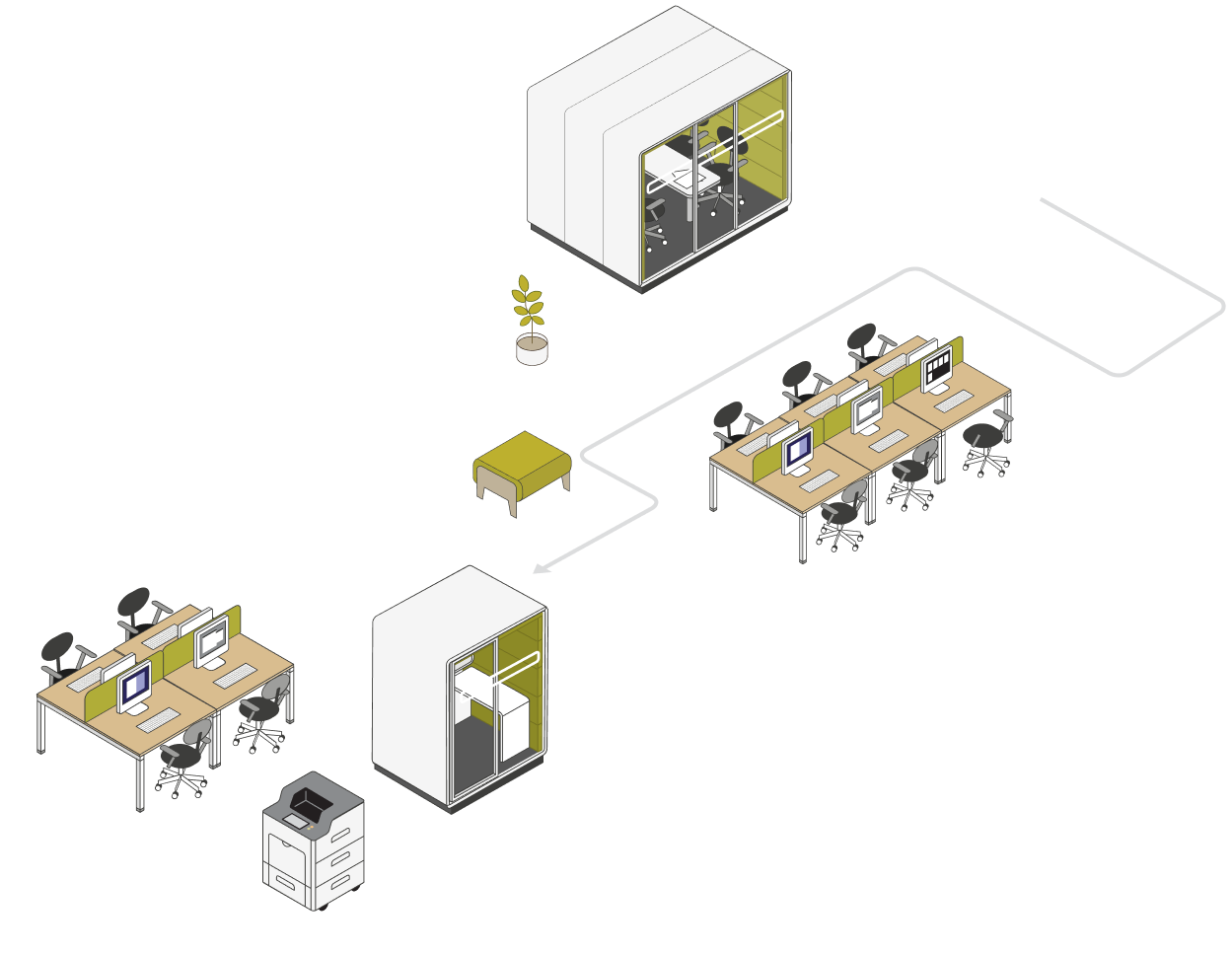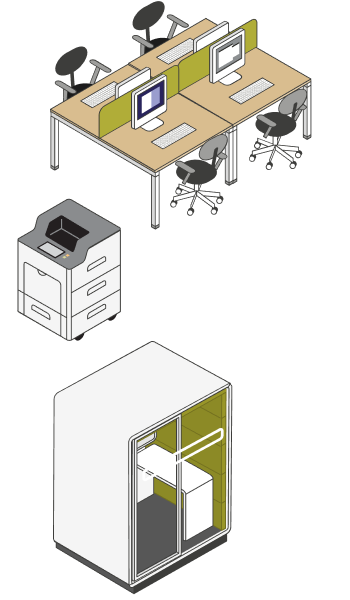 THE RIGHT;
CHOICE FOR THE
ENVIRONMENT
With Hush, when your team needs layout changes, you don't have to demolish and build new infrastructure to make them. You can simply rearrange your pods and expand or size down the modular ones as suitable. For this, Hush's life cycle is tenfold that of a conference room. And at the end of their long life, the majority of their materials can be recycled.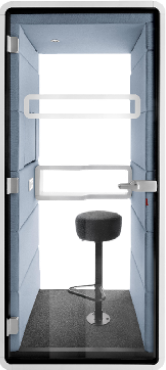 Integrated castors and leveling feet on hushPhone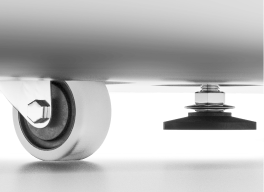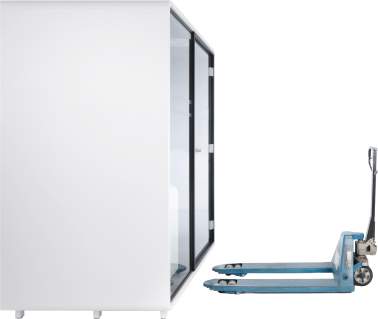 Space beneath all other Hush pods for a pallet jack
Modularity. Expand your
pod to adapt as you grow.
HushMeet.L is a pod built by modules. Expand it by adding new modules to accommodate between 4 and 8 people.
The product is a smart alternative to permanent conference rooms that are outdated within a few quarters. Best of all, as you grow your pod, you can grow its outward-facing green wall.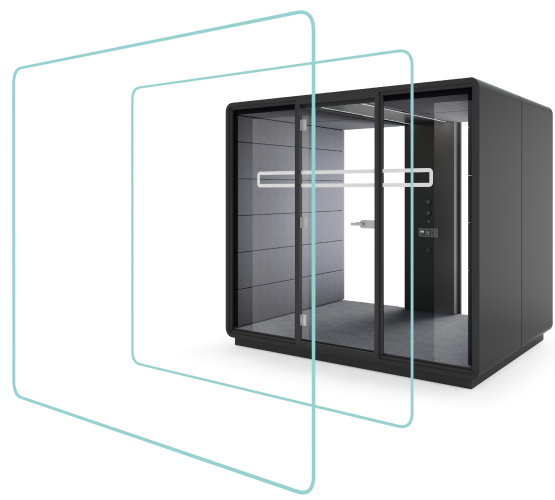 PERFECT USE OF SPACE
Replacing two workstations with one hushMeet gives you a place for a meeting in a group of four people.
4 workplaces
AND hushmeet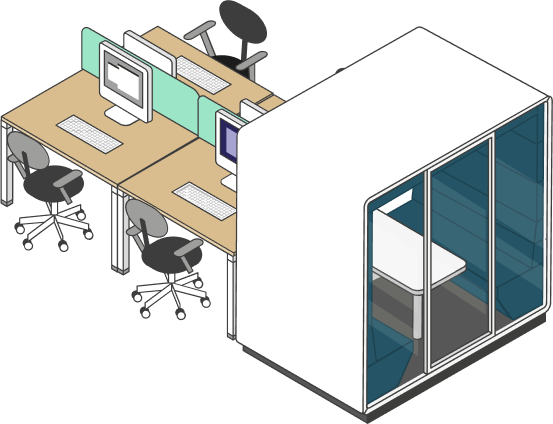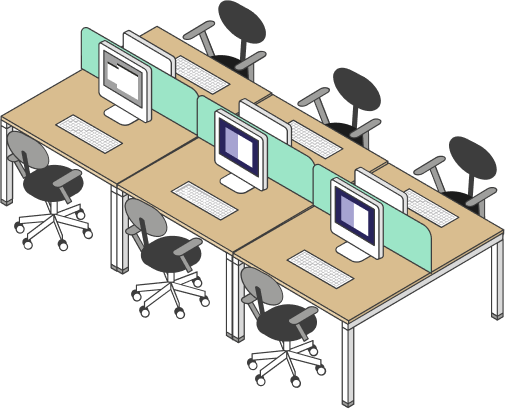 The same occupied office space
Office space equipment
Desks + Hush
Only desks
Possible activities

individual work in front of desk
meeting on the common open space
face to face meeting
team meeting in a group of 4
individual work in focus
confidential phone calls

individual work in front of desk
meeting on the common open space

Workplace characteristics

less noise
more privacy
space of comfort
better wellbeing
better productivity

lot of noise
lack place for private meeting
lack of privacy and individual space
weak productivity
Office space equipment
Possible activities
Desks + Hush
individual work in front of desk
meeting on the common open space
face to face meeting
team meeting in a group of 4
individual work in focus
confidential phone calls
Workplace characteristics
less noise
more privacy
space of comfort
better wellbeing
better productivity
Only desks
lot of noise
lack place for private meeting
lack of privacy and individual space
weak productivity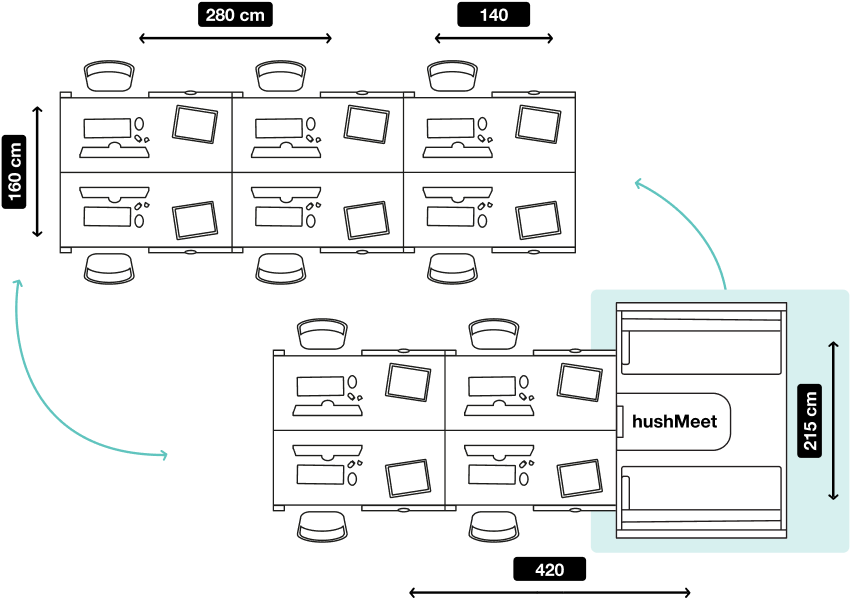 You can easily swap 2 desks for hushMeet without disturbing the office layout