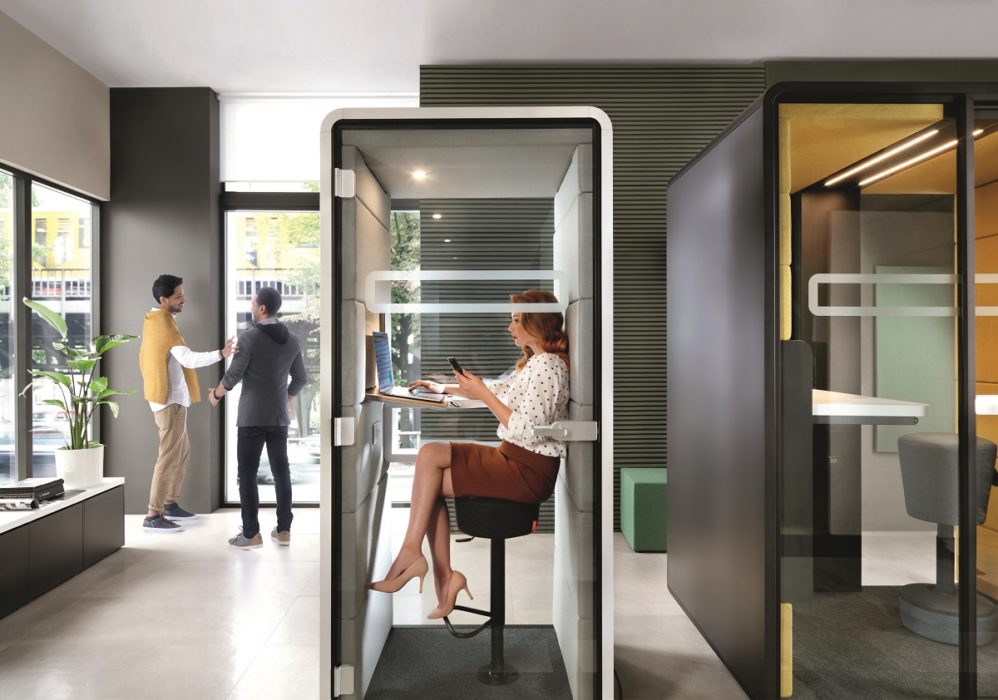 The office helps separate "work" and "life." Without it, many of us struggled to disconnect from our jobs in 2020. Factor in home office environments that were less than ideal. Jerry-rigged ergonomics like working at the kitchen table. The distractions of family members, roommates, and pets. The isolation of not seeing colleagues face-to-face. The result was an increase in (home) office burnout.
Hence many are excited to return to the office, even if only part-time. Entering and exiting the office, "work mode" is clocked into and clocked out of daily, and a well-designed office supports healthy work habits. The return is hopeful! But there's growing evidence the open office may contribute to burnout. The good news is a few simple retrofits help address that burnout.
The even better news: making the right changes, a team can realize the full potential of the open office and make it a place where people can thrive.
KEY TAKEAWAYS
An open floor plan can contribute to burnout. Noise, lack of privacy, and decreased sense of autonomy are all stressors that exacerbate burnout.
Burnout affects 77% of employees. In the US alone, it accounts for $125-190 billion in healthcare spending annually. Its key dimensions: exhaustion, dissociation from one's job, cynicism regarding one's work, and reduced productivity. Research shows burned-out employees are less productive because they're emotionally unengaged.
Employees are 3X more likely to burn out today than they were pre-pandemic. This stat illuminates one of the hybrid office's roles: to separate "work" and "life." A functional hybrid office is a respite for those struggling with distracting home office setups.
How to address burnout in your open office? Educate on its severity, invest in private spaces like office quiet pods, create outdoor work areas, encourage personal days, and require paid vacations.
Office quiet pods are smart investments for any organization with a burnout problem. Pods eliminate noise, a main open office stressor. They also give privacy and a feeling of autonomy over one's space. A team with more command over their bandwidth is more productive and healthier.
Burnout is a hazard of modern life. The World Health Organization (WHO) has recognized it as an "occupational phenomenon" in their International Classification of Diseases, calling it a syndrome "resulting from chronic workplace stress that has not been successfully managed." According to WHO, burnout has these key dimensions: energy depletion, exhaustion, dissociation from one's job, cynicism regarding one's work, and reduced productivity.
Deloitte reports 77% of US workers have experienced burnout. And over half of this 77% have burned out more than once. A 2017 survey from Kronos reveals 95% of retail employers believe burnout is "sabotaging their workforce." It's a national crisis.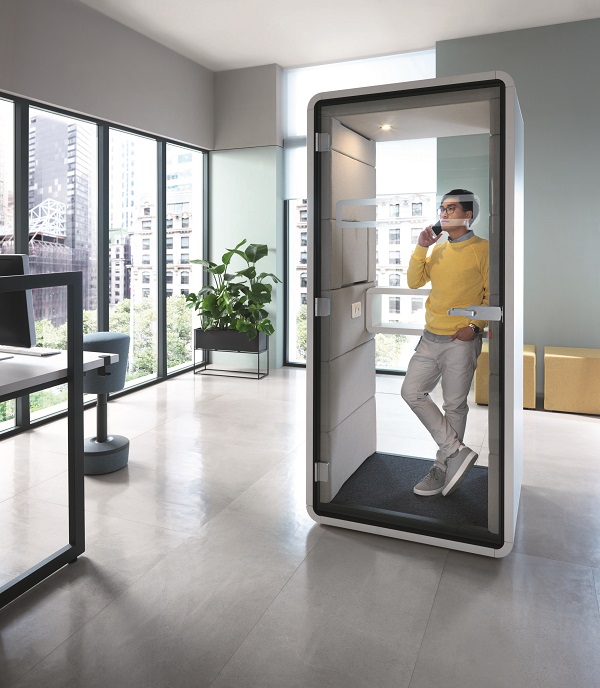 5 Tell-Tale Signs of Office Burnout
Increased absence and tardiness
Negativity, cynicism regarding work
Decreased output
Dissociation and exhaustion, both physical and emotional
Physical stress (headaches, stomachaches, chest pain, etc.)
The bottom line: burned-out employees don't produce.
Delos is a team of researchers and scientists advancing wellness in the workplace. They know their numbers on burnout and understand the "occupational phenomenon" well. Their greatest insight: "engagement" lies on the opposite end of the burnout spectrum. When an employee is burnt out, they are emotionally unengaged.
Naturally, output nosedives when motivation is gone. "Declining employee engagement can be an indicator that the burnout process is starting to take shape, with energy turning into exhaustion, involvement turning into cynicism, and efficacy becoming ineffectiveness," says Delos.
A vicious cycle can occur. The burned-out teammate is running on empty, pushing against a feeling of being overwhelmed, exhausted and afraid of missing the mark, thereby becoming more exhausted and even less productive.
Burnout is your body's way of saying you've been on autopilot, pushing through exhaustion or setbacks instead of taking a step back to regain perspective. When you're burnt out, you're emotionally absent. There's no hack except to rest and reach your healthy balance once again. Here we see how quiet spaces like acoustic pods are helpful, giving employees sensory breaks in a private environment as needed.

– explains Mateusz Barczyk, Senior Brand Manager, Hushoffice
This is according to a survey from Flexjobs coordinated in partnership with Mental Health America. Part of the increase may be due to this lack of separation between "work" and "life." An employee that can't unplug from their job is an employee that can't relax. They risk losing their best capital: enthusiasm, mental energy, and physical reserve. "Employee engagement" is sapped and productivity declines.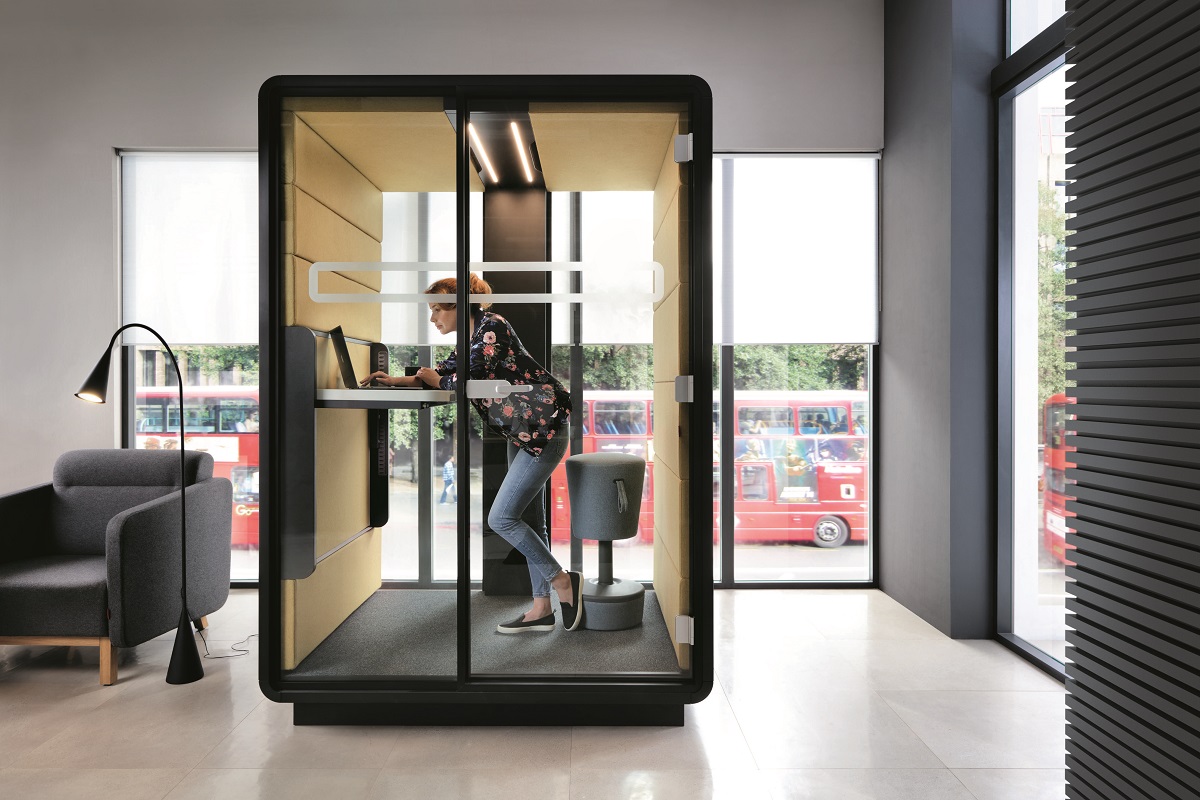 Working from home full-time, "work" and "life" begin to blur together. It becomes more difficult to unplug from work. Disconnecting from work is essential for mental health and well-being because it gives the brain a chance to recharge. Quiet spaces like privacy pods or isolation booths or sound proof rooms can help. They allow employees to balance quiet work and lively collaboration.
This stat illuminates one of the office's primary roles in a hybrid working world: separating "work" and "life."
When you enter and exit the office, shifting between gears comes easier. Furthermore, a fully functional office is a respite for many with home setups that are physically uncomfortable or generally distracting. The long and the short of it: the office of our hybrid world is a space employees depend on for peaceful focus as well as lively collaboration. It helps separate "work" from "life."
The office is a staple in our hybrid world. It helps teams maintain that ephemeral work-life balance. The key is effective design; an open space should be fit with options, zoned off and complete with private workspaces like office booths and pods that let people work how they work best. The result? People not only depend on but look forward to their days on-site.

– adds Mateusz Barczyk, Senior Brand Manager, Hushoffice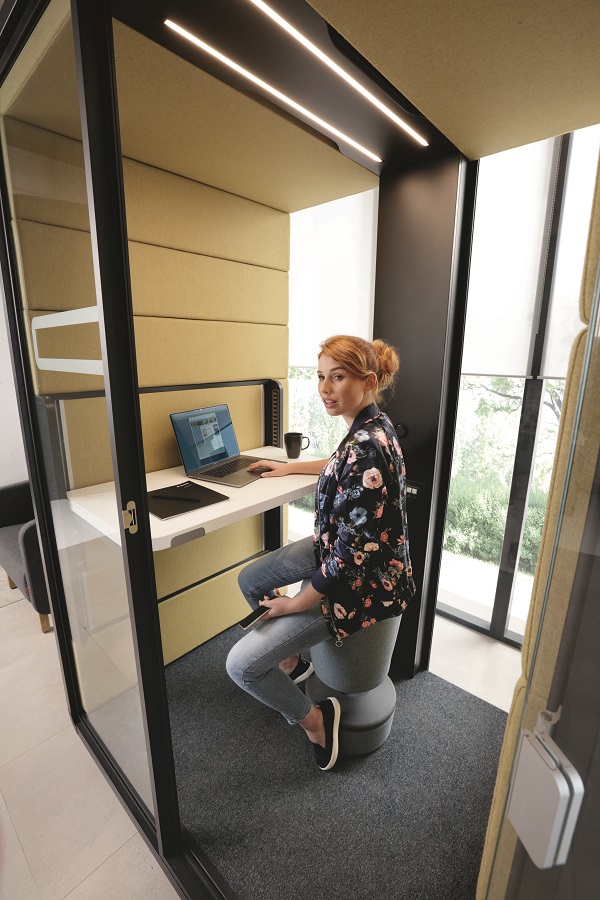 5 immediate ways to prevent office burnout on your open floor plan
Educate on the severity of burnout (that it's not just "in your head"), speaking to the irreplaceable role of rest in modern life
Invest in private spaces like office quiet pods for teammates to rest, take sensory breaks, or work within a calm oasis as needed
Create outdoor work areas
Encourage personal days
Require paid vacations
Work pods can help prevent burnout. They realize open office potential by completing the layout, eliminating stressful noise. In a hybrid world, private pods can make the office a place people thrive.
Pods are a powerful office soundproofing solution for the entire workplace. They trap noise for the over-stimulated while adding fuzz to an echoey space, improving broad sound quality. This makes the workplace more peaceful and effective for everyone.

– says Eliza Donek, Product Manager, Hushoffice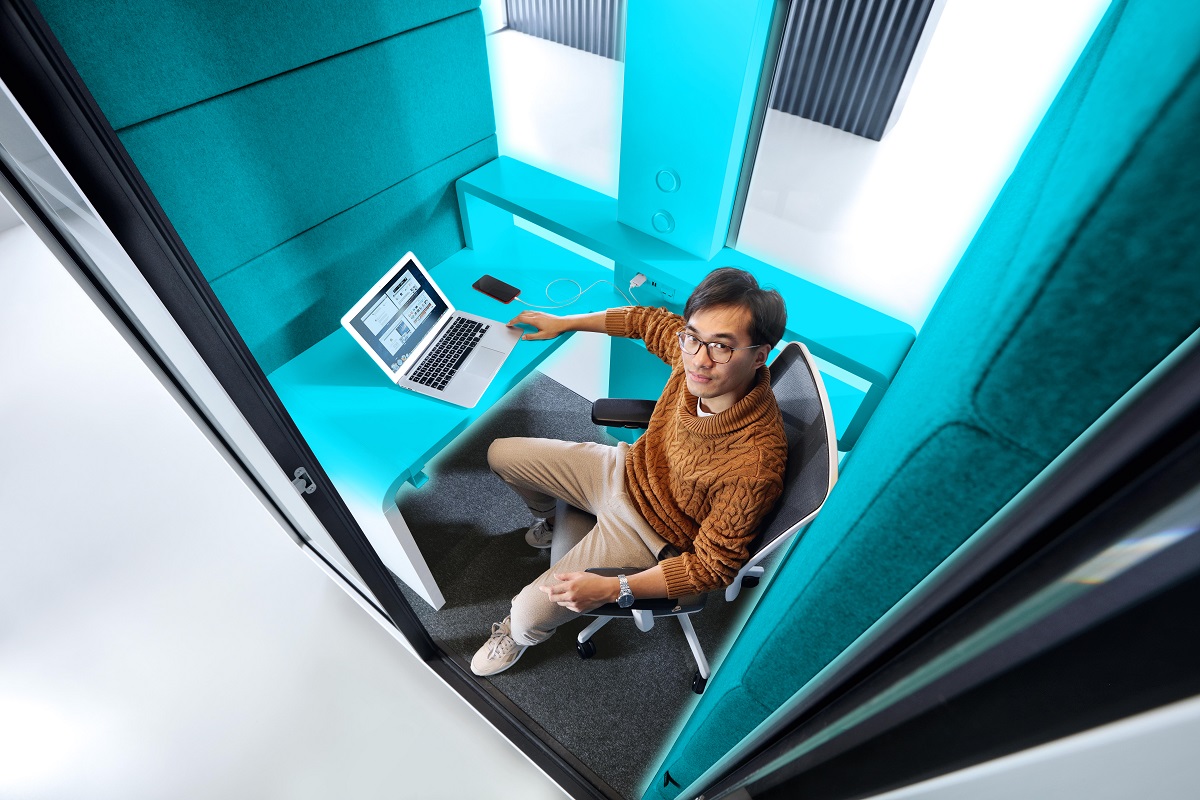 Office privacy pods are a strong solution because they give a lot of bang for the buck. They benefit everyone on a noisy floor plan, locking in the pod user's noise while blocking out distractions, giving the user comfort and privacy, and at the same time improving the office's soundscape for all, physically intercepting noise that otherwise permeates the space. They're beneficial for both the pod user and employees at large.
A better office soundscape, or pleasant ambiance, is the remedy for all types, whether introverted, extroverted, hyper-sensory-sensitive, or burnt out. Pleasant ambiance is just that: pleasant. Pleasant acoustics set the tone quite literally for a good mood, good focus, and good work.
Hush pods frequently asked questions
How quiet are pods?
"Comfortably quiet." Think soothing hum. Hush pods dampen unpleasant sounds. When you're inside, open office noise is just a pleasant murmur. The pod is carefully designed for it; a little bit of diffuse sound is healthy, ~40 dB.
What is a privacy pod?
A privacy pod is a mobile soundproof office booth for private calls, meetings, and focused work. They're a popular open space solution because they're flexible (small, modular, and freestanding) and reduce open office noise.
What kinds of pods does Hushoffice provide?
HushHybrid for individual video calls; hushPhone for private phone calls; hushWork for focused desk work; hushWork.sit&stand for a sit-stand workflow; hushTwin for tight floor plans; hushMeet for 4-person team meetings;